With the release of the all new Ski Angler at the 2015 Hutchwilco NZ Boat Show, Fi Glass has reintroduced one of its most enduring names.
Based on the same hull as the new Fireball, the Ski Angler is unquestionably aimed directly at the burgeoning open tinnie market and is priced accordingly. If you look back to the earliest days of trailer boating in New Zealand, it was the Fireball that did a lot to establish the Fi Glass name. "With aluminium boats getting more expensive and more like fibreglass boats, I saw a gap in the market to introduce an entry-level runabout again", says Griff Simpson, MD of Fi Glass Boats.
He adds. " For a long time that space was occupied by the larger alloy boat builders and it wasn't economic to produce a similar size boat in fibreglass, but that's all changed now".
Griff felt that if he could put a packaged fibreglass boat on the market for around $NZ20,000 he would be well placed to compete. With the Ski Angler retailing in its most basic form at $NZ20990 he has certainly achieved that. In fact, some of the equivalent alloy boats with the same engine and trailer packages are more expensive.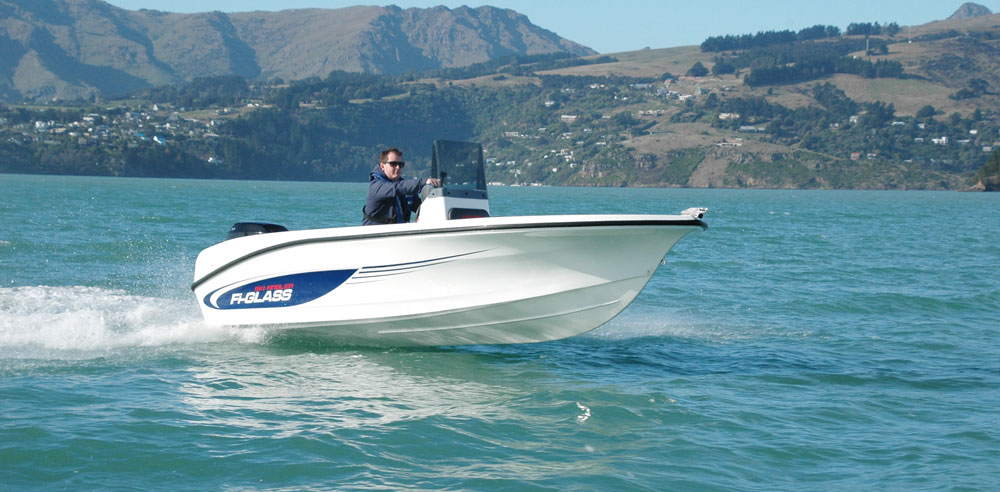 With Fi Glass boats sold into warmer climate markets such as Tahiti, New Caledonia and Perth, the centre console concept is certainly more appealing than in our cold Kiwi winters.
Fi Glass can get six Ski Anglers into a 40ft container, so they are very efficient to ship. Export sales are currently 40% of Fi Glass business and with the Ski Angler they see that growing even more. Already the first shipment of six Ski Anglers has gone to Tahiti and that's just the start according to Griff.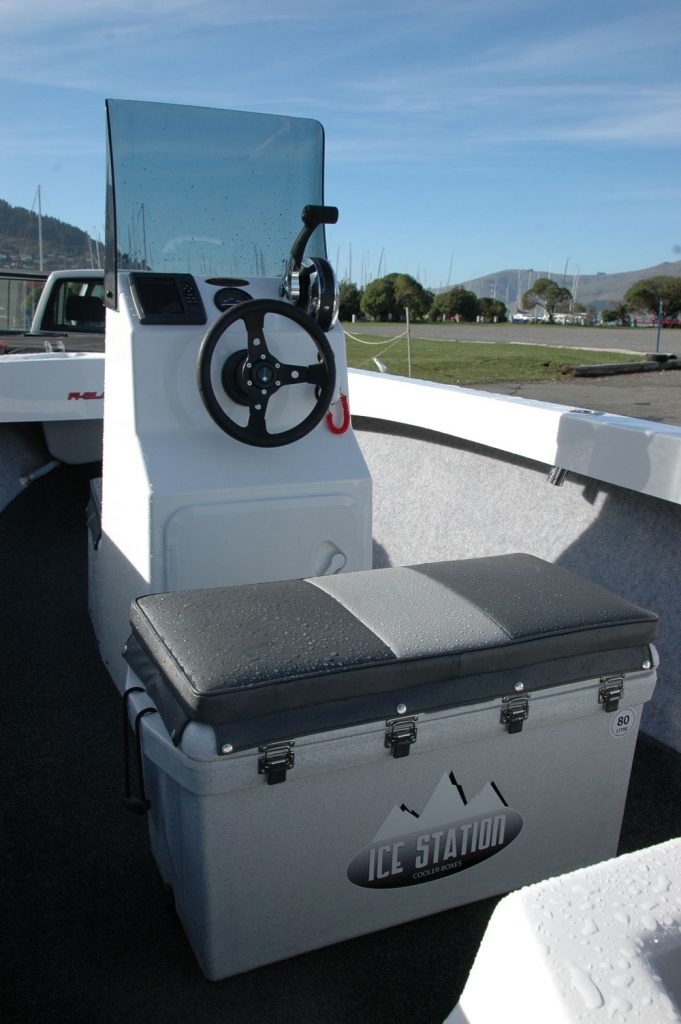 According to Griff one of the reasons fibreglass boats such as the Ski Angler are more popular in the outer islands around the Pacific than alloy, is that they can be easily repaired and only require some resin and matt to patched, as opposed to a welding plant. Something that is not always available in remote areas.
Construction is conventional chopper gun laid grp, with a ply floor (glassed both sides) and a plastic cored product used for the transom. This is denser than timber and will not rot.
The hull is a derivative of the 5.05m Dominator, but has been shortened to 4.75m, with a substantially change in the forward sections, with less aggressive chines than the Dom, but with a little more deadrise. This same modified hull is used for the Fireball runabout, with everything below the gunnels the same. The obvious difference is the open plan with the centre console option.
The layout is very simple and effective and designed with both fishing and family boating in mind. No trouble fishing two or three from the Ski Angler, but also as the name implies a great little unpretentious ski boat.
With a maximum speed with the Mercury 50hp 2S and two aboard of around 34.8 mph, (30.2 knots), there is plenty of power for skiing. However, if you want a little more speed and low down torque, then the upgrade to a 75hp 4S will raise that to 37.0 mph (32.2 knots).
My run in the boat was on a choppy Lyttelton Harbour, with 15 knots of breeze just lifting the tops off the swells and a very cold chill in the air. Certainly not the sort of day you would choose to go boating in a centre console unless you had too. However despite that I was very impressed with the protection the console and Perspex screen gave, as long as you were sitting right behind it. On my own that wasn't a problem, but with two aboard and sitting side by side on the double helm seat the protection was minimal. Not that that is any fault of the boat, it's just the way it is with most centre console boats. The benefits certainly out-weigh the negatives. It just pays to pick a warmer day!
Running hard into the small sea state, the Ski Angler requires very little trim to maintain a flat riding attitude. Across the swells, it remained dry, with the predominant flared bow and wide chines keeping the water out of the cockpit. In the calmer water, I ran the boat on my own, with maximum possible trim and touched 37.5 mph on the Garmin speedo.
Overall a very nice, smooth and soft riding hull for its size. Being only 4.75m (15'6") it's a small boat that is designed to be used in sheltered waters and that is something you must take into account if you are thinking of purchasing one.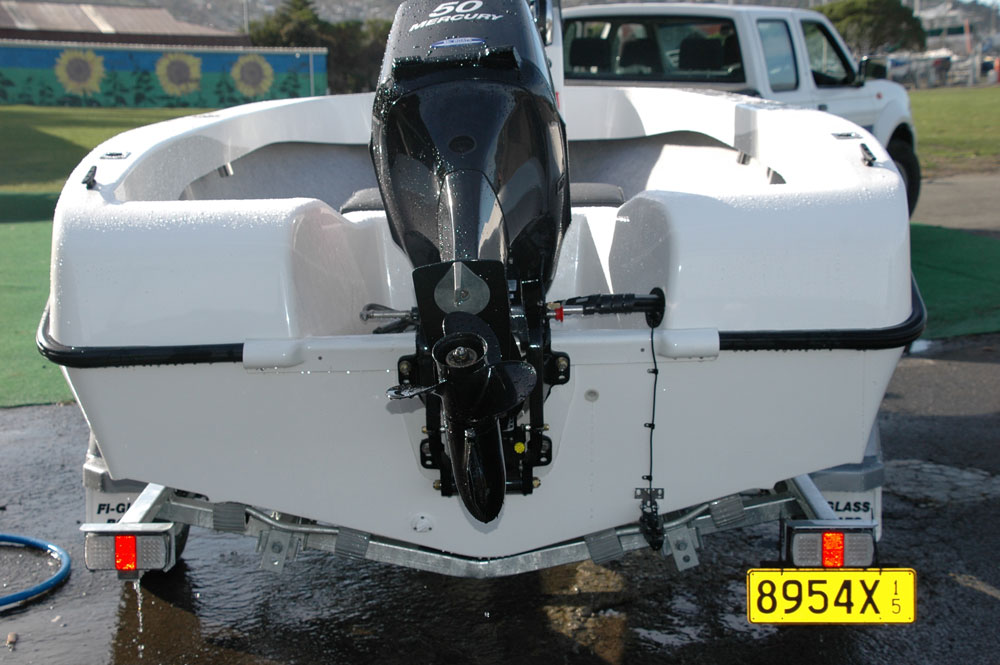 In its most basic form, the Ski Angler is equipped with minimal gear, but still enough to get you on the water. On the standard boat, the bow anchor hatch is left open, but there is an optional hatch cover as well as an auto capstan. Bow rails or grab rails are also added at the owner's choice. Personally I would also look at fitting a Minn Kota electric outboard if you are into your fishing. The flat deck space allows for an easy fit of the mounting bracket.
Below the foredeck and in the forward sections under the coamings some boats have been sold with web storage bags for the lifejackets and other dry gear. While the sole is all at the same level, Griff says that they can build-in a raised casting deck if someone requires it.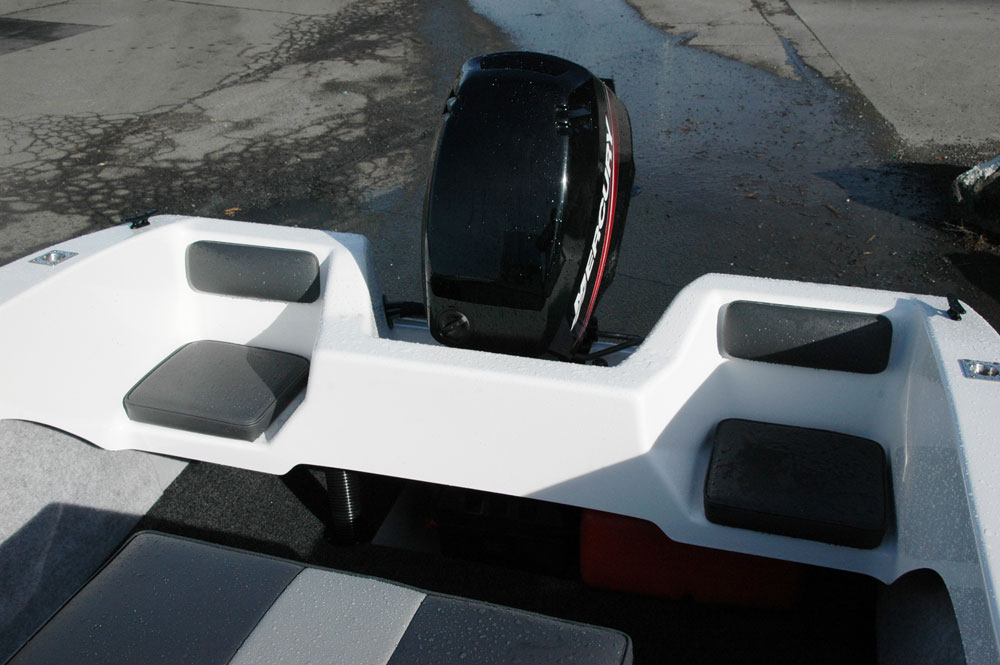 The centre console features a forward facing seat with storage under and the option of inserting a tackle box. There is generous storage inside the console, accessed via a large So-Pac hatch. The facia offers space for up to 10" MFD screens (we had a Garmin 501W), a binnacle mount engine control and room for engine instruments and switches. An interesting feature is that all the cables and wires from the helm run through to the transom in a dedicated sealed tube under the cockpit sole.
The fully removable 80 litre Ice Station bin also serves as the double helm seat with a clip-on cushion adding a little comfort. Various seating options are available, from nothing at all to back to backs or pedestal seats. The cockpit can be fully painted or carpeted both on the sole and up to the coamings. There are no storage trays under the wide flat coamings, but there are timber inserts moulded in ready for fitting rod racks.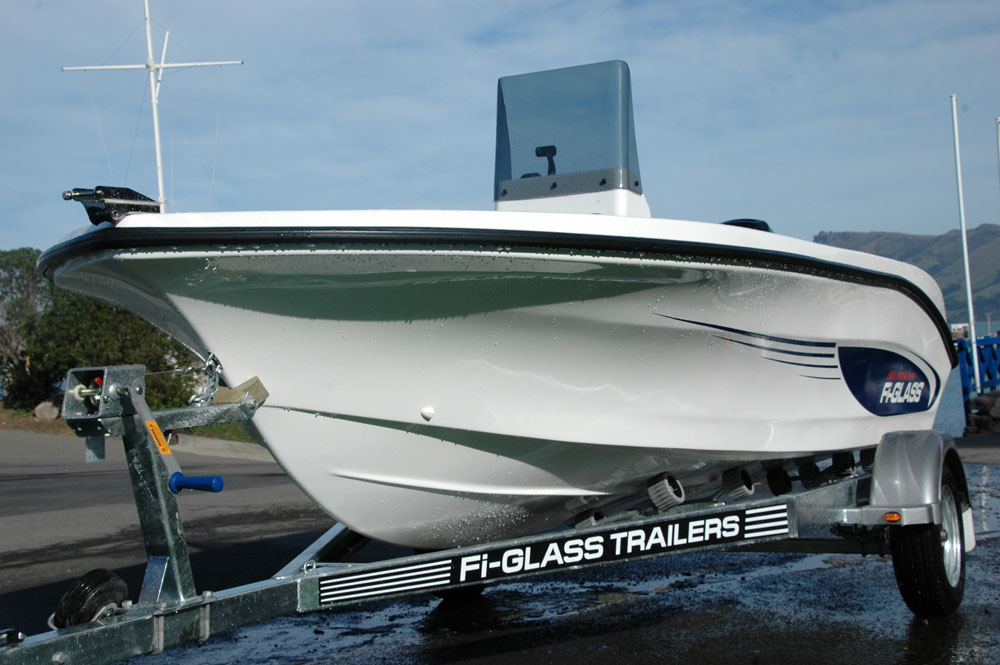 Down aft, there is a recessed battery box and auto bilge pump in the lower sump, with space either side for a 25-litre tote tank. Fi Glass also offer as an option a 60-litre stainless fuel tank that fits in neatly under the engine well. Under the sole all the spaces are full foam filled, which provides both buoyancy and quietness to the hull.
The standard boat has no boarding platform or ladder, but they are also available in the options list. It's a boat that you can up-spec as much as you want and turn it from a very basic rig into a highly practical all round fun boat that will suit a wide variety of needs. You can expect to pay around $NZ23000 -$NZ25000 once you add a few of the most popular options. Skiing, fishing, family boating or simply as a means of transport, the Fi Glass Ski Angler covers all bases.
 "The response to the Ski Angler has been excellent, although mid-year isn't ideal in NZ for centre consoles, I expect to see a real lift in sales as we get closer to summer", says Griff.
Model: Fi Glass Ski Angler
Priced from: $NZ20990
Price as tested: $NZ23280
Type:   Centre Console
Construction:  GRP
LOA:  4.75m
Beam:  2.0m
Deadrise: 18.5 deg
Height on trailer: 2.0m
Trailerable weight: 650 kgs
Test Power: Mercury 50hp 2S
Propeller:  ?????
Power options: Outboards 50-75hp
Fuel capacity: 60 litre (optional)
Trailer:  Fi Glass
Notable Standard Items on Test Boat
Moulded rear seats, deck hardware, carpet on the sole, & CPC rated.
Notable Options on Test Boat
Garmin 5" fishfinder, 4 rod holders, Bin seat & rear sqaubs.
Fuel & Performance

Two people & 25 litre tote tank.

Prop:  Mercury 75 4S                     

RPM      

Knots

L/PH

1000

3.0

0.9

1500

3.6

1.3

2000

4.8

1.8

2500

6.1

4.8

3000

10.5

5.5

3500

16.0

6.1

4000

19.7

7.8

4500

23.6

10.9

5000

26.6

13.0

5500

29.5

16.4

6000

32.2

19.6
| | |
| --- | --- |
| Prop:  Mercury 50 2S |   |
| RPM       | Knots |
| 1000 | 2.1 |
| 1500 | 4.0 |
| 2000 | 5.4 |
| 2500 | 5.7 |
| 3000 | 9.2 |
| 3500 | 16.2 |
| 4000 | 18.6 |
| 4500 | 21.3 |
| 5000 | 27.0 |
| 5500 | 30.2 |
NB: No fuel figures available