The first Finlay Ranger 8000 is the company's 10th boat and their biggest to date. Barry Thompson went to the cold climes of Queenstown to check it out.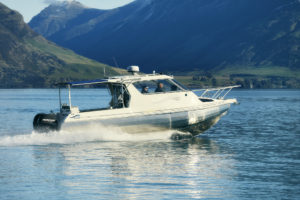 Now you may think it a little strange that I went to Queenstown and the mirror smooth waters of Lake Wakatipu to review a serious bluewater offshore boat, but there was a reason. Built in Timaru by Finlay Boats, the Ranger 8000, at over 8.5m, the company's biggest boat to date, was on a tight deadline to be delivered to its owner in Te Anau, before it was then taken to its semi-permanent mooring in the extremely remote Breaksea Sound, Fiordland. 
Not an easy place to get to at the best of times and so if I wanted to take a run in the boat before it headed into the deep south, is was to be on the road trip and Queenstown was the obvious testing ground.  Early June in Queenstown was bitterly cold, with a -1 deg air temp when I got aboard the boat in Queenstown. The cloudless azure blue sky captivated the freshly snow covered peaks around the icy cold lake. Thank goodness we were in a hardtop and that we also had an Eberspacher diesel heater. My first impression of the Ranger 8000 when I saw it cruising across from Queenstown to the wharf at Kelvin Heights was it's big and solid appearance. This is a boat that in every way looks like it can handle itself. 
The Ranger 8000 is simply a Finlay Ignite 6300 on steroids and retains that unique aluminium pontoon boat look that is prevalent on all Finlay models. Designer Scott Robson, who has been responsible for all the Finlay Boat range, since the company started in 2014, has made everything bigger, from the size of the sponsons to the beam and height of the cabin top. All the spaces, forward cabin, wheelhouse and cockpit are huge, with plenty of head height and excellent visibility from inside.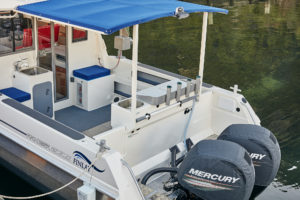 With its home base on the edge of some of the roughest waters in New Zealand, Fouveaux Strait, the owner wanted a boat that could withstand just about any weather. To start, it had to be built tough. Finlay Boats chose 6mm plate for the running surfaces, 4m sponsons and a combination of 3-4mm for the decks, cockpit sole and wheelhouse. All up weight on the water is around 2900 kgs. 
Towing weight is upwards of 3500 kgs. The 23 deg hull is 8.57m overall, with an 8.15m hull length and carries a wide 2.90m beam.  On the calm waters of Lake Wakatipu, I managed to get 37 knots on the GPS, which according to Grant Finlayson, the owner of Finlay Boats, was 1 knot slower than when they trialled the boat on Timaru Harbour. Our run down to Kingston was only interrupted by a couple of stops for photos, but for most of the journey, I sat the boat on 4500 rpm @ around 30 knots. At this, the twin Mercury 150 EFIs were using 62 lph, which would give the Ranger 8000 a range of around 170nm. Grant says that the boat is suitable for outboard, sterndrive or jet power, with a range of 300-400 hp. Would be a nice rig with a single diesel sterndrive, but would also be more than capable of handling twin 200-225hp outboards. Having only glassy smooth water to run the boat on, I can only assume that given its size and weight and the well-documented ability of Scott Robson designed hulls, it would be an excellent boat in the rough seas one would expect around Fiorland.
The layout of the Ranger 8000 is predominantly based on fishing, although coupled with overnight accommodation. Grant is quick to point out that the layout of the Ranger 8000 is entirely customised to an owner's requirements. "Based on the same hull you can have just about anything you want as long as we can fit it into the parameters of the hull. Hardtop, full cabin, centre console, the choice is yours", says Grant.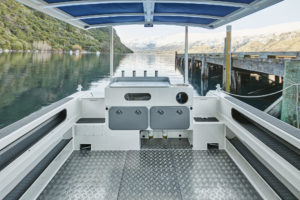 The forward cabin is a very basic traditional layout with twin berths and an infill, with storage under and in side trays. Nothing special about the layout, but functional and plenty of space to sleep two and with no portside bulkhead you don't feel restricted for space.  The wheelhouse is surrounded by toughened glass screens and features a couple of twin forward seats with reversible backrests, so you can face either way, depending on whether you are underway or anchored for the night. The starboard seat base is completed with drawers and extra storage, with a pull-out fridge draw and more stowage beneath the port seating. The rear port side seat of the dinette area has a portable freezer unit under that is accessed by lifting the squab and the table can be dropped to form a second double berth with a squab infill. Opposite is a small galley with two burner gas cooker and storage drawers beneath.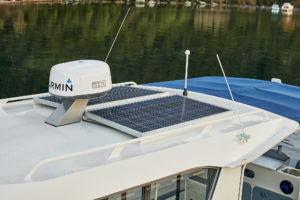 The helm is a large flat carbon fibre inlay panel, big enough for a serious MFD. In this case, the owner has chosen Garmin GPS Map 7412. Again the way you set up the dash and in fact any of the wheelhouse is entirely up to you. "The owner of this particular boat want a high-quality functional layout that was practical and easily maintained", says Grant. I liked the Kauri timber trim throughout the interior which adds a quality touch and the 20mm foam backed hood lining that gives the wheelhouse a warming look. No doubt the soft fabric also acts as insulation and also helps to retain the heat when the diesel heater is on.
If you are going to use a boat in Fiordland, there are a few things you need to guard against; sandflies, mosquitos and rain. All are found in abundance, especially in Breaksea Sound, so the owner made sure that he had some safeguards in place. The wheelhouse bulkhead can be completely closed off, not only to keep the heat in but also the bugs out. The starboard side drop down window has a regulation bug screen so you can still get some fresh air with the window open.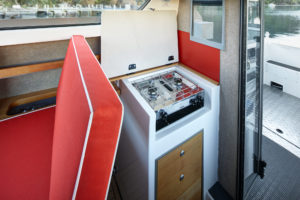 In the rest of New Zealand you would assume that the bimini over the cockpit is there to keep the sun off, but in the case of this boat, it's to keep out the rain. With Fiordland having on average annual average of 200 rainy days and annual rainfall varying from 1200mm in Te Anau to 8000mm in Milford Sound, I can understand why. Forward in the cockpit, there is an outside head and shower with stainless sink unit with fresh hot and cold water. A privacy curtain is pulled around when it's in use, or when left open it provides a convenient cleaning area and extra seat. Opposite is another box seat with storage beneath. When you see a pot hauler alongside the cockpit, you get the feeling that this is a serious fishing boat and I can just image how many crays will be hauled about next summer.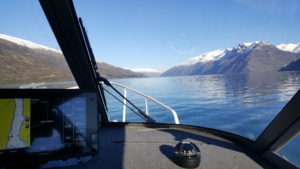 Under the cheque plate floor is a deep locker that looks after all the wet gear and catch, plus there are twin side shelves for rods, gaffs and other assorted fishing gear. There is also a dedicated rod rack arrangement under the cockpit roof. Down aft is a central bait station, with a live bait tank or bait storage beneath, a wash basin and handheld washdown unit. 
Drop down panels close off the step-throughs to the large boarding platform and big scuppers mean that any water that gets into the cockpit is quickly expelled through the transom.  Safe & Seaworthy Launched at the end of May 2016, the first Ranger 8000 has the look and feel of an extremely safe and seaworthy boat and comes with great aesthetic appeal. It is extremely well finished, comfortable and being 100% customised, as an owner you get exactly what you want. You might pay a little more for that personal touch, but I think it's certainly worth it.
Launched at the end of May 2016, the first Ranger 8000 has the look and feel of an extremely safe and seaworthy boat and comes with great aesthetic appeal. It is extremely well finished, comfortable and being 100% customised, as an owner you get exactly what you want. You might pay a little more for that personal touch, but I think it's certainly worth it.