Easterly 25 knots gusting 35 knots, gradually rising to 30 knots gusting 50 knots by evening. Sea rough. Poor visibility in drizzle, then rain from evening. Not exactly the perfect day for a boat test, but then maybe it was.
It's no secret that I have always been a fan of Scott Robson designed hulls, from my earliest offshore racing days when his catamaran design, Sunday News helped take Glen Urquhart and myself to a world championship win, to the start of his trailer boat career with Bonito Boats. Robson can encompass design, styling, layout and most of all boat handling and performance all into one cool package. The new Finlay Sports 5900 simply reinforces those values for me and carries on the Robson lineage into yet another brand.
Finlay Boats NZ Ltd is the newest alloy boat manufacturer on the scene and already has two boats to the market, the Sports 5900, and the Ignite 6300. The Ignite is effectively a hardtop version of the 5900, although with a little wider and longer hull underneath. With plans for a centre console version of both the 5900 and 6300 and initial drawings already for a 7500 hardtop, the company is obviously keen to become a serious player in the growing alloy boat market. So what have they got that's any different to their competitors….of which there are many.
Timaru based Grant Finlayson, director of Finlay Boats, who has a background in working with larger maritime vessels and superyachts, says the idea to get into building boats was always in the back of his mind.
"I had tried unsuccessfully to purchase an established alloy boat building company and when they wouldn't sell I decided to go it alone and develop my own brand.
"I knew what I wanted, but I also was well aware that I needed a named designer to ensure safe and comfortable performance as well as give the product some credibility as it entered the market," says Grant.
After approaching Scott Robson Design, he worked closely with the company to evolve the new Finlay designs and from the outset wanted something unique in style.
"I had always liked the Robson designs and felt that he could give me that signature look that I was after," he added.
This was achieved by adding four folds in the pontoon sides (yes another pontoon boat), and that gives the hulls a bold and immediate statement. All Finlay Boats will feature the same signature folds. Certainly an interesting point of difference.
Grant points out that one of the prerequisites for Finlay Boats was quality, both in the build of the boats, and the finish. "I wanted to achieve a higher level of finish and presentation than a lot of my competitor's products, with the added benefit of having a superbly good sea boat."
The Finlay Sports 5900 is essentially a production boat, available for a host of extras, but there is some latitude for customisation, albeit it doesn't change the integrity of the design or construction.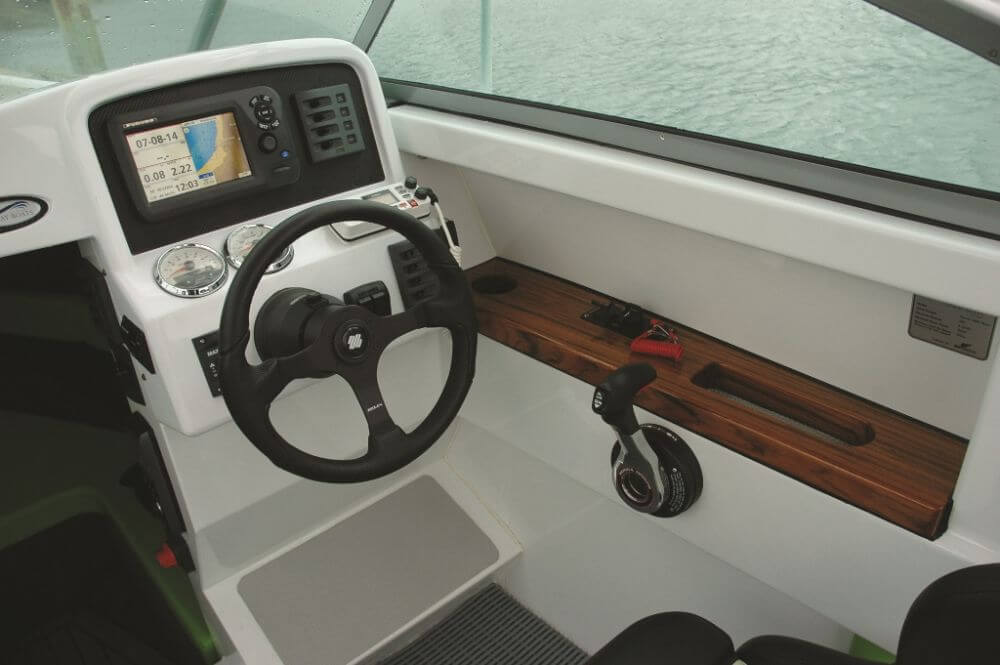 When it comes to the build quality, Finlay Boats have taken no shortcuts and from what I could see on the outside there is a lot of attention made to the small detail. The hull is 5mm, with 10mm keel, 3mm framing and 2.5mm pontoons and topsides. There are five dedicated air chambers in each pontoon, plus side chambers under the decks, so technically the boat is unsinkable. The hull is extended right through to the outboard transom mount giving plenty of aft buoyancy as well as generous size boarding platforms either side of the outboard.
The Sports 5900 features a reasonable size cabin, which is in no way designed for overnighting, although you could change that with a central infill. I wasn't so sure about the lime green vinyl upholstery, but it certainly stands out and has had lots of positive comments, according to Grant.  Seating inside is fine for three adults with adequate headroom and I did like the positioning of the back rests and squabs, which proved a comfortable spot to get out of the foul weather and wind while interviewing Grant for this review. There is only limited storage under the squabs due to the shape of the hull and the double chines, but there are narrow side trays either side of the cabin for smaller items. A bulkhead hatch gives access to the anchor locker and one above to the foredeck. The deep cabin sole finished with teak veneer, drains through to a sump in the rear of the cockpit, so in the unlikely event of getting water in the cabin it's quickly expelled.
Grant pushes the safety aspect of the boat and provides an EPIRB, VHF, fire extinguisher, twin bilge pumps, navigation lights, magnetic compass, anchor tackle and life jackets as standard items.
Stepping out into the cockpit the layout is typical of a boat of this style with starboard side helm, twin swivel bucket seats on soft-rider bases  and a central transom bait station with a bin seat.  There are other seating options available, such as king/queen, but I think the format on our test boat was just right. The rear bin seat doubles as fish bin and can be placed anywhere you like in the cockpit.
To achieve a stylish and flowing helm and console area, Grant went to Fairview Fibreglass to provide a moulded grp made dash unit. This incorporates a deep storage recess to port and generous size helm to starboard, offset with carbon fibre panel infills. It looks good and takes away that hard clinical look you often find in some alloy boats.
The main dash area features a Furuno 1870 chart plotter combo, digital/analogue Honda gauges, Uniden VHF and a compact switch panel.  The trim tab rocker switches and auto anchor for the Maxwell RC6 are in easy reach.
A particularly nice touch is the solid teak shelves either side with built-in cupholders and recesses for keys, mobile phone or sunnies. Adds that extra touch of class, to what could simply be just another shelf.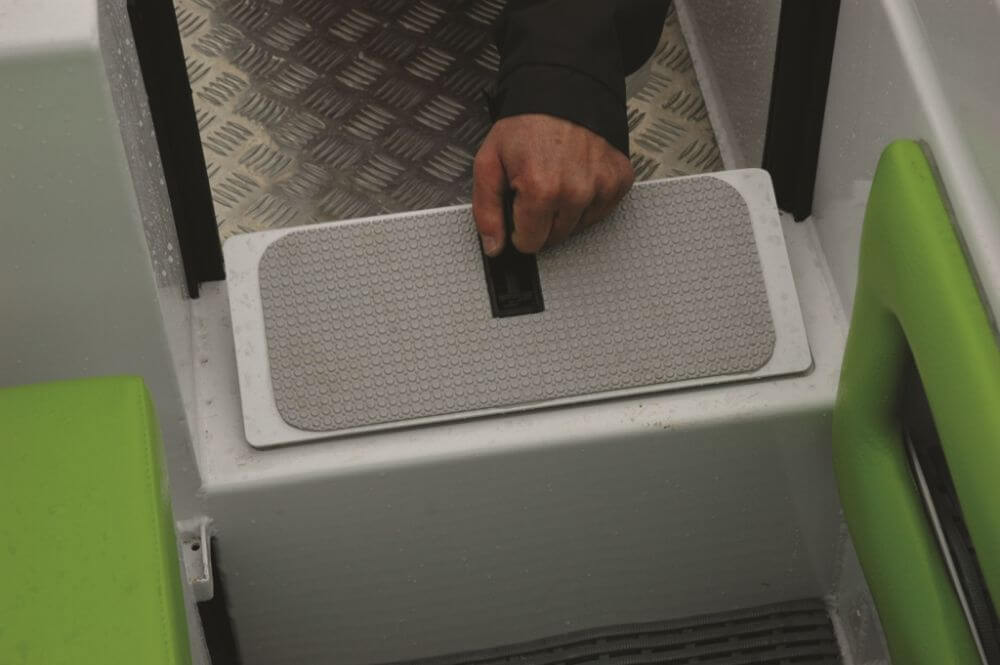 There are storage trays either side under the wide flat coamings and dual access to the boarding platforms. A set of Tallon sockets in either coaming have a multitude of uses, which in our test boat were a rod holder, drink holder and twin dive bottle rack. Divers will also appreciate the large drop down ladder and fishermen the 400mm high coamings and deep toe kicks, plus the big central bait station and built-in live bait tank and bait lockers in the transom steps. Slide-in doors stop any water slopping into the cockpit. There is also a large wet locker under the cockpit sole, ahead of the 200 litre under-floor built-in fuel tank.
The optional bimini hardtop is built in fibreglass and supported by a solid alloy powder-coated frame. While we didn't have them on the test boat, you could put on removable clears all around, which is something that would have been nice when we went on the water for the sea trial.
It's a long time since I have gone boating be it for work or pleasure in such bad sea conditions, but due to a timing schedule it was necessary. Auckland's inner harbour was as rough as I have ever seen it and while the wind strength was reported to be gusting 50 knots, over 60 knots was recorded on the Harbour Bridge. The only consolation was while it was predicted to rain heavily, it wasn't due to arrive till late afternoon, well after our time on the water. Wind but no rain, so it wasn't all bad!
Nosing out of Westhaven my only choice was head under the Harbour Bridge and towards the upper harbour, where I knew I could find some calm water for our speed runs. However, just getting there was something else and with the howling easterly we had around 1m breaking sea right up the transom. After some playing around with the engine trim and tabs, I had the boat nicely settled at around 20 knots (23 mph). On the way back to Westhaven, this time with the sea head on, I was also able to maintain around the same speed. It was just right for the conditions and certainly extremely comfortable for the three of us aboard.
What impressed me straight away was the softness of the ride and the lack of any hull slapping or pounding. There was no bow steer or sledging in the steep sea, with the deep vee hull, double chines and pontoon style certainly added towards a very notable performance in such an adverse sea state. Even without any clears we took no spray aboard, that was until we took the sea on the quarter and then there was nothing we could do against the wind. Tabs were also necessary to keep the boat on the level at the higher speeds in these extreme sea and wind conditions but upon engagement worked very effectively.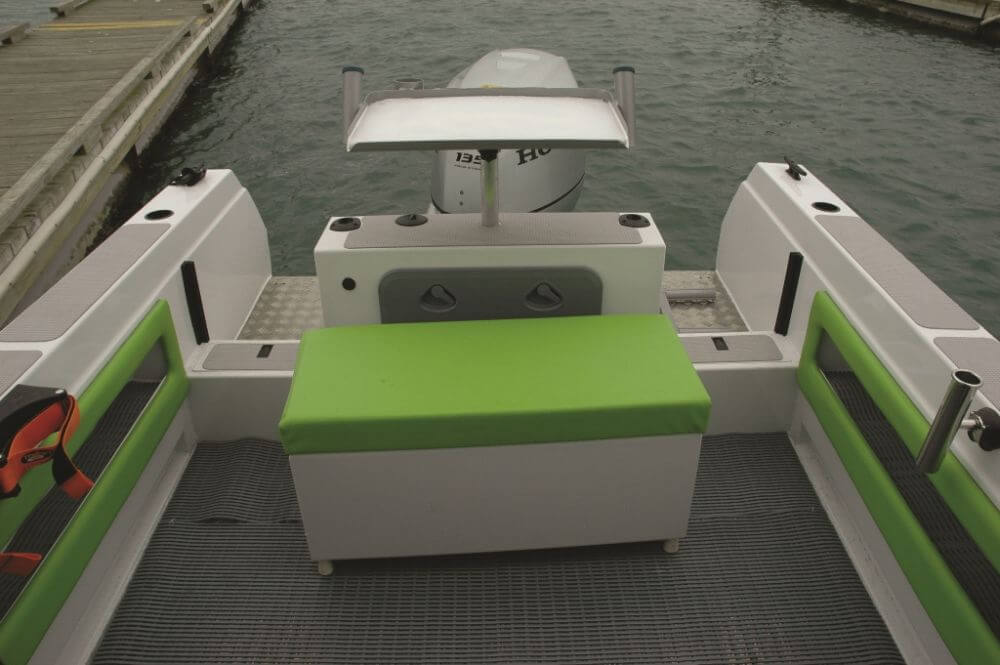 In the calm water I managed to squeeze 32.5 knots, (37.5 mph) with the Honda 135 maxed out to just shy of 6000 rpm. Fuel consumption at maximum rpm was still a very acceptable 46.8 lph, but when I dropped back to a more suitable cruise at 5000 rpm and 28 knots (32.2 mph) that dropped back to 29.5 lph.
While the 135hp Honda running a 17" Solas propeller was well matched, with good acceleration and plenty of grunt for skiing or wakeboarding, I would probably go to the max and bolt on 150hp as the hull would easily handle it.
All in all, I was very impressed with Finlay Boats first entry into the alloy boat market. It's well presented, well built and offers a new alternative in the busy pontoon boat market. Having the opportunity to try the boat in such severe conditions on a day when no 'normal' person would choose to go boating, was a bonus. What it did was reinforce my respect for the designer and I certainly look forward to the opportunity of having a run in one of Finlay Boats larger models. Maybe however on some more sedate sea conditions…..or maybe not!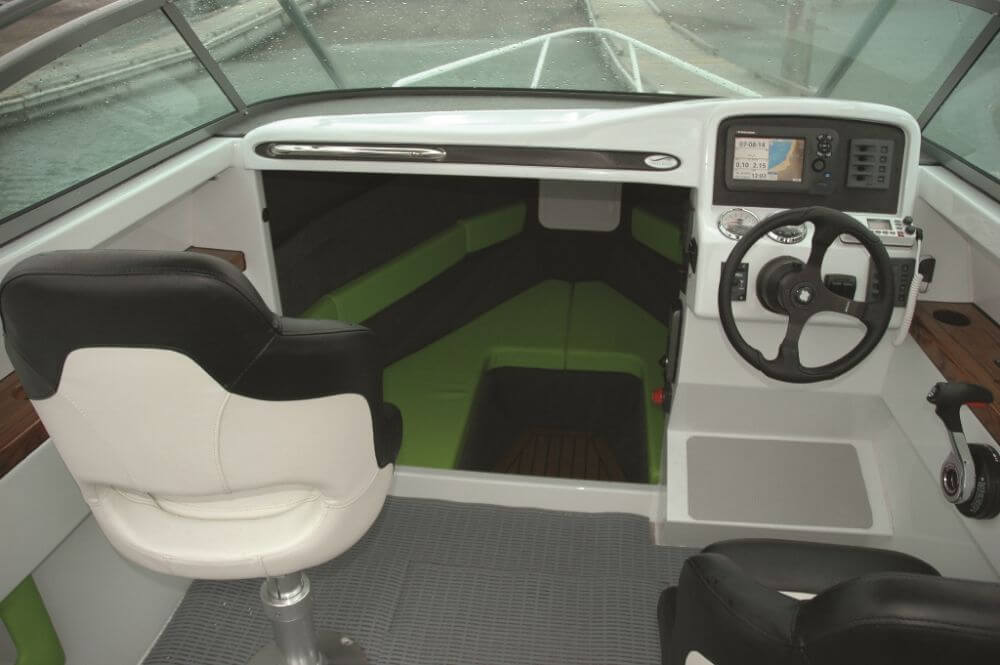 Make & model: Finlay Sports 5900
Manufacturer: Finlay Boats NZ Ltd
Priced from: $NZ75,000
Price as tested: $NZ130,000
Type: Cabin pontoon
Construction: 5mm/3mm
LOA: 6.29m
LOH: 5.90m
Beam: 2.31m
Internal Beam: 1.86m
Deadrise: 20.5 deg
Height on trailer: 2.8m (to hardtop bimini)
Trailerable weight: 1720 kgs
Test Power: Honda 135
Propeller: 17" 3bld S/S Solas
Power Options: Outboard Only
HP Range: 90-150hp
Fuel capacity: 200 litres
Trailer: Finlay Boats
| | | | | |
| --- | --- | --- | --- | --- |
| RPM |   | Knots |   | LPH |
| 1000 |   | 3.5 |   | 2 |
| 1500 |   | 5 |   | 3.5 |
| 2000 |   | 6 |   | 5.7 |
| 2500 |   | 7 |   | 9.9 |
| 3000 |   | 11 |   | 12.2 |
| 3500 |   | 16.5 |   | 18 |
| 4000 |   | 21 |   | 22.8 |
| 4500 |   | 26.5 |   | 23.7 |
| 5000 |   | 28 |   | 33.9 |
| 5500 |   | 31 |   | 43.2 |
| 6000 |   | 32.5 |   | 46.8 |