The Finseeker 220 CC is the smallest of current four model Finseeker range and it comes loaded. Buy this boat and you only need to add you own tackle and bait. Everything else comes with it.
Kiwi's are very familiar with centre console boats, but unlike the US, they are almost exclusively aluminium or RIBs. Back in the day, leading New Zealand fibreglass brands such as Bonito, Buccaneer and Rayglass, all dabbled in producing a centre console model, but they were not big sellers and just as quickly were discontinued.
This left the way open for the aluminium and more recently the RIB builders to corner that segment of the market. As no local grp builder offers a centre console in their range, it has left a gap in the market for the likes of Finseeker and other US brands.
When Terry Elmsly, the importer for Crownline Boats, the manufacturer if the Finseeker range, ordered his first Finseeker he already had it presold, so the signs were encouraging that Kiwis would warm to this style of fibreglass boat.
"I am really pleased with the interest in the Finseeker range and have more arriving prior to the Hutchwilco NZ Boat Show", says Terry.
He added that potential customers he had spoken to after seeing the Finseeker 220 CC, were blown away by the standard of finish and the amount of gear that was already in the boat.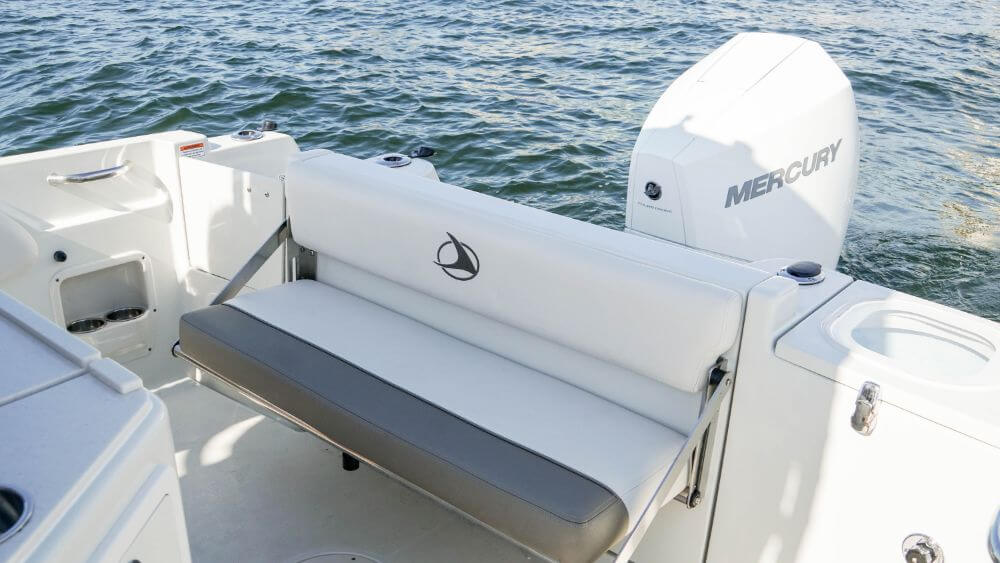 "If you are looking for a serious fibreglass trailerable fishing boat then the Finseeker range has it covered, from both centre console to bowrider models. We provide plenty of amenities for the serious fisherman along with the comfort and style for the family", added Terry.
Standard features include, four Wet Sounds splashproof speakers, handheld freshwater transom shower (cold), LED cockpit lighting, raw water washdown, two aerated baitwell with clear-acrylic access windows, rod storage compartments (built-in port & starboard with stainless steel toe rails), and Kicker stereo.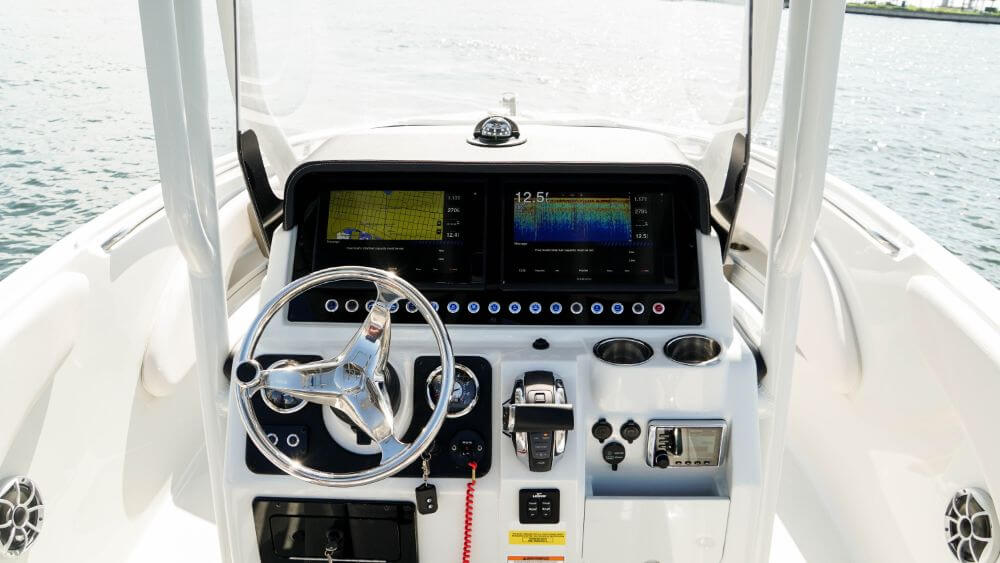 The 220 CC is fishable from bow to stern, so there is no wasted space. The centre console for example is certainly set up for fisherman with space for a pair of 12" MFDs. We had a pair of Garmin 9" screens in our test boat. All the switch indicators are clearly marked and accessible along the base of the flat dash panel. A Kicker stereo is easily at hand as are all the controls for items such as the Lewmar capstan and Lenco tabs. As you find in most American boats a tilt steering wheel is standard. This allows you to have the wheel in the position that suits you. The double helm seat is adjustable with the base folding right back out of the way or in a bolstered position, depending on if you are driving seated or standing.
In line with the robust and solid feel of the boat, the T-Top is constructed of durable solid piping, complete with heavy duty plexiglass screen with an air vent on the top and soft bimini or solid grp hardtop.
Under the flip up bolster is a removeable chilly bin, with a bait station aft complete with one of two livebait tanks, tackle drawers and more rod holders. In total there are 16 rod holders that come with the boat. Didn't I already say this is a serious fishing boat!
Finseeker have made sure that if you are chasing a big fish around the boat, such as an angry Trev or Kahawai, you have room to move. Foot space either side of the console is plentiful and there are no obstructions to catch you toes on.
There are also two large fish bins in the cockpit sole, with electric macerator pumps to empty them. I liked the stainless steel toe kick spaces and thigh-high padded coaming sides, should you need to brace yourself when playing a fish.
The bow area is designed as a multi-function space to suit the fisherman and also as an entertaining area. Central to the U-shape squabs is an optional infill that turns the space into a reasonable sized sunpad, complete with drop-in backrests for forward facing lounging.  You also have the option of a drop-in table so it's a great space to have lunch and relax. There's also plenty of stainless steel cup holders. The cushions can be removed if you intend to use this space as a casting platform. There is storage under the squabs, as well as in a deep floor locker.
Finseeker have really maximised on the space and have added a flip-down seat in the front of the centre console. But wait there's more. Hidden behind that and inside the console is a separate head compartment, complete with a Dometic Portapotti. Not something I would expect to see in a centre console of this size.
Down aft the attention to detail reaches another level with the transom area receiving special attention. To starboard is a wide walk-through to the aft deck which sees a telescopic ladder and a wet locker. On the port side is a second live bait tank and there are four shotgun rod holders, cupholders, plus a handheld freshwater transom shower.
Again Finseeker have thought about how to best use the space between the helm seat and the transom, by fitting a fold-up transom bench seat, so it's there when required and out of the way when fishing.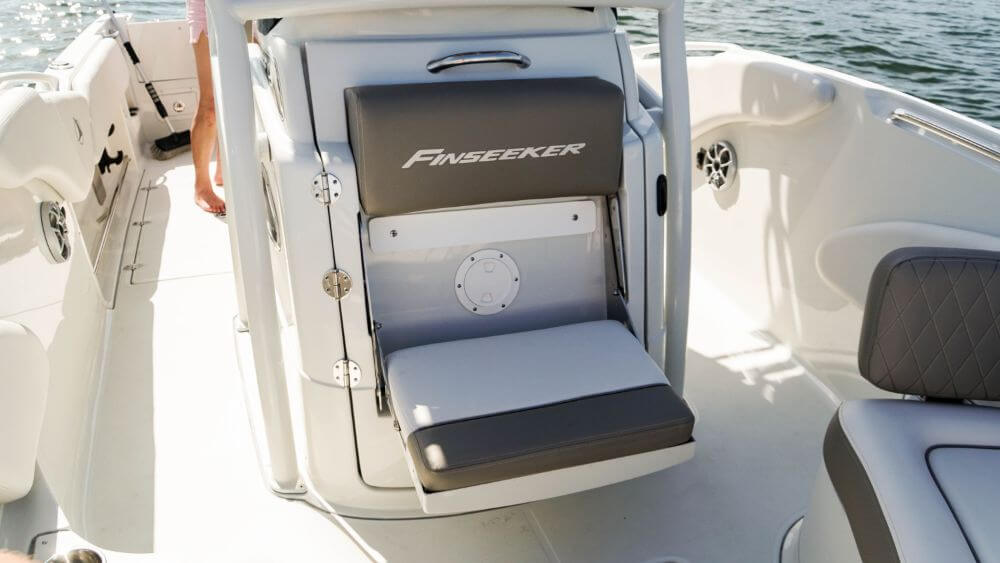 Finseeker utilise a similar hull shape to the Crownline boats, with an emphasis on rough water handling as much as performance. It has a sharp forward entry, a 20° dead rise and large freeboard.  It runs what the company refers to as their Gen 2 performance fast tab hull but also has a Carolina flared bow which is designed for big blue water offshore fishing. The steep 7.5 deg reverse chine angle really rolls the waves and spray down, so you stay dry in the rough water.
Power options are 175-225hp, with our 220 CC fitted with a Suzuki 200. I managed to squeeze over 38 knots, with the Suzuki 200 running at 5900 rpm. A 225hp outboard would increase that by about 2-3 knots.
My test day was calm so apart from some boat wakes I didn't get the chance to try it in the rougher water. Given that it has a 20 deg hull and weighs in at around 2600 kgs, I'm picking it would hold its own. I have to admit that even in the calm water it had a very solid and robust feel to it.
The hull hangs on tight in turns and the extra wide chines push the water down and keep the boat dry. Time to plane was under 4 seconds.
Finseeker's 220 CC maybe one of only four models available right now, but the company has plans to produce 13 models from 6m to 9m in a variety of styles, and all with an emphasis on fishing. The number one goal for Finseeker will always remain to deliver a highly sophisticated, high level fishable boat that provides everything a fisherman needs, but also with enough comforts to suit the family boating lifestyle. With the Finseeker 220 CC I feel they have achieved that, and I can't wait to try out one of the larger models. A day trip to Great Barrier would be a nice start.
Make & Model: Finnseeker 220
Manufacturer: Crownline  Boats
Price as tested: $NZ199,995
Type: Centre Console                       
Construction: GRP
LOA: 6.30m                         
Beam: 2.59m             
Deadrise: 20 deg                        
Test Power: Suzuki 200                  
Maximum RPM: 6000 rpm
Top Speed: 38 knots          
Power Options: Outboard Only
HP Range: 300-350 hp
Fuel capacity: 284 litres
RPM   Knots  L/h     L/NM  Range  (NM)                              
1000  4.0     2.6     0.650  390
1500  5.0     4.5     0.900  280
2000  6.6     7.7     1.200  210
2500  7.5     12      1.600  150
3000  9.5     16      1.700  150
3500  14.5   20      1.400  180
4000  21.5   25      1.200  210
4500  27.5   34      1.300  190
5000  30.5   41      1.400  180
5500  34.5   50      1.500  170
5900  38.5   68      1.800  140
Range is based on 90% of available fuel.