Now that's what it's all ab out – Andrew with a 25 kilo kingfish.
ANDREW HILL GIVES US AN INTRODUCTION TO JETSKIFISHING AND OFFERS SOME TIPS ON HOW TO SET YOUR PWC UP TO HELP YOU CATCH MORE FISH.
Jetski fishing started for me back in 2007 and while I appreciate that people will attempt the sport with different levels of equipment, I will highlight the many options. Obviously with purchasing a PWC there is the usual attraction of adrenalin fuelled action from simply being on the water, towing water toys or just cruising to a cool destination.
But imagine the additional excitement of catching a big snapper as well! A reality is, the majority of us Jetski fisho's are 30 plus and are mature enough to know that hours of hooning up down the beaches trying to impress girls or onlookers on a how cool my jet-ski looks is a short-term thrill. Going for an adventure out and beyond at full throttle, appreciating the different scenery and catching fish, can be just as addictive. That's why I love the sport!
The sport has continued to grow and back in 2017 I was approached by BRP Sea-Doo to help design the first ever fishing specific personal watercraft. Sea-Doo wanted to tick all the boxes with having a proven ready to go pwc for the consumer to enjoy the sport of Jetskifishing all around the world. Prior to its release I tested the unit with the engineering team in Canada and Orlando, there was plenty of research and development. It was a busy couple of years prepping the new Sea-Doo FISH PRO ready for its global reveal in September 2018. Its introduction was very well received and now thousands of them are sold around the world each year.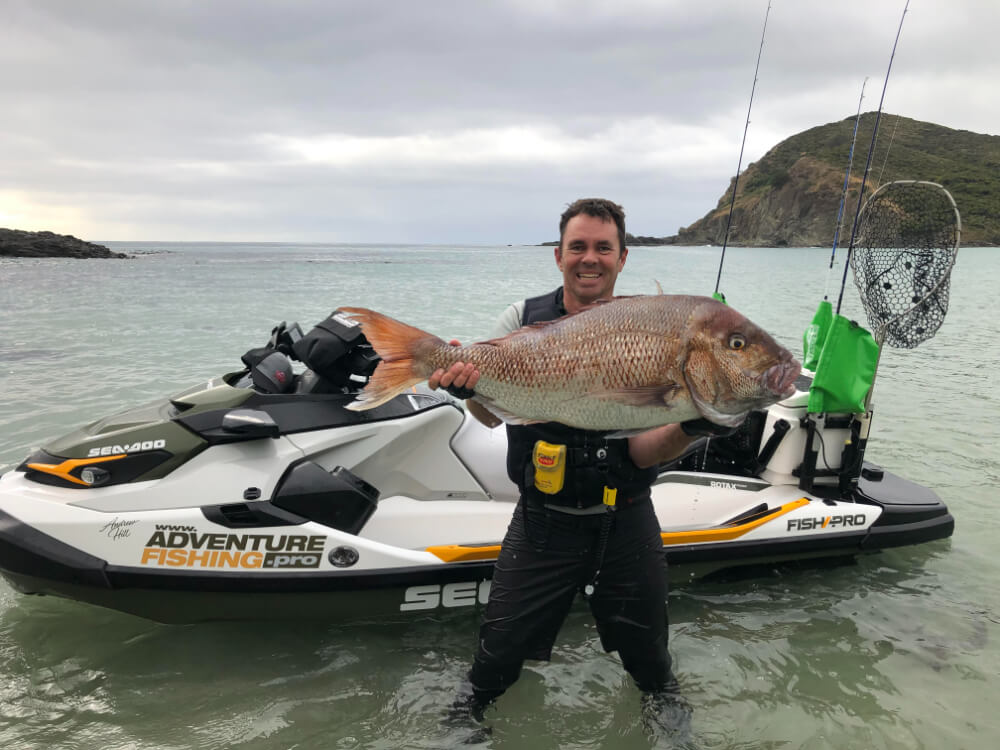 The sport has taken off so much, Sea-Doo has now added two more fishing models to their range for 2022. The fishing segment is now the fastest growing business for Sea-Doo and I continue representing Sea-Doo as their Global Brand Ambassador.
The sport continues to grow for all pwc brands, Yamaha is also entering the fishing specific market for pwc and plenty of buyers are also choosing Kawasaki as another option.
Aftermarket accessory solutions are great for customising, assuming you have the suitable craft, you too could be enjoying fishing adventures with whatever brand suits your budget. For most of us that's getting a feed of Snapper or Kingfish so you don't always need the biggest and most powerful watercraft. Keep in mind that not everyone is in search nor has the time to catch a Marlin, so my options won't go as far as game fishing level. I have fished off all major brands and various models, and experience says that the bigger the hull is the priority. There is no need to be in search of supercharged and turbocharged watercraft, you can only ride so fast too and from your spot. Naturally aspirated engines are less maintenance, more reliable and best long-term resale value. Next on your list is rider comfort, maintenance costs, storage and features such as reverse, cruise control, adjustable handlebars, etc.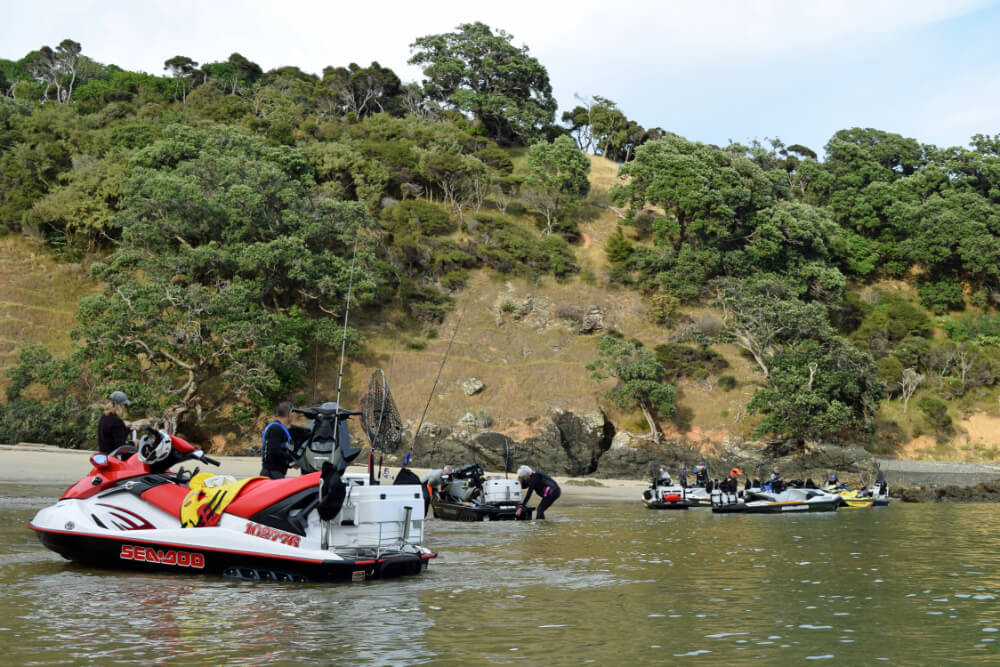 KEY POINTS
If new to the sport there are a few key points to educate yourself on:
Understand Maritime boating laws.
Start the ski in the necessary depth water (knee deep minimum) to avoid damage to the impellor.
Familiarise yourself with launch areas, as some are tidal and there will be no water to retrieve your ski at the ramp.
Check weather forecasts, there are plenty of online apps and websites.
Become a member of Coastguard or at least lodge a trip report with family or friends.
Familiarise yourself on how to flush, wash, maintain and service your ski. Learn more about the sport at www.facebook.com/andrewhilladventurefishing
SAFETY EQUIPMENT
Safety equipment is paramount, the sport is growing rapidly and no matter how experienced you are, you need to be prepared for all eventualities. We often will travel as far as 40nm offshore on late model fully kitted out craft for fishing, but with experience and a support crew. Some of the equipment we carry: • Vest. • Cell phone (fully charged) in a dry bag or case. • Handheld, Floating, High Wattage VHF. • Personal Locator Beacon (Worn at all times). • Permanently mounted 25watt VHF for poor signal conditions. • Shut off valve if you need a tow. • First Aid Kit. • Tow rope. • Emergency Anchor.  • Drinking Water. • Eyewear, Jetski fishing Mask or Goggles. • Sharkskin Thermal Clothing. • Footwear. • Wet Weather Gear. • Riding Gloves (Fingerless). • Sunscreen.
FISHING TIPS
I have found in New Zealand the most practical and successful fishing method off PWC's is soft baiting and the reward keeps on coming when setup correctly. Don't take shortcuts on tackle quality, the persistence of soft baiting has seen me catch many fish over 20 pounds and of late one over 30pounds! Once you have your ski, safety equipment and fishing rods (I only take two, or three maximums if fishing with a passenger). Attaching a cooler/chilly bin/ice chest to your fishing platform is the next stage of enjoying the sport to what makes it so exciting for us. The key is to be able to ride your ski to the same speeds (unrigged) with all your fishing equipment attached. We typically ride to and from our spots at 90kph plus, so the hardware needs to be built tough and well secured. You don't want to be limited by the speed factor by worrying while riding of losing your fishing gear or complete kit off the back!
We Kiwis have DIY in our nature, but in my experience adding a fishing kit is not worth reinventing the wheel, it will cost you more money in the long run with your R&D. Bigger has not necessarily proven a winner when it comes to fishing kits. Many dreams of filling the big bin and reality is, you don't need a chilly bin that keeps ice cool for seven days. My experience is lightweight, easily removable and practical if you catch big Kingfish or keep a trophy fish we have large Ultimate Catch Bags for that.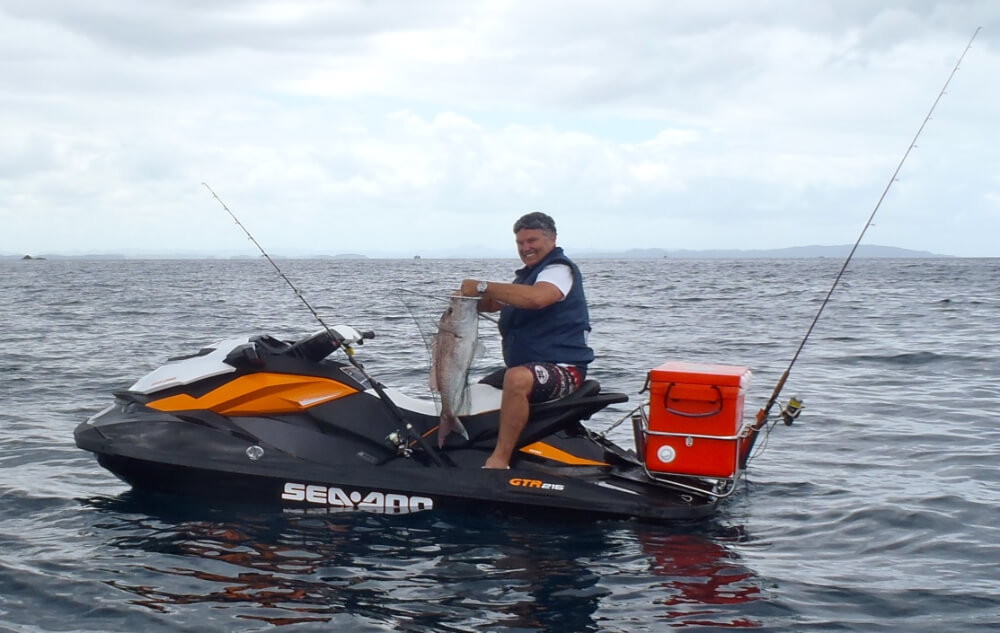 SOME TIPS FOR A PRACTICAL FISHING KIT/CHILLY BIN SET UP:
Securely attach at the main tow point on the ski
Use fixed points, not universal fitments that can move up and down or rattle/fracture at speed
Add rod holders at convenient locations, that are easily reached.
Uses rod tube inserts to prevent additional butt damage to lightweight, soft bait rods.
Leashes to secure rods and nets to the rod holders (reel covers also attach to protect reels from salt spray) are a good addition.
Use marine tested tie down points, custom length bungy cords or rack straps to secure the kit at speed.
Have an easily removable chilly bin, so you don't need to remove the mainframe to handle your fish.
Always have a fish measure and drainplug.
Additional equipment can be attached to your fishing kit such as a dive knife, icky, ice scoop, internal tray storage and large catch bags.
 FISHFINDERS A MUST
Many people new to the concept of Jetski fishing are amazed by what extent how we rig our craft. When I mention we also have electronics fitted such as fish finder/GPS units they don't understand, until actually experiencing for themselves how much it changes their catching. The after-market electronics are the reason I have such great success with my Jetski fishing. Fish finders start as low as $200 but, unfortunately, the environment of Jetski fishing will test the product beyond its IPX ratings and more than likely spend little and endure ongoing issues unless you are a fair-weather fisher person. If your budget only allows you to purchase an entry or mid-priced unit and are considering installing it yourself, you can weigh up the following pros and cons.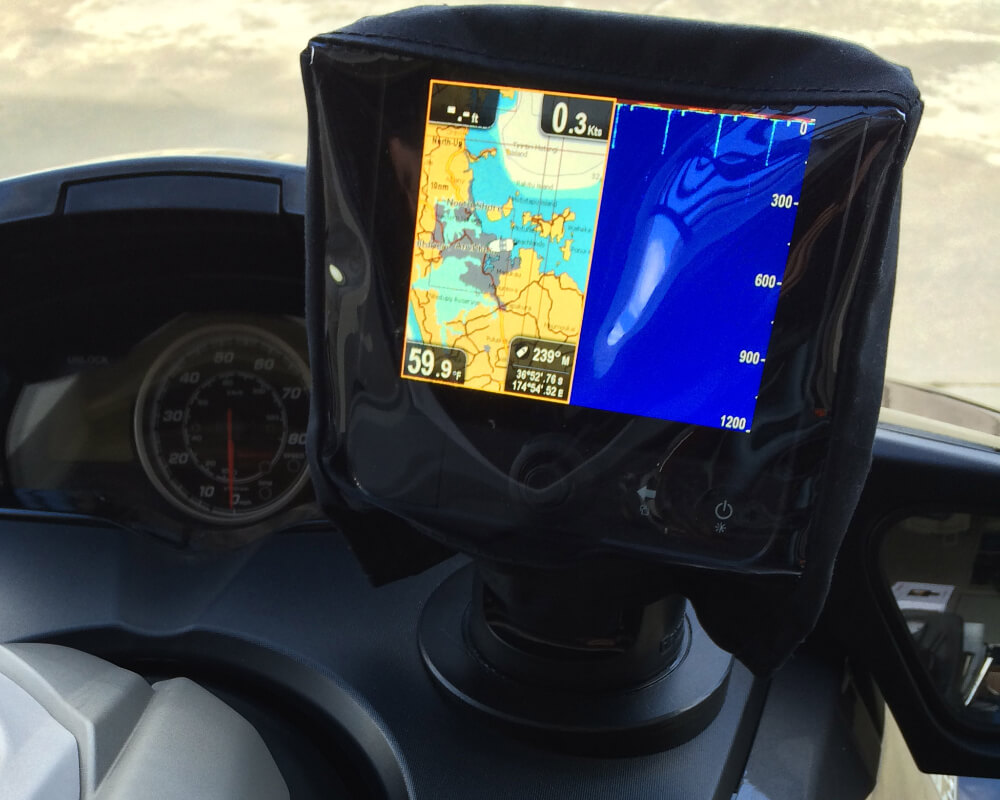 + Small units are easily mountable.
+ Avoid mounting in glovebox areas if possible.
+ If dash mounting, I recommend additional screwing plates to strengthen the dash. A unit needs to waterproof to a higher level and it is recommended to use an Ultimate Rain Coat for added saltwater protection.
The 12-volt power source, fused direct from the battery should have marine cabling.
Transducers on low-cost units often have the transom transducer mounted internally inside various model skis at an area of flat and thin surface locations.
Transom transducers can easily be mounted on the rear transom of the PWC.
+ Touch screen units also require a button option to function on a PWC, as when your fingers are cold or wet you won't always be able to operate it through the screen.
installed in most PWC, not ideal for deeper water and readings at high speed.
+ While most sounders/GPS units will operate sufficiently off the PWC main battery, for added piece of mind many experienced jetski fisho's opt for a secondary battery to run all add-on accessories.
OTHER ACCESSORIES
Other accessories to consider so you can enjoy Jetski fishing and be well prepared as I am, are:
Jetski fishing Mask
Sharkskin Thermal Balaclava
Ultimate Fishing Pouch for on the handle bars
Ultimate Reel Covers to protect your reels from salt water spray
Lure Wrap to secure your lures
Ultimate Catch Bag
Gaff
Net
Rollered Trailer with guide poles and wind up jockey wheel.
Sand Anchor for launching and retrieving in rocky areas.
Minimal tackle in a soft pouch so not to be damage while riding to and from spots. Our sport is fun and every session is a new adventure, do it once and do it right and you can enjoy the lifestyle of Jetski fishing.