Six decades of boatbuilding experience and a wanderlust for far-flung harbours defines the Taiwanese builder's flagship.
Tony Fleming cut his teeth as a technical engineer for American Marine, then in its infancy as a company, helping to both launch its legendary series of trawler yachts and getting their Singapore facility up and running. Taking that firsthand experience, and coupling it with his own designs for an all-new pilothouse, he founded Fleming Yachts in 1985; still located at the same Tung Hwa yard in Taiwan where the fledgling company got its start. Today, the eponymous builder's yachts are distributed by a global network of sales and service providers, continuing the vision of its founder, a marine engineer with more than 60 years of boatbuilding experience beneath his keel.
The Fleming 78 Classic breaks new ground augmenting its well regarded salty and shippy styling with an appealing low-profile, functional and inviting flybridge, which magnifies the vessel's comfort, space and utility. Like all Flemings, the yacht takes full advantage of the accommodations and performance of the original 78 launched in 2010, a strong performer in its own right and a hallmark of the builder's sterling reputation.
Getting aboard the 78 Classic in Stuart, Florida, with A.J. Longmaid, the director of operations of Burr Yacht Sales South, the first thing I noticed was the convenience and safety of boarding through two inward opening bulwark gates, one on each side, and the wide gate on the transom platform. It obviates the need for a step box when boarding from a fixed or floating dock, and traversing from a launch is a no-brainer. Toe stub-free teak planked side decks are 23 inches wide and the height of bulwarks ranges from 30 to 38 inches. There's no disputing it: The 78 Classic is an oceangoing rig.
Safety features are all around you; it's easy to be overwhelmed by it. From the polished deck hardware including 22, 14-inch stainless steel cleats, 12 hawse pipes, 100 yards of stainless-steel railing, a pair of stern windlasses and twin anchor windlasses—the 78 clearly shows it was built by people who have faced strong seas. Walking anywhere on deck, you are never more than an arm's length away from something solid and secure.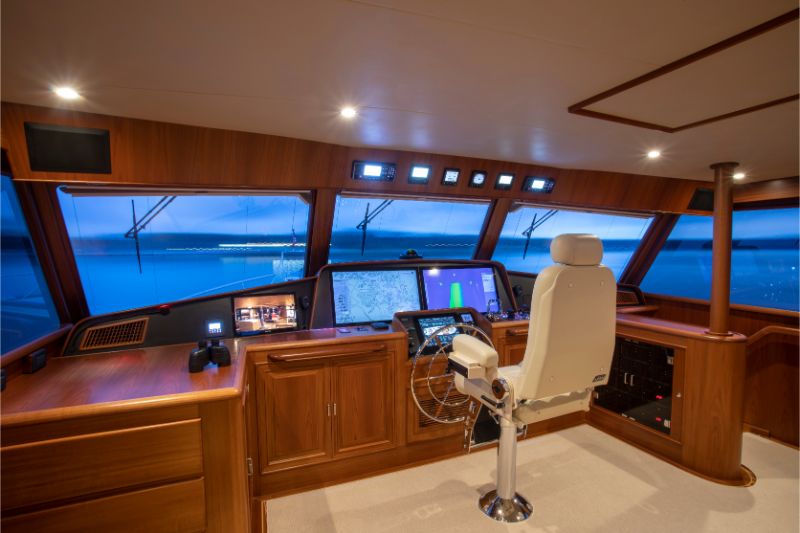 Open the saloon doors and be ready to be impressed by book-matched teak joinery. According to Longmaid, Fleming averages 15 new boats a year. This pace, honed by many of its shipwrights and craftsmen that have been with company since its inception, not only allows much of the interior to be built in place (instead of modular units assembled on the shop floor) but also creates a remarkable flow of virtually seamless grain and texture throughout the yacht. The saloon layout, while not breaking any new design ground, has a comfortable L-shape lounge and chairs that combine to create comfortable social and relaxing areas.
Five steps up on centerline is the all-weather pilothouse that is outfitted with a Stidd helm seat equipped with a Furuno arm rest auto pilot control, an L-shaped teak settee to port and a day head to starboard. A raised dash accommodates navigation and communication electronics—with more instrumentation in the eyebrow—all installed by Burr Yacht Sales. Boning color touch screen instrumentation monitors the corral below (twin MAN 1,550-hp diesels), as well as fluid levels, myriad ship and hydraulic systems and security status via closed circuit cameras throughout the yacht. Convenient stowage for charts, manuals and other gear is provided in drawers, racks and shelving. The DC electrical distribution panel is to port; AC system panel is starboard. Port and starboard doors lead out to the Portuguese bridge with gates accessing the foredeck.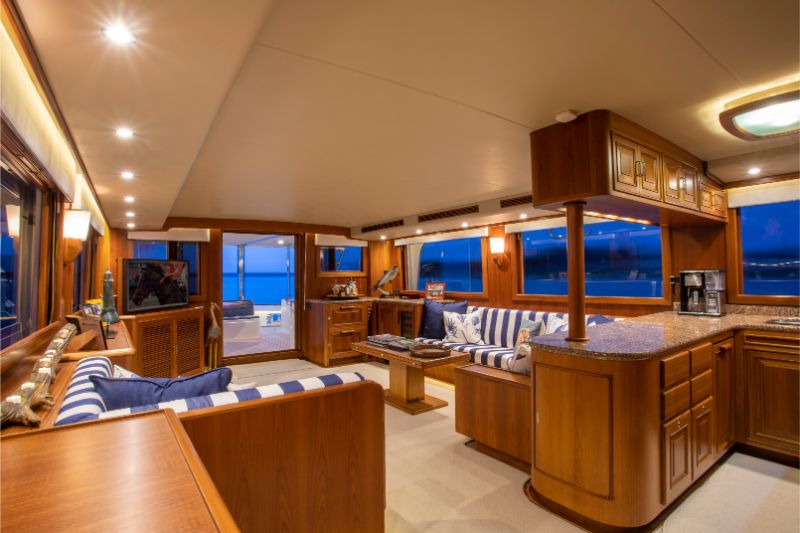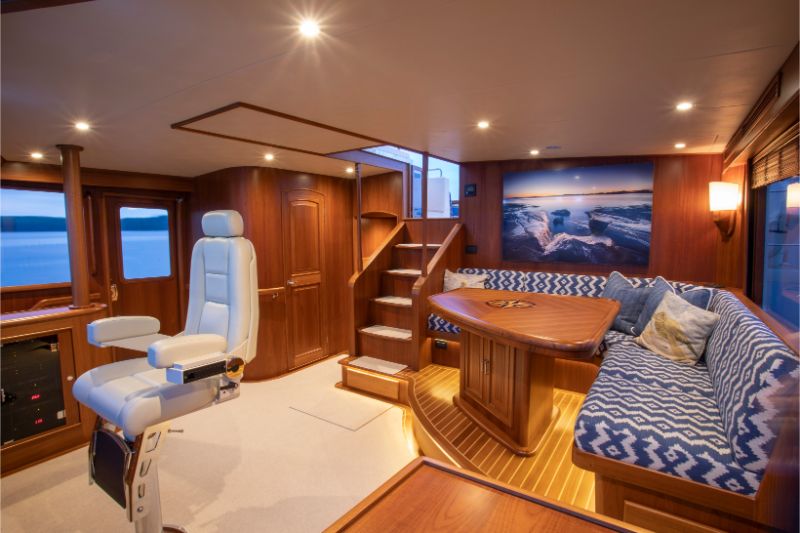 A staircase to starboard leads below to a lobby area and the lower accommodations of three staterooms and large, en-suite heads. Aboard our test boat, there was access to the full-beam master from the salon. Two crew cabins and a head and shower are aft, abaft the engine room with a private entrance from the port side deck. 
Every item and detail aboard this yacht mirrors the builder's commitment to safe, comfortable long-range cruising. The alternative flybridge deck arrangement propels this philosophy to yet another level. The extended  deck with its practical and secure molded nonslip sole enables the CT 2500 Steelhead Marine crane to launch the tender to port, starboard or aft—a tremendous convenience wherever the yacht is docked or anchored. The extra bridge length also allows better protection from sun and weather for enjoying the California aft deck below.
During our test run on the North Fork of the St. Lucie River, we were able to cruise at a top end of about 23 knots, thanks in part to the bulbous bow and the added waterline length beneath the swim step providing less resistance forward and more lift astern, respectively. At 2100 rpm, those MANs turned in a solid 20 knot cruise. On the open bridge, safely ensconced behind the windscreen, I recorded 75 dB(A). The loudest racket was the water sliding past the hull.
The hull is solid fiberglass reinforced with an interlocking frame and stringer system. Additional reinforcement is implanted in critical areas including the stem, the chines, stabilisers, keel and in forward sections ahead of the yacht's collision bulkhead. A stainless steel shoe protects the full length keel and where the keel joins the hull; , its top is sealed. This will isolate any trauma from the hull in the event of a collision with partially submerged flotsam and jetsam. The Sea Torque shaft system utilises a thrust assembly that transfers power from the propeller to hull so soft mounts can be used while minimising vibrations.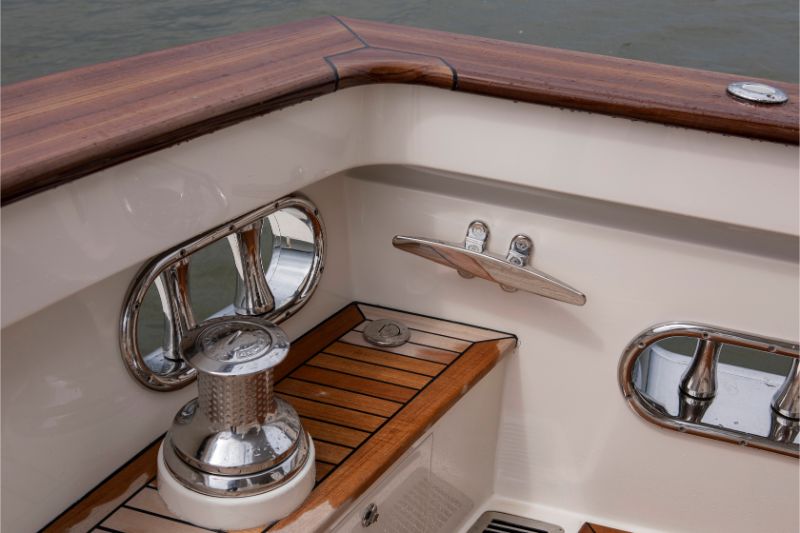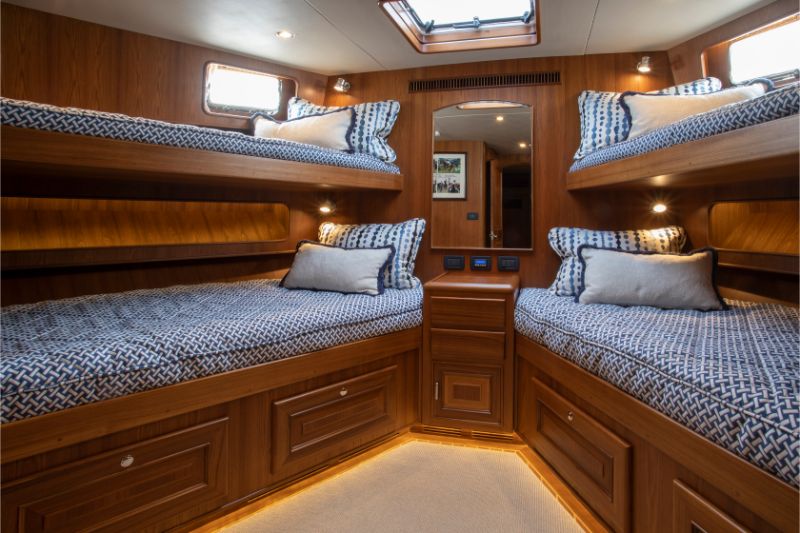 Mechanically, the 78 Classic has been built with gear heads in mind—myself among them. For me, taking a trip down to the clean and purposefully laid out engine room was like going to Disneyland. There is 1.8m of headroom between the engines, and the outboard sides have mirrors to see what's going on at a glance. Sight tubes for fuel levels are where you can easily see them and hydraulic, plumbing and electrical systems, through-hull and raw-water strainers are well marked. There's quick disconnect fittings for oil changing with redundant pumps, stainless steel overhead grab rails and nowhere to bang your head or rip open fingers with poorly or carelessly installed equipment. If I only had two words to describe this engine room, I'd say "none better." 
Fleming Yachts clearly appeal to experienced yachtsmen. Our test boat was the second Fleming for the owner who moved up from a 65. A lifelong boater, he started early and worked his way up with center consoles, cruising and racing sloops. He was in search of a boat he could cruise with his family up and down the East Coast, and also serve him while down in Florida during the winter. "Our first Fleming 65 met those needs very well. When I became convinced that the 78 could be handled as easily, we ordered our 78. The boat has been wonderful," he told me. "Two people can run it anywhere. Maybe because of my sailing past I enjoy going long distances not hearing the engines or feeling any vibrations whether I am in the pilothouse or on the flybridge. What I hadn't fully appreciated was the extra weight on the way the boat rides in a sea. The longer waterline and hull shape make the boat meaningfully more efficient in the 10 to 12 knot cruising range than the 65, which was also impressive."
Impressive is an apt word to describe the 78 Classic, since it comes passionately equipped thanks to Tony Fleming and his team of master builders. From its destroyer steering wheels to the active fin stabilisers, it's hard not to sense this masterful approach the first moment you come aboard, but even more so when you are offshore, a lone boat in a massive sea.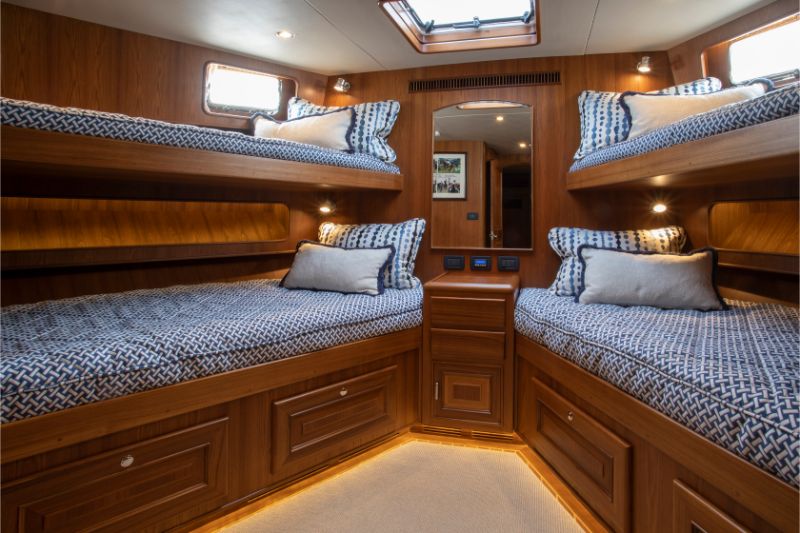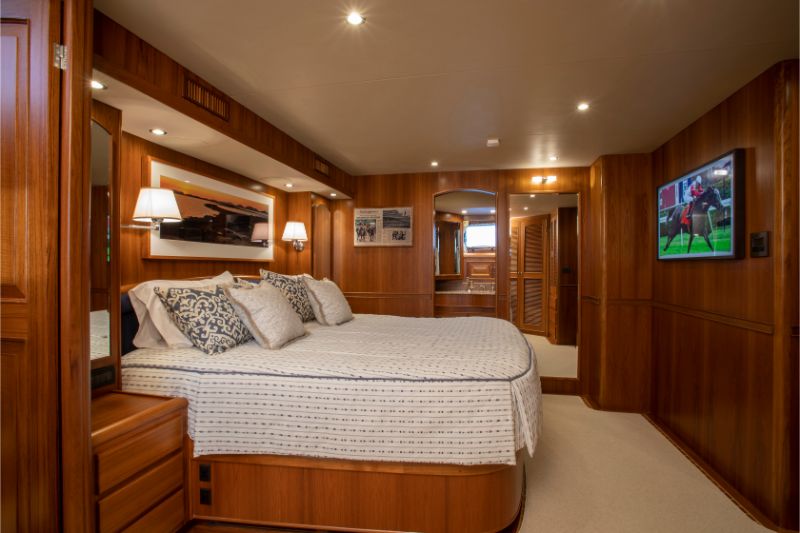 Boat Design Name: Fleming 78 Classic                
Year Launched: 2018              
Builder: Fleming Yachts
LOA: 23.66m
LWL: 22.05m                           
Beam: 6.55m 
Displ (Dry): 89772 kg
Max Speed: 23.3 knots                   
Construction: GRP
Fuel Cap: 11356 litres           
Water Cap: 1665 litres                  
Engine Make: 2×1550-hp MAN V12 1550 CRM 
Drive Train: Shaft/Seatorque
Generator: 2 x Onan
Lighting: Hella
Batteries: Lifeline AGM 
Thrusters: ABT
Stabilisers: ABT Trac                
Anchor Winches: Maxwell 3500            
Davit Crane: CT 2500 Steelhead Marine                                       
Aircon: Cruiseair 
MFD: Boning                           
Priced From: $ POA
| | | | | |
| --- | --- | --- | --- | --- |
| Fuel capacity: | | 11356 | litres | |
| RPM | Knots | L/h | L/NM | Range (NM) |
| 700 | 7.0 | 19.7 | 2.900 | 3500 |
| 900 | 8.8 | 40.1 | 4.600 | 2200 |
| 1200 | 9.5 | 96.1 | 11.000 | 920 |
| 1500 | 11.5 | 166.5 | 15.000 | 680 |
| 1800 | 15.0 | 329.3 | 22.000 | 460 |
| 2100 | 20.2 | 442.9 | 22.000 | 460 |
| 2300 | 22.8 | 567.8 | 25.000 | 400 |
| 2354 | 23.3 | 598 | 26.000 | 390 |
FUEL & PERFORMANCE DATA
Fuel capacity:
RPM
Knots
L/h
L/NM
Range (NM)
700
7
19.7
2.9
3500
900
8.8
40.1
4.6
2200
1200
9.5
96.1
11
920
1500
11.5
166.5
15
680
1800
15
329.3
22
460
2100
20.2
442.9
22
460
2300
22.8
567.8
25
400
2354
23.3
598
26
390