Author : Barry Thompson
Images by Bryce Taylor
The launching of Salt Shaker, the first Formula Icon 42, a purpose design semi custom Sport fisher heralds a whole new direction for prestige Kiwi builder, Formula Cruisers.
While Formula Cruisers has for many years been accepted as one of the leading builders of semi custom cruisers it has generally been for boats over 16m. The popularity of its ICON range 54-68 on both sides of the Tasman is testimony to the company's skills and craftsmanship, with so far nine in the water, the latest being Aquanita, an ICON 54 for a Perth-based owner. However the newest addition to Formula Cruisers' ICON range is also the smallest. At 13.3m overall, the ICON 42 takes the Downsizing company back into a different market sector, where the price is obviously reflected by the size, but not in any way compromised by the same incredible attention to detail throughout the boat. When Formula decided a number of years ago to 'step down' in size the company's executive team had plans to design their own mini ICON. However, when the opportunity arose to purchase all the moulds for the Australian designed and built Eureka 42, it was an opportunity not to be missed. The company had built only one boat so the moulds were in as-new condition.
"We did an analysis of building our own moulds or buying the Eureka moulds and it certainly made sound economic sense to take over the moulds that were already in existence, which we did in 2010", said Troy Woods, Marketing Manager for Formula Cruisers. "The style and overall look of the boat suited our existing ICON range so it was a natural fit for us", he added. Not long after bringing the moulds over from Australia and setting them up in their Hobsonville, Auckland factory, the first order came through. Interestingly it was for an Australian client based in PNG who had been following the boat's progress under the previous ownership. "He knew what he wanted and his choice was between ours and a similar US built brand, and we were fortunate enough to get the nod. It was great for us as we were able to develop a new boat straight away, with an owner who had the same vision as we did for a dedicated, compact sportfisher", says Woods.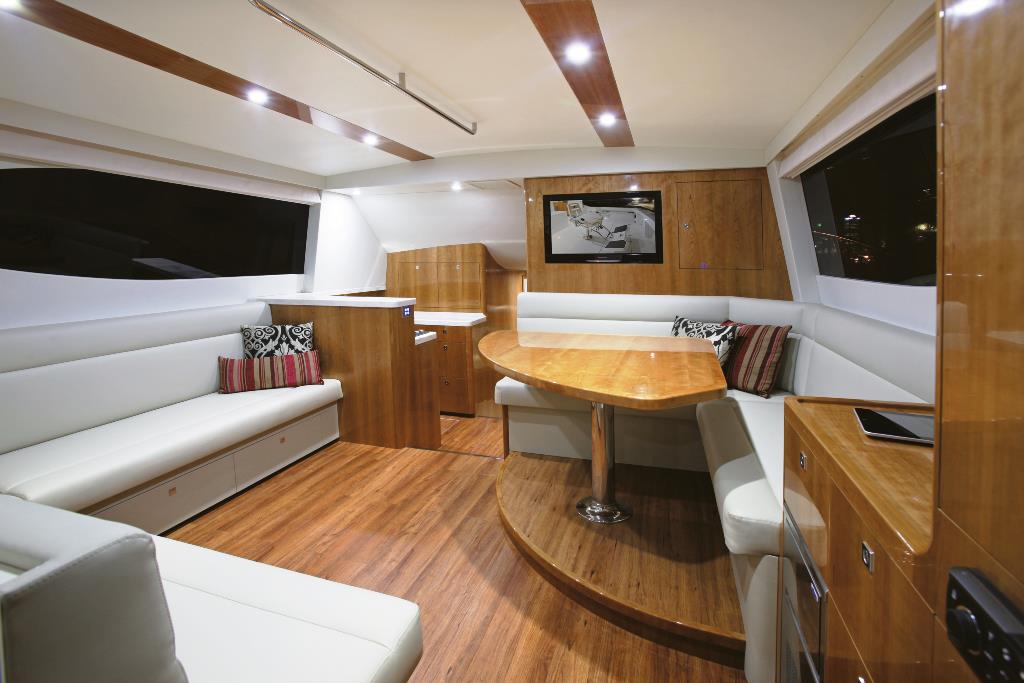 Launched in early December Salt Shaker was due to be shipped to PNG in early January, where it will be keep in Madang and used for day game fishing trips and overnight cruises. The ICON 42 is available with a choice of two power trains, conventional shaft drive, which in the case of Salt Shaker is a pair of Cummins QSM11 @ 715hp each, or a pair of Volvo Penta IPS500s. If you don't feel the need for speed then a pair of Caterpillar C9s @ 575hp each is a preferred option. Top speed will still be in excess of 33 knots. The fact that Salt Shaker is swinging 30" propellers meant that the underwater section aft was altered to include shallow tunnels. With the lower horsepower engine options, or IPS, the tunnels wouldn't be needed. The engine room is kept cool and saltwater free thanks to Seaworth saltwater separators. These are designed to separate the salt from the air so that the air that enters the engine room is salt free. The grills look pretty racy on the side, also.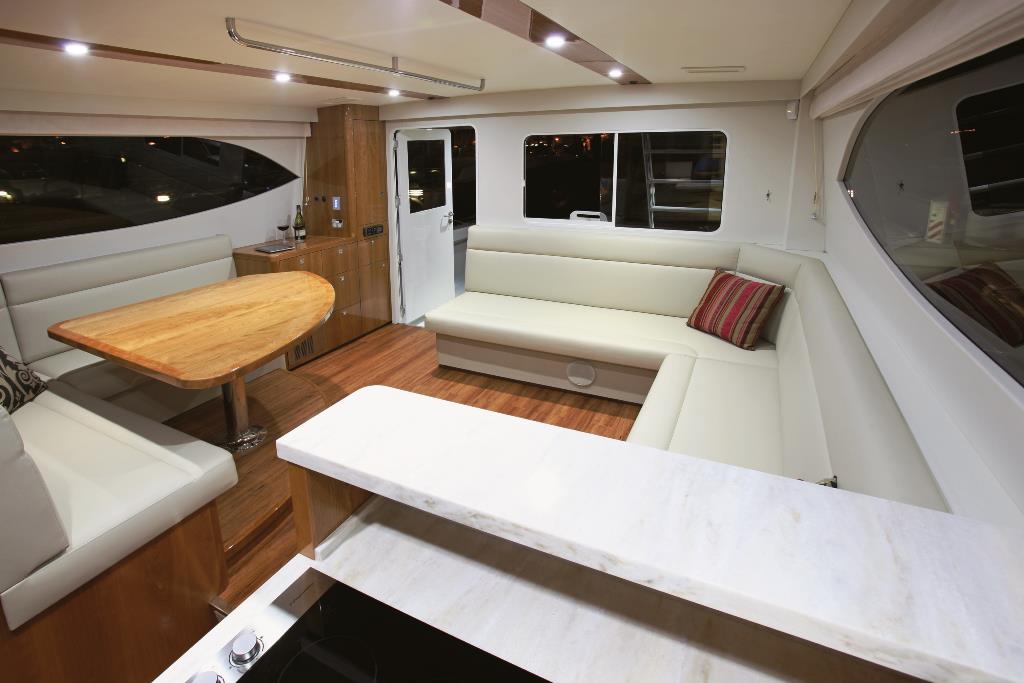 While the owner wanted a few changes, the layout is fairly standard for the shaft drive version. The only major difference is that the second bathroom has been replaced with an internal rod locker for security reasons. In the pod drive model the layout is totally different and offers a master cabin forward and a full width guest cabin aft. The galley and saloon also are considerably changed, due to the availability of more space and
the raised saloon sole. The engines are obviously repositioned aft under the cockpit sole, so there are also added storage areas available. Salt Shaker has a two-cabin layout with the forward guest cabin featuring three single berths with storage outboard, underneath and in side lockers. Gloss cherry has been used throughout the boat and is offset with lightly toned leatherette fabric on all bulkheads and ceilings.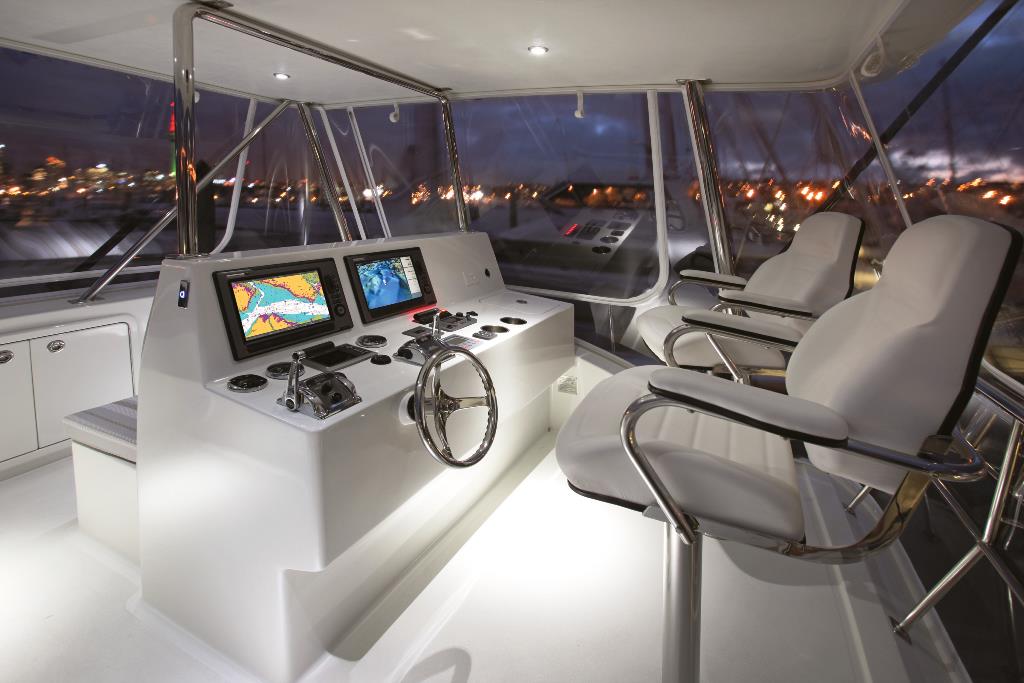 All accommodation areas are carpeted, with the saloon and galley area finished in hard wearing Amtico composite flooring.
Naturally, as the boat is destined to be in the very hot humid climates of PNG, air conditioning has been fitted throughout all cabins and the saloon. The cabins have their own air handlers and there is a second one just looking after the saloon and galley. To starboard is the master cabin with lift-up storage under the double berth, a couple of handy side units and plenty of additional
storage. With over 2m headroom in both cabins you don't feel confined in any way. As already mentioned, the ensuite bathroom has gone, in favour of a rod locker. In fact, one bathroom shared by both cabins is probably enough
in a boat this size and allows you to make better use of the space. The shared bathroom to port has a large enclosed glass shower stall, SeaLand toilet, raised bowl on a Corian bench top, with cherry timber accents, plus an opening deck hatch for ventilation.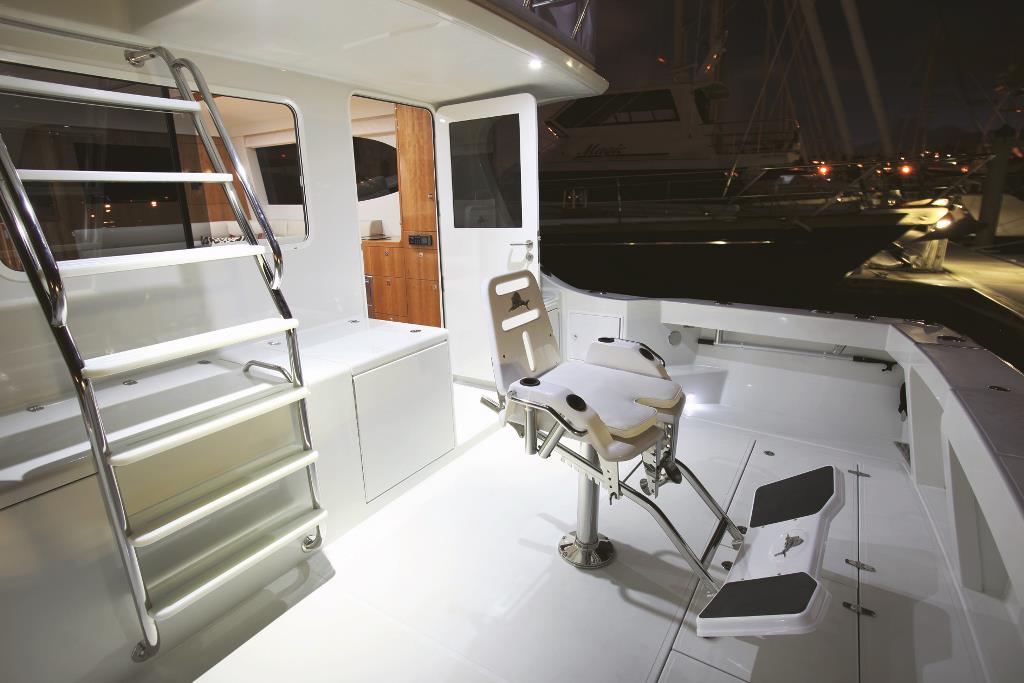 The ICON 42 is designed with a clean, contemporary look with soft contours and an unbroken sheer. Salt Shaker follows the above, so there is no need for a lower helm. Whatever the reason, it's a personal choice and you do have the benefits of more space utilisation under the forward eyebrow, and much lower take-up of heat from the sun. Salt Shaker's galley is situated to port with generous servery areas from the solid surface Corian bench top. There's a large recessed sink, twin element ceramic hob, convection microwave and large fridge/freezer. As well as storage cupboards and drawers throughout there is also a cavernous storage area underneath. With the absence of the lower helm, the starboard side L-shaped dinette is situated well forward in the saloon, with a fixed timber cherry table and a 42" LCD TV in the forward bulkhead.
Opposite is another settee that slides out and converts to another double berth. Overhead there are plenty of LED lights set into timber detail ceiling panels. On the starboard side aft is the main switch panel that includes a BEP C-Zone central monitoring system with display.
There is a large tinted sliding window in the aft bulkhead and a single opening rear door that leads into the business end of Salt Shaker. This is a no compromise fishing machine so there has been a lot of attention paid to the functionality of the cockpit. Starboard forward is a large sink unit and hand held shower with storage under. Outboard there is a dedicated tackle locker and the boat is liberally supplied with rod holders and of course the very necessary Reelax game chair. Salt Shaker has a second freezer plus a top loading fridge and a central bait station combined with engine room access.
Fresh and sea-water washdowns, roomy fishbins (one of which is refrigerated), tackle lockers and a wide opening outward hinged transom gate all go towards making this a very well set up sport fisher. With the addition of Reelax outriggers and the fighting chair you have a perfect fishing machine. Being a true sport fisher, Salt Shaker does not have an otherwise standard full width boarding platform.
The ICON 42 has a stainless ladder with open polymer treads (a teak option is available) leading to the open flybridge with clears and a composite GRP hardtop. There's a rear double helm seat set up with a large helm console capable of taking all the screens and navigation gear you'd ever need on a boat this size. Your guests have the benefit of bench seats forward of the helm
(a change from the original Eureka) and along the port side. Being a game boat the owner has opted for twin lever Palm Beach or tournament style engine controls and everything has been positioned so that you can back-up on a fish while being in full control from the flybridge. Standard features include, drink holders, an ice bin and an opening hatch in the hard top. There's also copious storage under the seating and the forward eyebrow.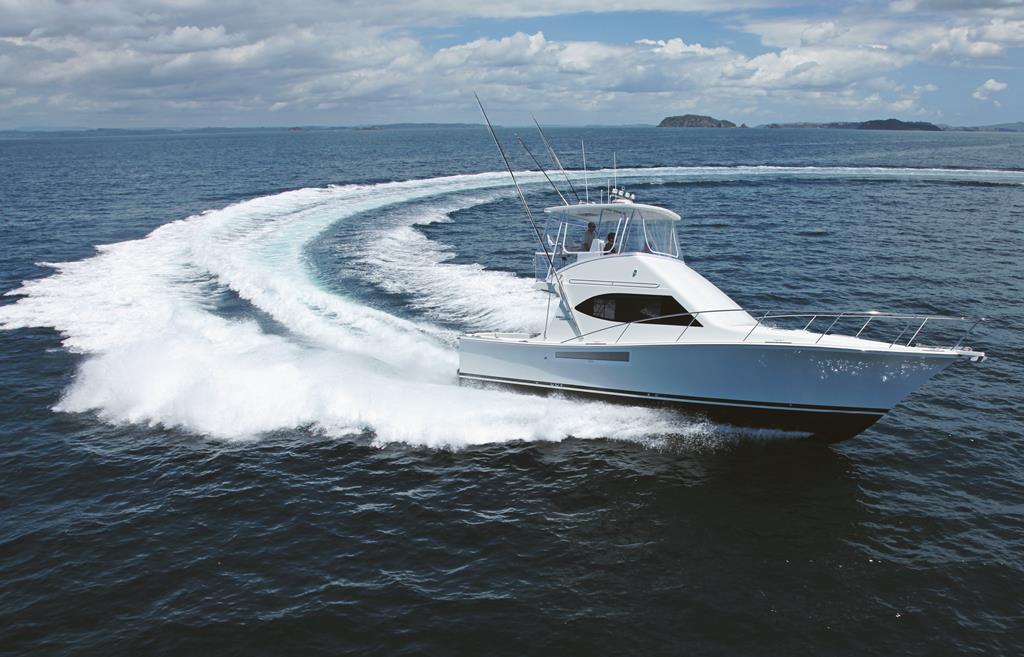 Underwater, the hull features a fine entry, warping to 14 degrees at the transom. It's an extremely stable boat, helped by a wide 4.55m and the flattish aft sections. The flared bow hooks the spray out and away from the boat, maintaining a very dry ship. Formula Cruisers has spent a lot of time making certain that the boat is well balanced. Balance is of course something that
obviously changes between shaft and pod drive options. Salt Shaker displaces 16000kg, which is about the same as the previous Eureka 42.
Whilst the Eureka was constructed using hand laid GRP with biaxial rovings and vinyl ester resin for the running surfaces, with the hull sides and decks balsa-cored, plus double full-length foam cored stringers for hull stiffness, the ICON 42 is quite different. Formula Cruisers has stuck to the same construction materials and layup as its larger ICON models, using a solid glass bottom with foam cored sides and decks. The outer layers are vinylester resin with a mixture of foam and timber full-length stringers. The boat is built using vacuum bag construction and to NZ survey standards.
With the first of Formula Cruisers' new ICON 42s now launched, Troy Woods is confident that more orders will follow. "We have had a number of clients extremely keen to purchase, but they really wanted to wait until the first one was in the water and they could then see what it was really like", he said.
While Salt Shaker is a serious sportfisher, the ICON 42 is also available in a more cruising-orientated version and that's when Formula Cruisers' customisation skills come into play. It's all a matter of sorting out just what you want and how best to achieve it, within the parameters of the existing mouldings. From all reports, the response from those who have been aboard the boat has been very positive. The ICON 42 fits well into the existing ICON range and with a base price of just under $NZ1 million it comes in at a good price point.
Boat design name: Formula ICON 42
Year launched: 2011
Interior designer: Formula Cruisers
Build : Formula Cruisers
LOA: 13.3 m (43' 6")
Length of hull: 12.86 m (42')
Beam: 4.57 m (15')
Draft: 1.1m (3'6")
Displacement (dry): 13,000 kg
Max speed: 36 kts
Cruise speed: 30 kts
Construction: Composite
Fuel capacity: 2500 litres
Water capacity: 500 litres
Engines: Cummins, QSM11, 2x 715 hp