In 2013 Frewza Marine released the first of their new F18 hardtop models and shortly after followed that with the F18 Fisher, an open version of the same boat. Barry Thompson spent some very relaxed boating time on a mirror-smooth Lake Wanaka to find out more about this Invercargill built pontoon boat.
Brendon Frew is a man that is passionate about the brand that carries his name and while they are extremely popular and known in the South Island, the Frewza brand is not so strong further North. However, that is quickly changing in places such as Auckland, Tauranga and Nelson. In 2014, Frews Marine built around 150 boats of which the F18 was responsible for 12 of those sales.
"The Frewza F18 was the result of customer demand for a bigger boat, especially in the hardtop version, so selling around one a month was very pleasing", says Brendon.
Frews Marine deal direct with customers and say this has proven very popular as clients can have a regular update on the boat's progress and make the necessary option changes direct with the factory.
He says, " We pride ourselves on producing exceptional boats for "real" people, keeping our boats at an affordable cost and offering a range of models and options including full customisation".
One of the characteristics of the Frewza F18 Fisher hull design is a fine entry point and positioning of the planing strakes. Brendon points out that he doesn't run strakes on any models smaller than the F18 as the hulls don't need them.
"They add about 18% to the lift factor and in a following sea they allow the hull to track really nicely and predictably down a wave", says Brendon.
As Lake Wanaka was mirror calm for our test, I have to rely on Brendon's comments re rough water handling, but based on what I have heard about his other designs, they have a great sea keeping reputation. I can comment however on the excellent stability at rest, with the boat remaining very level with both Brendon and myself on one side of the cockpit. Good to know when you are fishing 2-3 people or have a diver dropping over the side. Construction is typical of a pontoon boat of this size with 4mm plate on the hull, 3mm used for the pontoons and 3mm cabin sides and top. There are three sealed air tight chambers in either pontoon, plus sealed cavities under the chequer plate sole. Overall there's around 1700 litres of buoyancy, which makes the Frewza F18 virtually unsinkable.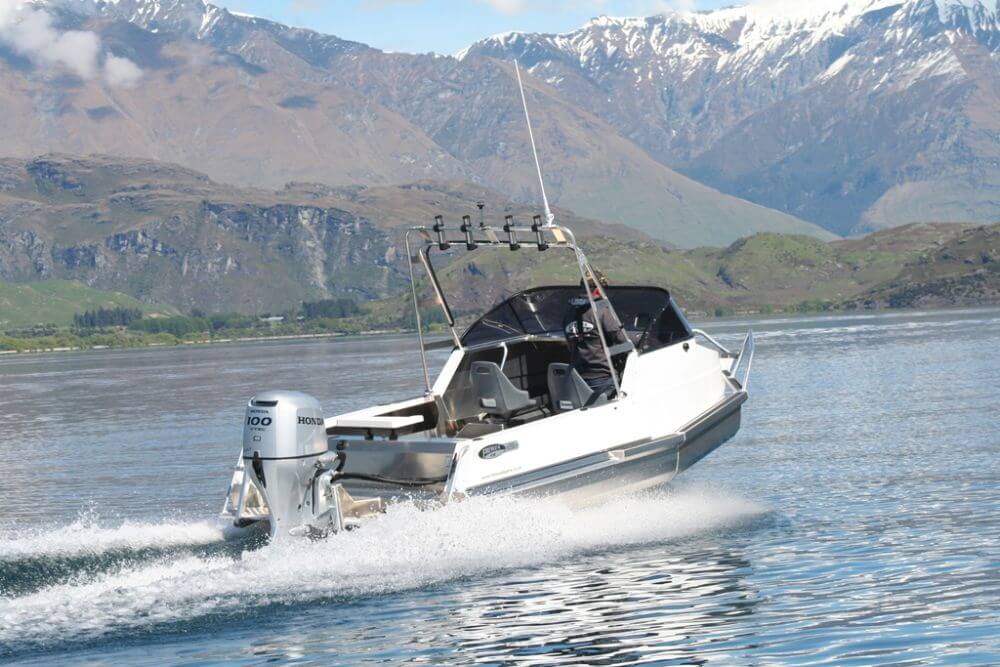 Our test boat was brand new, and Brendon had brought it to Wanaka to deliver to its new owner. His plans for the boat were more than lake fishing, with plans this summer to tow the boat through to Haast and do a lot of his fishing off the rugged and unpredictable West Coast.
However, when I got to run the Frewza F18 Fisher the biggest ripple I had on the water was crossing our wake. Hardly a true to test for a boat like the F18, but what a beautiful venue to do a boat review. Lake Wanaka is a massive lake that offers a serenity that can only be found in the Southern Lakes of the South Island. Beautiful scenery one way, magnificent vistas the other. But back to reality and the boat review.
The Frewza F18 is rated from 90hp to 130hp, outboards only, with our test power being a Honda BF100, an engine released in 2014 along with the BF80. The BF80 / BF100's 1.5-litre, SOHC, 16-valve, in-line four-cylinder engine is inspired by the same engine that powers one of Honda's best-selling motor vehicles, the 'Jazz'. A range of Honda-exclusive technologies combine to deliver exceptional power, superior environmental performance and best-in-class fuel economy, we're told.
Well, I would have to agree, as the acceleration and top end speed of the Frewza F18 was very impressive for just 100hp and on a flat calm 'sticky' fresh water lake. At 6000 rpm, with maximum trim I managed to squeeze the speedo to 68.5 knots.
Honda's  ECOmo, is a sophisticated fuel control system that contributes to the engines' excellent fuel economy and VTEC (BF100), provides more top-end power while maintaining optimum fuel economy. Overall a very quiet and grunty engine that is well-suited to the Frewza F18 Fisher.
The engine also includes an optional Trolling Control function which allows precise control of engine speed, with adjustments in 50rpm increments from 650rpm to 1000rpm, which is ideal for various styles of fishing and slow speed manoeuvres. Great for trolling around the edge of Lake Wanaka for trout.
Like most of his designs, Brendon starts off each new model as a basic fishing version and then up-specs them as required. This particular F18 Fisher has been kept reasonably basic and not over speced by its owner as his prerequisite was for a serious, no-nonsense fishing boat.
Forward, the cuddy area is spartan, with no berths in our test boat, but there is the option of fully lining this area and adding vee-berths. There is a large overhead Maxwell deck hatch for ease of access to the forepeak open anchor locker and a rear upstand on the sole to stop your gear ending up back in the cockpit. This is certainly Frews Marine most popular layout and in reality the cabin is just someone to stow the dry gear. There is the option of installing a fully automatic anchoring system, either a below deck line drum winch or a deck mounted capstan.
When it comes to the dash area, you can fit up to a 10"-12" MFD screen and still have room beside and above for instruments, controls and switches. In our test boat, we had the added options of a GME VHF radio and a bracket mounted Lowrance Elite 5 HDI combo unit. I asked Brendon about the lack of a separate glove box to keep car keys, cellphone, wallet, etc., but again this is another option available should you want it.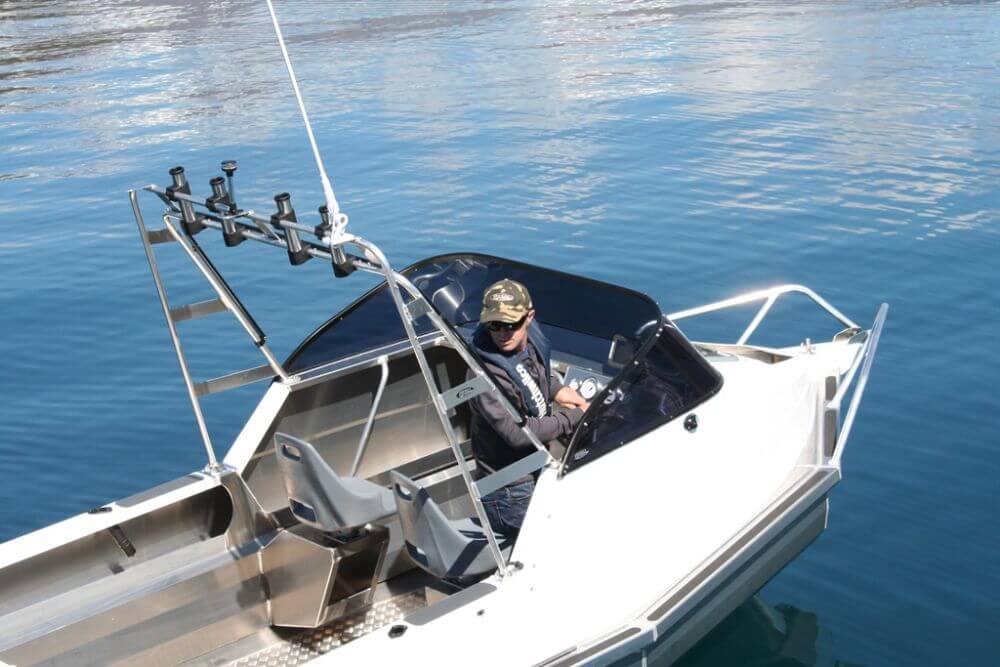 Standard seating is a pair of swivelling cantilevered Hi Tech bucket seats with storage under. A wide variety of seating is  available, such as king/queen options. But then you find you are encroaching on the available fishing space. The most common option for extra seating is a removable full width cockpit bench seat which slides up/down the side rails or can be left at home if you don't need it. A very simple and effective way of adding extra seating when you have the family aboard.
Storage is plentiful with full-length side shelves and  a huge space available under the aft deck. We had a single battery, but there is provision for twins and there's still plenty of room for gear. Live bait wells, bait stations, washdown pumps and bait bins can all be custom fitted. The rocket launcher with bimini and rod holders is an option, but something that I feel would be a must have option on the boat.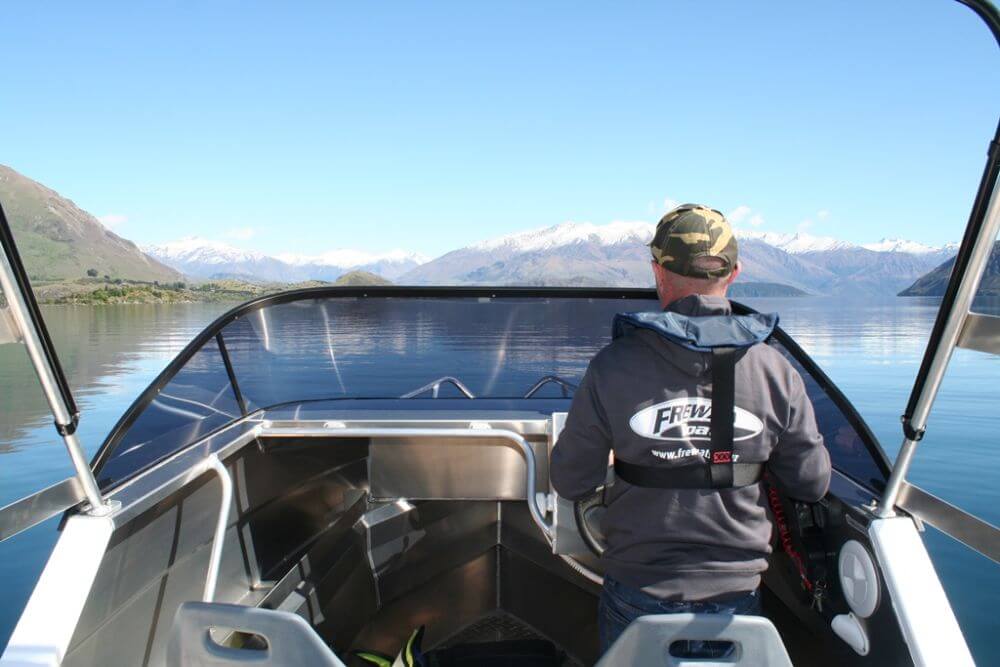 Frewza celebrates 2015 as their 10th year in business and Brendon sees a growing demand for his boats, especially in the export market. While already sending boats to a number of Pacific Islands, including Rarotonga and the Tokelau Islands, it is Australia that he sees as an untapped area for his brand.
"Our plans are to establish a dealer network through the main centres of Australia by mid-2015 and I am certain that models like the F18 will be well accepted in the market", says Brendon.
Brendon sums up his boats as being uncomplicated, extremely well built, sea kindly and stylish, which is a combination that's hard to beat. The Frewza you end up with is totally up to you, be it basic or fully customised, and that's one of the neat things that the company can offer.
With the F18 filling in a size gap between 5m-6m, look for a hardtop around 7m-7.5m coming soon from Frews Marine.
Model: Frewza F18 Fisher
Priced from: $NZ37990
Price as tested: $NZ42500
Type: Cuddy
Construction:  4mm/3mm
LOA: 5.75m
Beam: 2.25m
Deadrise: 18 deg
Height on trailer: ??
Trailerable weight: 1000 kgs
Power: Honda 100hp
Propellers: 19" SS
Power options: 75-115hp
Fuel capacity:  100 litres
Trailer: Mudgway
| | |
| --- | --- |
| rpm | knots |
| 1000 | 6.5 |
| 1500 | 9.0 |
| 2000 | 11.5 |
| 2500 | 16.0 |
| 3000 | 28.0 |
| 3500 | 35.5 |
| 4000 | 40.0 |
| 4500 | 50.0 |
| 5000 | 58.0 |
| 5500 | 66.5 |
| 6000 | 68.5 |