Garmin's new assisted docking system uses thru-hull mounted cameras to provide a real-time 360-degree view.
Garmin International has introduced its Surround View Camera System for recreational boats. It uses six thru-hull mounted cameras that the company says act like multiple sets of eyes to provide a live 360-degree view around the boat to help an operator keep watch of the vessel's perimeter during low-speed manoeuvres such as docking from the helm.
The system uses six 1080p cameras positioned around the vessel. There's a forward-looking unit at the bow, a rear-looking camera aft and two mounted on the hullsides to port and starboard. When the system is engaged, it displays a full overhead stitched image with 360-degree real-time video views from around the vessel directly to compatible Garmin chartplotters or multifunction displays. The Surround View Camera System is designed to maximise visibility and minimise blind spots so a captain can view one or two cameras simultaneously with the bird's eye image and even zoom in and pan around on a given area of interest from any individual camera views.
Additionally, the system provides many augmented reality features for increased situational awareness and collision avoidance, including the following: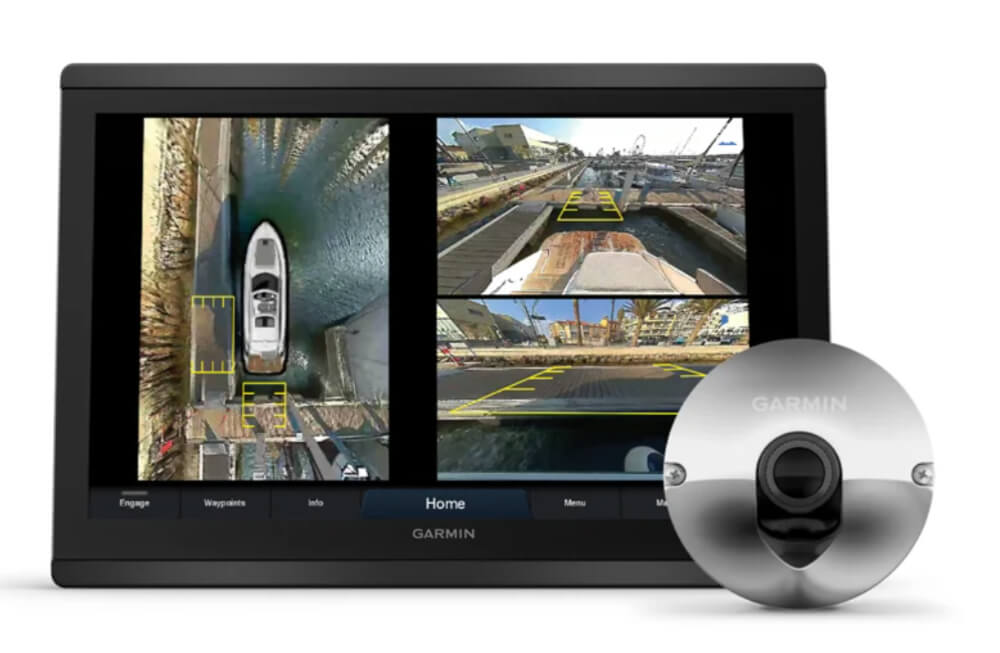 Visual Bumper provides a visual indicator at a user-configurable distance around the vessel that shows the captain when any non-water objects such as docks or piers breach the barrier.
Distance Markers offer visual cues around the vessel to the captain to help with distance determinations while navigating in close quarters, similar to automotive backup cameras.
The Surround View cameras have a low profile for OEM factory-installed thru-hull mounting that blends functionality with streamlined aesthetics. Surround View must be paired with a compatible Garmin chartplotter or MFD, including the GPSMap 8400/8600, GPSMap 7×3/9×3/12×3 series or the Volvo Penta Glass Cockpit System.