The Gemini inflatable comes from Cape Town in South Africa where the boats obviously have to face the rigorous and fierce conditions of the Atlantic Ocean. Freddy Foote tests out the big Gemini 850 Wave Rider on Auckland Harbour.
The Gemini range is held in high regard for their innovation, manufacturing to the highest standards and the fact that the boats are sought after by various governments and agencies around the world such as the Namibian Police, NSW Police, UK Police Forces, DERA, petroleum companies, Royal Australian Navy and Army, sail training support companies, the United Nations and more recently our own Royal New Zealand Navy which has recently ordered 15 of the 850 models for use from its new frigates.
Our test boat had perhaps more of a recreational set-up – no machine gun mounts here!
"The boats are mainly used for commercial or military use but quite a few are built for the pleasure market; those users who want more of a work boat rather than a luxury style RIB like some of the other inflatables on the market," says Peter Carlson of Family Boats, the New Zealand dealer for Gemini.
When a Gemini arrives in New Zealand from South Africa; Family Boats retrofits a number of extras to gain more buyer appeal and to obviously differentiate the boat from what could be seen as a bare 'work boat'.
"We fit the live bait tank, which we've had designed and built here. We also fit the console; seats; targa top and custom anchor locker forward, which then gives you the ability to have a rope & chain free-fall winch, an option that you don't see on too many RIBs," says Carlson.
The console can be fitted pretty much wherever you prefer. This particular boat has the console set up pretty much in the middle; giving a sizeable working space in the aft section of the boat, as well as access to the large storage locker under the floor. A second storage locker is also available forward of the console in the bow area and is large enough to fit four dive bottles. Whatever your application, you can choose to mount the console wherever you please; dive operators tend to position them reasonably far forward; whilst ocean rafting tourist operators mount the helm further aft with all the passenger seating forward.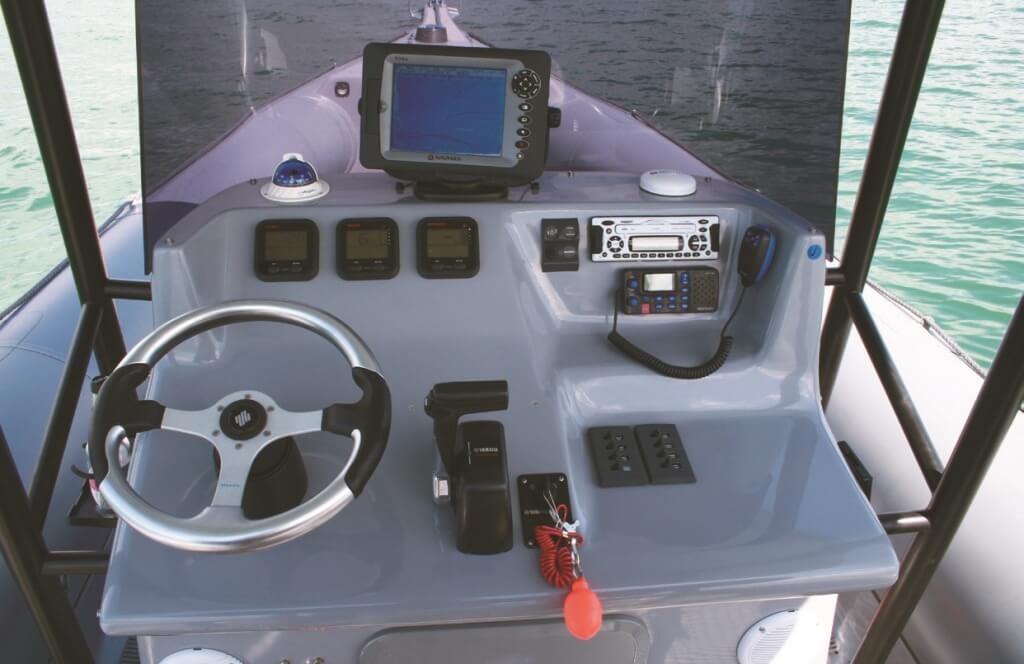 The hull and deck are self draining; the big scuppers aft being a prominent feature, making it an ideal boat for diving where there is often a bit of water coming onboard.
All the Gemini models are built pretty tough; this particular boat is built with military grade Hypalon for the tubes. Additional features on the tubes include 'blow off valves' which means that as the air pressure inside the tubes increases with the warmth of the sun it will allow air to escape, lessening the stress on the seams.
Carlson also commented that warranty claims are virtually nil; due to the strength and sheer robustness of the product; also a credit as to why very few Gemini RIBs are seen on the second hand market.
The hull features an aluminium keel strip which is attached to a box section on the keel of the boat. This box section is an intricate part of the mould and it sees the box section filled internally with chop strand matting that is manipulated into a rope type length. Gemini then uses extra woven roving to form over the top of this to make a solid keel internally. The alloy keel protector is screwed onto the outside of this solid box section. This allows the boat to run up on beaches or rocks without damaging the keel or if you miss the trailer when you are recovering the boat.
The Wave Rider 850 is an extended version of the popular 730 model. Like the 730, the 850 has a series of spray strakes in the hull, which gives the boat fine performance and a soft ride.
As far as performance and comfort of ride at speed, the Wave Rider 850 is certainly up there with some of the best riding boats available. Even Peter Carlson commented that it's probably the best riding boat he's ever been in. Not necessarily a sales comment from the guy who sells them, but someone who has been in a lot of boats. Invariably, a RIB with a length of 8.5m and a 26 degree deadrise is going to go well!
Our test boat was Carlson's own personal demonstrator; a boat that he uses for a mix of all-round boating; fishing and diving, etc. Powered by a Yamaha 250hp 4-stroke outboard, it gave a healthy top speed of 47.0mph at 5900rpm, with two of us on board and a full fuel load.
It was a very stable and predictable boat to drive. The steering wheel was positioned slightly to port of the console centreline, with the engine throttle control positioned alongside, to starboard. The dash area was big and expansive and depending on your electronics options you could mount a large GPS/Sounder combination unit into the dash itself. This particular boat had a Navman 8084 GPS/chartplotter unit mounted on a bracket above the dash.
We tested the 850 Wave Rider early in spring; so there was certainly a bite to the breeze while underway; but with jackets donned it was nothing to really complain about, though the windshield did provide some protection. However, this is certainly going to be a great summertime boat.
Although harbour conditions only yielded barely more than a ripple it was easy to tell that it will deliver an awesome ride in the rough stuff.
The 850 Wave Rider is a true bluewater and high performance boat; and if you're looking for a go-fast boat then this is certainly one of them. It has a horsepower rating of 500hp, so a twin 250hp outboard set-up is a possibility.
On our test Peter Carlson told me that he has another 850 Wave Rider arriving shortly, which he plans to power with a new Yamaha F350 V8 outboard! a testament to the boat that it can handle some serious horsepower.
If required, over 600 litres of fuel can be stowed under the cockpit sole, giving this boat an extremely long range; but usually 200-300 litres with a 4-stroke or direct-injected two-stroke outboard will be sufficient for most people's boating needs.
Overall, what you have with the Gemini 850 Wave Rider is an immensely strong, practical and well performing RIB that will appeal to commercial and recreational users alike. Thus far, five boats have been sold into New Zealand. So if you're looking for a bluewater workboat or ultimate toy that can handle the rough stuff, this could be it.
Model: Gemini 850 Wave Rider
Price as Tested: $128,000
Packages From: $79,000
Designer: Gemini Inflatables
Material: GRP/Hypalon
Type: RIB
LOA: 8.5m
Beam: 2.8m
Deadrise: 26 degrees
Hull Configuration: Deep V
Trailerable Weight: 2200kg
Height on Trailer: 3.2m
Engine Capacity: 500hp
Power Options: Single/Twin outboard
Fuel Capacity: 240L
Engine: Yamaha 250