The Grady White branding is revered the world over by serious game-fisherman who ply their trade in genuine bluewater conditions. The new Seafarer 226 walkaround model now adds the creature comforts as well.
Grady White is one of the oldest and most respected names in American powerboating, having been around now for well over 50 years. In that time they have carved out a most envious reputation as a no-nonsense very forgiving hull from which to sport-fish. The all-embracing range covers the full 'Walkaround Cabin/Express Cabin/Centre Console/Dual Console' gambit with models from 5.48 metres (18ft) right through to the flagship 11.15 metre (36.7ft) Canyon 366. All these models are trailerable and all incidentally are outboard powered only; Grady White have drawn a line in the sand, preferring to run with this mode of power that they believe offers better performance whilst at the same time maximising the all-important cockpit area.
Designed by respected design house, C. Raymond Hunt and Associates, the brand here is represented by Game and Leisure Boats, a company that knows and understands game boats more than most. Marketing the Cabo range of game boats as their core business, the complementing Grady White range offers their clients the flexibility of owning a vessel that can be conveniently towed to wherever the fish are running.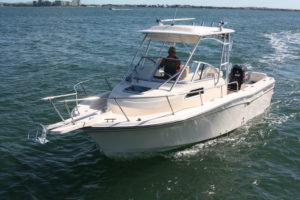 One only needs a tertiary glance at this and the other (Grady White) models Game and Leisure Boats have on display, to appreciate that in every sense of the world the brand is a mini cruiser, a mini game-boat that offers the handling, agility and dependability of a substantially larger game-boat that requires berthage and all the other incumbents that go hand in hand with a water-bound vessel.
This model goes one better however, in that in amongst fishing features such as rigging poles, rocket launcher, live-wells and hardtop, this Seafarer also offers a modicum of creature comforts that make the journey and the occasion, just that much more pleasurable. All Grady Whites are deliberately spec'd by Game and Leisure to appeal to a local audience and as such, items like a set of clears, decent upholstery, a bowrail, swim platform and dive ladder, a cabin hatch, a macerator head and even a small food preparation area in the cabin – found their way onto this 'local edition'.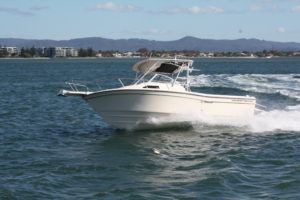 Grady White will proudly tell you their composite hand-laid hulls are built to overkill proportions, for their hulls are all hand-laid GRP, strengthened at appropriate points by composite cloths. The company utilises a moulded GRP underfloor 'spine' which is laminated to both the floor and the hull bottom, then the cavities are all foam-filled to maximise buoyancy. That's for the hull, but the 'over-engineered' philosophy extended even further than that, to items like for instance the GRP hardtop, a rather substantial and certainly magnificently presented anodised aluminium tower-style mounting frame for the GRP hardtop, complete with rocket launcher rod rack and side rod holders – it would not be out of place on a full blown luxury cruiser or game-fisher.
Appropriate features commenced right at the transom, up the adequate three-rung ladder, onto the portside swim platform and then one step to the right onto the generous sized outboard well. No climbing over transom uprights in this instance for the upright neatly bi-folded down onto the floor to provide convenient access for people entering the cockpit, and a suitable place right at the transom to fish from, once one reached their favourite fishing possie.
The cockpit was huge, no other word for it. Uncluttered too, for the corner seats at the transom, the side storage pockets complete with toe-holds, and the king and queen seats for the skipper and friend – were all of a slimline nature that whilst doing the job more than adequately, were out of the way when it came to the serious side of sport-fishing. Innovation prevailed in a 49 sq ft area that was well encapsulated by 0.66m topsides, for the 'queen' seat bases lifted to reveal a 180-litre ice-box (or a refrigerator if you so desired) to starboard, and to portside a 75 and a 43-litre cold storage compartment with on the inside face of these, a pull-out partitioned tackle drawer. Sensibly, these fish boxes and ice boxes are above cockpit deck level so all water drains out the self-draining scuppers at the stern. No water can get into the bilge.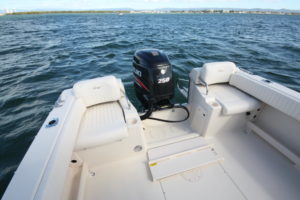 It was an easy step up from each of these seat bases, onto what in the context of the size of the helm area, were generous-sized walkways forward to the bow. The hardtop support frame provided plenty of rails to hold onto, for this walk forward, and as well there was a bowrail that nicely encompassed what was a genuinely safe bow area. Yet again I had to remind myself that this was still only a trailerboat, despite the fact the moulded fairlead, permanently-mounted anchor, the electric winch and the rope/chain locker at the bow – all looked like they had been 'borrowed' from the bow of a larger cruiser.
The other 'large' feature in this cockpit area was of course the underfloor fuel tank. Forward of the 37-litre freshwater tank for the shower and/or Deckwash, was a 473-litre tank that in the context of the 4-stroke outboard, would figuratively take you around the world. And it didn't stop there for by opting for more fuel rather than the water supply, the tank could be extended to in the region of 520 litres of fuel.
I earlier alluded to the creature comforts available on this Grady White and nowhere were they more evident than the helm and cabin. Most walkaround helm stations are so narrow as to be near on impossible to walk between, but in this instance I was pleasantly surprised by the amount of space between skipper and passenger. The helm station, while I wouldn't go as far as to suggest it was sports-like, was none-the-less everything a good skipper would demand.
Steering was hydraulic as standard, there was a net switch panel off to starboard, the foot-rest was in the right place, the seats were fully adjustable, and there was a good view fore and aft, whether seated or standing. The windscreen complete with hinged vent windows, was glass rather than Lexan plastic, the engine management instrumentation and the remote controls were appropriately placed, and I did especially appreciate the sealed compartment on the dash, which awaits a new owners personalised electronics package.
The skipper's side was 'busy' as you would expect with all that gear, but over on the portside a series of recesses and compartments catered well for incidentals such mobiles, keys and the like. This electronics compartment was lockable, as were the two overhead storage compartments in the hardtop facia, and, the rather intricate set of bi-fold upright doors and an overhead lid, which sealed the cabin off very efficiently. Such was the attention to detail that there were even vents integrated into these doors, which allowed the cabin to 'breathe' satisfactorily when the doors were shut.
And what a cabin it was; in the context I hasten to add, of a walkaround fishing boat. First glance suggested yes, there was a generous area to lay one's head down, and it was nicely lined and upholstered, but climb inside and move a few fabric squabs around and evident was a macerator head, heaps of storage and a small food preparation area. Other nice touches included the padded back-rests, the cruiser-style overhead opening hatch, opening side portholes (in a trailerboat), a roof light, and running water. All this in walkaround!
As was the case with the 'local' features and appointments, Game and Leisure Boats have fitted this boat with an appropriate standard-issue 250hp 4-stroke, DOHC, 24-valve, 3614cc, XL shaft Suzuki 4-stroke outboard that fits neatly between the range parameters of 150 to 300hp V6. Running a 16" x 18" Suzuki S/S prop, I was more than impressed with the top speed of 39.4 knots (45.36mph); especially so when one considers the generous deadrise, along with the windy and choppy conditions at the time my test. Most commendable and quite honestly, it was even consistent with the manufacturers performance and handling claims which as we all know, can often be a little over the top!
Every manufacturer has their own little 'buzz-word' when it comes to their respective hull designs and in Grady White's instance they labelled their hull shape the SeaV2. In reality quite different to most other hulls in that the chines and strakes are moreso generous wedges rather than your typical slimline trailerboat examples, these appendages certainly from a ride perspective – offered genuine 'bite' and grip when underway.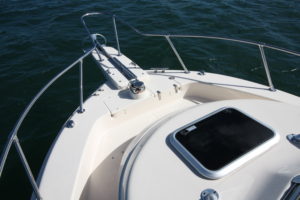 As such the ride through rough water was quite staggering; the boat was most rigid yet the ride was surprisingly soft (and dry), it was precise especially in a down-hill following sea situation and best of all from a passenger perspective certainly – there was a real solid feel about the boat, courtesy in most part I would venture to suggest, of the underfloor (closed cell) foam-filled cavities.
It turned on a dime and was most accurate underway, a facet highlighted graphically when we were wound right out in a harbour chop and three-quarter head-wind, at the top speed of 38 knots or 45mph. For a 2000kg boat/engine package with a 20-degree deadrise which sharpens to 30-degrees at amidships and around 40-degrees at the bow stem – that was a most commendable speed. This hull had pedigree!
You have to hand it to the Americans; they do it damned well when it comes to fitting a boat out with all the right gear, which looks good also! Fittings were absolute quality, there were no short-cuts taken, and there was no crap Chinese equipment fitted, that would traditionally last as long as the first trip out into the wild blue yonder. It is not hard in fact to understand why Grady White wins a lot of industry awards not only for their consummate handling ability but for the innovation and user-friendliness when purpose-addressing the exact pursuit the boat was designed for.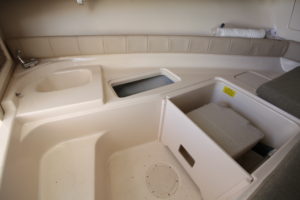 There were no fluffy dice or ashtrays, merely all the gear you would expect on a bonafide bluewater sport-fishing vessel. The price was certainly reflective of this, $140K is a lot of money for a trailerboat, but hey, lets compare apples with apples and like me the only conclusion you could reach then would be the appreciation of the fact – you get what you pay for! And best of all, unlike most other imports, this boat with its remarkable attention to detail, quality, pedigree and general reputation, offers resounding resale value when it comes time to upgrade to a larger model. In that context, the Grady White Seafarer 226 was/is – money very well spent!
Finally, two other aspects are also deserving of a mention. The first was the costing of this boat. In this day and age one always gets the feeling they have been touched by the dealer, when dealing with exchange rates; often the dealer is having a double dip along the way but not so in the case of Game and Leisure Boats for they show you exactly what the rate is that day, then they lock the price in so there are no nasty surprises when it comes time to pay for your pride and joy. The second surprise was the beam of this boat – 2.44m – which of course is under the maximum 2.5m threshold allowable on our roads – by law!