This top-of-the-line centre console looks great, is perfectly set up for every type of fishing and astounds with its superb handling. Mike Rose checked  out the latest Grady-White centre console off Tairua.
As a general rule, specialist fishing boats are not really meant to be fun. They are supposed to practical, well laid out, tough enough to get out to the good fishing spots (and, more importantly back again) and offer plenty of space for well-built anglers.
Fun is something one usually looks for in a jetboat. Or a PWC. Or one of those toy boats with way more power than waterline. Usually.
For those not familiar with the brand, Grady-White is one of the world's most respected manufacturers of high-end GRP fishing boats. From their base in North Carolina they produce boats capable of handling the challenging waters of the adjacent Atlantic Coast and the schools of marlin, tuna and the like found 100 nautical miles or so offshore.
They design deep vee, solid GRP hulls with high freeboard. They use only marine grade stainless steel for their fittings, put only the latest four-stroke Yamaha outboards on their transoms and ensure there are enough rod holders, live bait wells, ice boxes and drink receptacles for even the most successful and thirst-inducing of fishing expeditions.
It is an approach that has proved enormously successful, gaining the highest customer satisfaction rankings in every J.D. Power and Associates survey conducted and receiving the National Marine Manufacturers Association (NMMA) award for excellence in customer satisfaction every year the awards have been given.
Like all successful companies, while they work hard to keep their customers satisfied, they themselves rarely are. No matter how popular a model proves or how well it performs, they are always looking to make it even better.
With their latest offering, the Fisherman 236, (which is also won the Best New Model Award at the 2017 Hutchwilco New Zealand Boat Show's Boat of the Show Awards) they have done this in several ways. They have taken their multiple award-winning SeaV2 hull and added a extra 200mm of beam. They have also created an entirely new topside mould, complete with extra long integrated swim platforms and platform lockers either side of the outboard, added blue LED underwater and transom lights and generally up-spec'd virtually everything on board. And they have also, as I recently discovered on the delightful waters off Tairua, added a surprisingly large dollop of fun.
But more about that later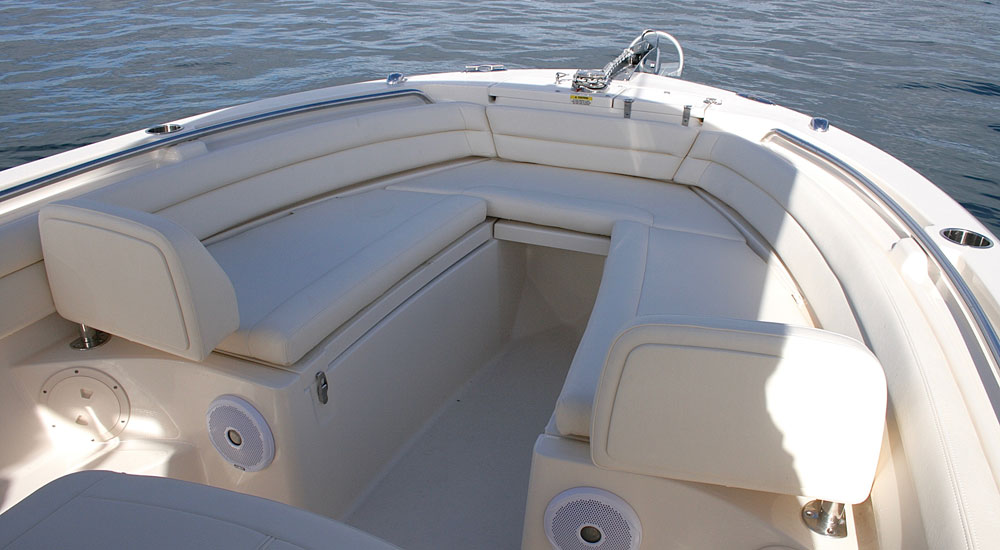 The Grady-White 236 Fisherman is, as the name suggests, a purpose-designed and built fishing boat and, frankly, it is hard to imagine a more fit-for-purpose 8-metre vessel.
Solid hand laid GRP construction, a powerful 300hp four-stroke Yamaha and a trailerable weight of just under 2400kgs mean this is a boat that will comfortably cope with just about any seaway. That combination of high freeboard and the famed SeaV2 hull flare mean the ride is both safe and dry, particularly for a centre console.
And, when one arrives at the fishing grounds — be they a foam-filled gut on an offshore island, a deep water reef or a warm oceanic current far from land— every fitting and feature one is likely to need will be found close at hand.
The transom area is a good example. Extended platforms on each side of the outboard give one the best possible chance of chasing a hard-fighting pelagic (think anything from kahawai and kingfish to tuna or marlin) from side to side without getting caught up in the outboard or trim tabs. Similarly, these platforms can be used to safely tag and release a big fish, keeping those gelcoat damaging beaks and swords well away from the topsides.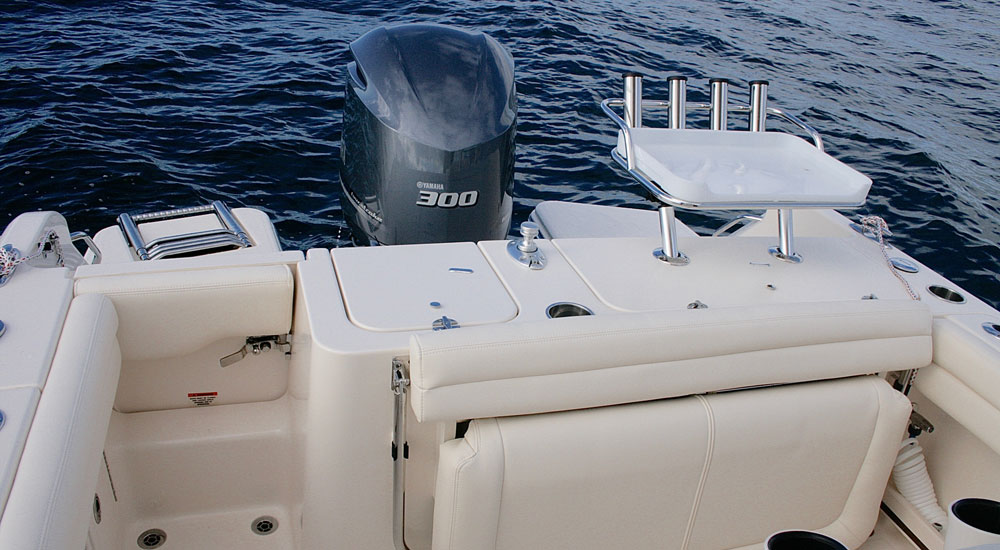 Those wanting to get into the water for any reason will also appreciate the new Grady-White extendable ladder. Made, like all the fittings on board, from marine grade stainless steel, it is tidily inset into the platform, sensibly angled outboard, away from the propeller, and features four extendable steps; making it easy to get back on board even in a big swell and with a heavy load.
The platforms also each contain a wide, if relatively shallow, locker. Self-draining (as are all the cockpit and bow lockers, ice boxes and livebait wells), these are lined with tube matting and ideal for snorkelling gear, catch bags and the like. Rinsing off after a dip is also a non-nonsense affair, there is fresh water shower right by the transom door.
The transom module has also been cleverly thought out with every square millimetre gainfully employed. On the starboard side, by the transom door, is a livebait well, one of two on board. It features Grady-White's new patented plenum water distribution system, rounded edges, blue gelcoat and blue LED lighting to reduce stress on the fish. Over on port is the first of four large capacity, fully-insulated, self-draining iceboxes. At first glance, it looks awkwardly positioned, sited as it is below the baitboard. However, as Stuart demonstrates, it is not. One can either easily remove the bait board or simply open the icebox hatch with the baitboard still in place.
A traditional Grady-White foldaway bench seat lives on the front of the transom. A versatile unit, it can lie flat against the transom like a giant bolster, pull out to act as a rear seat or swing up to give access to the machinery hold in the bilge. In the latter live the steering, batteries, oil tank, fuel filters and seacocks, the last with handy extension levers making them able to be turned on or off without having to reach right down to the hull.
Side deck bolsters and Grady-White's renowned toe kicks, combined with that high freeboard, mean the entire cockpit is a large, safe and comfortable fishing platform. Above these, the coamings are wide enough to comfortably perch on when the fishing is slow and there are three recessed rod/boat hook holders mounted in each of the side lockers. On port there is a fully plumbed washdown hose, while over on starboard is the battery control, in its own locker, and another clever Grady-White idea: an engine washdown inlet. No need to attach those headphone-like suckers to the outboard's lower unit, just click a fresh water house onto this inlet and turn on the tap!
There are still more practical fishing features in the main seat module. A 4-rod anodised holder sits across its back; lower down there is a three-drawer tackle locker and the starboard seat cushion lifts up to reveal a second live bait well.
The first thing one notices about the 236's centre console, apart from the anodised T-bar top and the stylish alloy outriggers, is the one-piece wraparound windscreen. Made especially for Grady-White, it extends well back on both sides and not only provides great all-round visibility, it also allows a decent-sized wiper to be fitted.
Like most centre consoles, the 236's is pretty compact, although there is everything one is likely to need close at hand. A carbon fibre fascia across the top is home to the Yamaha digital gauges along with 10 stylish DC toggles that control everything from the horn to the various LCD light banks, the livebait tanks and the macerator for the toilet.
Under these, on the dash proper, are a brace of Garmin MFDs, a VHF, controls for the anchor and trim tabs, a USB charger and DC outlet, and the Fusion stereo. There is a stainless steel hand grip for the passenger and well padded seats and a footrest make it equally comfortable to sit as to stand.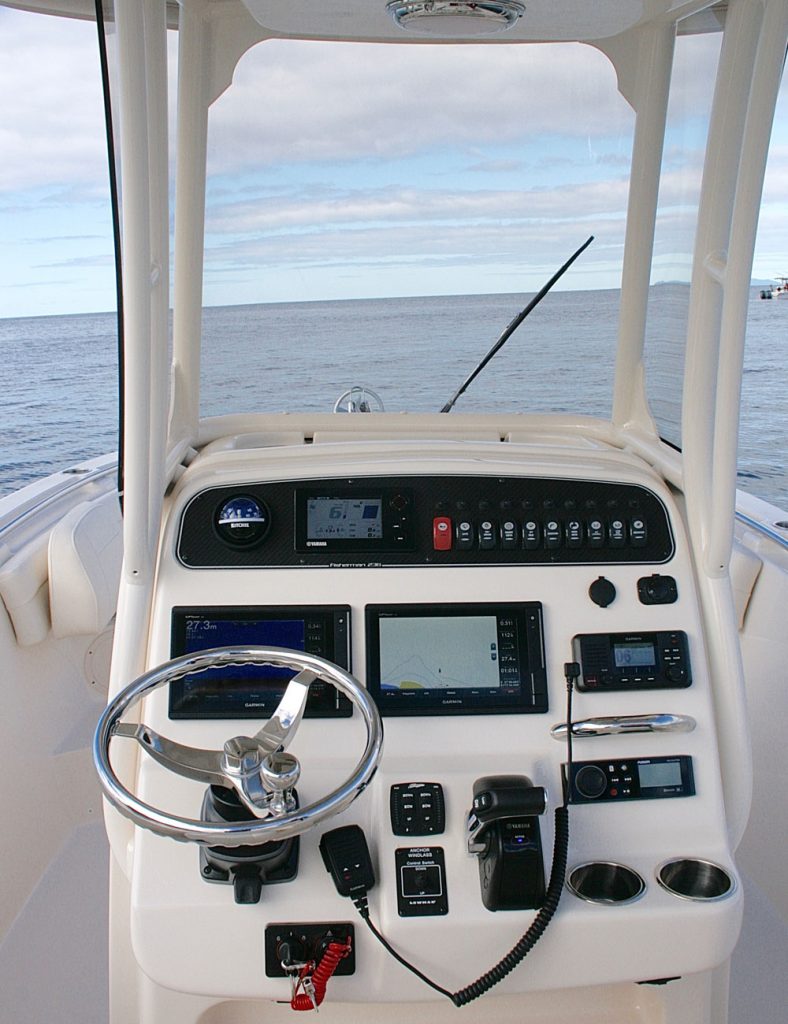 Under the T-bar roof is the handy Grady-White mesh lifejacket pouch and Stuart has up-spec'd the overhead locker, as he always does, with a lockable radio box. This comes complete with a pre-wired DC bus so owners can quickly and easily add electrical fittings and electronics themselves.
Under the console, accessed from the starboard side and complete with lockable door, is a surprisingly large toilet area. This is big enough to comfortably accommodate even the largest of fishers and connects through the macerator to the holding tank.
The bow area on most centre consoles is the relaxing and entertainment area and, while the 236's is certainly that, it is still has plenty to offer keen fishers. For a start, there is an optional casting platform that extends aft between the two bench seats (and comes with its own cushion). Then there are the insulated, self-draining fish bins under both bow seats and the handy dry locker under the seat in front of the console.
There is another nice touch for those relaxing up here, too. A pair of well padded adjustable backrests sit out of the way and flush against the sides when not in use and are then easily pressed into service by simply lifting up and twisting round. The result: two extremely comfortable forward-facing lounges for use at rest or while underway.
Because the 236 is intended for those planning to fish offshore, the Grady-White designers have sensibly fitted one of those reasonably large shallow angle stainless steel steering wheels. This is not only comfortable to use regardless of whether one is sitting or standing, it also comes with one of those vertical knobs one used to see on old style buses. Combined with the optional hydraulic power steering this makes manoeuvring the 236 an absolute breeze, either at low speeds or while blasting across the water at around 45 knots.
Standing at the centre console and effortlessly flicking the wheel from one lock to the other not only puts a huge grin on my face but also shows what a superb handling vessel this is. During the high speed turns, the 236 remains completely predictable with absolutely no tendency to dig in or to skate, slip or let go. It is a most extraordinary performance for a boat that boasts a 20.6-degree vee, weighs in at over 2300kgs and is designed primarily for fishing out in deep, offshore waters.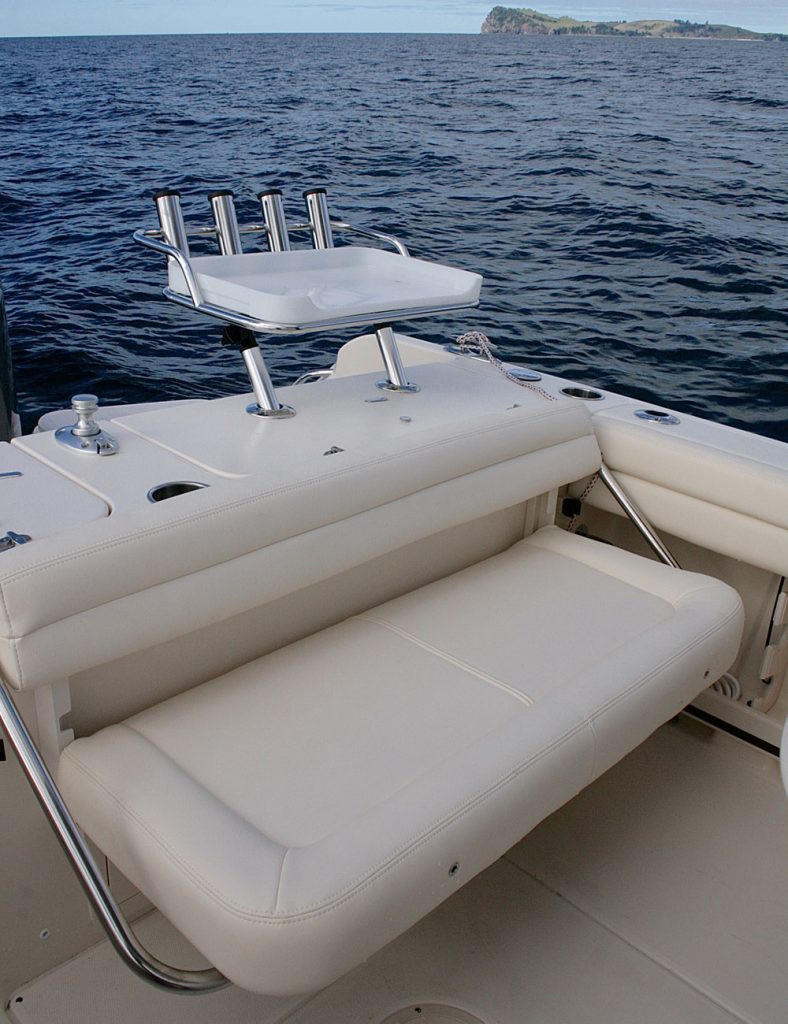 There is a practical advantage to this superbly easy handling, too. Recognising that boats in this part of the world, even specialist fishing craft like this, are often required to perform family boating duties, too, New Zealand Grady-White distributor Stuart Arnold has added a stylish retractable ski pylon to the centre of transom top. This means, when not involved in its primary job of chasing and catching fish, the 236 will be equally at home towing skiers and thrill seeking children around at speed (and flicking them powerfully from side to side) or transporting family and friends to that special beach or picnic spot in style.
In the same way that fishing boats are supposed to be serious affairs, middle aged marine journalists are supposed to be well-behaved, calm and mature — not insanely-grinning idiots throwing boats around with reckless abandon, performing endless lock to lock turns in ever decreasing circles and reluctant to return to base, even though there is a potential customer due to turn up any minute.
As someone who has spent over 30 years reviewing and writing about all manner of powered craft, I have to admit that I seriously cannot recall a more purely enjoyable half hour as that spent putting the Grady-White Fisherman 236 through its paces off the Coromandel coast. Not only did it do everything one would expect of 8-metre open fishing boat (including safely backing up hard into the wind), it was enormously fun to drive. The combination of 300 Yamaha horses, that renowned SeaV2 hull, the hydraulic power steering and that knob on the steering wheel turned the Fisherman 236 into an incredibly enjoyable boat to throw around.
Of course, it is a pretty outstanding fishing boat, too. But then, you'd expect that. It's a Grady-White.
Having now been lucky enough to review a number of Grady-Whites, I believe they offer very good value for money.
But that's not why people buy them. Stuart Arnold purposely up-spec's all the Grady Whites he sells here. And, even though it adds quite a bit to the final price, he strongly suggests a further list of options.
Without exception, his clients follow his recommendations.
Because people don't buy a Grady-White thinking they are getting good value; people buy a Grady-White thinking they are getting the very best they can.
Make & Model: Fisherman 236                    
Manufacturer: Grady-White Boats 
Priced from: NZ$175,000 
Price as tested: NZ$235,000 
Type: Center Console Sportfisher                      
Construction: GRP  
LOA: 8m                  
Beam: 2.59m            
Deadrise: 20.6 deg
Height on trailer: 3.45m
Trailerable Wgt: 2398 Kgs      
Test Power: Yamaha F300 4S    
Propeller: 15 ½ x 17 SWS II SDS       
Maximum RPM: 5900 rpm
Top Speed: 46.6 mph      
Power Options: Yamaha F250 or F300hp FS
Fuel capacity: 435 ltrs          
Trailer: Load Right
Notable Options on Test Boat:
Large Custom Fibreglass T-Top, Fusion Stereo, Alloy Outriggers, Anchor windlass with self launching bow roller, Tackle station.
| | | |
| --- | --- | --- |
| rpm | knots | L/h |
| 1000 | 5 | 2.4 |
| 1500 | 7 | 8.3 |
| 2000 | 9 | 14.2 |
| 2500 | 12 | 21 |
| 3000 | 16 | 28.2 |
| 3500 | 23 | 34.3 |
| 4000 | 27 | 45.9 |
| 4500 | 30 | 57.4 |
| 5000 | 34 | 73.7 |
| 5500 |      38 | 100.5 |
| 5900 | 44.8 | 110.2 |