Best of the Best
While the phrase, attention to detail, is very often an exaggerated portrayal of what it is describing, when it comes to the Grady White Canyon 376 it is an understatement. Quite frankly this big robust centre console fishing boat is faultless in every respect.
You know when you are in control of something extraordinary, when you can comfortably cruise at 30 knots, over a 2.5m long lingering swell, with three large diameter XTO OS high thrust props screaming as you float level in the air between the swells, waiting in anticipation of some green water to bite into.
I was driving the triple Yamaha 425 XTO powered Canyon 376 with Kiwi Grady White importer Stuart Arnold and Sydney Grady White dealer Ryan Short in a typically moderate day off Sydney Heads. The 8200 kg hull relished the conditions and what might have been a difficult drive at speed for some boats, for the Canyon 376 it felt right at home. In or out of the water, the boat runs level, with never a hint of bow lift and the horizon was always clearly in view. We didn't take a drop of water on the screen and none in the boat, although I would have expected too considering the sea conditions. However, if you do end up with water running on the cockpit floor, it will all drain out quickly via large scuppers.
Okay, we did take one that was a little bigger and further apart than I anticipated, but I would rather have been in the Grady 376 than anything else when we landed in the trough. Well maybe apart from the Grady Canyon 456 Centre Console with quadruple 425 XTO Yamahas. The 376 and its big brother, the 456 are boats that take no prisoners and eat big seas for breakfast!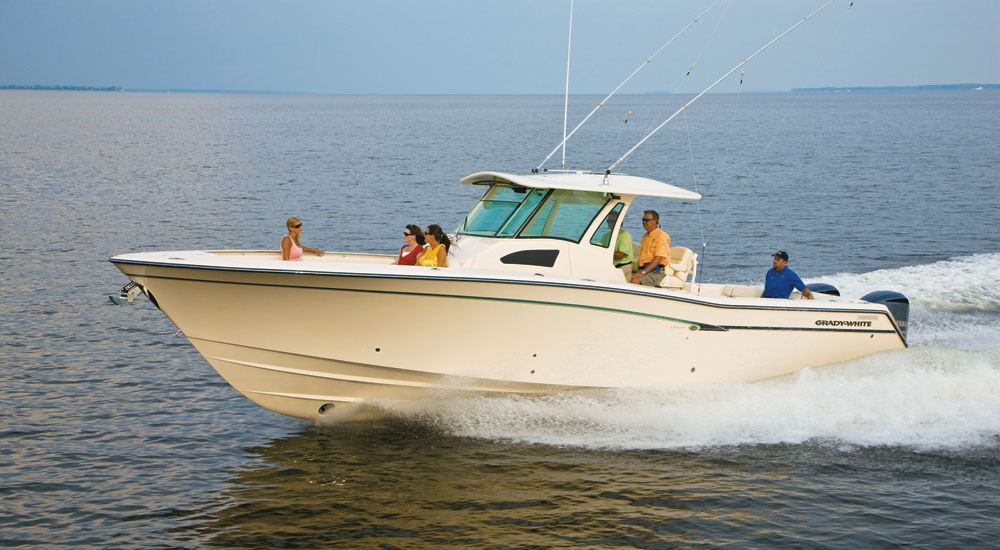 The secret is the exclusive SeaV2 hull, designed by C.Raymond Hunt which continuous sharpens from the transom to the bow, ranging from 20 degs to a wave-slicing 50 degs at the bow. Along with the wide strakes and chines, it all results in a soft riding hull with excellent stability, that tracks like on rails and is unequalled in rough water. If you don't believe me, go and take any Grady White for a run and you will be equally as impressed.
The triple Yamaha 425 XTOs are coupled up to the Yamaha revolutionary fully integrated electric steering system, with the CL7 multifunction display, advanced 'drive-by-wire' throttle controls and Helm Master joystick docking and positioning controls, large diameter XTO OS high thrust prop. Driving the Canyon 376 was as smooth and responsive as a small runabout. At speed you don't even need to have your hands on the wheel and driving it is as is like having an auto helm. Manoeuvering the boat in and out of the tight berth at Short Marine was effortless.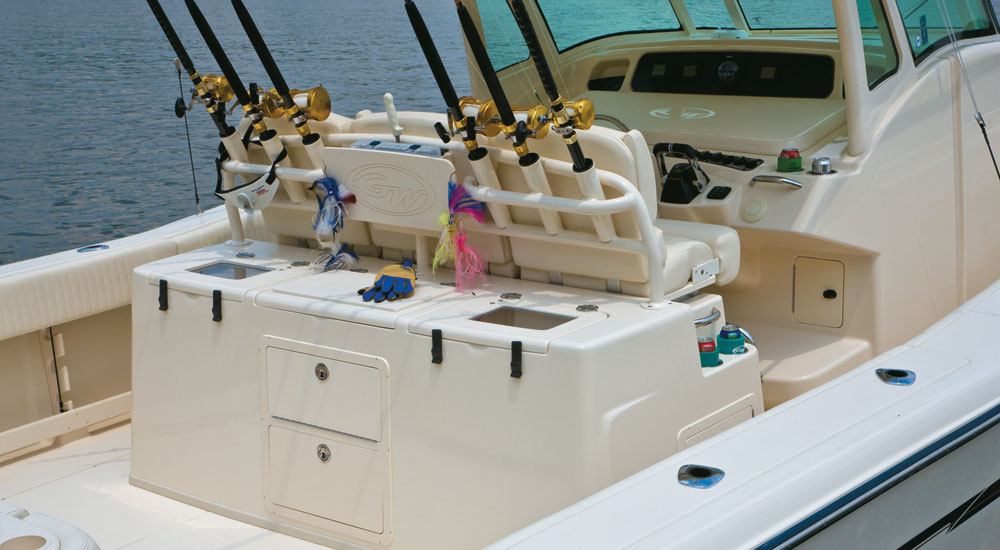 The Canyon 376, like all Grady White boats, is only available with Yamaha outboard power, and you have the choice of twin or triple 425 XTOs, triple Yamaha 350 V8s or triple Yamaha 300s. The throttle response of the triple 425s was exceptional, no matter what rpm we were running at. Drop the throttle from a standing start, and the acceleration to the plane (2500 rpm) is a matter of seconds. Even in a big boat like this, you need to tell your passengers to hang on! Right through the range it never lets off and reaching the maximum 6000 rpm @ 52.5 knots is done in a flash.
With triple 425 XTOs it's expected that the fuel consumption at the top end isn't going to be super efficient, but when you drop back the rpm to around 3500-4000, fuel usage is very acceptable considering you have 1275 ponies on the transom. We recorded around 5 lpnm and a range of 260-290nm. That's Auckland to the Bay of Islands and back and almost three return trips to Great Barrier Island from Auckland.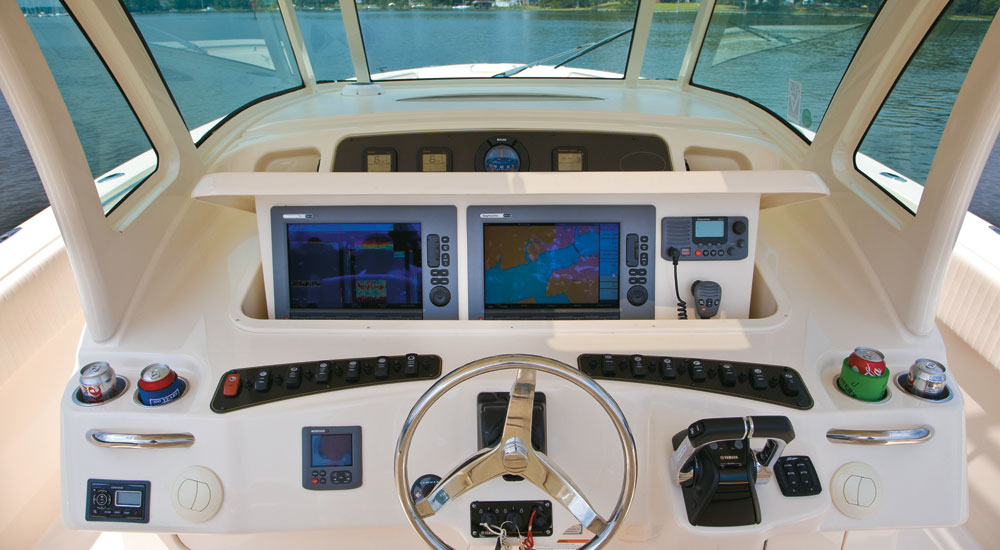 If you drop your power and run a pair of Yamaha 425 XTOs the performance decreases by around  8 knots, but with a much better economy at higher speeds, one less engine means you also reduce the total weight of the boat by about 450 kgs. Top speed is 44.5 knots @ 5900 rpm with a fuel burn of 288 lph. If you decrease that back to 3800 rpm the fuel burn reduces considerably to around 113.5 lph @ 26.25 knots.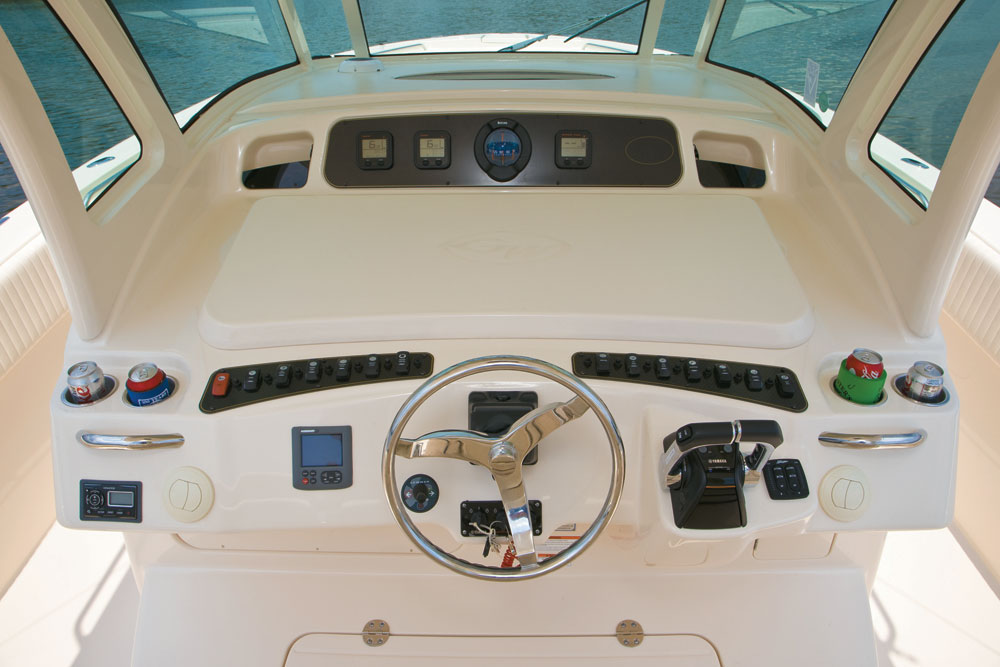 The Canyon 376 has been the top selling open cruising/sportfisher for the last 12 years. It is an incredible large boat with a beam of just over 4m and an overall length of 11.15m. One of the first things to impress me when I stepped aboard was the amount of deck space and the abundance of lockers and storage compartments.
Fishermen are obviously the number one buyers of the boat, so Grady White has made sure that they lack for nothing when it comes to fishing comforts and requirements. Right from the fold away aft bench seat, optional side door, to the five fish boxes and a bow casting platform, the Canyon 376 is all about not only having all the things on board you need for fishing but also having everything in the right place.
While Grady White calls this a centre console, It's really a mid-cabin as the lockable centre cabin area comes standard with a head, stand-up shower, galley, double berth, rod storage and even an entertainment centre. It is also air-conditioned with a dehumidifier and heater. It's a great cabin for overnighting for two people and turns it into an incredibly luxurious family day boat.
However, the Canyon 376 is essentially a day fishing boat, and I would imagine that most of the time it's going to be used fishing out wide. That's one of its big selling points in the US, where a lot of the fishing is 100nm plus offshore and fishermen want a boat that is fast, comfortable at speed and has the range to get there and back in a day in any sea conditions. The Canyon 376 provides that and more.
The layout provides outside seating for easily a dozen people, so there's plenty of space for your mates, be it fishing or cruising out to watch America's Cup. It is an out and out performance boat, whether you are fishing, cruising or just playing around on the water.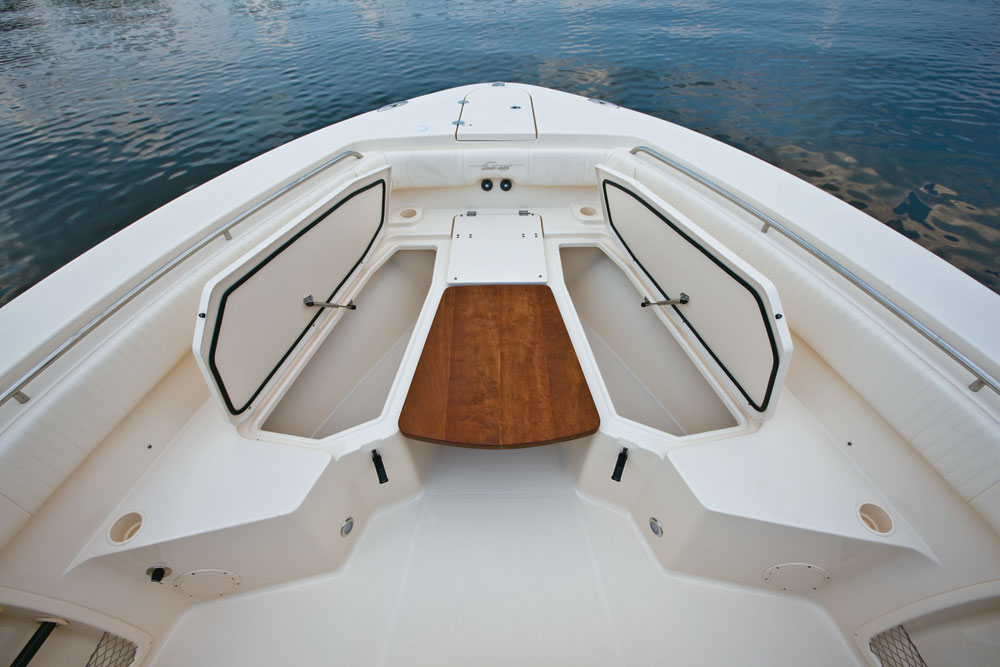 Stuart pointed out to me that the Canyon 376 comes with very few options and just about everything on our boat was standard. A couple of options available are the outriggers,  cockpit side door and fully enclosed helm with strataglass clears and side curtains.
The layout down aft has a large central insulated fish box (which can be turned into a fridge/freezer), shower, transom door and fold away bench seat. To starboard is the optional side door and the centre helm console has two livewells as well as a bait station with sink or an optional grill. There is space in a cockpit sole locker for a dive compressor or six dive tanks and many areas to hold the crays and scallops.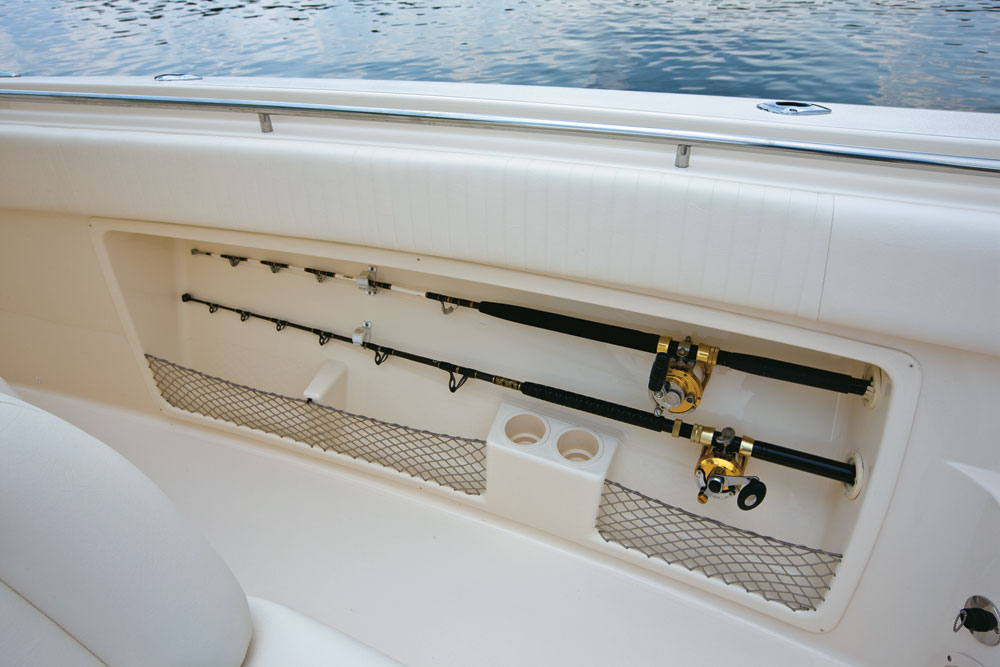 The helm has a triple adjustable seat arrangement with footrests and flip-up bolsters behind a large facia and solid screen. As you would expect the dash is designed to take the largest MFDs, which in our case were a pair of Furuno 17″. Triple 12″ MFD screens is another option, and you can squeeze in a pair of 24″ MFDs if you want something more significant. A neat feature is the power console which allows you to drop your screen displays out of sight when not in use and for security when you leave the boat.
Some of the other standard features of the Canyon 376 include 220-230 volt package, gel batteries, Fusion entertainment with subwoofer, air conditioning, LED lighting, 5.5 kVa Panda diesel genset with separate diesel tank, 20-rod holders and 24 cup holders. What impressed me was the quality of the fittings and equipment that Grady White install throughout the boat. From the rod holders to the skin fittings, it's nothing but the best when it comes to Grady White.
The bow section can be utilised for entertaining or fishing. Not only is it set up as a casting platform, but there is also an optional electronically operating table in the centre of the two forward side squabs. The squabs have fold away forward facing bolstered backrests and just to make sure there is something extra for the fishos, there is a couple of insulated fish boxes/storage bins as well.
The anchoring system is all concealed below decks with a through-hull system. The Canyon 376 doesn't have any high bowrails, but it does have plenty of stainless rails placed at a convenient height from the transom to the bow, offering some security when moving about the boat, without being obtrusive.
MILLION DOLLARS OF QUALITY
"The Grady White Canyon 376 is the ultimate under 40-foot outboard powered boat in the world", says Stuart and it's hard to disagree with him. It's a boat that would suit someone who lives in Auckland and has a holiday home at somewhere like Great Barrier Island or maybe living in Wellington and crossing Cook Strait to the Sounds and wants to be able to get there in just about any sea conditions 12 months of the year.
With a price tag of around $NZ1 million there is a very limited market for the boat in New Zealand, but according to Stuart, he has had a lot of interest recently in both the Canyon 376 and also the Canyon 456. The factory has so many orders for the Canyon 456 ($NZ2.2 million) that there is an 18-month wait for delivery.
The Canyon 376 is an exceptional boat and you unquestionably get what you pay for. Quality, performance and style it has it all and if I had a lazy million I would certainly consider owning a Canyon 376. Not that that is likely to happen, unfortunately. Win Lotto you say, yeah right!
Boat Design Name: Grady White 376                  
Year Launched: 2018              
Builder: Grady White  
LOA: 11.15 m                         
Beam: 4.01 m               
Displ (Dry): 8500 kg (approx.)
Deadrise: 20 deg SeaV

MFD: Furuno 17"

Entertainment:  Fusion MSUD755
Max Speed: 52.5 knots                   
Construction: GRP
Fuel Cap: 1476 litres
Engine Make: 3 x Yamaha 425 XTO            
Drive Train: Outboard                    
Generator: 5 kVa Panda   
Anchor Winch: Lewmar
Priced From:  $NZ 1 Million (approx.)
GW CANYON 376

FUEL

 

1476

litres

 

RPM

Knots

L/h

L/NM

Range  (NM)

1000

6.0

22

3.700

350

1500

8.5

31

3.700

350

2000

10.0

43

4.300

300

2500

15.5

66

4.300

300

3000

23.0

96

4.200

310

3500

28.0

125

4.500

290

4000

33.5

169

5.100

260

4500

39.5

228

5.800

220

5000

43.0

278

6.500

200

5500

49.0

400

8.200

160

6000

52.5

425

8.100

160