Author : Barry Tyler 
Grand Banks produces a vessel that is elegant and classy, well presented, and with a veritable glut of traditional wood finish synonymous with 55 years of Grand Banks cruisers, yet the company has graphically proved that is abreast of technology every step of the way also, by releasing this latest Grand Banks 41 Heritage EU model – with Cummins MerCruiser Zeus pod-drives.
It would be an understatement to suggest the Grand Banks marque has stood the test of time, having had its origins way back in 1956, but it is also rather pertinent to obviate the fact that its Heritage Series has very much stood the test of time also, having begun production nearly 50 years ago. In other words it is this range or concept, more than any other, which has endeared itself to an audience in search of the perfect all-rounder passagemaker. Many past and present owners in fact insist it is the waterborne equivalent of the prestigious Rolls Royce motor vehicle, so highly is it regarded when it comes to luxury and quality.
Over the years GB has etched a reputation too for hulls built like the proverbial battleship, with their resin-infused composite of multi-axial cloths, vinylester resin and balsa and foam core construction. As such, the company has stayed abreast of design trends and expectations but more importantly it has embraced also the very latest in electrical and mechanical advancements in technology, with this 41EU model being the perfect example.
Designed by the in-house Grand Banks design team in conjunction with renowned designer and naval architect (and now full-time GB employee), Tom Fexas, and built in this instance in the company's Malaysian factory, this is the first and only model thus far to embrace the state-of-the-art Cummins Zeus Pod-drive system developed by Mercury Marine.
This 41 Heritage EU model is all about passage making in comfort and style and as such the living enhancements commence the moment you step into the decidedly uncluttered cockpit. An elevated level, three steps above the impressive teak boarding platform, sensibly high bulwarks (with portside entry door integrated into it) complete with teak coaming top and S/S rails on top of that again, fully encapsulated not only this area but also the walkways forward – and the foredeck itself.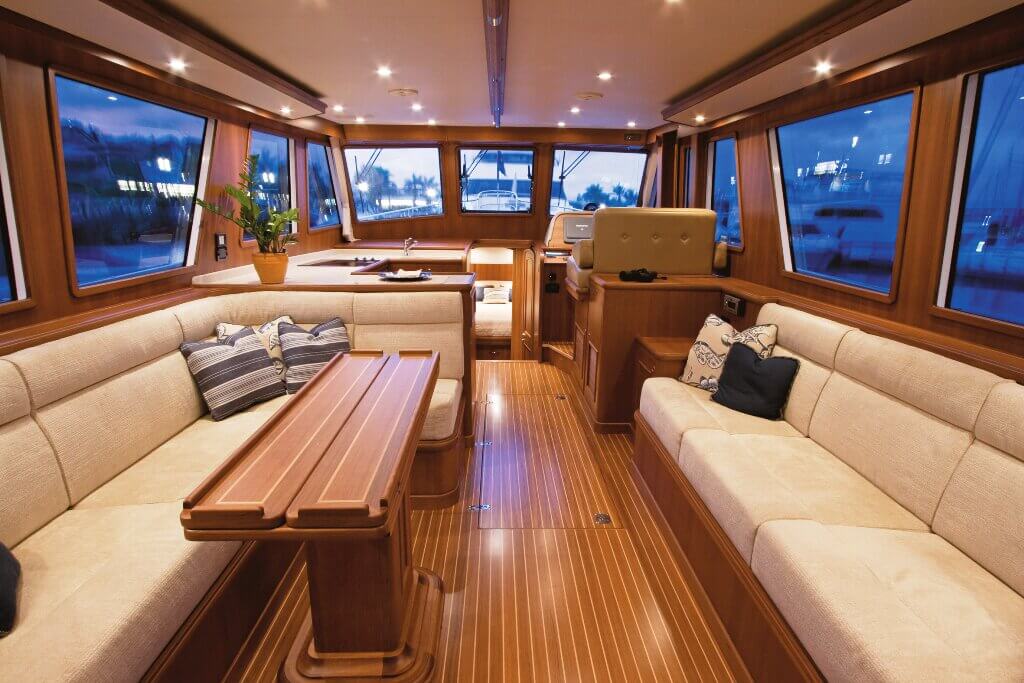 Features befitting a Grand Banks included the S/S hawse holes and cleats, the cockpit deck drainage points and the glossed teak entry-door surround, a kill tank to starboard of the lazaretto hatch, a voluminous wet storage compartment to portside; and a magnificent (no other word for it) set of steps to the flybridge level. The lazaretto hatch in the cockpit floor was more so a variation of a lazaretto, for it also provided good access via an impressive teak and S/S ladder, to the Cummins-Zeus Pod-drive units.
If you were in a situation whereby boarding from the aft platform was not an option, GB has obligingly integrated a side access gate into the bow-rail structure, for easy entry onto the walkway. The 'engineering' of this aspect was once again, oh so typically GB! About the only (cockpit) item it didn't have in fact, at the time of testing, was an outdoor table and chair setting of some description, so as to fully embrace the 'entertainment' potential of this area!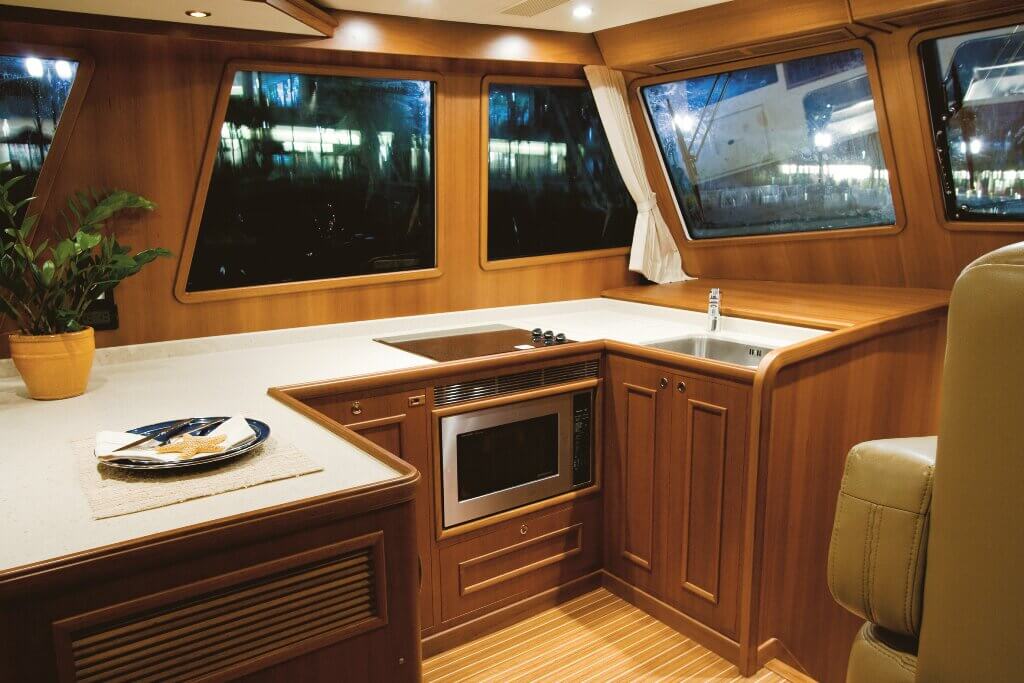 I mentioned earlier the steps to the flybridge and it was these, complete with non-slip teak steps and sturdy S/S grab rails each side, which really set the scene for what was to be found up on the viewing platform – the flybridge level. In true passagemaker tradition, the area as expected was devoid of wood other than the teak table and the facia of the helm dash module – but everything else was there!
A huge area in dimension, the traditional teak 'cross-slatted' table was the centre point of a starboard L-shaped leather lounge and opposite it, another portside lounge which enabled in total, at least 10 seated guests to be pleasurably seated aft of the full-width helm station. Sensibly only a single chair here for the skipper to operate what was an 'appropriately appointed' outside helm station, but of course you may well decide to add another chair or indeed a bench seat there was for your partner or 'friendly' guest.
Enveloped by generous-height coamings and of course the overhead solidly-mounted hard-top, from an entertainment perspective this practically presented proactively user-friendly area was further enhanced by a module aft of the lounge setting, which would accept an icemaker, fridge, BBQ and anything else an intending owner would want, from an outdoor living aspect.
I did like the sliding hatch cover which prevented guests from taking a wrong step and disappearing below decks in an alarmingly quick fashion, the additional storage provision under all seating, the very nautical 'mini' mast atop the hardtop – very traditional – and the multi-purpose stainless steel 'slot-fittings' scattered around the flybridge level which allow you to retro-mount all manner of items such as cup holders, wine bottle holders, shelves and the like. All this, yet there was still room left up on this expansive flybridge level, outside the confines of the actual living area, to mount the 3.4m Avon RIB tender with 15hp Honda outboard, and of course the 364kg Muir Steelhead Davit crane.
Live-aboard Luxury and Ambience
So often the two ideals, luxury and ambience, do not meld together but in this instance GB has created a saloon which 'invites you in'. In effect one long 'open-plan' room, GB has integrated the various facets of lounge, dining, galley and helm – very well. While the traditional 'wood look' (matched Burmese teak) was the predominant décor there was also a nicely contrasting blend of leather upholstery, teak and holly strip-planked flooring, storage cupboards, traditional wall-mounted lampshades and plasma television, double-framed windows and even concatenated curtains which incidentally nicely privatised this whole room.
The dining setting was to portside after entering the saloon, and capably seated four people at the magnificently crafted generously-sized teak fold-up table. Ottoman stools, folding chairs or two matching lounge chairs on the other side would provide additional seating for another two diners. Opposite this dining setting was an integral full-length bench-style lounge which conveniently pulled out to form an 'emergency' double berth for unexpected guests.
Ahead of this starboard lounge was a compact entertainment 'depot' (bar facility) then ahead of that again the helm station was adjacent to the side entry pilothouse-style door. Traditional, all-encompassing and innovative, the bench-style double helm seat complete with fold-up foot-rest as well as arm rest was a revelation, as was the seat's ability to move backwards and forwards so as to offer the 'right' driving position on long trips.
The E120 Raymarine electronics equipment was appropriate without being over the top (no superfluous equipment cluttering your view of instrumentation and remote controls) and there was good visibility both front and rear. The front opening window and side doors offered good ventilation courtesy of the 'cross-drafts'. If you weren't happy with that, of course there is 12.3kW of Cruisair air-conditioning to keep you cool.
Opposite the helm station was what could only be described as a most cruising-capable galley – well laid out, a sublime amount of bench space, plenty of storage space, and good refrigeration capacity (a separate refrigerator and freezer within the galley, and an ice-maker opposite, in the bar). From there you appreciated the other features such as the Miele 4-burner electric bench-top hob, the Miele convection microwave and the secreted double sinks below bench-top inserts.
And then there was the innovation! The cutlery drawers recessed into the face of the portside front bulkhead were a very clever use of often wasted space, and the pantry, the 'magic corner', was an absolute work of art that transformed from two cupboard doors to a pull-out pantry, courtesy of one side pulling out and the other sliding across it, thereby providing double the pantry storage!
While these Pod-drive configurations invariably provide additional space for aft cabins, GB has bucked the trend and used the 'extra space' amidships. Accessed through the afore-mentioned hatch in the saloon floor, a 'utility room' (which could also be a third bedroom or crew's quarters) in this particular example housed peripherals such as the workshop bench and vice, a spare parts inventory, two 950-litre pre-shaped roto-moulded fuel tanks, the 738-litre water tank, the grey and black water tanks, the bank of three 12V 200Ah 8D house and two 12V 200Ah 8D engine batteries and the S/S access ladder.
Below decks, the accommodation area was what I would describe simply as – warm and homely. Stepping down three steps – which lift incidentally to reveal a rubbish bin on one level and further storage on the lower level – you enter a quite compact area of two cabins and the one house bathroom complete with separate head and shower.
While undeniably the GB 41EU certainly was minus the wooden taps and grandiose more elaborate fittings and presentation of its larger (and correspondingly more expensive) 'brothers', this baby of the Heritage range lacked absolutely nothing in the way of refinements, appointments or specification appropriate to a luxury Grand Banks vessel.
The queen-size 'Master' stateroom was in the bow, yet it still featured an elevated island berth that was easy to get around. Other 'niceties' included the hanging wardrobe to starboard, clothes drawers and shelves to port, teak and holly 'panelled' floors, opening portholes and an overhead hatch. Presentation was superb, even down to the matched wood grains that provided that 'flowing' look.
The 'guest' cabin was to portside, directly opposite the bathroom, and was the room most open to, from a client's perspective, customisation. Enclosed with a door or open plan, you can choose from a twin-single, one double and one single, or by adding an infill and cushions – either a king-king fore and aft berth or as in this particular instance an athwart king-size berth – quite ingenious.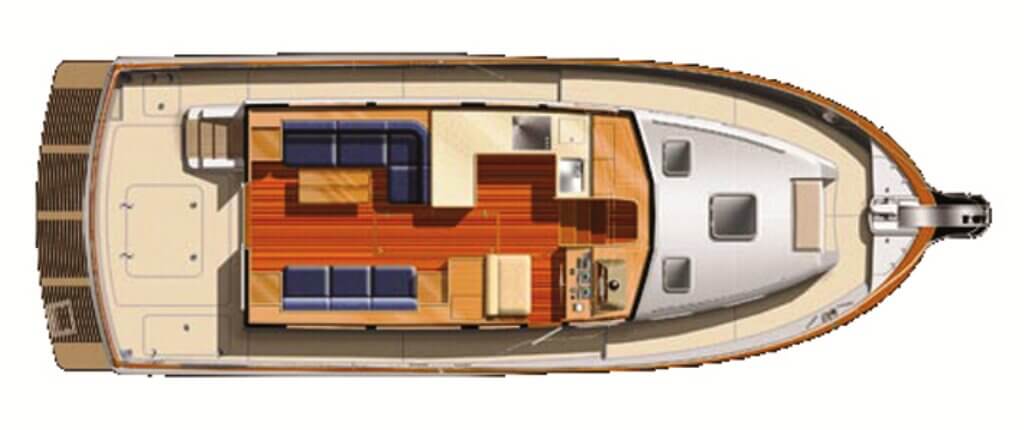 With all this below decks, I was starting to gain the impression there was not going to be too much room left for the all-important power source – a pair of Cummins 425hp QSB 5.9-litre, inline 6-cyl, turbocharged and after-cooled diesel engines coupled to 1.97:1 ratio ZF gearboxes and a 14-inch jack-shaft which coupled to the Zeus drives. Upon entering through the sealed bulkhead doors however, I was greeted by the realisation it was quite the opposite; there was good access all around the engines, plus to the peripheral mechanical items such as the filters, air-conditioning system, the Fire-boy extinguisher system, the Onan 9.5kW genset and the Mastervolt Trace 2500W inverter charger.
Interestingly, missing was a lot of the wiring you traditionally find on cruisers; the reason – the steering, throttles, instrumentation and even the Auto pilot are all integrated into the Mercury Marine / Cummins Diesel DTS SmartCraft package, plus this GB now runs the new state-of-the-art Canbus fully E-Plex touch-screen system (in effect is two innocuous relatively thin wires like an internet cable, which run to every corner of the boat, to modules and sensors on every mechanical item on the boat) – everything is now operated through a computer!
Underway, there were a number of points which impressed; none the least being the lack of engine or hull noise when underway. The Zeus 'Sky-hook' feature was brilliant to use when at rest, keeping us at exactly the same heading as well as position, and the trim tabs integrated into the actual Zeus drives ensured our GB handled appropriately well. Surprising also was the fact this vessel handled the bigger seas and cross-seas well – without the aid of stabilisers! That says a lot for the hull design.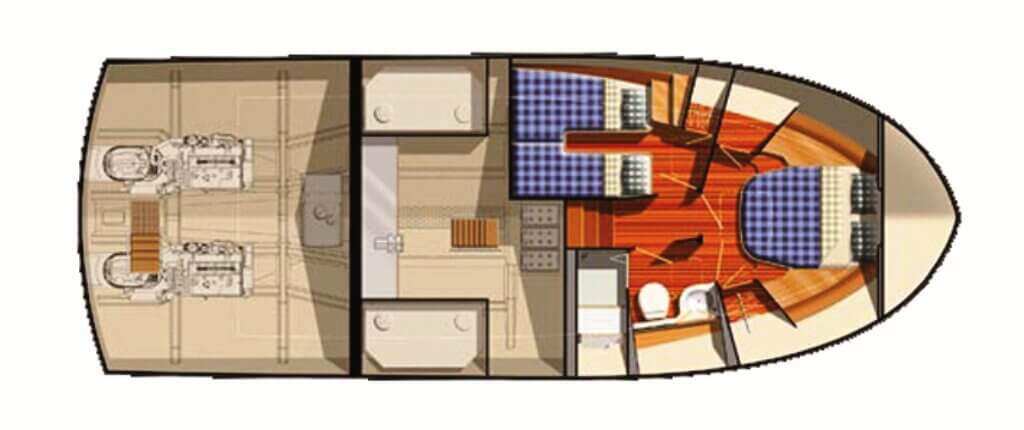 Top speed of this particular version was a creditable 24.8 knots and you could cruise nicely at anything from 17 to 20 knots – at may I add a nice level attitude. Analysing the fuel usage and range figures, the best economy you could expect to achieve would be at 4.3 knots, where the fuel usage of a combined 7.2L/h would provide a range of 1130 nautical miles. A low cruise speed of 8.7 knots would give you a range of 679NM and at a brisk speed of 17.2 knots at 2400rpm and using a combined 103.72L/h, you would still have a range of 313NM. Even at the maximum 3000rpm at 24.8 knots, where the engines were digesting a combined 164.29L/h, the range was still a comparatively acceptable 285NM.
Boat Design Name:  Grand Banks 41 Heritage EU
Year Launched: 2009
Designer: Grand Banks
Builder: Grand Banks
LOA: 14.05m
LWL: 11.56m
Beam: 4.77m
Draft: 1.12m
Displacement: 19,302kg (half ship)
Max Speed: 24.8 knots
Cruise Speed: 17-20 knots          
Construction: GRP, balsa and foam cores
Fuel Capacity: 1893 litres
Water Capacity: 738 litres
Engines: 2 x 425hp Cummins QSB
Drive System: Zeus CMD