Whole New World
Grand Banks redefines gold-plated boatbuilding with an innovatively-designed, 60-foot beauty that's as singularly fast and fashionable as she is efficient at displacement speeds! 
By Capt. Bill Pike
Let's talk numbers for just a few—big-time numbers. During a recent trip to Australia to sea trial the new Grand Banks 60, the first GB to launch since the company's reorganisation under the leadership of Aussie maxi-yacht racer and Palm Beach Motor Yachts founder Mark Richards, I gathered some test data that's flat-out, head-snatchingly amazing. And although the owner of the boat David Berkman was onboard during the trial, along with five other Australians, all of them garrulously ganged up in the wheelhouse, I'm confident that, despite the uproarious laughter that sometimes obtruded, the speed, fuel-burn, and other values accompanying this test report are spot-on.
Certainly, it's no secret that the Aussies are a rambunctious lot, especially when they get out on the water, but the boys from Down Under also calm down right nicely, I can assure you, when a Yank hauls out a clipboard and starts writing stuff down that's darn near astonishing.
Let me give you a loose idea of what we're dealing with here. To begin with, consider the fact that at 9.5 knots, while turning just 750 rpm and factoring in a fuel reserve of 10 percent, the 60 offers a range of 2,973 nautical miles. That's a number that's certainly worthy of a full-displacement trawler doing hull speed, but for a vessel capable of achieving a lusty top end of 30.5 knots, it's full-bore radical and, based on my perusal of several test reports for comparable vessels in Power & Motoryacht, also full-bore singular.
Think of it. On the one hand, the new GB 60 hands her owner a set of sporty speeds that are realistically useful under most offshore conditions. But on the other, with a little cooperation from the weather, she offers the lucky soul enough range to travel from, say, Melbourne to The Whitsundays in sumptuous comfort!
At one point during our sea trial, while Grand Banks honcho Richards drove and I dealt with the ol' clipboard, Richards observed, "You'll not find another boat in the world today that performs the way this one does." Given what I was seeing on Australia's Coomera River at the time, I found no reason to quibble Richards' statement.
Destroyer? Or Racing Sailboat?
Back in January of this year, during a visit to the Grand Banks boatbuilding facility in Johor Barhu, Malaysia, Richards and I had occasion to hunker down and look at the running surface of the partially-completed 60 I was scheduled to test in Australia somewhere down the line. I remarked how I'd never before seen a powerboat with such running surface.
"It's a little bit like a racing sailboat's," Richards, the ocean racer, replied. "And it's a little bit like a naval destroyer's."
Both analogies seemed apt. Except for a modest chine flat that proceeded from the bustle under the swim platform all the way forward to the stem, the 60 had virtually no bottom augmentations. No running strakes, no tunnels, no steps, nothing to engender drag or turbulence outside of a short skeg and what you expect to see from straight-shaft running gear. Surfaces were smooth, subtly curvaceous on either side of centerline and swept into an exceptionally fine entry forward and then, via a steady reduction in deadrise (to a mere 8 deg at the transom), transitioned into an assemblage of virtually flat, lift-producing after sections.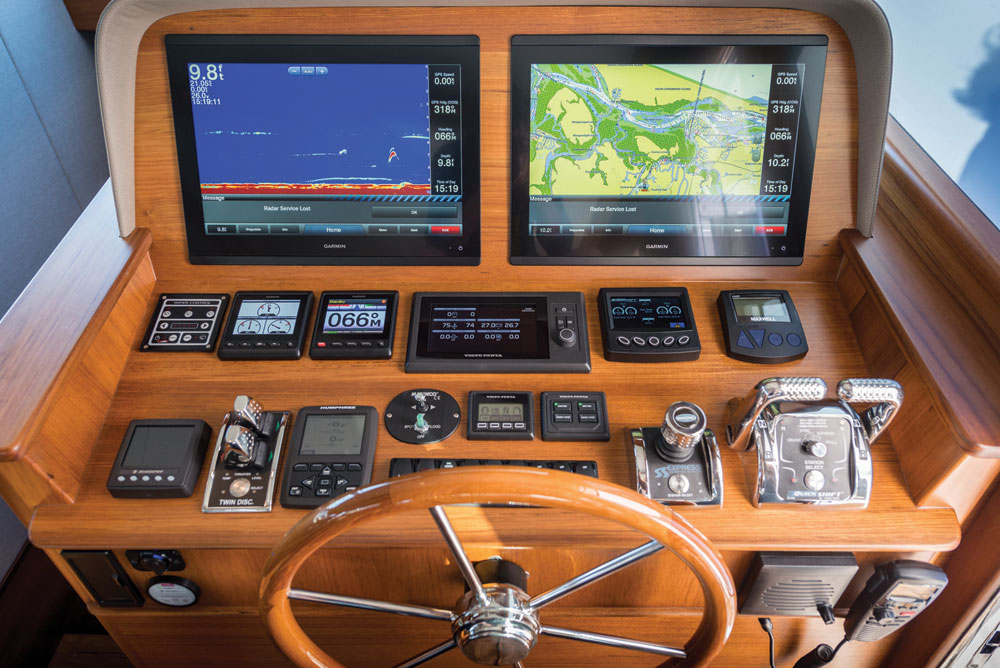 The philosophy behind all this runs counter to deep-V technology, which seeks to chop its element into submission from above in knife-like fashion, especially at higher speeds. "By comparison, a warped hull moves through the water very efficiently," Richards opined as we finished our running-surface study that day in Malaysia. "And it works best for boats with a top speed of 30 knots or so, which is what we're aiming for with the 60."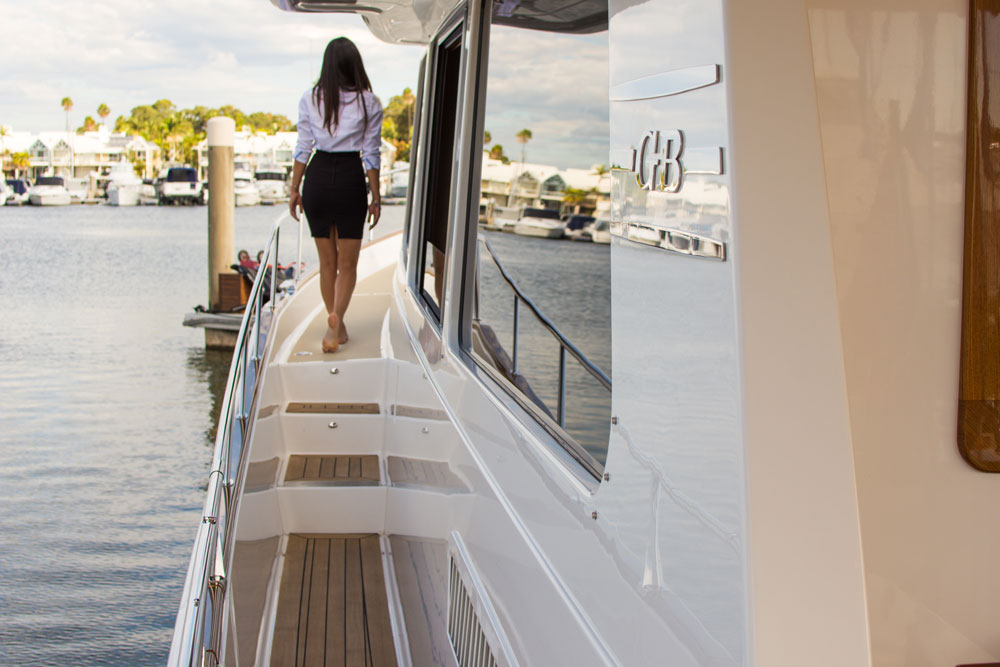 Although hull form had lots to do with the performance data I was gathering on the Coomera River, there were other contributing factors, not least of them being the materials and techniques used in the 60's construction. While her hull is conventionally hand-laid using E-glass and vinylester resin and her engine room liner is infused using much the same stuff, the boat's deck, superstructure, and hardtop are composed of vinylester-resin-infused, Gurit Corecell-cored carbon fiber.
The strategy's obvious. The 60's broad-beamed hull thereby retains conventional heaviness, but everything above the hull, thanks to the carbon fibre, becomes comparatively light. What results, of course, is a very low vertical center of gravity (VCG), a very high level of transverse stability, and speeds that are fast and super-efficient, thanks to an ethereal displacement of just 63,900 lbs.
There were two remaining data sets that were almost as impressive as our speed and range numbers: sound levels and running attitudes. Thanks to a variety of sound-and-vibration-attenuating products from Pyrotek installed in the engine room (including Decidamp tiles in way of the props and elsewhere), as well as the sound-blocking effects of a single, massive fiberglass fuel tank which separates the machinery spaces from the living spaces forward, the sound levels I measured were whispery, not only at the lower helm but also in the master stateroom and in the VIP at the bow. Indeed, it took speeds of well over 18 knots to push sound levels in the latter two spaces beyond 65 dB(A), the level of normal conversation.
And running attitudes? Without getting too technical here, let's just say the 60 runs flat, achieving a bow rise of just 2.5 degrees at approximately 11 knots and then maintaining that attitude throughout the rest of the RPM register. Rather than overcoming her bow wave by lifting her nose significantly as most planning boats do, the 60 rises bodily in the water as her speed increases. She never seems to actually detach herself from her element and exhibits a bowrise that's almost unnoticeable.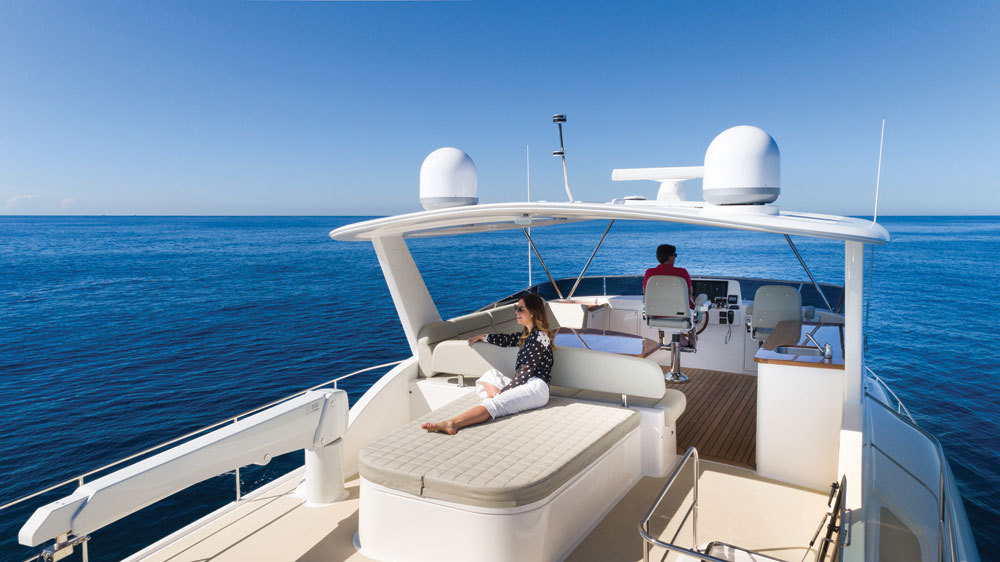 Before we finished up on the Coomera, I took a turn at the lower helm station and almost immediately satisfied my desire to check out the 60's Express Joystick System (EJS), with its QuickShift transmissions, hydraulic bow and stern thrusters (with manual override), Dynamic Positioning capability, and EC300 Power Commander electronic single-lever engine controls.
Talk about! I've been a big fan of EJS since it made its debut almost 17 years ago and was not disappointed with the 60's seriously updated version. I got our test boat moving sideways and diagonally with only the faintest of joystick manipulations and no drama whatsoever. Take a couple of big, 31-inch props that can instantaneously spin at virtually any rotational speed, fast or slow, and team them up with a set of vibration-reducing Seatorque Enclosed Shafts, and two powerful hydraulic thrusters, and it's no wonder robust and steady dockside maneuverability results, minus the turbulence and clunky boat movements you sometimes get with pods.
And fun, fun, FUN! That was my take on the driving experience. Because the 60's running attitudes at speed were almost non-existent and her VCG was so low, hard over turns tended to happen sportily, engendering a level of excitement and enthusiasm that caused me to delightedly exclaim, "Whooooeeeeee!" at least once, maybe twice. Moreover, tracking was railroad-steady, the ride was super-smooth (no seas of any significance on test day unfortunately), the Humphree Interceptors needed no tweaking at all, and acceleration had more in common with muscle cars than boats.
Once we we'd returned to our marina at Sanctuary Cove, I spent a while with Richards examining the 60 in detail. Her basic layout, of course, is pretty conventional, with a saloon/galley/helm station on the main deck, a three-stateroom-two-head accommodation below, and a flybridge up top. Within this envelope, however, Grand Banks manages a raft of nifty features, a few in the saloon but more down in the machinery spaces.
Our first stop—the saloon. It was as bright and airy as the Aussie countryside around Sanctuary Cove, thanks to a wraparound assortment of huge windshield panels and side windows (two of them electrically-retractable), as well as a rear window and door we left open to the breezes. A Cruisair air-conditioning system kept things invisibly cool via a clever "false ceiling" with return plenums at the sides and a supply plenum forward. And the galley was simple but complete, with Miele appliances mostly, Silestone solid-surface countertops, and a large, practical Franke stainless-steel sink.
We accessed the ER via a ladder under a gas-shock-activated cockpit hatch. And while at 1.61m the place did not offer standup headroom (like loftier, less sleek, low-slung GBs of the past often did), the spaciousness around the twin Volvo Penta D13s was beyond anything I've seen this side of an oceangoing tug. Between the mains I measured 1.52m of open, untrammeled vinyl-treaded walkway and outboard the measurement came close to 91.5cm or a tad more!
And hey, there were no blowers! The 60's ER is cooled via vent boxes (with demisters), port and starboard, that are part of a system that supplants hot air with cool via natural convective air currents. The electrical system was equally forward-leaning, with four Lifeline AGM batteries divided into two starter banks, eight more Lifelines divided into two house banks, and a couple of standard, 300-watt Enerdrive solar panels on the hardtop's roof which keep onboard refrigeration operable without shore- or genset power. And each main was equipped with a Groco safety seacock in lieu of a conventional crash pump.
"You know what I like about this place," I asked Richards as we exited via the ER's watertight door.
"What," he asked, going up the ladder.
"Although it's simple—easy to figure out and maintain," I replied, "it's still absolutely cutting edge. Nothing else like it."
"Yeah," Richards replied, "the 60 represents a whole new world in boats, mate. A whole new world."
New GB 60 Skylounge Expands Cruising Options
The versatility of the 60 Skylounge offers cruisers in both cold and warm climates the ability to operate the boat from an enclosed upper pilothouse. The option also expands accommodations on the main deck level while providing an additional living area above on the bridge deck. Long distance cruisers will appreciate the additional social area afforded by the enclosed Skylounge, which allows for another settee and table abaft the twin Stidd helm seats. The ability for family and guests to spread out while on a passage only improves onboard comfort. The L-shaped settee can also serve as a watch berth during a night passage, while a day head provides another element of convenience. The arrangement allows for a dedicated area to secure up to a 4.2 meter tender and the standard Steelhead davit.
The challenges of any Skylounge model are the additional weight and the possible blemish to a yacht's lines if it's not designed with a keen eye. "The proportions of the design are very important to us," says Mark Richards, CEO of Grand Banks. "We're not in the business of designing ugly boats so we spent a lot of time ensuring the Skylounge looks like it belongs on the 60. And our emphasis on weight reduction and strength in the build process ensure we're not compromising the 60's performance and still keeping a very low vertical center of gravity. The whole package comes together and works extremely well." 
FUEL & PERFORMANCE DATA

Grand Banks 60

Fuel capacity:

5791

litres

 

RPM

Knots

L/h

L/NM

Range  (NM)

600

7.9

9.8

1.300

4000

750

9.5

16.6

1.800

2800

1000

11.6

39.3

3.400

1500

1250

13.0

73.4

5.700

910

1500

18.0

106.3

6.000

860

1750

22.4

159.3

7.200

720

2000

26.3

227.8

8.700

590

2350

30.5

329.3

11.000

470
To allow for adverse conditions, range is calculated on 90% of the fuel capacity.
Boat Design Name: Grand Banks GB60       
Year Launched: 2017
Builder: Grand Banks Yachts   
Designer: Grand Banks Yachts
LOA: 19.19m
Beam: 5.85m
Draft: 1.43m
Displacement (Dry): 28,000 kg
Max Speed: 30.5 knots       
Construction: GRP
Fuel Capacity: 5791 Litre
Water Capacity: 1100 Litre
Engines Make/HP: 2 x 900hp Volvo Penta D13-900
Drive Train: Seatorque Enclosed Shafts
Gyro: Seakeeper SK-9
Generator: Fisher-Panda 25000i genset/inverter
Controls: Twin Disc EJS               
Air Con: Cruise Air   
Watermaker: Idromar                
MFD: Garmin                                  
Starting Boat: $USD 3,285,000
This article originally appeared in the August 2017 issue of Power & Motoryacht magazine.