The deep south of New Zealand has always been a strong boat builders area but none more so than aluminium trailer boats. We took a look at some of the more successful builders from the 'mainland' and asked some of the owners how they saw the future.
Aluminium trailer boats designed for the recreation market started life in Auckland with brands such as Parkercraft, Fyran and Starcraft with welded or riveted small dinghies.
Over the years, the centre of alloy boat builders moved south with the Waikato and Bay of Plenty holding sway to the top spot, when brands such as Ramco, Extreme and Surtees came to the forefront.
However, no one can dispute the fact that when it comes to pontoon boats, the South rules the waves. Stabicraft started it, Kiwi Kraft followed and then the rest came in behind. While today pontoon boat manufacturing is widespread across both islands, the undisputed leader is still Stabicraft in Invercargill. You can't get much further south than their factory on the road to the Bluff, the South Island's most southern point.
Invercargill alone is base for four major builders, Stabicraft, KiwiKraft, Frewza and Image. While the first three are almost exclusively building pontoon boats from 3m to 10m plus, Image is all about plate boats. Building boats in Invercargill has given rise to some seriously large, tough boats, especially from Image and Stabicraft. Frewza has concentrated more on the entry-level market and KiwiKraft offer a wide selection taking in just about every style and size.
Just up the road in the very small town of Milton is one of New Zealand's largest alloy boat builders, and certainly one of the most successful, McLay Boats. The range of open, cuddy, cabin and hardtop boats is extensive and they are sold throughout the world.
Go a little further north to Dunedin and you'll find Southern Boats, which recently changed ownership and has undergone somewhat of a revival. The boats are world class, finished to an extremely high degree and certainly gaining popularity with those that have the big bucks to spend.
Timaru now has two serious pontoon builders, Aqualite, a company that changed the way alloy pontoon boats should look and the new Finlay Boats. Finlay Boats is a new venture that currently only has three models, but look for big things to come from this new brand.
In Christchurch, there have always been a lot of alloy boat builders, with many, such as Hamilton Marine concentrating on the jetboat market. Hamilton Marine is still busy building river jetboats, an area that they have some domination. Brands such as Baxter, Altec, Ramco and KwikKraft have been enjoying steady sales in the recreational markets, with a wide variety of cabins and runabouts. KwikKraft have done especially well with specialist commercial boats.
At the top of the South island, you would expect to find a whole raft of alloy builders, but while there once was, this area has also seen somewhat of a downturn. Bucking the trend is Nelson based DNA Boats and Osprey Boats, both of whom have steady orders. DNA has made quite a mark with their larger trailerable hardtops and Osprey have done huge business in the commercial sectors of the market.
We have not mentioned every alloy boat builder in the South island, but they certainly represent the main players.
Built in Timaru, the range of Aqualite pontoon boats has been designed by Scott Robson and comes with a huge reputation for great performance in moderate to rough seas. Aqualite were one of the first pontoon boat builders to put an emphasis on making the boats look 'good' and took away the rather clinical style of early pontoon designs.
Currently there are six models in the range, with four cabin versions and two hardtops. Construction is all 4mm/5mm hull bottoms and the fit out is as extensive as you are prepared to make it. Power options include jet units, from either Hamilton or Scott as well as outboards.
www.aqualite.co.nz
Baxter Industries marine department specialises in design and fabrication of power boats and are capable of taking on projects where exceptional design, computer aided design and aluminium fabrication is needed. Essential for boat Builders. All design is completed in house with the use of modern CAD programs.
Clients can select a boat from the production range or the company will custom design a boat to suit your personal needs and dreams. The range is extensive and comprises designs for catamarans, jet boats, monohulls and pontoon boats.
www.baxterindustries.net
Built in Brightwater, a small town out of Nelson, by DNA Boats, a division of Ace Engineering NZ Ltd, the brand has been available since 2009. First unveiled at the Christchurch Boat Show in late 2009, the 500 CC and the 550 Sport cabin, quickly established the brand in the alloy boat market. Since then the brand has grown both in size and sales, with clients now throughout New Zealand.
Jason Elvines is the man behind this very successful Nelson alloy boat builders, that produce a range of pontoon and conventional boats from 3m to 9.5m plus. Catering for both the commercial and pleasure markets DNA have built up a solid reputation for quality and finish. DNA aluminum boats manage the whole process, from concept to design stage, through to manufacturing and supplying a turn key product. Cad design allows the ability to move swiftly forward and also provides endless options in creating modern concept/unique boats.
"2014 has been a great year for DNA, with a big increase on the previous year and the way things are looking right now, 2015 is going to be even stronger. We have just about completed a very upmarket, highly speced 8m hardtop and are busy with orders for our 4.2m and 5.5m hulls. I have certainly noticed an uplift in enquiries and we are also well underway with our first big export order, a 14m landing barge for the Cook Islands". – Jason Elvines www.dnaboats.co.nz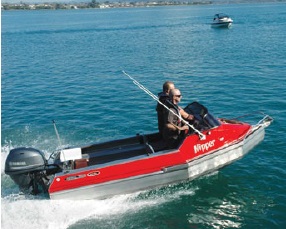 You could call Frewza Marine, the quiet achievers, that in recent years have produced a considerable number of boats, albeit mostly at the smaller size range.
The Frewza brand is based on innovative and practical aluminum boats, starting with the 3.4m tiller steer model through to a 6.8 hardtop in their production line up. However the company also offer custom built up to around 9m. Brendon Frewza is the designer of Frewza Boats, with 20 years experience in the boat builders and engineering industry.
All Frewza boats have three separate air compartments in the pontoons and a separate sealed under floor compartment, which makes them vertically unsinkable! However the company also offer custom built up to around 9m.
"We pride ourselves on producing exceptional boats for "real" people, keeping our boats at an affordable cost and offering a range of models and options including full customization". – Brendon Frew.
www.frewzaboats.co.nz
Timaru based Finlay Boats was established by Grant Finlayson earlier this year and is the newest alloy boat brand on the market. Working as boat builders, the company currently offer three models, cabin, hardtop or centre console, based on two Scott Robson designed hulls. The first to be released was the Sports 5900 open cabin, (See review Page 106 this issue), which was soon followed by the Ignite 6300 hardtop.
Both boats feature pontoon style deep vee hulls with 5mm/4mm construction. The finish is to an exceptionally high standard and the layout has been designed to suit both serious fishermen and casual cruising owners. "Our boats are a little different to everyone else, with our signature folds in the hulls, which will be something we will incorporate in all our boats. We have hit the market hard with three models and I am very pleased with the acceptance they have had. I am confident that potential clients will appreciate the boats for what they are, high quality coupled with outstanding on the water performance."- Grant Finlayson
www.finlayboats.com
HAMILTON JET – Christchurch
HamiltonJet boats combine the highest quality of materials and workmanship with proven design features that make then superior river boats. They are fantastic boat builders. The combination of the aluminium hull and fibreglass deck gives HamiltonJet boats their excellent structural integrity, while high impact strength is achieved with bottom keel plates made from 10mm marine grade aluminium.
There are many options available that allow you to personalise your new HamiltonJet boat. These include propulsion packages, seating layout, boarding platforms, finishes, trims and hull and deck colours. There are five models in the range, from the 4.42m Jet 132A, through to the 5.00m Jet 161A.
"Right now our sales are extremely good and we are very busy with new boats being sold throughout the country. While South Canterbury and the Christchurch areas are enjoying good sales, so too is the Hawkes bay and Waikato, especially with our 141, 151 and 161 models. Our traditional markets have certainly picked up a lot in the last 12 months". – John Connelly, General Manager.
www.hamjet.co.nz
Trading since 2000, Image Boats are boat builders, Invercargill-based and designer that provides an outstanding range of alloy-hulled boats for both recreational and commercial uses. Much more than just a standardised assembly line, every boat that Image Boats builds is custom-fitted to be highly personalised to the specific requirements of individual clients.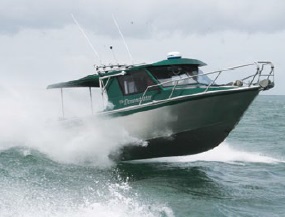 With their standard range of basic designs stretching from a 5.8m cuddy to the 10.4m Cruisemaster, they have something available for nearly any boatie or smaller commercial operator.
In recent years the company has built up an enviable reputation for larger trailer boats and their range certainly reflects that. The 7.45m, 8.25m, 9.0m hulls carry wide , yet still trailerable beams and allow for huge layout options. Outboard or sterndrive, diesel or petrol, the Image range caters for all options.
"At Image Boats we create a special relationship with our clients, working closely with them from the beginning of the build and onwards throughout the entire process to construct an individual boat – one that reflects the client's wants and needs", – Dean Wilkes, Managing Director of Image Boats.
www.imageboats.co.nz
KIWI KRAFT/AQUALINE – Invercargill
Founded in 1988 by Rodney Harris, Kiwi Kraft is one of the longest established alloy pontoon boat builders in the country. Since then the brand has enjoyed considerable success both in New Zealand and internationally, from the searing heat of Africa, the humidity of the Pacific Islands and the chilling cold of the Sub Antarctic Islands. In overseas markets Kiwi Kraft use the Aqualine name for their boats but the same Kiwi-Kraft ingenuity is infused in each and every item they sell. The company also builds a lot of custom boats to suit the individual persons requirements.
Production is around 200 boats a year – all pontoon style – from a base of ten different hull sizes and options such as centre console, cabin, hardtop Jet, O/B or sterndrive in most models. As members of CPC NZ – all Kiwi-Kraft & Aqualine models are built to Coastguard specification.
"Kiwi Kraft will never be a mass production company with each boat hand built by a team of dedicated workers, that ensures pride in the product and the results are clear to see. If you can dream it we can build it," – Rodney Harris.
www.kiwi-kraft.co.nz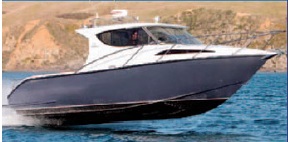 KwikKraft are manufacturers of custom built alloy boats with an extensive range of Scott Robson designed hulls for recreation (propelled by jet unit or outboards), off-shore, adventure tourism and jet boat racing. KwikKraft alloy boats are built by Icon Brands International at their Rangiora factory along with the Ramco range of alloy boats and a number of large alloy boats built for Robson Design.
Kwikkraft's main point of difference is that they are custom building high quality alloy boats at the top end of the market. They will not compromise these high standards of design and construction as this is what they have built their reputation on.
KwikKraft recreational and Off-Shore boats have been exported to Australia, the Pacific Islands, Canada and the USA. www.kwikkraft.co.nz
MCLAY – Milton Boat Builders
McLay Boats, started by Steve McLay in Milton, just South of Dunedin, have been building alloy boats since 1987 and today are recognised as one of the major brands in New Zealand. The range is huge, from the smallest 4.4m tiller steer boats, to the wide range of cuddy cabin fishing boats and 11.4m hardtop cruisers. There are 23 boats listed in the production fleet, but McLay also offer an extensive range of custom builds, especially in the large size ranges. Whether it's a bespoke design and for specialist charter use or just something you can't find , then McLay can, and will build it for you.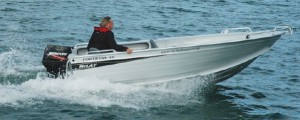 McLay's comprehensive range of aluminium fishing and trailer boats has been sold internationally with Northern Europe and Australia being two particularly lucrative markets. Key to McLays' success says MD and designer, Steve McLay, is world class design and engineering, focusing on what the serious fishing and recreational boat owner wants; quality, functionality and value for money.
" We are always looking ahead in our development program to bring out new models that suit the various boating trends both for the New Zealand and world markets and the very successful launch the new McLay CrossXover range is testimony to this. This is proving to be a very successful formula as some of our models are currently booked out till 2015 already. With our extensive range, ongoing development program and a growing number of McLay dealers overseas we expect steady growth over the next few years". – Steve McLay.
www.mclayboats.co.nz
Built in Nelson, Osprey Boats produce a range of aluminium pontoon boats from 3.5m to 8.5m. MD, Lloyd Elliott began manufacturing specialist aluminium fishing boats almost twenty years ago and for professional mussel farmers, and in 1996 unveiled the first of the Osprey Boats for the leisure market.
Immediately recognised for their excellence and safety, the Osprey boats have been purchased by such diverse groups as conservation departments, harbour boards and adventure tourism companies.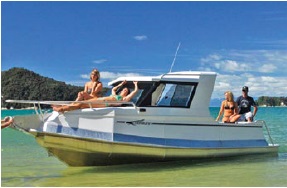 The pontoons are shaped to give over 11kg of buoyancy per 100mm of length, which results in huge load carrying ability, i.e. the water taxi's in Abel Tasman National Park are registered to carry 18 passengers plus crew, in a 7.50M boat
www.osprey.co.nz
RAMCO – Rangiora Boat Builders
Ramco is a brand that has been very much part of the New Zealand aluminium boat builders industry for many years and is still strong in the market.
Founded in 1985 Ramco Boats has over twenty five years of a single minded focus and commitment to making the Ramco aluminium boat range the best hunter – gatherer tool on the water.
A few years ago the brand was sold to ICON Brands, who had designer Scott Robson give the entire range a total revamp. The result was new models, new styles and a fresh more modern look to the Ramco brand. They also have a reputation for outstanding performance, especially in adverse sea conditions.
The range now consists of 12 models, starting with the 4.75m, 4750 Prelude cabin and centre console, through to the stunning 8450 Ultimate, 8.45m serious offshore hardtops.
All Ramco aluminium boats are supported by our 5 year manufacturer's warranty.
www.ramcoboats.co.nz
STABICRAFT – Invercargill
Unquestionably the largest trailer boat manufacturer in the country, Stabicraft Marine pioneered positive buoyancy boats, turning out the first rigid hulled aluminium pontoon boat from a back street workshop in Invercargill, New Zealand, in 1987. Later that year the company moved to the Bluff Road premises where they've been ever since.
The original Stabi design was a compilation of the wish list of local paua divers. They wanted an evolution of the traditional Rigid Hulled Inflatable boat – one that retained the RIB's superior buoyancy, stability on the water and ease of handling, but within a sturdier construction framework to make it even safer in rough waters.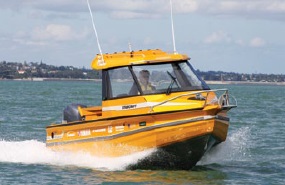 And so began the development of a brand that was to set world-class standards in aluminium rigid buoyancy boat design and construction. Today Stabicraft Marine's range of 17 models is also one of the most extensive in the country and by far the largest of all pontoon boat builders. This starts with the 4.3m, 1410 series, which is available in tiller steer, centre console and cuddy cabin; through to the impressive 8.80, 2900 Supercab, Pilothouse and Weekender hardtops. All Stabicraft boats are CPC rated.
"The future is unquestionably exciting for the Stabicraft brand and we are seeing growth likened to pre-GFC in all our major markets. We are nearing a full range completion of our immensely successful Game Chaser transom and Arrow Pontoon designs. We believe any brand can not only survive a struggling economy but also thrive if the brand can engage with consumers with compelling design, ergonomics and meet latent needs. The future of the market will be made up of brands willing to 'go the extra mile' for their customers. Brands like BRP are industry pioneers, willing to step out of their comfort zone and challenge the 'norm'. We see Stabicraft's future no differently, in fact challenging the norm is exactly how we started". – Paul Adams, MD Stabicraft Boats
www.stabicraft.com
Southern Boats, based in Mosgiel, Dunedin pride themselves on presenting some of the finest handcrafted alloy boats available today. In 2013, the company underwent an ownership change and some consolidation was carried out on the range. Southern have lifted the bar on the typical 'tinny' boasting features such as composite hardtop and interior mouldings, Matrix underfloor stringer system, two pot exterior finishes and more.
Features often considered optional extras such as fully plumbed live bait tanks, long range fuel tanks and sliding hardtop windows all come as standard equipment. However, every boat is customised to its new owner and a wide range of options are available to suit your personal needs.
Attention to detail doesn't stop at your boat as every trailer is custom built in alloy. The range comprises 13 models from the 4.90m, XP496, through to the 9.00m, XP896 HTE. Apart from the XP496 and the XP616 that are centre console models, the remainder of the range are all hardtops.
"Our order book is full till Xmas and it looks positive going ahead into the first quarter of 2015. Most popular models currently are the 680 and the 770 hardtops, but we also have interest right through to our flagship XP896HTE. Recently we increased our staff numbers in the factory to cope with the increase in demand, so yes, I am very confident for the future of the brand". – Peter Carlson, director of Southern Boats.
www.southernboats.co.nz