Author : Barry Thompson
The Haines Hunter 485, the smallest cabin boat the company has ever produced, carries on the well-proven Haines Hunter philosophy of designing boats for recreational family boating.
Lionel Sands & Denis Kendall, owners of Haines Hunter NZ Ltd, didn't just decide to build a smaller model without first giving the concept some reasonably serious thought. At a time when boat sales have taken a big hit from the worldwide economic meltdown, any manufacturer who introduces a new model does so with a lot of risk. However, for the team at Haines Hunter it was a well planned move.
"With the slowdown in the marketplace we had the capacity to work on our development programme and until we introduced the 485 our smallest engine package was 90hp, so we were keen to add a new boat to the range that would cater for the smaller outboards", says Lionel.
In fact in most cases the previous 'baby' of the Haines Hunter family, the SF 535, was almost always sold with a 115hp outboard. They keen to produce a boat that would perform well with 50hp to 70hp, retail below $40000 and be easy to handle for the more mature owner.
Lionel adds. "The 485 is not only a boat that was designed to appeal to the experienced owner who was looking for something smaller for inshore fishing and general boating, but also the new boater."
Since the boat was released at the NZ Boat Show (Boat of the Show – all purpose under 6m GRP) earlier this year, the market conditions have determined the purchaser and according to Lionel, generally it has been the more established boat owner that is buying the 485.
"We have a number of owners who for various reasons are stepping down from their bigger boats, but still want to remain in the Haines Hunter family, something that until now wasn't so easy for us to cater for", says Lionel.
"I also felt we needed a boat that would offer a viable alternative to aluminium, that presented all the best attributes of a fibreglass boat such as ride, handling and finish, but with the useability and ease of handling of an alloy boat", added Lionel.
With the 485 the company has filled that niche and if sales are anything to go by they have certainly done it right. To date over 25 of the new 485s have been sold. The majority have been powered with either a 60hp 4-stroke or a 70hp 2 stroke engine. Considering the state of the trailer boat industry through 2009 that's a great start for a new model and it can only grow from here.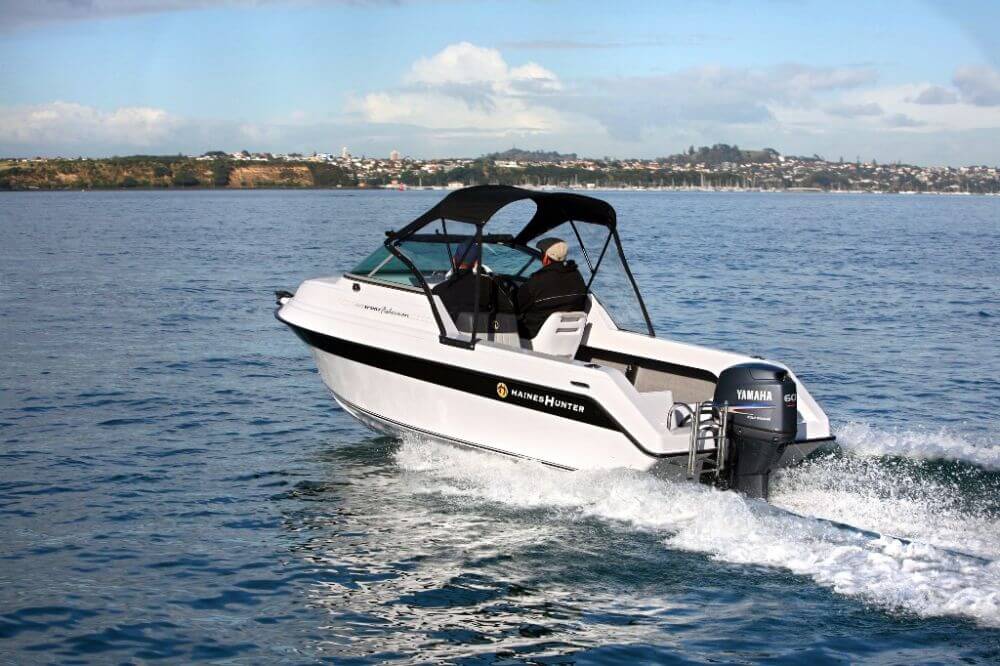 Two models of the 485 are available. The 485 Fisherman is the basic no frills version, although all it lacks over the 485 Sport Fisherman is the upholstery and Softrider pedestals. Lionel refers to the 485 Fisherman as "the blood and guts boat", although for only around $1000 upgrade most owners have been going for the Sport Fisherman version. 
There is nothing radical in the design – it is vintage Haines Hunter. The only real departure from other boats in the Haines Hunter fleet is the move away from the company's deep vee formula of 21 degrees of deadrise at the transom. The 485 has a deadrise of 17 degrees, which is more in keeping with the overall size of the boat. Plus the fact that this is a boat designed for calm to moderate water boating that will perform well with medium horsepower. A comfortable and secure dry ride at a reasonable pace, with very good fuel economy, was more important than outright speed in very rough water!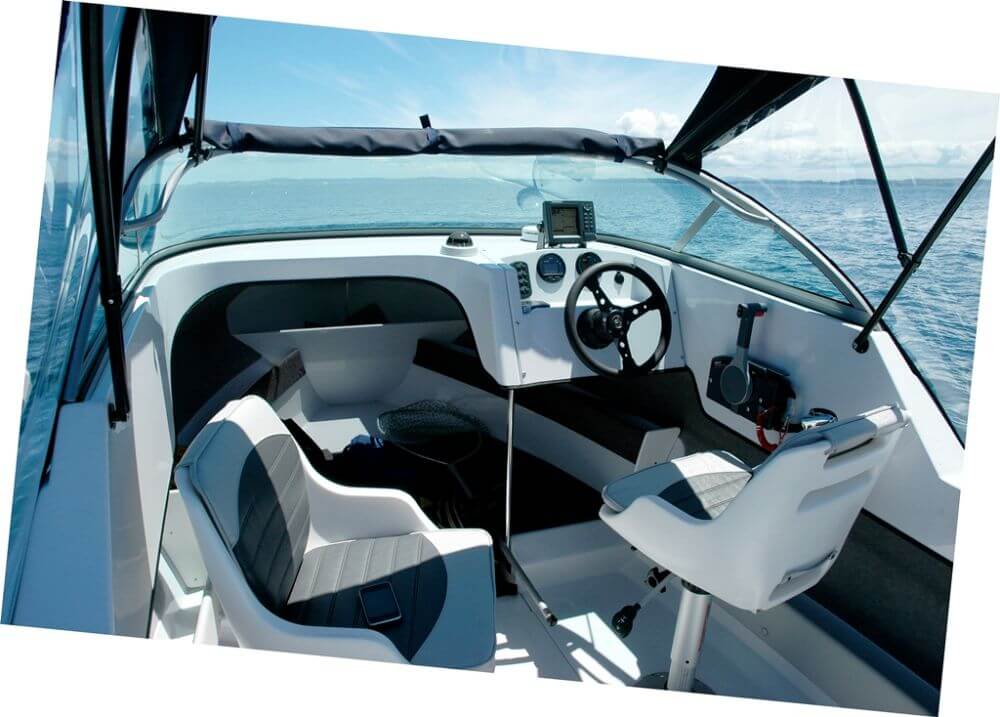 One of the interesting 'new' developments in the 485 is the use of infusion laminating. The construction of the hull is still conventional handlaid fibreglass with woven rovings and the deck built with gunstock, but the hull liner is now infusion laminated. This is also very much a structural component of the boat, which is a first for Haines Hunter. The cockpit sole liner is bonded to the hull in such a way that it forms the backbone to the structural hull laminate.
The advantage is an absolute perfect laminate thickness that is vital for the bonding process plus there is a weight saving without any decrease in strength.
"This has given us an opportunity to improve the system as we look to the future to incorporate infusion laminating into other areas in the boat and other models", says Lionel.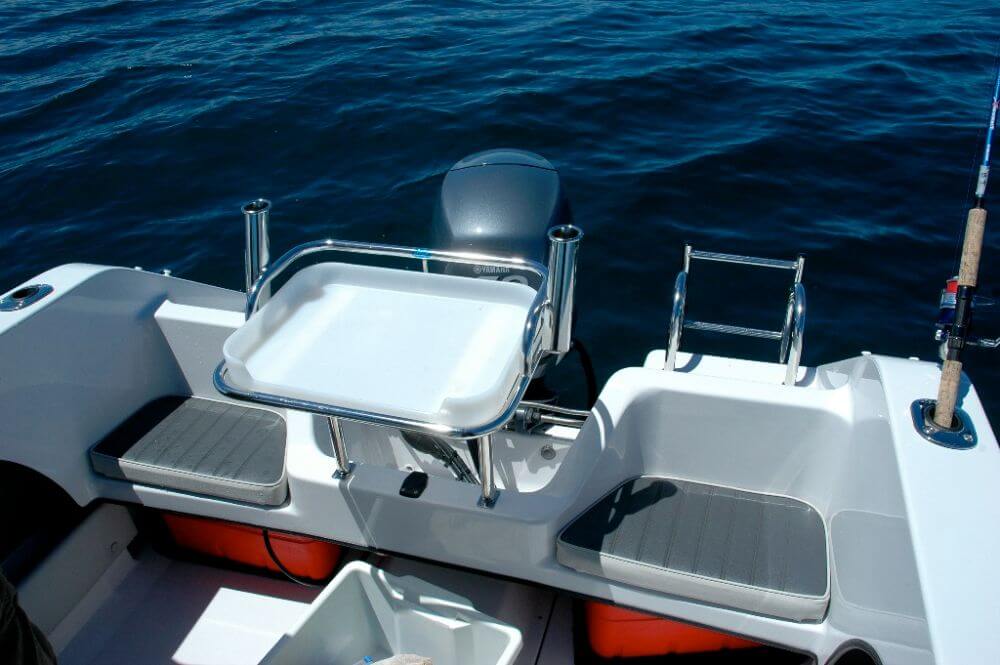 During our test on a reasonably calm Auckland Harbour the 485 felt right. Being a bit of a speed freak I did run the boat to the max and got the speedo to show 26 knots (30 mph)! The bigger diameter of the gearbox torpedo on the 60hp High Thrust Yamaha 4-stroke actually crimps a little off the top end as opposed to the standard 60hp engine, but it comes into its own when the boat is loaded. However, I am not so sure the high-thrust motor is something that is really necessary on a boat this size, as it is already reasonably light in weight. The lower gear ratio of 2.33:1 compared to 1.85:1 for the standard 60hp, combined with a bigger propeller of 13 5/8" diameter x 13" pitch compared with 10 ¼" diameter x 14" pitch for the standard 60hp, provides plenty of extra blade area to push heavier loads, while having considerably less propeller slip. However, this must be offset against the extra $1300 or so in cost for the high-thrust motor, and for the overwhelming majority of boaters, such an expense cannot be justified. An exception would be a keen diver who goes out regularly with three diving mates.
The 485 rides and handles perfectly without any quirks in the water conditions it was designed for. When I pulled the throttle back to a more sedate 4500 rpm, we sat on 18 knots (21 mph) and headed out north of Rangitoto Island for a spot of fishing.
You can drive the boat in either the seated or standing position as the canopy is high enough for it not to get in the way. When seated, the high profile screen offers plenty of protection and visibility is good. Put simply, it's a docile boat to drive.
Being a brand new boat we opted for soft baits and the new Lacanos heads, so there was no mess to worry about from pillies or squid baits. However, it wouldn't have mattered anyway as the interior of the boat is 'clean-up friendly'. If you do make a mess in the cockpit, it's simple to hose out to get it back to pristine condition. There are no areas where water or stray bait will collect and cause a problem later. Being a CPC rated boat, a bilge pump is standard so any water quickly exits from the deep sump.
Once we found a huge flock of gannets and a pod of dolphins we knew we were in for a good afternoon. Sure enough, we hooked onto some reasonable snapper and in a short time had more than enough to take home. All the snapper were kept out of the sun in one of the fish bins in the wet locker under the cockpit sole. Interestingly my Nuclear Chicken softie didn't really work too well but once I changed to a pink Lacanos, I cleaned up! This was my first time with the Lacanos and I was amazed how well they worked. Thanks to some excellent tuition from Lionel on how to use them, (he incidentally outfished me), I now have a couple in my tackle box. A great day's boating on a tote tank of gas!
The 485 offers a great fishing platform that after all is probably going to be a big usage for anyone buying the boat. Firstly there is space – plenty for a boat of this size – and while it is certainly going to suit two people fishing, three would not be too much. Wide, flat side decks provide both an area to sit and also a secondary bait prep area. A drop-in bait board in the centre of the transom takes care of most of that.
The coaming height is right and the sole runs flat to the hull sides so you can stand comfortably if you need to fight a fish. If you're into diving then there is an easy access to the moulded transom platform and a drop-down stainless ladder for when you come back aboard.
Storage is something that a small boat often lacks, but not so in the 485. There are full-length side shelves that come complete with rod racks either side and a generous moulded storage bin in the sole, running the entire length of the cockpit. This is covered with twin lids and although you can use it as one large wet locker, the addition of a couple of removable fish bins is well worth considering. There's space aplenty for rods, skis, wakeboards or even dive bottles.
The standard boat comes with twin swivelling seats mounted on Softrider pedestals, with an option of back-to-backs or a combination of the two, plus twin rear moulded jump seats. With the back-to-backs you have the advantage of extra storage space in the moulded bases.
Haines Hunter doesn't offer an underfloor tank, which is fine considering the low fuel usage of the smaller engine packages available. Instead there is space for a couple of tote tanks under the rear transom seats and positioned beside the battery, which is housed in its own moulded compartment. If you feel you need more fuel then another tote tank could be stowed in the deep cabin sole recess.
A very innovative feature on the 485 is the removable dash console unit that is available in two variants; one for flush mounted electronics, the other for bracketed units. A neat idea that also means that all the instruments, switches, etc., can be pre-wired before mounting. Standard features include Teleflex steering, DC outlet and a compass.
The cuddy cabin provides good access to the extra large foredeck hatch for anchoring and somewhere to get out of the weather. There is sitting headroom for a couple of adults and it is a great place for the kids to get out of the way. There are generous side shelves for storage, although none under the side squabs, with this space being an integral part of the built-in buoyancy. There is also a deep internal anchor locker.
While the 485 is not the smallest boat Haines Hunter has ever done (remember the 445 runabout many years ago), it is the smallest cabin boat the company has built. For finish, handling and ride, the 485 certainly continues the high standard set by Haines Hunter and is an exceptional addition to this iconic Kiwi brand. It is an uncomplicated boat with years of design, build and styling experience behind it and has the potential to be one of Haines Hunter NZ's most popular models.
Make: Haines Hunter
Model:  485 Sport Fisherman
Price As Tested:  $40000
Packages from:  $37000
Designer:  Lionel Sands
Material: GRP
Type:  Cuddy Cabin
LOA:  5.22m (True hull length 4.85m)
Beam: 2.06m
Deadrise:  17 degrees
Hull Config: medium V
Trailerable Weight: 850kg (approx)
Height on Trailer: 2.10m
Engine Capacity: 50-70hp
Power Options: Outboards only
Fuel Capacity:  Tote tanks
RPM
Speed mph
1000 rpm
2.5 mph
1500 rpm
3.5 mph
2000 rpm
5.0 mph
2500 rpm
7.0 mph
3000 rpm
9.5 mph
3500 rpm
13.0 mph
4000 rpm
17.5 mph
4500 rpm
21.0 mph
5000 rpm
24.0 mph
5500 rpm
26.5 mph
6000 rpm
30.0 mph
Speeds recorded on a Lowrance GPS.