If you have owned a trailer boat you will have heard of Haines Hunter. It has been one of the most influential brands in the annals of Kiwi trailer boating history, and after more than 60 years, it still remains a dominant and highly respected name.
A Couple of years ago, Haines Hunter New Zealand released the SF635 – a full cabin boat with a bimini top. Now two years on, they have added a hardtop. The latest model to be released, the SP635, clearly illustrates how far Haines Hunter has come and why it is still one of the leading names in trailer boating. When I reviewed a Haines Hunter V198 with a Mercury Black Max 175 in 1975, I thought I had found the ultimate 6m cabin boat. Built from 1974 to 1985, the V198 was and still is a great boat. On the used boat market, they are still much sought after.
However, styles and needs change, and over the years, the builders of Haines Hunter boats have continually adapted their range to suit what the people wanted. The 635 in both the SF (Sport Fisherman/ soft bimini) and the SP (Sport Pursuit/hardtop) versions is the company's adaptation of all those ideas. This is not an upgraded model of the 600 or 650. It is a new boat in every respect, from the all-new CNC-cut hull and deck to how it is built. It's what you don't see that makes the difference. Some ideas have been carried over from the 600 and 650, but they are presented in a fresh new look, with modern construction methods, while still retaining the distinctive character that is Haines Hunter.
Haines Hunter, says that the 635 results from two years of development. The 600 and 650 models needed to be updated to accept more of the current technology that people were demanding on boats, so they decided to bring out something new rather than modify what they had. Hence the 635. While the SF model was popular, they knew that they had to bring out a hardtop version in time, and while it has taken two years, it has been worth the wait.
Even before the first boat was unveiled early this year, they had orders, and I am sure it will prove to be one of their best-selling boats in time. It is their smallest hardtop, and the design team were conscious of the synergy between the hull and hardtop when designing it. It needed to blend in with the hull and continue the flow of the deckline and not look like an afterthought.
They have achieved the desired effect from every angle, with a well-balanced profile that looks like it was always meant to be there and it still looks like a Haines Hunter. The SP635 has an impressive list of standard features, especially when it comes to the electronics area. Haines Hunter wanted to present a boat that all you had to do was add your gear, and the rest was already provided. For example, not only does it come with a 12" Simrad MFD, but you also get C-Zone digital switching, Zipwakes, Lewmar auto capstan, Fusion stereo, three USB outlets, LED lighting, Uniden VHF radio and a Totalscan thru-hull transducer. Indeed, an outstanding list of standard items.
If that's not enough, you can add things like an extended cockpit shade, ski pole, a folding rod rack, a washdown system, live bait tank, U-Dek flooring and a toilet. Plus you can upgrade to a 1kW transducer if you are really serious about your fishing. When it comes to power, you can choose a single Yamaha 150-200hp outboard. Digital steering and Helm Master are also available. Plus, it all sits on a tandem axle braked DMW trailer. A base boat without any extras is around $171,000, with our test boat $207,500.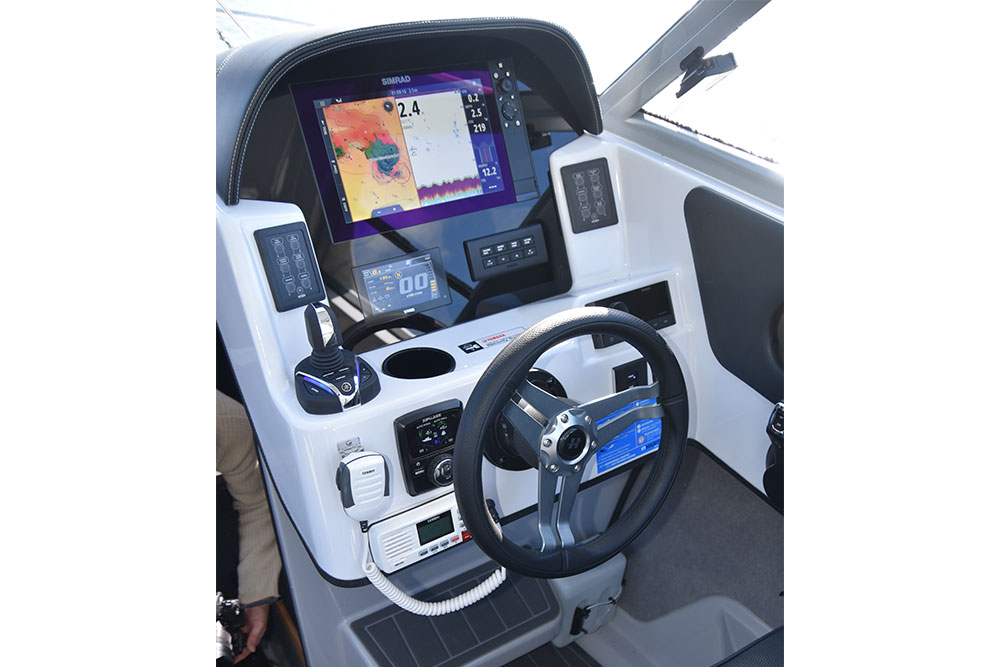 Some differences between the now-discontinued 600 and 650 are apparent when you step aboard. The dash is redesigned to accommodate 12" MFDs (previous models stopped at 9"), the helm seat has changed from a pedestal to a moulded base with a pull-out split lid cooler bin, and more and larger drink holders are scattered throughout.
The 635 is also able to take an additional thru-hull transducer. The new open hardtop has a toughened glass windscreen, side panels, twin wipers, and freshwater washers. To incorporate a full window opening in the short hardtop, Haines Hunter developed a simple but smart idea that sees the side windows slide back into the rear hardtop pillars. Built of a carbon composite the hardtop weighs only 22kgs.
The hull has also been redesigned and features a different bow entry and reverse chines, but it still retains the 21 deg deadrise at the transom and the great ride that Haines Hunters are known for. If anything, the hull runs flatter at speed and is even better in a following sea. The hull structure is hand-laid, using an Isophthalic gelcoat and resin system for extra strength and water resistance.
The transom and stringers are built from thermolite (a lightweight synthetic insulation fabric engineered from Polyester fibres) and there is now a foam cored composite structural floor bonded to the hull. This not only creates watertight chambers that deliver reserve buoyancy, it also delivers a real stiffness and strength to the boat.
The decks and bulkheads use a foam core sandwiched between an inner and outer skin. Underfloor has mainly sealed-off buoyancy, with a 195-litre fuel tank down the centre and a deep wet locker forward. Even the space under the forward berths is sealed. The Haines Hunter SP635 meets all the floatation requirements for CPC and is essentially unsinkable.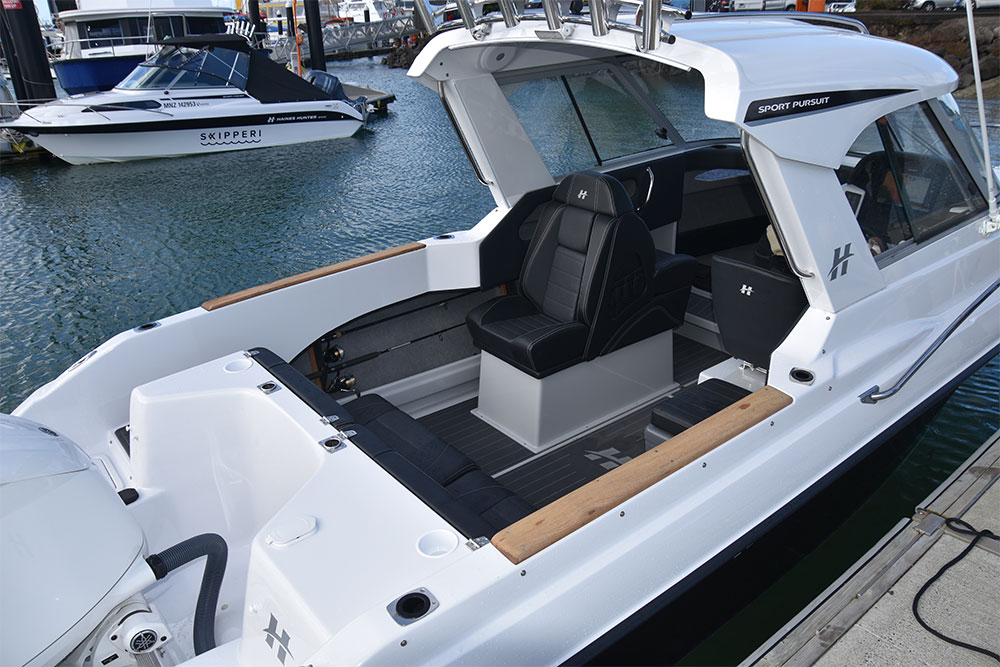 Like all Haines Hunter models, there is a definite slant towards fishing, but not at the expense of family boating. The cockpit is open and uncluttered, with extra bin seats tucked away under the aft deck that can be brought out when required. The padded storage locker hatches on the rear coaming double as backrests when the bin seats are used. Otherwise, it's all fishing space.
There is an optional bait board with carbon fibre legs, plenty of rod holders and the large drink holders also double as somewhere to have easy access to lures, hooks and sinkers. The 635 retains the traditional Haines Hunter port side king/queen seat from the previous models, with
massive storage areas beneath. Overall, there is comfortable seating for five/six in the cockpit. The wide entry into the cabin has a 'crash pad' protection still around the opening but now has a larger cup holder incorporated. There are also more cupholders on either side of the side trays. Haines Hunter has not forgotten about the little things, such as somewhere for your car keys and cellphone. Small dedicated trays on either side handle the bit and bobs and also have built-in USB ports. Twin 1.8m long berths provide somewhere to relax during the day or overnight. An optional head (electric flushing or portaloo) is in the centre, and an infill squab transforms the entire cabin into one large berth. Storage is available in a couple of forward bulkhead lockers, in side trays and under the forward centre squab. A privacy curtain is also provided.
It was a change to be able to review a boat in rough water. Auckland Harbour, especially around Motuihe Channel was pumping 25 knots, with a 1/2m lift and wind punching the tops of the waves. The sort of water you would only go boating in if you had to. Well we did and what a ride. Haines Hunter say that their boats are all about the ride and after experiencing the SP635 in those seas I have to agree. The ride was exceptional. Punching at 20 knots into a head sea the hull felt stiff and strong, with the Zipwakes doing their job in keeping the trim right and the Yamaha electronic steering making driving effortless.
Boat, steering and interceptors proved an ideal package and made the task of driving so easy. It was rough enough to fill the front screens many times, but then the twin wipers and auto fresh water flush came into play. Visibility was restored in seconds. Okay, we took a few knocks, but at the speed we were doing I am not surprised. Interestingly when I slowed down to around 16 knots the ride was not as good. Punch on a bit more power and the deep 21 deg hull seemed to like getting on top of the waves and doing its thing. When we did find some calm water I saw the GPS touch 36 knots @ 5800 rpm, with a fuel burn of 78 lph for the Yamaha 200. Sweet spot was around 4500 rpm @ 28 knots for 33 lph. Based on 90% of the available 195 litres of fuel that's a range of about 140 nm.
Our boat was fitted with Yamaha's Helm Master EX boat control system. Helm Master EX is a fully integrated boat control system that makes navigating and getting to your destination easier, and once you arrive, gives a whole new level of control to precisely manoeuvre your craft to exactly where and how you want it. You don't need to anchor. Just lock in your spot and you can start fishing without ever drifting off the mark. Great if you are fishing in deep water or in current.
Driftpoint track allows you to maintain your bow heading while drifting along a set track of waypoints that you have plotted. The boat will drift and use forwards and reverse thrust to the follow the predetermined route. Another innovative feature is the integration of an autopilot function this is the first system ever that allows a single outboard engine to be paired with a joystick control. Yamaha's Helm Master EX, is a fully integrated, plug-and-play system.
By delivering effortless control over your boat, you get to spend more time on the spots where the fish are biting and less time setting up, anchoring or trying to fine tune your boat position. The new range of F150, F175 and F200 are also available with Integrated Hydraulic Steering. This
system makes use of conventional hydraulic helm and lines connected to a hydraulic steering cylinder built into the transom bracket. Integrated Hydraulic Steering models offer the precision and simplicity of high quality hydraulic steering with additional benefits achieved by enclosing the system within the engine design. This means hydraulic parts are less exposed to the elements or the risk of accidental impact damage for long-term durability.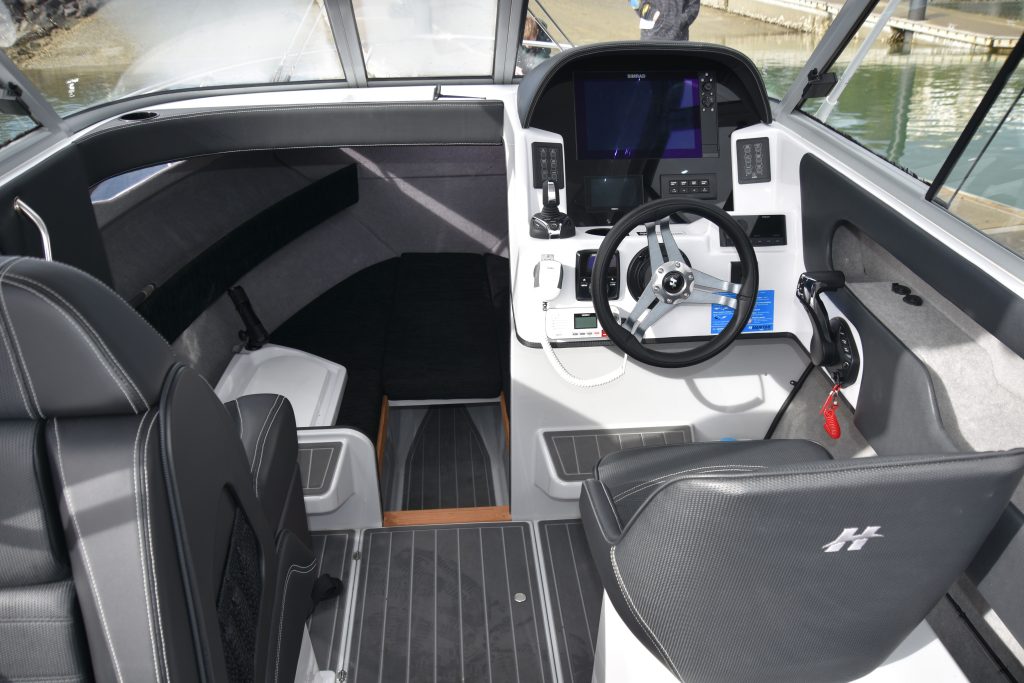 Haines Hunter has been one of the market leaders for over 50 years, and while in many ways they have always been traditionalists, they have always kept pace with the changing trends. They have a reputation for building high-quality boats that perform, and the new SP635 is certainly testimony to that. Well aware of the popularity of hardtops, it is no surprise that they have released the new SP635. It is compact and practical, and in every aspect it makes sense. Plus, it is still, every centimetre, a Haines Hunter.
Make Haines Hunter
Model SP635
Priced From NZ$171,600
Price As Tested NZ$207500
Type Hardtop
Construction GRP
LOA 6.76m
LOH 6.35m
Beam 2.34m
Deadrise 18deg
Height On Trailer 2.85m
Trailerable Weight 1800 kg
Test Power Yamaha 200
Test Speed 36 knots
Power Options Single outboard
Power Range 150-200 hp
Propeller 15" SDS 3 bld S/S
MFD Simrad NSS12 Evo 3S
VHF Uniden
Capstan Lewmar Sprint
Entertainment Fusion
Switching C Zone
Hatches Clue
Interceptors Zipwake
Fuel Capacity 195 L
Trailer DMW
Manufacturer Haines Hunter NZ Ltd