The vessel PPB tested was a special 'DPB' version of the Hampton Endurance 720 Skyloungerecently delivered to a Brisbane-based client by the Gold Coast's Leigh-Smith Cruiser Sales, after starring at the 2013 Sanctuary Cove International Boat Show.
'DPB,' in case you're wondering, designates a "Dual Portuguese Bridge". It is a little confusing once aboard to discover that there's a single helm station on the vessel's uppermost level of three. However, there's nothing disappointing about the way space where you'd (perhaps) expect a second helm station to be situated, is instead utilised by what must be described as a truly magnificent galley. Marble benchtops and a complete Miele high-end appliance inventory barely begin to describe what could well be the kitchen area in a modern upmarket house if it weren't for the ever-changing views through panoramic window  surrounding the forward end of the saloon deck level.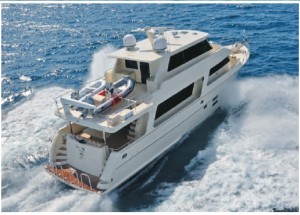 Twin 873hp Caterpillar C18 'Acert' engines produce absolute WOT top speeds for the Hampton Endurance 720 of around 20 knots – which actually doesn't mean a whole lot to long range cruising enthusiasts who will be much more interested to hear that while cruising at 10 knots the Cats are running at their fuel efficient best and burning a modest 50 litres of fuel per hour.
Calculate this against a fuel capacity of 11,000 litres and the Hampton Endurance 720 delivers a cruising range at 10 knots, with a 10% reserve, of 2200 nautical miles.
Now that's a serious cruiser made even more so by Appollonio's universally acclaimed hull design. Since Appollonio, a naval architect who specialises in hydrodynamics, conceived it in 1977, the 'Hybrid' design used by Hampton in its Endurance range has been developed through several iterations, a great many sea miles, and a great deal of tank testing. Neither a displacement nor a planing design but a hybrid between the two, much praise has been heaped upon the Hampton 'Hybrid' hull's unique blend of characteristics and the way they translate to exceptional performance across the full spectrum of sea conditions. Not the least of these is an often remarked lack of wave slap against the hull whilst at anchor. The boat PPB went aboard also had a Wesmar hydraulic stabiliser system, just in case…
Unfortunately we didn't get to experience any of this boat's cruising capabilities due to our time aboard being limited to a delivery run to Sanctuary Cove for the 2013 International Boat Show. Thankfully there's no shortage of commentary available for readers interested in pursuing views and reviews of the on-water performance of a hull design we've experienced many times in different configurations – and invariably been most impressed by it can be said.
The upside of our calm water "voyage" to Sanctuary Cove nevertheless was an excellent opportunity for a close inspection of the Hampton Endurance 720 Skylounge 'DPB.'
Stepping aboard onto the swim platform across the Endurance 720's transom at the Leigh-Smith family's Gold Coast City Marina facility, two immediate impressions indicate an attention to fine detail aboard this boat which ultimately proved to be both accurate and consistent throughout.
One of these initial impressions was how neatly and easily the shore power lead stowed as it was quickly secured by a crew member before getting underway. Next, a stainless steel ladder (for boarding direct to deck level) disappeared into an un-noticed locker in the cabin bulkhead.
It did however take a few moments for either of those details to register because once both feet were on a swim platform wide enough to bear description as a transom deck, attention, as regular readers would perhaps expect of the PPB crew, focussed on a neat bait prep bench and rod holders attached to the swim cum transom deck's safety railing. Yes, there's plenty of room to fish from here and the railing's high enough and plenty stout enough to make one feel secure.
From there it's up three steps and through a thick glass gate to what's technically a cockpit although with the saloon deck set so high above the waterline you could almost think of it as a mezzanine. By whatever name, this exterior living space is completely roofed over and could easily be enclosed by clears or insect screens, or left open to cooling breezes, depending of course on where the boat's likely to be used most. A large transverse table and a set of comfortable director's chairs made this an informal dining or entertainment area in this particular Hampton Endurance 720.
A sliding glass door in the aft cabin bulkhead opens to a formal lounge. Inside, a big U-shaped lounge is set portside opposite two single lounges and an entertainment unit to starboard.
From the lounge you step up to the dining area and galley. The beautifully crafted free standing formal dining suite to port seats eight, while to starboard a natty wet bar features a marble floor, in case of spills presumably, and a wall space filled by laser cut racks holding custom fitted glassware. The bar's inventory includes a U-Line icemaker, a (Miele) coffee machine, that essential of every bar – a sink for cleaning up, and one of few appliances aboard not by Miele, a Liebherr refrigerator selected apparently because it's the only under-bench fridge capable of stowing 2-litre drink and juice containers upright. All bases are well covered there…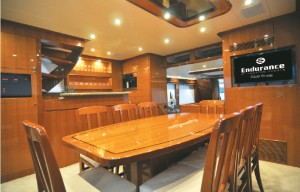 The Leigh-Smith family have a long term association with their marina neighbours the interior design firm Identity Interiors and once again this particular boat's decor is the result of a collaboration between Identity Interiors' design team, the Leigh-Smith family, and of course the owners.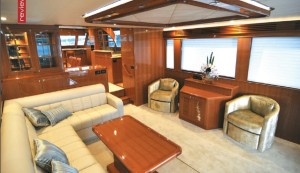 Without losing sight of the fact it's aboard a boat, the saloon living area combines beautifully finished African cherrywood timberwork with the galley's expansive marble benchtops and subtle colour choices in the furniture and leather upholstery for a result that's classy and luxurious in equal parts.
Opposite the galley, to starboard beside the wet bar, one set of spiral stairs leads forwards and upwards to the bridge level while another set leads aft and downwards to the sleeping accommodation. In between, and matched with an identical one portside, a large door allows access to the side decks, or ventilation when circumstances (and benign weather) allow. These doors and their heavily engineered locking mechanisms do perhaps look somewhat industrial against an otherwise chic interior decor – although that's clearly how they HAVE to be in a boat like this. A sophisticated Marine Air air conditioning system services the entire interior of the boat.
If the view from the lounge and galley is good, it only gets better upstairs from the bridge. The helm station forward has a pair of super comfortable Pompanette seats, all the better for long watches. In front of a vertically set timber wheel a Raymarine electronics suite is quite expansive yet somehow looks understated despite that.
Behind the helm station we were delighted to find a special cabinet with special drawers that held a comprehensive set of marine charts and provided space to open them for navigation. Aft of this is the 'skylounge' which provides this variant of the Hampton Endurance 720 with its model designation and of course a wet bar to service it.
A door in the bridge's aft bulkhead opens to an expansive open area (sometimes) used to stow a pair of outboard powered RIBs (a 3m Sirocco and a 4m Brig in this case) secured in cradles and lowered to the water by a Brower davit rated to 725kg. With the tenders in the water, a barbecue beside the bridge doorway makes this area into an outside living/entertaining area with a view.
Then we found yet another aspect of the Hampton Endurance 720 which really impressed; in a walkway leading right around the exterior of the bridge and helm area. This is secured by a high coaming so it can be used to wash and chamois down the bridge windows, or simply to enjoy a quiet drink when the day is done and the anchor set. Similarly, below this there's another walkway at deck level leading around the cabin exterior to the foredeck. Again, the windows can be cleaned, and the ground tackle, etc. on the bows operated easily and safely. What exterior
decking isn't laid teak, which is most of it, including the swim deck on the transom and the cockpit, or mezzanine deck if you can't get your head around cockpit, is all easy to clean GRP moulding with an integrated anti-slip surface. In fact, this theme is a constant across the entire exterior, low maintenance teak or gelcoat. Keeping this stylish craft looking at its best should never be a task and has been kept to a minimum.
Professional crew are well catered for, with their own dedicated cabin space aft down at the third and lowest level below decks. This is accessible either from a discrete entrance in the main saloon or another of those massively engineered outside doors exiting onto the swim deck. Crew, or extra guests, have their own bathroom and kitchenette and a sleeping cabin with twin single bunks. Engine room entry is also from this aftmost cabin.
That makes four cabins in total, although its decor leans more towards serviceable than the plush luxury found in the other three. To reach the primary sleeping accommodation, a spiral staircase down from the saloon reaches a private foyer complete with fluted columns and a marble mosaic. Wow!!!
From here the VIP guest suite is forward in the bows. It has a queen size bed raised high, as is so often the case in boats of all sizes, to gain enough space. Getting up into it is helped by a step each side. A second guest quarters with twin single beds is to port of the foyer. A surprisingly large bathroom is shared between the two forward staterooms. All cabins have cedar-lined hanging space, and their own independent climate control and entertainment systems. Twin 27kW Onan gensets down in the engine room keep the entire electrical network plentifully supplied.
Aft of that wondrous central foyer, the full-beam master suite is, appropriately enough, quite the Endurance 720's crowning glory. A king size bed sits centrally between a desk against the wall to one side and a vanity station to the other. Behind the bed, to port a discrete doorway opens into an enormous walk-in wardrobe whilst to starboard a bathroom so spacious it belies being aboard a boat at all occupies the opposing space.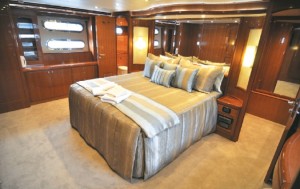 With a 5.69m beam, the master stateroom makes expansive an understatement and with almost the entire wall above the bed being mirrors, the perception of space is magnified further. Another wow!!!
We were underway the entire time that attention was being devoted to the sleeping accommodation and noise and vibration were barely noticeable (including in the crew quarters.) Admittedly, we were only making 10 knots or so at the time, but that IS long haul cruising speed, and when we ventured back upstairs into the saloon, and then to the bridge, engine noise was only remarkable for its absence.
The 33hp Wesmar thrusters bow and stern made easy work of a difficult berthing, ready for the Boat Show at Sanctuary Cove while our skipper made good use of control stations conveniently located at the aft corners of the bridge and deck levels where they provided the clear view of each of the vessel's extremities essential for safe, hassle-free docking. It wasn't until now we noticed there are no less than five control stations available while docking, including of course, the helm.
As a final indication of the kind of boating common sense so evident throughout what will no doubt prove to be a particularly fine long range cruiser, that's about spot on. Its class, style, luxury, and prestige – they're just bonuses… With our brief ride at an end, it was time to hitch a lift back to the Marina – before someone found the need for an extra pair of hands to help detail our Hampton Endurance 720 Skylounge DPB for SCIBS.