Cruise or Fish
Text by Capt Steve / boattest.com
With the Cabo line morphing more and more into its sister company Hatteras, it was only a matter of time before we started to see models come out that reflected the best of both brands. Now the wait is over with the new 45 Express and Express Sportfish.
The two models are basically the same as each other with added features that turn the dedicated cruiser into a dual-purpose cruiser/fishing machine worth drooling over. And both are offered in single or double stateroom layouts. Let's take a look and see how the combination works.
We've long been advocates of the benefits of using a sportfish for cruising. These offshore performers are just the ticket for providing a safe transport back to protected waters when the weather turns snotty, or even to keep going when it took an all day cruise just to get to the fishing grounds.
Now what would happen if we took the qualities of an express cruiser and morphed it into a sportfish? Even better, what if we offered both versions separately? We'd have the newest offerings from Hatteras, that's what. With the marriage of Hatteras and Cabo fully consummated, the offspring are naturally showing classic characteristics of both parents. The most recent of which is the 45, available in both Express and Express Sportfish versions.
Both offer a wide open helm deck, a spacious cockpit that can entertain one day and fish hard the next, and below choose from either a single or double stateroom layout.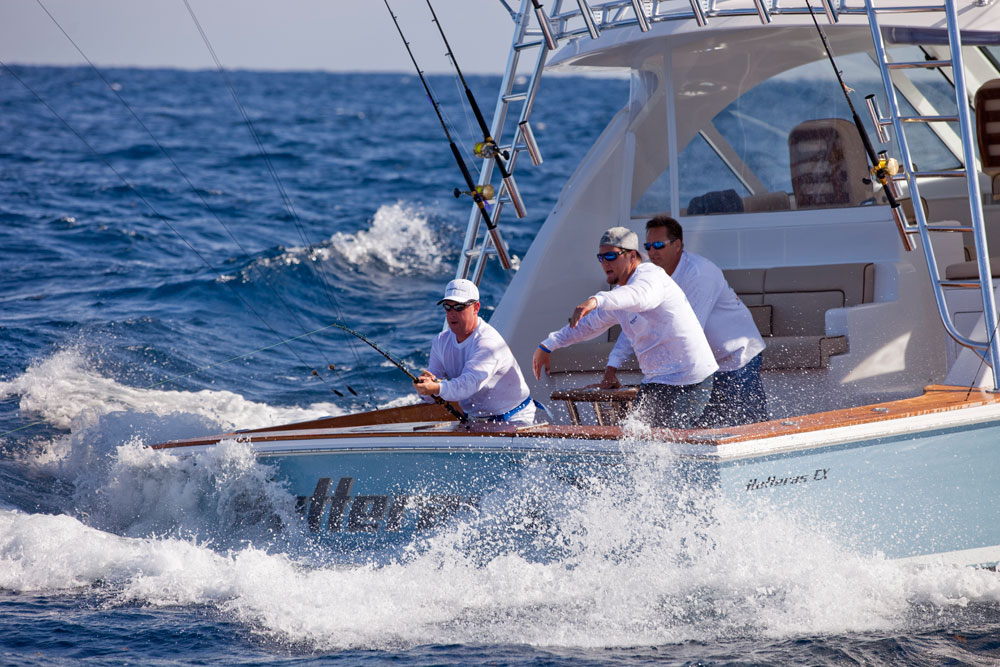 Most know the story, but for those who do not, it bears repeating since it has such a happy ending. Hatteras, a company with a long-standing reputation for building quality cruisers, was owned by Brunswick. In 2006, Brunswick became even bigger with the purchase of Cabo, well known for its express fishboats. Not surprisingly, Brunswick's first order of business was to consolidate the two into the Hatteras facility in New Bern, North Carolina. With Cabo out of the California desert, the two began building boats side by side.
Things went well, but economics being what they are, Brunswick was forced to reduce staff and shop for a buyer. Ultimately, one stepped forward and in 2013, the combined Hatteras/Cabo line was sold to Versa Capital Management's subsidiary, Navis HCY Acquisition LLC.
With the ink dry on the Navis deal, Cabo moved to the back burner of production while Hatteras continued to grow both the GT line and motor yachts. Fast forward to today, and with a void in the marketplace, Hatteras decided that it needed to offer a mid-size boat for those trading up from other brands as well as trading down from existing Hatteras. Out came the famed Cabo 44 plans, a bit of a dusting off at the drafting table, some tweaking to inject some "Hat" DNA and out comes the 45 Express and 45 Express Sportfish.
Same Features Between the Two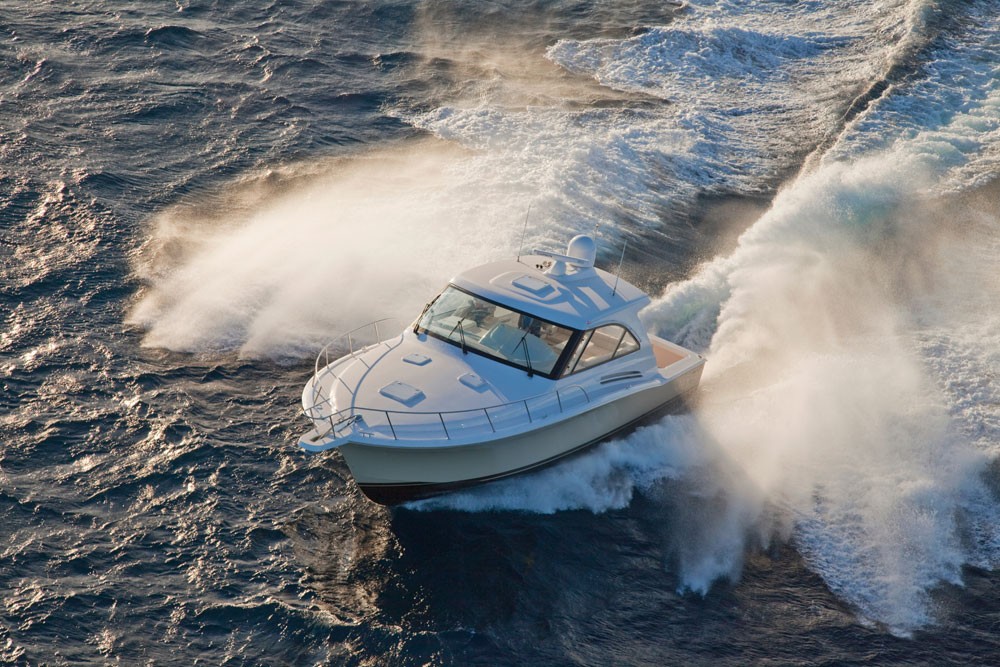 Obviously these two models come from the same mould and share some, if not a lot, of the same characteristics. Let's take a look at what they have in common, starting with the living spaces.
With both boats being virtually the same hull, they naturally share the same measurements. Both have a LOA of 13.59 m, a beam of 5.03 m, a draft of 1.22 m and the same empty weight of  22,543 kg.
They both come with the same power, a pair of 705-hp Cat C-12A diesel engines, and both have the same options for other power choices, most popular being a pair of 1150-hp Cat C18s. Hatteras reports that these engines will push the 45 to over 40 knots. As a rule, 30 knots is considered the holy grail of any sport fishing yacht, so yeah, that should do it.
Fuel capacity is 3,028 L)and that feeds both the mains and the 17 kW generator. Both hold 379 L of fresh water and 163 L of waste.
Moving to the lower deck accommodations, both boats are identical. The well-equipped galley is immediately to starboard. The head is located just forward. To port is a large L-shaped settee wrapping around a minimalist teak pedestal table. Fully forward is the master stateroom with an elevated island berth, allowing access from both sides. A variety of wood finishes are complemented with a teak and holly sole to highlight the entire area.
Two layouts are offered, depending on whether the 45 will be used more as a couples cruiser or as an overnighter for four people. By eliminating some of the settee, a separate cabin can be added to port that features a pair of over/under berths in an enclosed stateroom.
Moving up to the helm deck, the 45s have a moulded deckhouse with an integral hardtop. As expected, the helm is mounted in the center of the deck with a single operator's seat, providing an elevated vantage point for good visibility. A pod style helm had minimal impact on the space provided by the helm deck. Choose from a fibreglass console or high-gloss teak. Both have Palm Beach styled controllers to the sides. A polished metal switch panel has each switch's function etched in. Engine displays are just ahead.
Hatteras isn't married to any one electronics provider, so owners are free to choose from their favorite and plenty of open real estate in the panel will easily accommodate large flush-mount displays. To the sides are the ancillaries such as autopilot, VHF, etc…
A massive L-shaped settee wraps around the entire port side and at the forward end provides an aft-facing lounge. To starboard is an observer's seat, allowing for a companion to take part in the navigation. Both the helm and observer's seats are fully adjustable, high-end Stidd brand. An engine room access hatch is located in the center of the deck.
The deck is enclosed on three sides with windows seamlessly blending into the sides and the stylish fibreglass hardtop. The open aft section can be closed off with Isinglass for three-season comfort. Fresh air is forced into the enclosed deck through opening side windows that happen to be hinged from the rear to scoop air into the deck while underway, and an overhead hatch. Otherwise, opt for the reverse-cycle AC system to maintain climate control.
Most notable, however, is the massive single piece windshield providing a view ahead without the encumbrances of a center window frame that serves as nothing more than an overhead support. Without the burden of heavy weight above, this is the biggest advantage. The panoramic view is enhanced by a feature noticeable by only the most ardent Cabo spotters… the slight downward slope to the foredeck that is hardly offset by the mild bowrise in cruise configuration.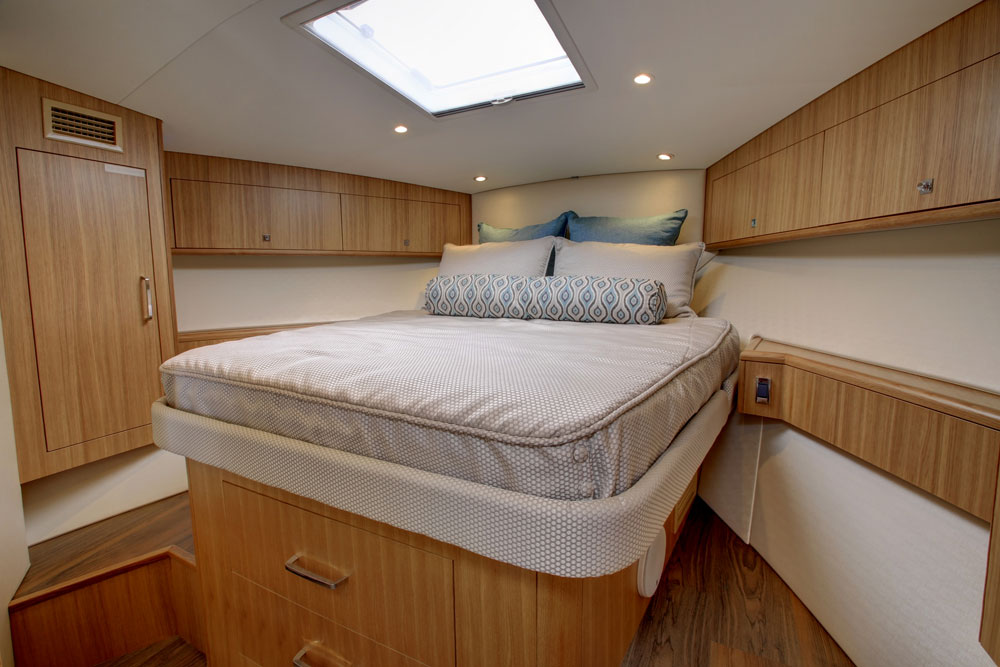 The cockpit is accessed by an offset walkthrough, slightly to starboard with three steps leading from the upper to the lower. There's plenty of open space, allowing this deck to be used for a multitude of purposes, some of which will be specific in the Express Sportfish version.
All decks are teak. A second engine room access is through a hatch in the centre of the lower step. An elevated bench seat provides an excellent vantage point to the cockpit for observing either the fishing action or simply being in a relaxed position while still being part of the party. This also provides an excellent place to relax while watching the wake shrinking in the distance.
The differences Between the Two…
Now when it comes time to convert the 45 Express to the 45 Express Sportfish, some additions make it task specific, but still a capable cruiser. For this reason, we can see how the Express Sportfish version may just be the more popular choice. It can fish as well as cruise, while the Express version is more geared to cruising only.
Certainly the first, and most obvious addition to the 45 Express Sportfish model is the tower. It mounts into the foredeck and cockpit caprails placing no burden on the hardtop. Ladders to both sides of the cockpit lead to an elevated operating station allowing a view of the water from a long way off. Additionally, there are six rocket launcher-style rod holders across the back, just over the cockpit and outriggers, increasing the spread presented to the fish.
Back in the cockpit, the deck is reinforced to accommodate a fishing chair or a teak leaning post in the center. Either will become the focal point of any fishing expedition. To the starboard side, a rigging station also includes an electric grill for preparing the fresh catch for the dinner table. Under the deck is a pair of insulated fishboxes. In the transom is a molded-in 211.98 L livewell.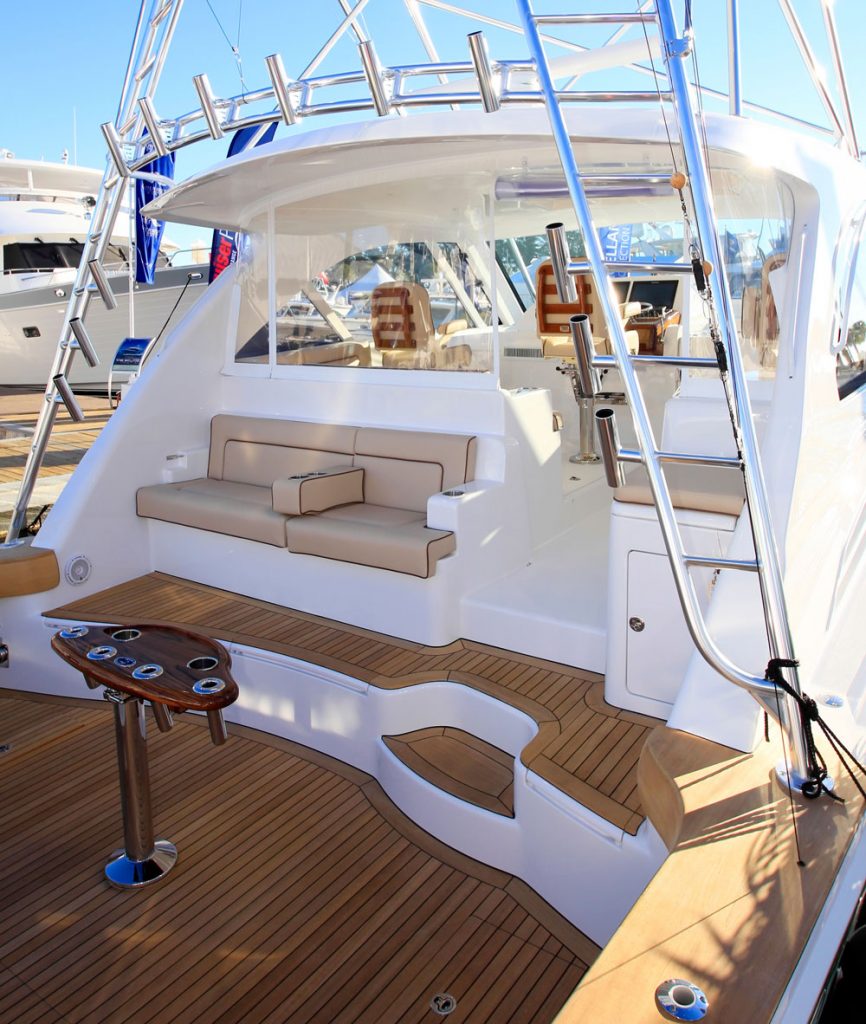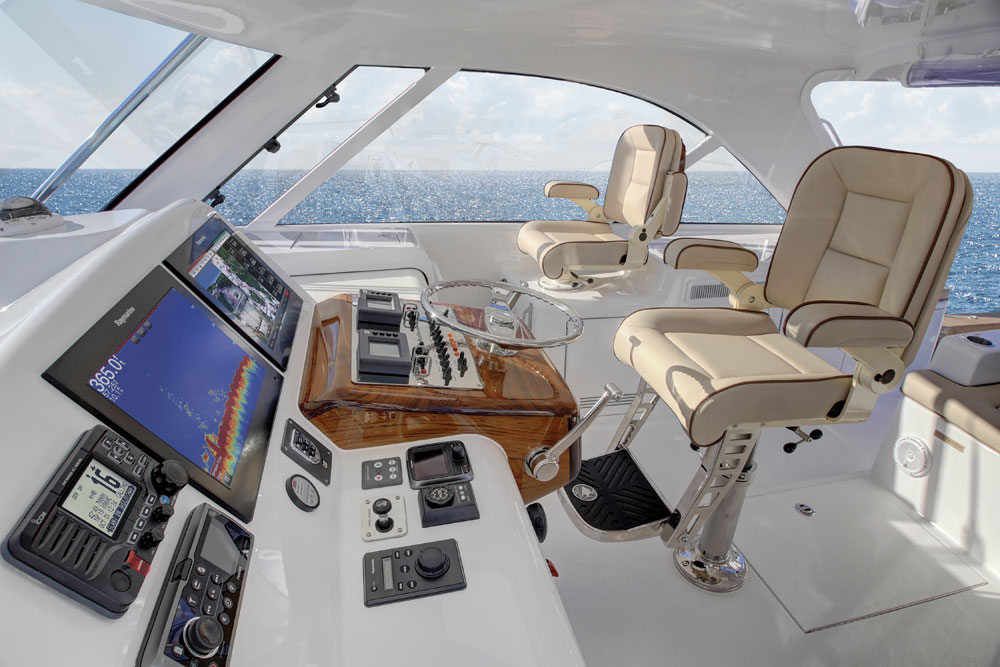 If there was ever a "best of both worlds" boat, then the Hatteras 45 Series is certainly a representative example. Whether the interests lie in offshore cruising or fishing, this yacht can be rigged either way. In fact, the Express Sportfish version can easily do both, seamlessly transitioning from one to the other with little more than a hose down to facilitate the changeover.
These models also represent the company's forward thinking in taking an existing model, and making it better by combining the best of two of yachting's powerhouses into one exquisite boat. The result is a true Hatteras that brings the builder back into the realm of offering a sub 50-footer, something it hasn't done since the late 90s, and places the brand back within reach of a whole separate demographic of boaters and buyers.
Boat Design Name: Hatteras 45 Express
Year Launched: 2016   
Designer: Hatteras       
Builder: Hatteras       
LOA: 13.59m
Beam: 5.03m
Draft: 1.22m
Displ (Dry): 22543 kg
Max Speed: 39.1 knots
Cruise Speed: 29.9 knots
Construction: GRP
Fuel Cap: 3028 litres
Water Cap: 379 litres             
Engines Make: 2 x Caterpillar C-18 Acert @ 1136hp
Drive Train: Shaft
Generator: Onan                  
MFD: Owners Choice                    
Base Price of Boat: $AU POA 
PERFORMANCE & FUEL FIGURES
Engine                Speed      LPH                    Range (NM)
RPM                   (Knots)    (Both)               90% Capacity
650                     8.4            30.28                 755.2
1000                   10.4          83.28                 341.5
1250                   15.3          143.85               290.8
1500                   21.5          219.55               267.2
1750                   29.9          272.55               298.7
2000                   34.6          359.61               262.0
2250                   38.2          423.96               245.7
2350                   39.1          446.68               238.5
FUEL & PERFORMANCE DATA
HATTERAS 45 EXPRESS
Fuel capacity:
3028
litres
RPM
Knots
L/h
L/NM
Range (NM)
650
8.4
30.28
3.7
730
1000
10.4
83.28
8.1
330
1250
15.3
143.85
9.5
280
1500
21.5
219.55
11.0
240
1750
29.9
272.55
9.2
290
2000
34.6
359.61
11.0
240
2250
38.2
423.96
12.0
220
2350
39.1
446.68
12.0
220
L/NM is calculated to two significant figures and rounded up. Range is calculated to two significant figures and rounded down. To allow for adverse conditions, range is calculated on 90% of the fuel capacity.