The Boat Works has set a record for the heaviest vessel ever to be hauled out of the water on the Gold Coast.
Despite the inclement conditions, The Boat Works' team took just two hours to lift the 292 tonnes, 45.7m Benetti, "Mistress" out of the Coomera River to the hardstand where "Mistress" will undergo a brief period of maintenance. 

"This is a historic milestone for The Boat Works and the Gold Coast," says Shane Subichin, General Manager at The Boat Works.
"The 300-tonne lift we call 'Rhino' has proven itself a very versatile machine that can adapt to any vessel.
"There's increasing demand from larger vessels which are rising in number in our region. The influx in supply has welcomed additional major marine infrastructure with construction underway on Stage 4 of The Boat Works, which comprises 4 x 20m high sheds to accommodate these massive, tri-deck and flybridge motor yachts, both commercial and commercial privately-owned. They will be ready to welcome visiting yachts in the first quarter of 2022."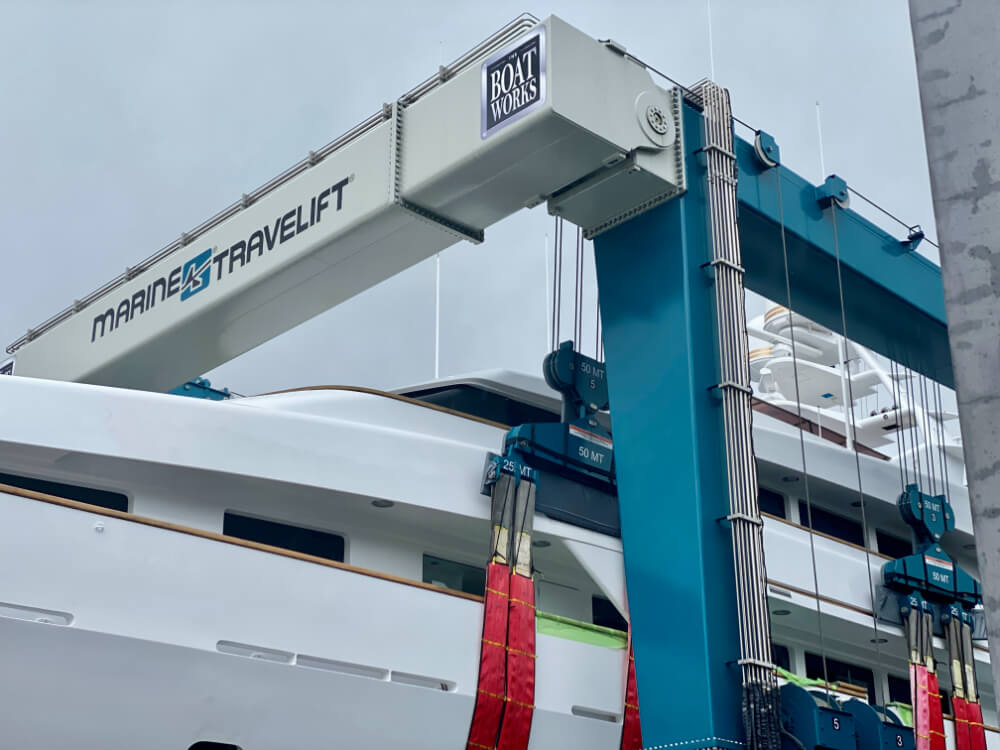 As Shane reports, the Captain and crew aboard "Mistress" was impressed by The Boat Works' team's precision handling of the vessel, attentive service and the facilities, including the bespoke Captains' lounge.
From his vantage point, the owner watched his multi-million-dollar superyacht eased into the facility. 
Also new in the past weeks is a dedicated 5,000-square-metres of hardstand for the cruising community, accommodating up to 16 cruising catamarans and monohulls. This workspace is ideal for cruising yacht owners to undertake their own antifoul and repaid work, gathering with like-minded sailors and completing a liveaboard lounge, ensuites, free laundry and even a courtesy car.