It's titilatingly different in design and profile, but as Barry Tyler discovered on a recent trip out through the Tauranga Harbour entrance, this latest offering from Herley Boats, the Herley Elite 8, has an equivalent underwater hull shape that virtually re-invents the wheel of powerboat design, certainly from a New Zealand approach and thinking!
First impressions always linger in the mind-set of the observer, and as such my first thoughts of the Herley – were of a vessel with almost overkill 'hull depth. The gunwale rise from cockpit level to foredeck level was certainly higher than what is traditional.
But there were other noticeable design traits also, that to me were equally illuminating. The bow, or stem, was virtually upright rather than raked back from deck to chine-line. And, the bow was very full; the hull sides were again virtually straight up and down, allowing the full beam to be carried well forward. The underhull shape itself, was another phenomenon altogether – that just happened to be attached to the chine-line!
Dare I say it, but the design thinking was (very) akin to what we are currently seeing, emanating from the design houses of Europe, America and to some extent, Australia. This vessel profile then, was certainly different to look at, intriguingly so, and the more I soaked in the moment, the more I decided the visual profile was certainly by design – rather than accident.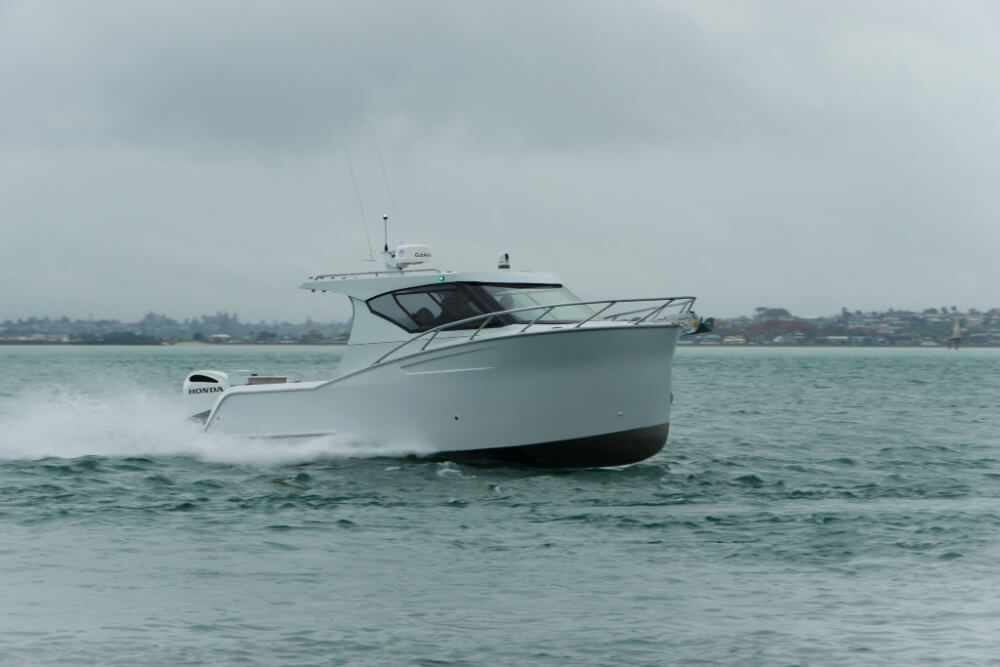 I needed to know more, a lot more, and who better to talk to than the actual designer, who thought enough about his new baby, to join us on the test also. Managing Director of Herley Boats, Nic Herd, was quite obviously a very focused and passionate man when it came to his boats. History-wise, Herd is not however, just an excited enthusiast; he has the background, the right pedigree, to go with it. He has worked in the past as a boatbuilder, and perhaps more pertinently still, he has enjoyed an extended stint with Fitzroy Yachts, in their in-house design office.
Suddenly it all fell into place; Fitzroy Yachts is a world-renowned luxury and superyacht designer and builder, so what better way to acquaint yourself with the latest thinking within the fine art of luxury boat design, than a stint at the Fitzroy Yachts design office.
"I've always had this penchant to produce my own range of boats," Herd explained, "but I wanted to do it right, firstly by gaining further direct experience in boat-building and in design, both at the luxury end. That achieved, I then made the decision to engage the services of a professional marketing and sales company. One person can seldom do justice to both the manufacturing, and the sales side," he added.
Enter, stage left then, Tom Forbes from Euro City Marine Group, whose job it is to take the boat to market. "We were most impressed with Nic and his focused way of doing things. The more we saw the more we liked, and this serious range of semi-production (with several different layout and feature options) plate boat hulls from 7-9m, certainly fits well with the EuroCity Marine, business plan," he enthused.
Everything is a Trade-off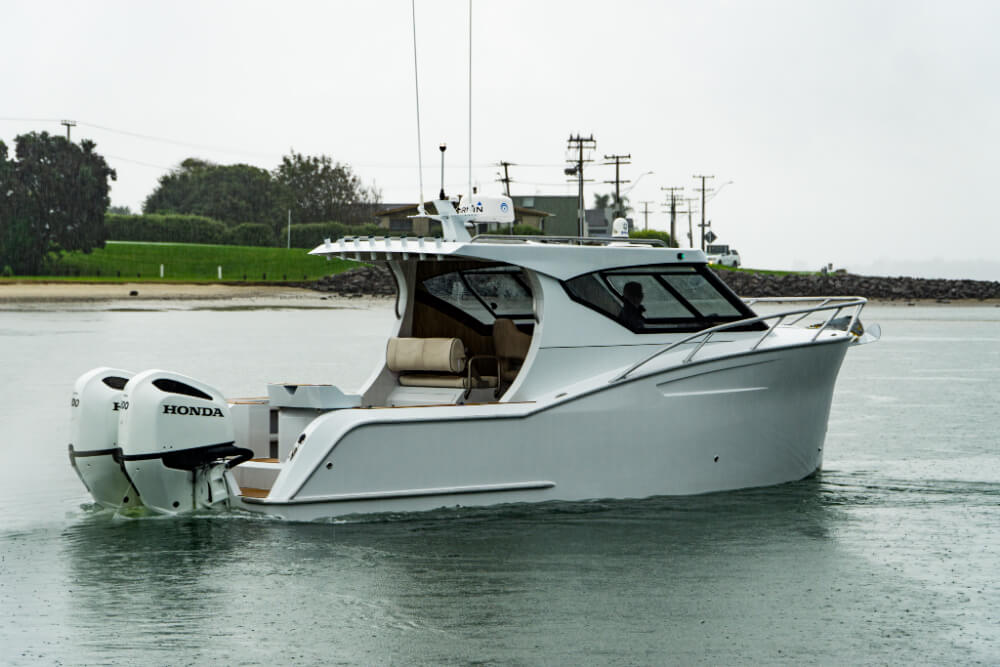 A few informative sentences strung together therefore, and quickly it became very evident there was indeed a distinct rationale and direction behind the profile shape. As we all know, everything in marine design is a trade-off. And the trade-off here was higher, more upright hull sides – that allowed for more space devoted to the for'ard cabin, the galley, dining, and helm area, and, a generously-wide and long, working cockpit aft of that.
So, space galore, but there is also another massively impacting advantage, that of an increased length of underwater hull shape to play with; a longer waterline length. Herd has designed a hull that rides deceptively softly through the water, yet rides with a bow high attitude even without trim; which is certainly all the more intriguing when one considers the deadrise at the rear is just 10-degrees.
How he has achieved all that then, is obviously the secret to success, but the mysterious reality is it still performed just as appropriately-well when really called upon, in larger seas. It still had that ability to pierce the larger waves, as you would in a typical deep-vee monohull equivalent – virtually spray-free. But wait, there's more; the stability at rest, with this 10-degree rear deadrise, was just insane!
So do I mind the high sides of this Herley Elite 8; not in the slightest – when you accept the by-product of this style of design – the 'space' trade-offs involved!
That (above) obvious benefit aside, for me it was still this nagging mystique surrounding this underwater hull shape. How the hell can you describe a hull with a 10-degree-deadrise at the rear, as a wave piercing hull? "We've gone away from the traditional 'deep-vee' way of approaching things, and have proved with this boat that you can have a calm and rough water boat, all wrapped up in the one package," Herd explained.
"Although the rear deadrise is only 10-degrees, towards the bow where it matters most, where it does the work, where it splits the waves, the deadrise at its greatest point is probably around 70-degrees. We don't need to run strakes either, they just aren't necessary.
"The other major factor in my design philosophy is the matter of the centre of balance of the hull. I pay special attention to where items are placed, things like the 70 litres of water, the three batteries and the 400-litre fuel tank, they are all in the centre of the boat, down low," he emphasised.
This nose-raised, wave-piercing ability was confirmed, as we ventured out into open water, during our test, then back in with a following sea; it took everything in its stride. Back in through the worst of the traditional nasty chop and tidal surge that is the Tauranga Harbour entrance, we motored in at a seemingly sedate 22-25 knots – with barely a drop of water on the windscreen. No windscreen wipers; nope, you don't need them!
Whilst stopped to further interrogate 'Dr Herd', we noticed a boat out to one side that was about to encounter this channel [email protected]#$t we had just navigated. Guessing this vessel to be in the 5.5-6m range, it hit the first bit of chop, the boat disappeared in a wall of spray, and the skipper was forced to button back to an idle, to continue his trip through the 'rubbish dump'.
Hell, we had only just motored through the same patch of water at 22-knots, without batting an eyelid! The difference was the Elite 8 basically remained at a level attitude as the hull shape weaved its magic, soaking up whatever mother nature had to offer.
Powered by a pair of the latest model Honda 200hp outboards, running 15 ½ x 17" S/S propellers, the Elite 8 was a pretty snappy beast underway at speed, also. With very little trim, as expected, it leaped out of the hole brilliantly, and rounded out at a top speed of 42-knots (48.56mph / 78.15 kph) at the maximum 5900rpm.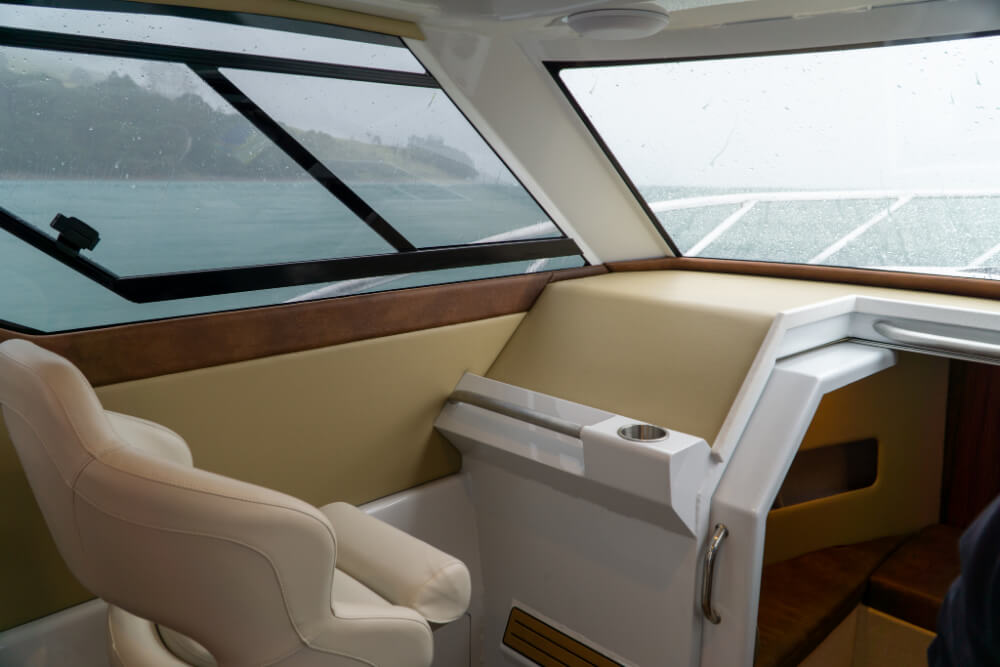 I will let the (associated) pictures do the talking for this article, with regard to general layout and appointments, but from a profile perspective, there was obviously a significant emphasis on the 'habitable' areas. The cabin top profile blended in very well with the hull profile; totally in proportion.
Even the shorter-than-traditional foredeck wasn't out of place; aided I would suggest, by the very sturdy alloy bow rail assembly that stretched aft to just shy of amidships. Sufficiently wide walkways allowed an easy passage onto this foredeck, however, in reality these would seldom be utilised.
The anchor was permanently mounted on what was a very labour-intensive but brilliantly designed and presented bowsprit/fairlead. A small hatch aft of this assembly provided access to the below-deck Lonestar drum-winch.
Yes, this area housed the drum-winch, but fundamentally this rather deep foredeck area was a sealed 'collision' bulkhead. Cleverly, the drum winch was mounted against the bulkhead wall, so as to provide more than adequate 'fall' for the anchor rope and chain. And, to prevent the winch motor sitting in puddles of water all its life!
The step-down for'ard cabin was literally that, albeit a full stand-up version in which to have a lie-down, either as a twin bunk scenario or with the addition of the infill, a master berth. Lifting the front squab up, we noted a fully plumbed toilet. That was it for the cabin, apart of course from features such as the wooden bulkhead facia, overhead lighting, and the nicely appointed padded panels that lined the walls and overhead.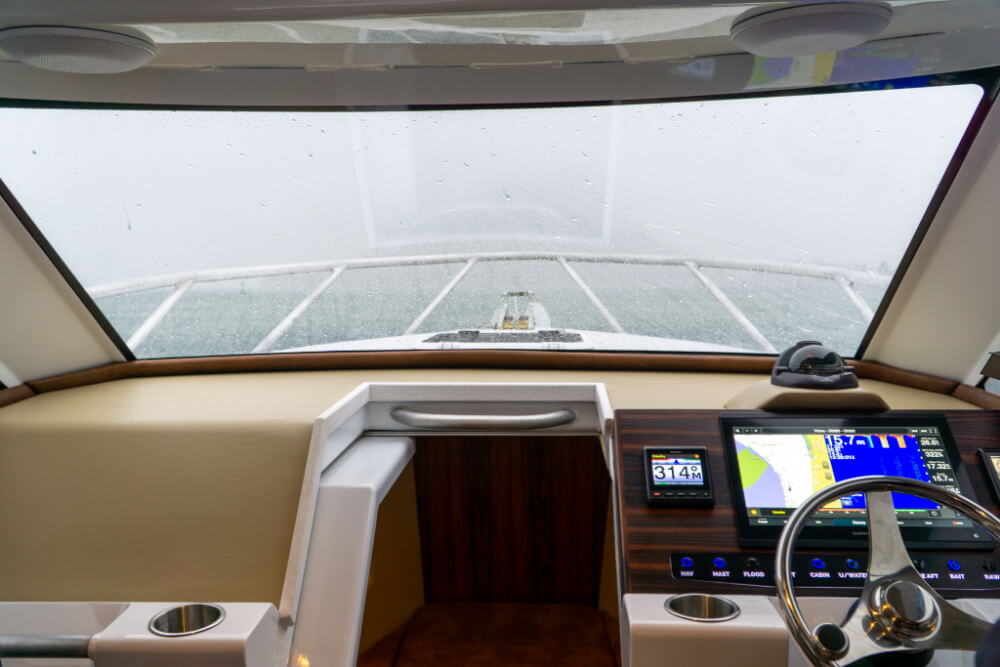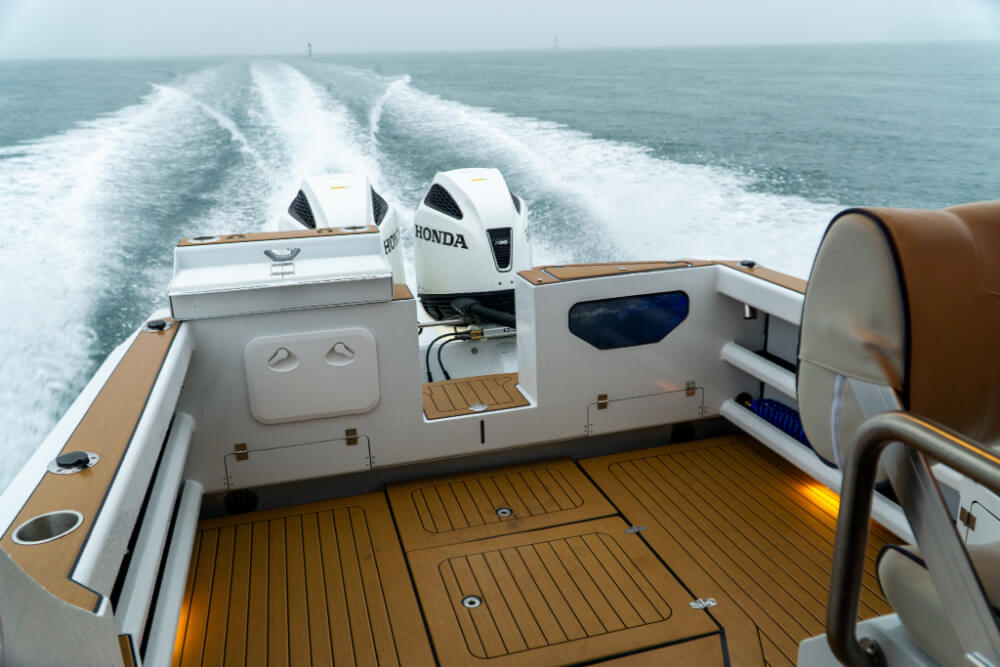 The helm and dining area were again, as in the common theme of this Herley, functional and flowing, which of course equates to ease of use and ease of access! In virtually every instance, the little 'niceties' stood out. Three adults are able be seated opposite the skipper, on the double lounger and tub-chair forward of that. Turn the forward chair around, lift the side-table and you have a perfectly capable dining setting.
The actual portside bench-seat module was the seat for two passengers when underway; place the relocatable back-rest in the aft-facing position and you can sit and fish in sublime comfort. Pull out the cockpit-side bottom shelf of the module and you have a chilly bin that doubles as a footrest. Pull out the shelf above this, and you have a single burner gas stove, and, a sink with running hot/cold water. Brilliant!
Opposite this of course, was the helm. Again, simple in approach, but very well presented with its comprehensive Garmin NMEA-activated 'information highway, a read-out for every occasion. The wooden dash facia added the touch of 'old-school' and I have to say the switch system embedded into the face of this facia, was nothing short of mind-boggling.
The work that would have gone into this feature alone, doesn't bear thinking about, for the switch-identification panel was cleverly back-lit, and the actual switches were recessed into the face of this facia, completely flush.
The cockpit itself, was more than generously-sized, and well-presented also, with the CNC-computer-cut SeaDec panels throughout the area adding that 'teak' look of class. More innovation and practicality prevailed, with plenty of lockers and pocket storage in all the right places, including a secreted rod or ski-locker alongside the skipper.
Ensuring the underfloor lockers stayed nice and dry, all the (clamp-down and lockable) floor locker lids sat in channels, plumbed so as to divert water direct into underfloor scuppers. These scuppers also accepted water drained from the actual rod-holders.
Not surprisingly at all, the fisherman was very well catered for on this Herley Elite 8, in modules either side of the cruiser-style walk-thru transom. To portside was the top-accessed live-bait tank, complete with all the ancillary pump-aeration plumbing, and an inspection window.
To starboard was the raised bait station, with pull out lure drawer, bait-boards and rod-holders. Out through this central walk-thru transom, a step down led me onto what was a very well-presented, easy to clean Portofino transom. All appropriate, convenient, innovative, practical, and, simple to use!
Herley Boats have opted for practicality in design, over the need for perhaps a long low sleek design, which in effect crams living space and feature options, accordingly. This particular design definitely offers so much more boat, so much more interior space, for your money. Herd unashamedly notes that his boats are not lake boats, they are a serious offshore-capable boat – with comfort and high-end features, as standard.
His philosophy is to lift the bar higher, with his own take on mandatory boating requirements – sea-keeping, comfort, performance and appropriate specification. He designs his boats around what the customer wants, but adding the 'nautical feel' with quality items like proper padded vinyl trimming, and woodwork such as the solid timber dash, table, and front bulkhead.
Yes, the cost is certainly up there; but is it, when you consider this boat comes standard with everything barring the twin-engine upgrade and the rather daunting electronics package this particular example boasted. The best part though, you are buying an '8-metre' boat, that is actually eight metres long, at the chine line; nothing surpasses waterline length!
Specifications: HERLEY ELITE 8
Model: Herley Elite 8                                               
Year Launched:  2022  
Priced From: $436,250                  
Type:  Semi-displacement m0nohull      
Construction: Alloy 6mm/5mm       
LOA: 8.33m
Beam: 2.55m
Deadrise: 10-70 degrees         
Height on trailer: 3.62m
Trailerable weight: 3495kg          
Test Power: 2 x 200hp Honda    
Power Options:  Single 350HP or Twin 200HP +
Propeller:  15 ½" x 17" S/S        
Flooring:   SeaDek
Fuel capacity: 400 litres
Trailer Make: Herley Boats
Boat Manufacturer: Herley Boats
Supplied by: EuroCity Marine
Contact: EuroCity Marine
| | | | | |
| --- | --- | --- | --- | --- |
| rpm | knots | L/h | L/NM | range (NM) |
| 650 | 3.1 | 6 | 1.9 | 186 |
| 1000 | 4.6 | 12 | 2.6 | 138 |
| 1500 | 6.7 | 11 | 1.6 | 219 |
| 2000 | 8.7 | 13 | 1.5 | 234 |
| 2500 | 12.2 | 21 | 1.7 | 213 |
| 3000 | 17.9 | 31 | 1.7 | 207 |
| 3500 | 23.1 | 46 | 2.0 | 181 |
| 4000 | 27.0 | 58 | 2.1 | 168 |
| 4500 | 31.1 | 70 | 2.3 | 160 |
| 5000 | 35.5 | 108 | 3.0 | 118 |
| 5500 | 38.1 | 126 | 3.3 | 109 |
| 5900 | 42.2 | 139 | 3.3 | 109 |
Range is based on 90% of fuel capacity, in calm conditions.