SILENT & WITHOUT COMPROMISE
In Part 2 of our review on the Herley Electric 3400 power cat, we take a look inside and detail more about the unique electric power system.
While from the outside, the Herley Electric 3400 may look just like another contemporary power cat, what's beneath the decks is one of the world's most cutting-edge power systems. What makes it unique is that apart from the electric engines, the rest is just about all Kiwi designed and manufactured.
Built by Tauranga based Herley Boats under their Electric Boats division, the new ASEA DSEA is a Roger Hill Yacht Design, 10.4m semi-displacement power cat that has been custom designed for the electric power plants. However, Hill says that the hull is also suited to twin outboards (2x 115hp) or a pair of four cyl diesel (2 x 130hp), should the electric power option not be for everyone.
When Electric Boats, released their first electric boat at the Hutchwilco New Zealand Boat Show a couple of years ago, it attracted a lot of interest. Essentially a working prototype, the 6m Al Capone was the testbed for many of the electrical platforms that would be used in future vessels. 
"While the principles were the same, the execution and componentry were very different, with the level of technology in this boat a big step up from our 6m version", says designer Nick Herd.
His latest and by far the most innovative is the Herley Electric 3400 power cat. Which technically it is a hybrid due to the inclusion of a diesel generator. To assist with "range anxiety" Electric Boats designed their own range extender generator. Based on a 200hp Hyundai Seasall diesel engine, the variable speed generator is coupled to a permanent magnet, brushless electric motor. This produces 220kw maximum power or 150kw continuous and operates at 350V DC. This is a quarter of the size of a standard marine generator of equivalent power and accordingly only uses about a quarter of the fuel.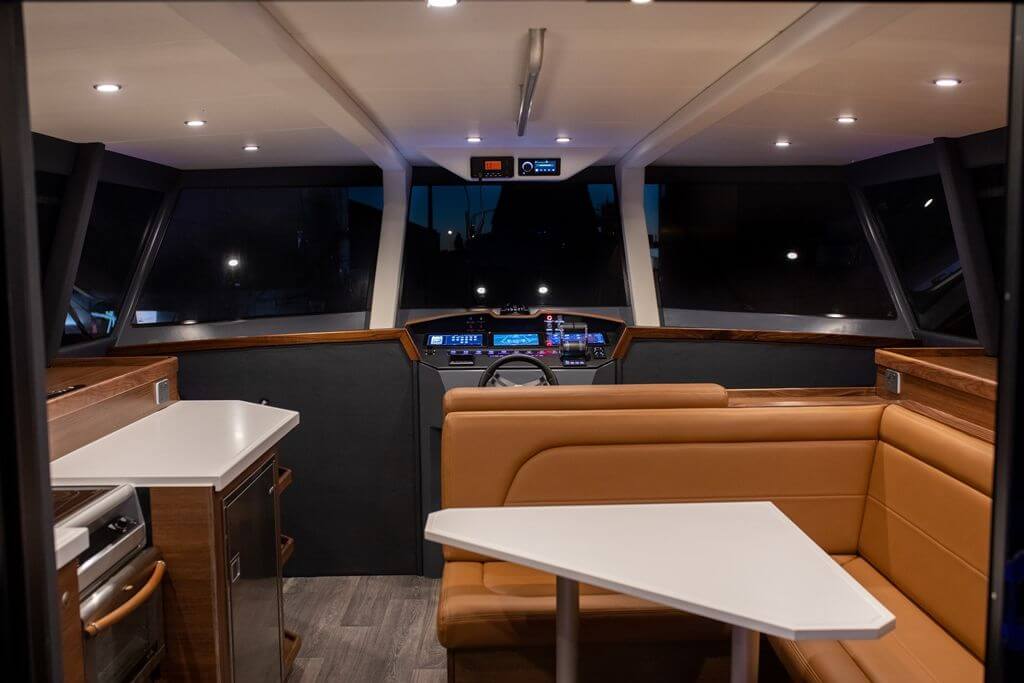 The 50 kg brushless permanent magnet electric motors have a 100kw peak and 60kw continuous output. The engines are liquid-cooled (50/50 water/glycol liquid cooling), with an operating voltage of 350v DC. The hybrid package also comes with a DSP-controlled inverter with sine wave drive.
Nick Herd explains;" With this vessel you can run purely in battery mode for as long as you care to. You can charge your batteries at anchor. You can charge while you are running. Plus can also bypass the batteries and run the engines directly from the generator in diesel electric mode".
At the heart of everything is the hybrid control and operating system that was developed in house and is designed in a scalable format to accommodate future builds of all sizes. A multi-functional touch screen displays every aspect of the power system and provides real-time data on every system component. 
The drive control management system connects and controls the electric motors, throttle, battery bank, generator engine, the cooling system, shore power and onboard charging. This allows you to operate your electric engines at a predetermined rpm and hence you can control the power output and ultimately the speed of the boat.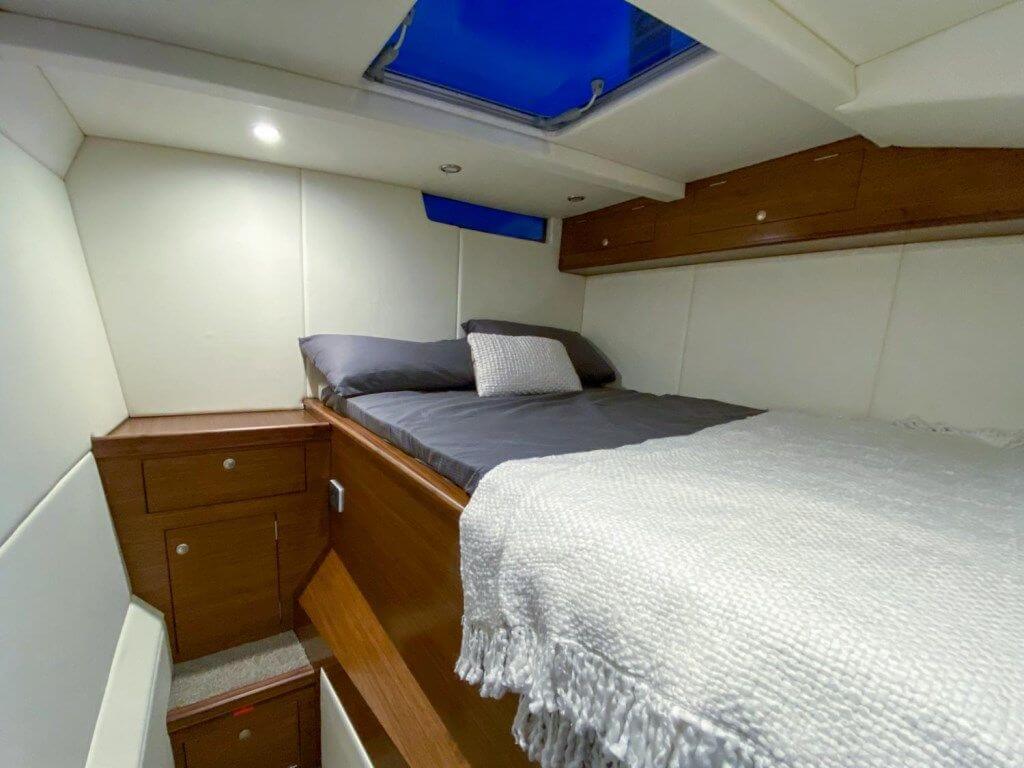 As mentioned in part one (Sep-Oct PPB), the control system is designed to provide a user interface that provides the operator with a familiar boating setting. A simple throttle to manoeuvre the vessel, and through the touchscreen, you can choose how the boat will consume and regenerate energy. You have the option of four modes of operation with smart features to provide the best experience in each setting. The Primary mode is Silent mode, using battery only as the propulsion choice. Economy Mode uses the battery and the generator at its most efficient power generation. Direct mode, uses the generator only to provided power. Sport mode offers unlimited access to all power availability. 
Asea Dsea is also in full survey and we are happy to be able to offer the boat to full MSA survey standards".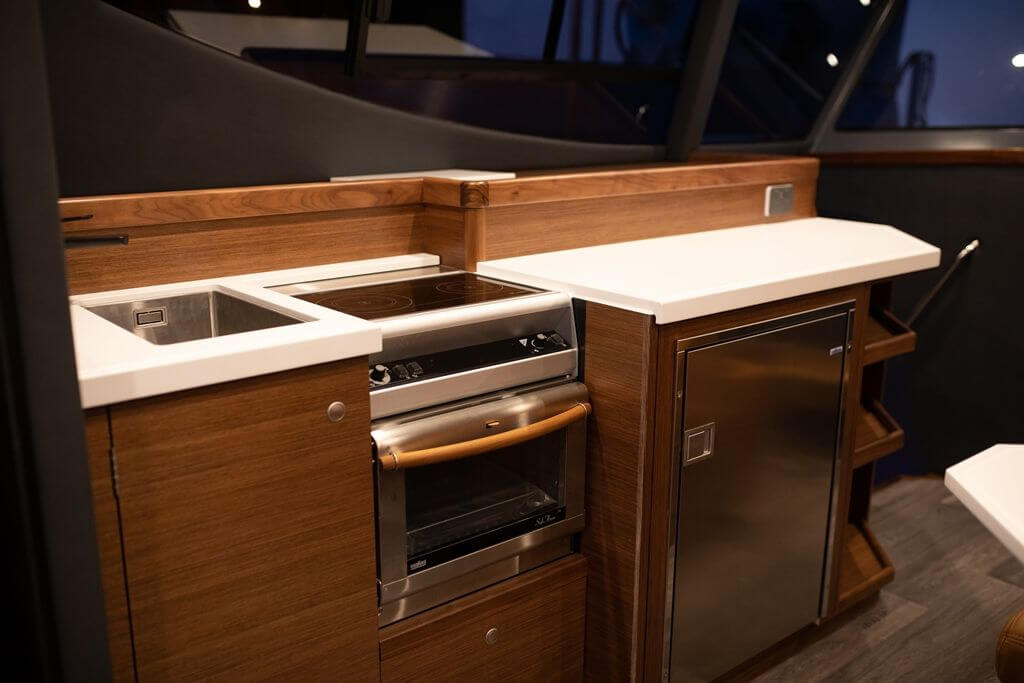 Unlike a conventional diesel-powered boat when the fuel efficiency is determined by litres per nautical mile in the case of an electric boat, just as with an electric car, it is about how far you can travel on a bank of batteries. For example, Asea Dsea can run for 9.5 hours at 8 knots, which equates to around 100nm, using zero fuel. Trials showed at 6 knots you would be able to run for 6hrs on battery only. Obviously, that figure drops once you increase speed. The system automatically kicks the generator in when the battery charge goes below 20%. While in its present pre-set mode, Asea Dsea is capable of about 21 knots, it has a broad cruise range between 8-14 knots.
Nick says that while the initial fuel and battery tests, were very positive, the figures mentioned are a conservative indication of where the technology stands. It must also be mentioned that due to this being a spec build they supplied the smallest feasible battery bank for the vessel. This could have doubled or quadruple in size quite easily.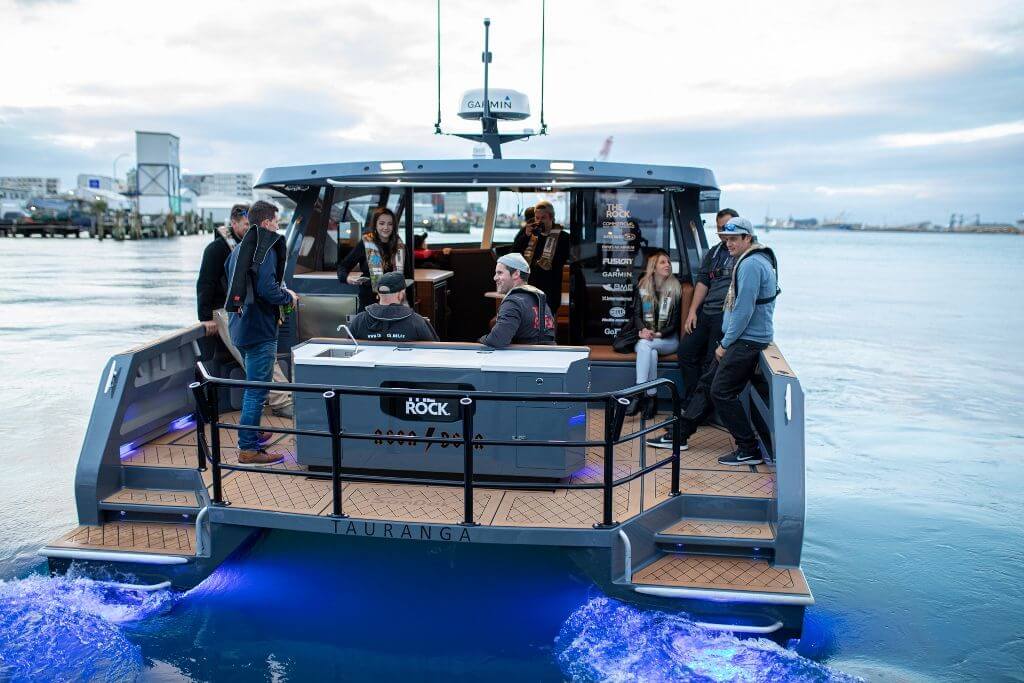 The Herley 3400 Electric has a maximum range of 2500 nautical miles @ 8knots and at a cruise speed of 14knots, fuel consumption is 0.73 lpnm and at 9 knots less than 0.5 lpnm. It all depends on how long you want your batteries to last before recharging. An interesting fact is that the generator uses about 17.5 litres of diesel for a full recharge, so in 24 hours, you are only using 17.5 litres of diesel to top up your free electricity. The maximum range of the Herley 3400 Electric Powercat is around 1300nm, based on using 90% of the 630-litre tank.
"The difference between a diesel engine and our electric system is whereas the diesel has a constant fuel burn curve versus the power output, we can control the generator to maximise the energy conversion from diesel through to battery, and so we are always going to be more efficient than a traditional system", says Nick. 
The shore charging system is designed to make use of current marina standard sockets/outputs available, so no additional equipment is required to charge the battery bank. Shore power can fully charge the battery bank between 1.5hrs and 6 hours, depending on the amperage of the shore supply. You also have the option of removing the 'range extender' and expanding the battery bank to offer an electric-only drive train.
 The generator allows you to recharge the batteries to full capacity in 30 mins, plus there are 1.89kw maximum output solar panels with a charge time of approx 36 daylight hours. 
The battery bank has a nominal 350v, with a 176Ah capacity, 61.6kWh and weighs 600 kg. Liquid-cooled (50/50 water/glycol liquid cooling), they have an integrated BMS (Battery management system) plus safety features such as a Redundant BMS, Thermal propagation, protection between individual cells, rupture disc with venting exhaust and DNV-GL Class approval.
Asea Dsea is all aluminium using 5mm plate on the hulls and 4mm on the topsides. There are the usual stringers and frames for rigidity and strength, and the boat has a heavy displacement of 7.2 tonnes. The semi-displacement hull form has been specifically designed to create the minimal underwater drag, with the drive shafts recessed in tunnels. Asea Dsea has a low .77m draft.
While the hull form is reasonably conventional, the topside styling has a distinctive raked windscreen, a trademark style that Herley Boats have adopted since their inception. Not only does it look very nautical, but it also provides extra space in the saloon, keeps the screens drier, gives better visibility from the helm with less glare, draws less heat inside and avoids reflection of the instruments.
When deciding on the size of the power cat, Nick says he worked closely with Roger Hill to get the right balance between the expensive cost of a hybrid/electric package and then justify it all in a reasonably sized boat. 
"You are looking at a difference of around $300,000 from a pair of four-cylinder diesels to the hybrid/electric package so it's not insignificant and we needed to be able to offer our clients a boat with good proportions, something that is so much easier with a power cat", says Nick.
The layout in Asea Dsea has been designed to suit the family cruising market and entertaining. However, the boat is available with just about any layout arrangement you want as long as it fits within the parameters of the hull and interior dimensions. The accommodation in Asea Dsea is a two-cabin layout with separate shower and head compartments. Both cabins are situated in the forward sections of the hulls with queen size berths laid over the top of the tunnel. Steps make access a bit easier to get onto the beds, and there is also good use of areas for storage. Side windows and an overhead Cule hatch let in ample light and ventilation. To port is the head and starboard the shower. Nick says that he can alter the layout to include a third cabin or even a combined head/shower, it's all up to what a client wants.
The saloon has been split into three defined areas; port side galley, forward central helm and starboard side lounge. The L shape lounge can have either a fixed or rise/fall dining table, and the squabs can be converted to an extra berth. 
The galley is focused on large servery counters with an under bench fridge, drop-down rear servery window and plenty of storage spaces. Composite surfaces are used throughout, and the boat is finished in Walnut veneer and solid timber.
A lot of detail has gone into maximising the cockpit space, with a central island across the transom that offers a bench seat forward and a bait station, bbq area and even tuna tubes aft. There is plenty of clear deck space for keen fishos with a solid cage to stop you falling in aft the bait, or forward where a wet bar and extra seating looks after the party set.
Since the Herley 3400 Electric power cat was officially launched in August, interest has been high from both local and potential overseas buyers. It also seems that it is all focused on electric power rather than diesel which is the way that the team at Electric Boats want it. The ability to design and develop their own drive control management system and coupling that into their 'range anxiety' variable speed generator is an act of genius. Electric Boats IP on their drive control management system has massive international potential on its own and gives a whole new meaning to the 'Kiwi number 8 solution.'
Design Name: Herley Electric 3400 Powercat   
Year Launched:  2020   
Builder: Herley Boats/Electric Boats   
Designer: Roger Hill   
LOA: 10.40m   
Beam: 4.70m   
Draft: 0.77m    Displ (Loaded)  7.2 tonne   
Max Speed: 21 knots   
Cruise Speed: 8-14 knots   
Max Cruise range: 1300nm @ 8 knots   
Construction: Aluminium  
 Fuel Cap: 680 litres   
Water Cap: 400 litres   
Motor  Electric Boats: 2 x 100kw/134Hp (peak)   
Battery Bank: MG 60kWh Lithium ion   
On-Board Charging:  60kW Hyundai Seasall / Electric Boats diesel generator   
Drive Train  Shaft: Steering  Hydrive   
Digital Switching: C-Zone   
Solar Panels  Goflex: 17 x 135 Watt   
Charger:  Victron Argo Lone3 Bank   
Anchor: Winch  Lonestar GX-5  
Sound System:  Fusion   
MFD:  2 x Garmin GPSMAP 861Garmin Reactor    
Price as reviewed: $NZ1.25 million plus GST  
Price From: $900kNZ plus GST