Author : Barry Tyler
It is feasible to conclude that a designer and boatbuilder would have a fair grasp of the basic fundamentals of design and construction, when his 'play-pen' is the rugged and unforgiving waters of the Tasmanian region.
Allan Barnett, through his 'Allan Barnett Fishing' company, has built an enviable reputation for building fishing and commercial vessels which handle virtually any working conditions. It therefore takes a while to get your head around the fact that he has transformed his talents for designing and building no-frills fishing boats, into creating masterpieces in steel and aluminium, with a standard of finish and luxury that is up there with the best the world has to offer, in terms of opulence, finish, appointments and specifications. This is what Allan Barnett has been able to achieve in his Motor Yacht range, which comes out of the same factory as his fishing boats. Allan Barnett's latest creation, the High Seas 63 Motor Yacht, is a classic example.
A big call sure, but you need take just one step aboard his latest High Seas 63 passagemaker to appreciate the fact that the boat is indeed something special. Attention to detail is superb. It is plainly evident that no stone was left unturned and certainly nothing was half-done in his quest to produce a boat that not only handles the worst of conditions mother nature is likely to serve up, but also one which stands the test of time both in terms of longevity as well as in styling.
Typical of a dedicated passagemaker style of vessel, the cockpit was just large enough to be of practical use both for entertaining as well as addressing exterior necessities such as the raised mooring bollards and hawse-holes used for mooring, the remote helm stations (again, each side) and the safety features such as hand-rails. Hardware here was superb, in particular the S/S and heavy glass saloon 'feature statement' doors which in my opinion easily rivalled the best Taiwan has to offer – all from the Bridport manufacturing facility of Allan Barnett Motor Yachts (ABMY).
There was no exterior access from the cockpit to the flybridge level, so if you wanted to stay outside the confines of the cabin you utilised the wide walkways and high bulwarks each side, for a safe passage up to either the side entry doors which led you onto the pilothouse level, or up onto and through the Portuguese bridge. From there this bridge separated in the middle, to provide access to what was an entirely uncluttered foredeck. All traditional passagemaker-style, with all features built strong and robust while at the same time well presented.
The S/S capping around the entire perimeter of the coamings, while being an absolute labour of love, offered longevity while of course being virtually maintenance free. Which really is the same for all aspects of the hull in actual fact, for the steel hull with aluminium superstructure is about as maintenance-free as it is possible to achieve – providing of course you respect the coatings and treat them appropriately.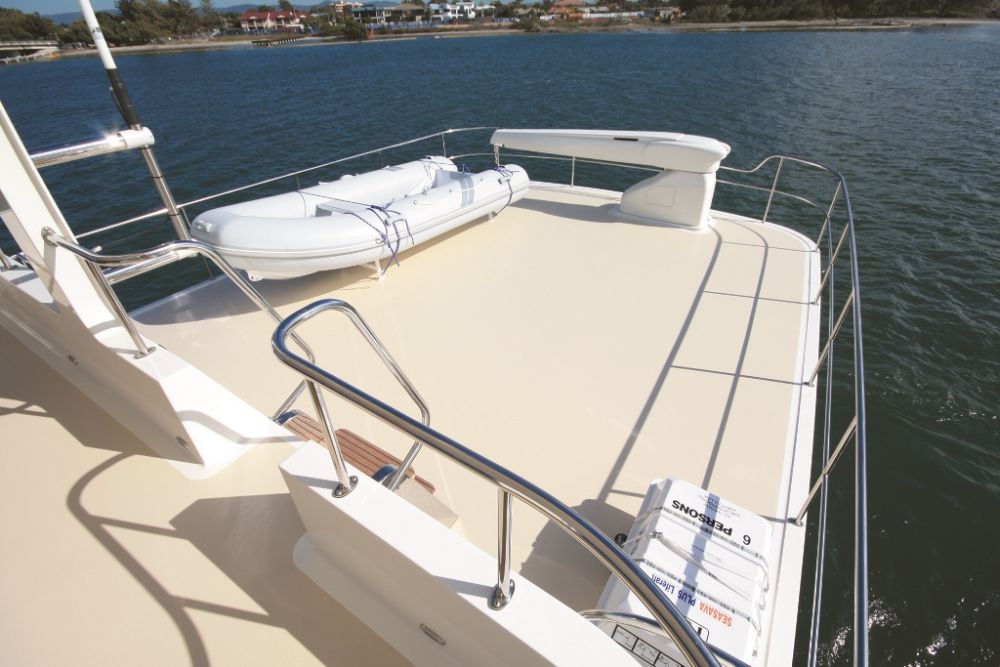 Light, Bright and Spacious
Step in through these magnificent saloon doors and the big surprise here was the amount of (uncluttered) room within this lower bright and well ventilated saloon level. Very traditionally presented, with copious quantities of Tasmanian (where else!?) myrtle and ash intertwined with the 'Gosh' leather upholstery, Staron bench-tops and plush vinyl side and roof panels, it offered practicality as well as ambience and opulence.
To port was the U-shaped dining setting which would easily handle a party of six, with opposite this an entertainment module which stretched the entire length of the starboard wall. Out of the way and housing the ultimate in 'entertainment' facilities, features included a wine-cooler, liquor and glass cabinets, a secreted operations centre for the JVC sound systems, a glass-front refrigerator, ice-maker and of course the electrically-operated pop-up television.
Still on the lower saloon level was, forward of the dining setting, a galley of appropriate long-range-cruising specification. There are a few things I judge an acceptable passagemaker by, for it must be a virtual apartment on water to be comfortable for long periods at a time. Fuel and water capacity, refrigeration capacity, storage potential, ablutions and power supply are all important, but arguably the most important aspect of all I believe, is the galley.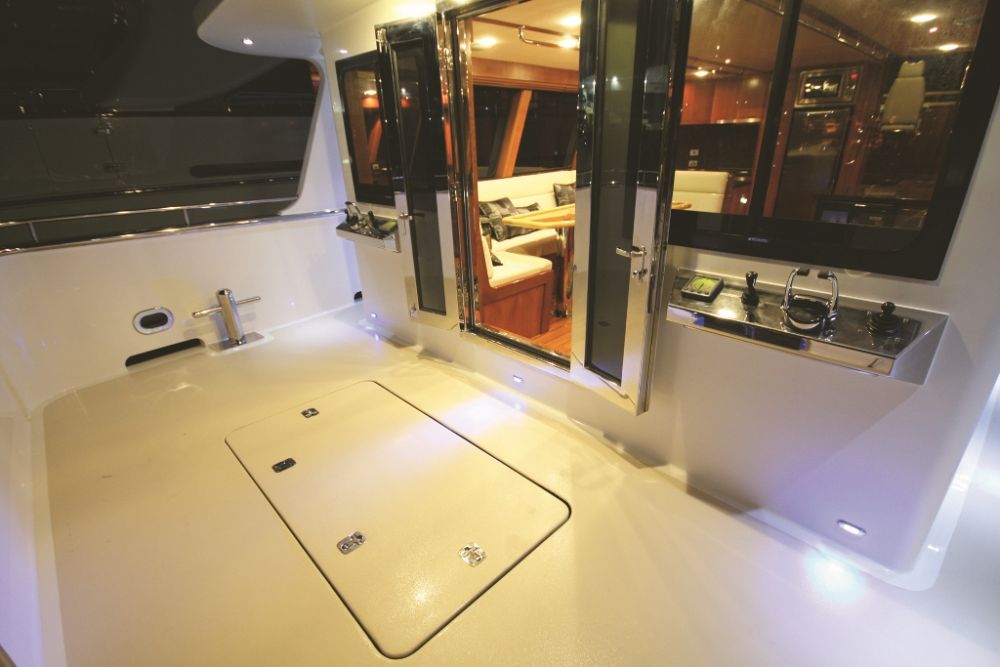 Nothing is more frustrating or annoying than a passage-long struggle with food preparation, but once again Barnett and his ABMY team have excelled. Not detracting one iota from the ambience of the saloon proper, equipment included a three-burner gas stove, an electric oven, a microwave, a range-hood, a separate refrigerator and freezer, dishwasher, rubbish receptacle, two layers of (granite) bench and servery, deep sink and drainage area, and the biggie of them all, heaps of cupboard and drawer storage provision.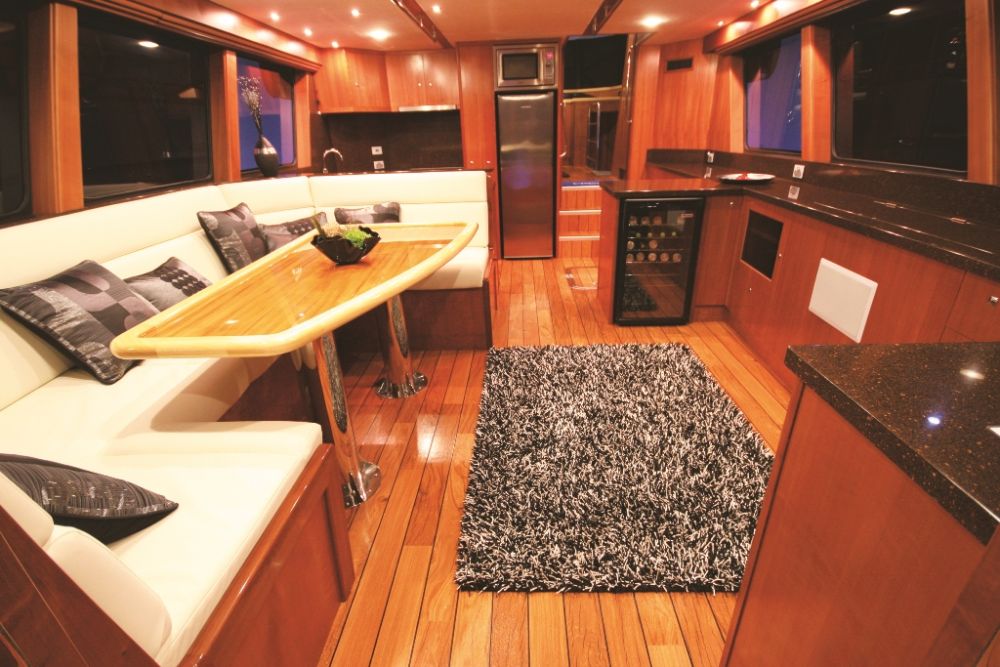 "Wow," was my first out-loud response as I climbed the stairs up on to what was a veritable 'ship's bridge' on the pilothouse level. There were heaps of traditional wood, side entry bridge doors, two helm chairs, a classy helm wheel and a virtual wrap-around operations nerve-centre. Central to this was the extremely comprehensive dash with as you can imagine, everything expected of a genuine passagemaker – including not one but two Raymarine E120 electronics packages. Portside alongside this 'dash' was a chart table bench and drawer, with a deep freeze under, again appropriate to an ocean-going vessel.
Typical of a cruising layout, behind the skipper chairs were a dining table and settee which by day provided a convenient place for guests to appreciate the trip, and by night a berth for the skipper. The other noticeable feature of this level was the starboard set of wood stairs and handrail which provided good, safe access to the upper flybridge level.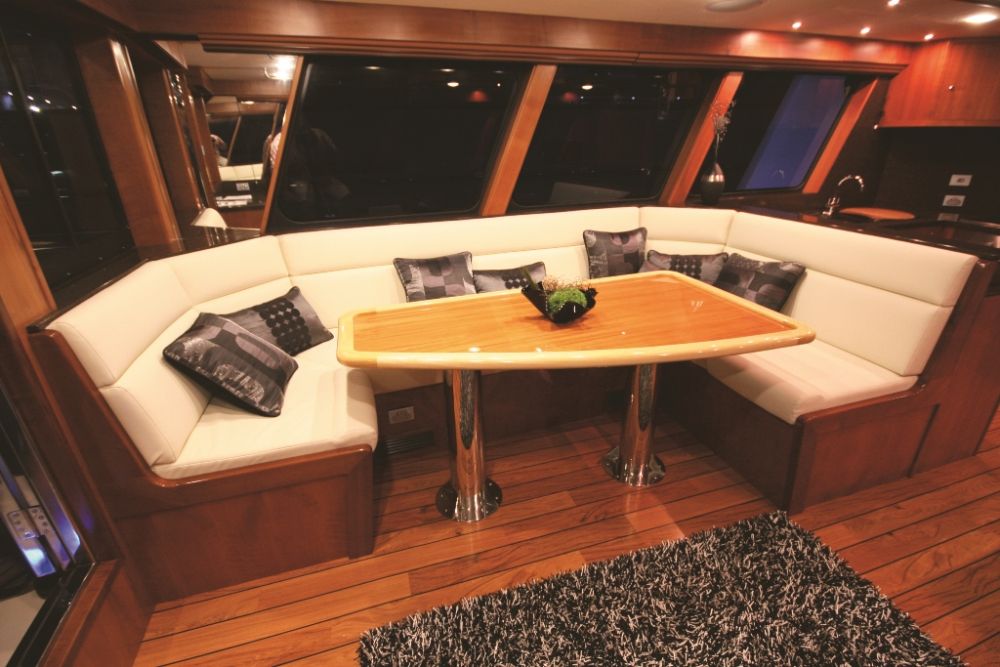 Understandably (built for ocean passages), this exposed upstairs area of the High Seas was quite a stark contrast to the opulence of the lower level. This was a definite 'working area' of the boat but in saying that on a sunny day it was still a very pleasant area in which to sit with the skipper and enjoy the 'wind-in-your-face' sensation. The actual helm was simply a joystick lever. in much the same vein as the two stations in the cockpit below.
Around the back of the bench-seat helm module I discovered a modicum of opulence however, in the form of a pull-out electric BBQ, icemaker/refrigerator, bench-top and storage provision, perfect for preparing your outdoor meal. Just add a table and chairs of your choice, and you had the perfect summer setting. From this flybridge level you dropped down a half-level, where the davit and inflatable dinghy were literally dwarfed on what was a huge expansive area of saloon roof.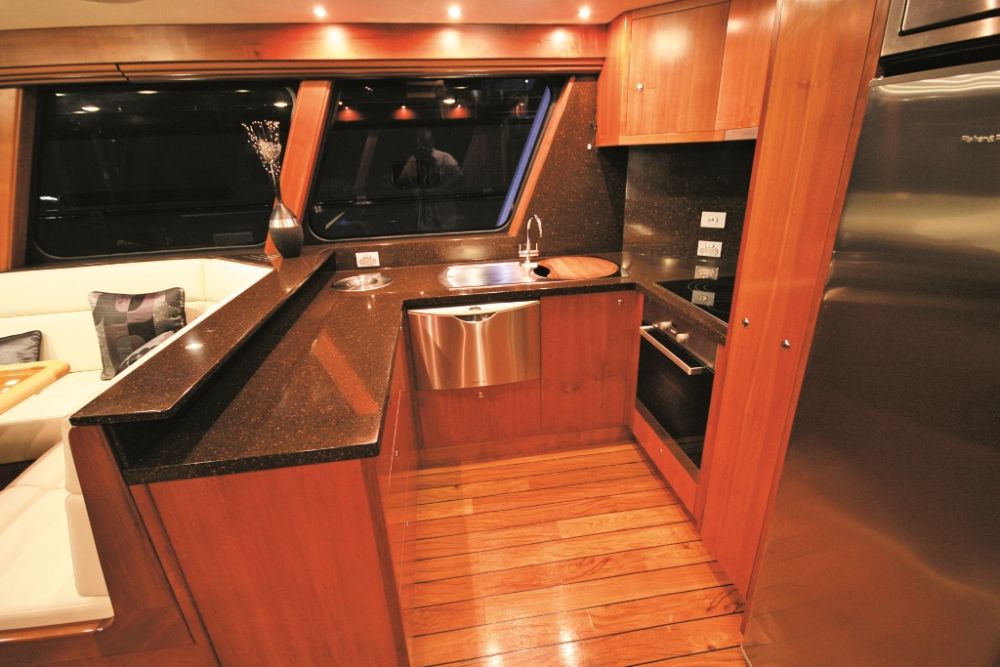 While the High Seas undeniably offered a high standard of accommodation below, again it was the proactive practicality and user-friendliness which impressed. Robotically efficient is a descriptive that comes to mind, for every single facet was exactly as it should have been. The grandiose staircase to the lower level, the lovely blend of carpet, wood and plush panels, the quality fittings – were all part of the rich tapestry of a vessel that has been designed with a single-minded purpose, a strategy if you like, to provide comfort and convenience.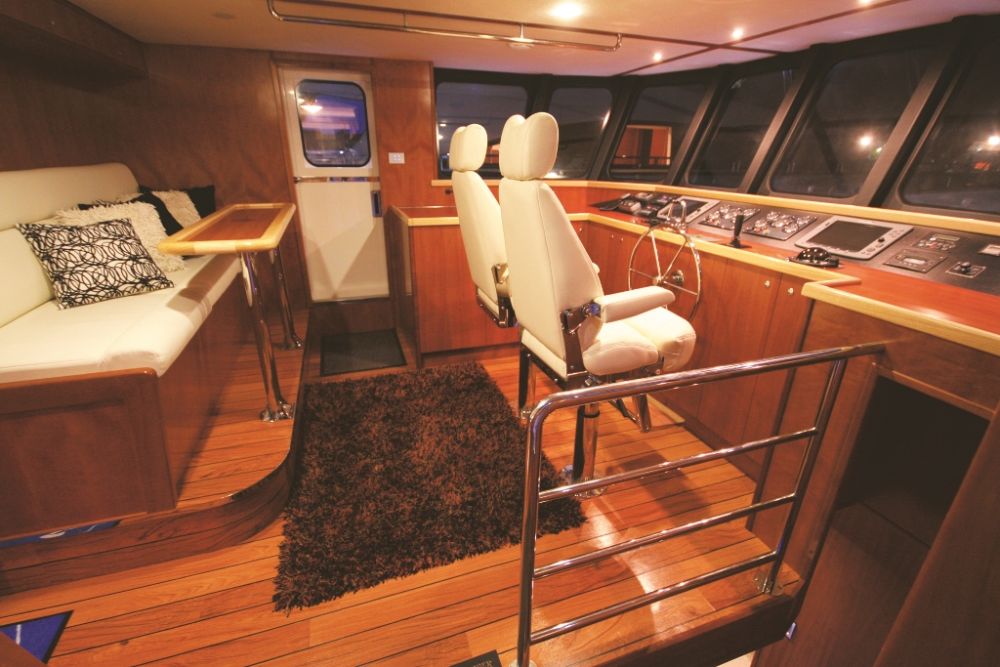 Accommodation provision of course is entirely up to the prospective owner; in this instance however an 'all things to all people' standardised approach was adopted, with a guest stateroom in the bow, a twin-single room with Pullman bunks to port, and the full-width master stateroom aft in under the pilothouse and saloon sole.
The wood finish was again superb; there was plenty of storage in all three rooms they were well spec'd, for each room had good lighting, hanging wardrobes, air-conditioning, television and DVD/stereo, and in the case of the master and guest staterooms, bedside tables and good ventilation via overhead hatches and/or portholes.
Bathrooms were appropriate, with an ensuite bathroom attached to the master stateroom, and a two-way house version for the twin-single and guest rooms. Both had appropriate ventilation and lighting as well as separate shower, vanity and head, and in a really nice touch there were permanent (recessed) homes/mountings for the little things like toilet roll, toilet brush, toothbrush holder, soap and bathroom 'Manchester'. Everything was thought of, so there wouldn't be stray items thrashing around the boat in rough seas – or indeed wet toilet rolls!
Comprehensive Mechanical Inventory
The High Seas 63 was very much the epitome of a displacement-style cruising vessel and as such you could never in your wildest thoughts consider it 'specialised in the sporting approach to performance'. It was an unashamedly dedicated 'cruiser' and as such the two Cummins QSB 301 diesel engines driving through Twin Disc 5065A (2.43:1) gearboxes and conventional shafts to the 31 x 20.6-inch Mikado propellers, easily pushed the hull to its most economical design displacement speed of 9.5 knots, and the top speed of 10.5 knots at the maximum 2600rpm. Despite the cruising speed being only 1½ knots less than the top speed, but it made a considerable difference to the long-range efficiency and therefore capability, of the High Seas with its 10,500 litre fuel payload.
In my aforementioned list of 'must-have' items was an appropriate power source and by that I meant a purpose-designed electrical package; otherwise you will have problem after problem addressing over-stressed components. I knew from my pre-test perusal that the High Seas was well endowed in this aspect, but it was the way in which it was laid out that especially impressed me. Onboard systems were 12V, 24V and the shore power 240V, with peripheral equipment such as two gensets, Onan 7kVA and 22.5kVA versions, an Outback Marine VFX 3024E 240V AC inverter with 3000W 85A charger, and battery banks of four batteries for the house and four of the same for the two engines. Add the two batteries for the gensets and there was figuratively power to burn.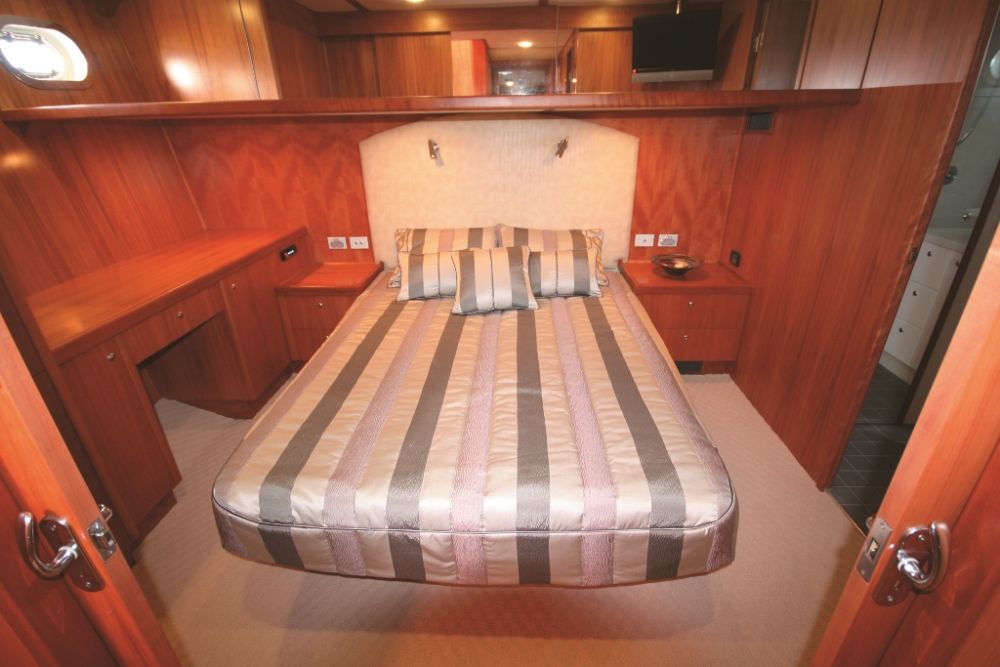 The well insulated utility and engine rooms were entered either through a hatch in the saloon or more preferably through the aft cockpit. Stepping down into the lazaretto or utility room it was a slight 'back bent and stooping' exercise to use the (separate washer and dryer) laundry in this room but what was most appreciated was sublime access to the entire steering assembly. Again this 'user-friendly' aspect prevails!
Access to the actual engine room was through a ship-style bulkhead door, with the head-room increasing once inside – down the angled walkway to a virtual stand-up position between the two Cummins engines. Space was sublime, so much so that all the peripherals such as watermaker, genset, air-conditioning, hot-water cylinder, filters, oil change-over pumps, tankage and even a mini work-bench were all included in this room, whilst still maintaining plenty of room around the engines for maintenance purposes.
The High Seas 63 Motor Yacht was a virtual palace on water; a credit to the Australian Marine Industry and in particular ABMY. Honestly, the more I saw of the High Seas 63 Motoryacht, the more it reminded me of a Nordhavn. That's a big, big rap in anyone's book, to mention the two boats in the same sentence, but quite frankly to me this vessel was simply – that good! Attention to detail was impeccable, workmanship was superb, only the best of gear being used, and at 68 tonnes it was quite obviously built to overkill proportions. For instance, how many boats of this size can you safely park on a sandy or for that matter rocky beach (the longitudinal stabilising fins adjacent to the keel, were 25mm thick), for maintenance requirements or simply to enjoy the unique pleasures of some far off tidal waterway. A very fine complement to its earlier 58ft sibling!
Design Name: High Seas 63 Passagemaker
Year Launched: 2009
Designer: Carl Stamba
Interior Designer: Allan Barnett Motor Yachts
Builder: Allan Barnett Motor Yachts
LOA: 19.2 m
Beam: 5.49 m
LWL: 16 m
Draft: 2.0 m
Displacement: 68,000kg
Max Speed: 10.5 knots
Cruise Speed: 9 knots
Construction: Steel (6mm) hull, Steel (25mm) keels, aluminium (6mm) superstructure
Fuel Cap: 10,500 litres
Water Cap: 1000 litres
Engines Make: 2 x 301hp Cummins QSB301Base Price of Boat:      $2,900,000
Price As Tested: $2,900,000