HIGHFIELD 5.4 PATROL CENTRE CONSOLE A REAL RIB REVIEW
Despite having three cracked ribs, Richard Milner was determined to test the Highfield 5.4 Patrol in the waters it was designed for.
Some of you are well aware by now that I can't stand testing a RIB in calm water. It defeats the purpose of having the tubes and the low centre of gravity design of a RIB. While many of us RIB enthusiasts think they look amazing to the rest of the boating community, our beloved boats have some derogatory terms. So today, the water wasn't choppy beyond belief with Bean Rock reading triple digits, so why you ask did I agree to test the Highfield 5.4 Patrol Centre Console RIB.
I agreed because today I had a secret weapon up my sleeve, well, a secret weapon in my ribs – they're fractured and not one but three. So, to impress me today, this Highfield 5.4 Patrol will have to deliver the smooth ride that Jonathan and his team at Highfield Boats in Auckland have been promising it would impress. Let's find out.
The first glimpse of the boat was at the ramp. It was on a temporary trailer that Aakron had used, and it looked like the business. With its black hull, grey tubes and solid T top, it looked more like it was there to execute a drug raid than take me out for a lap of the harbour. It gave the; I mean business look.
First impressions were around the T top being slightly forward of the console, which gives the forward passenger quite a bit of protection. It's easy to avoid the suicide seat on the front of the console as there is usually nothing to hold onto. However, this almost encloses you in. Perfect for my kind of boating… Hammer Down.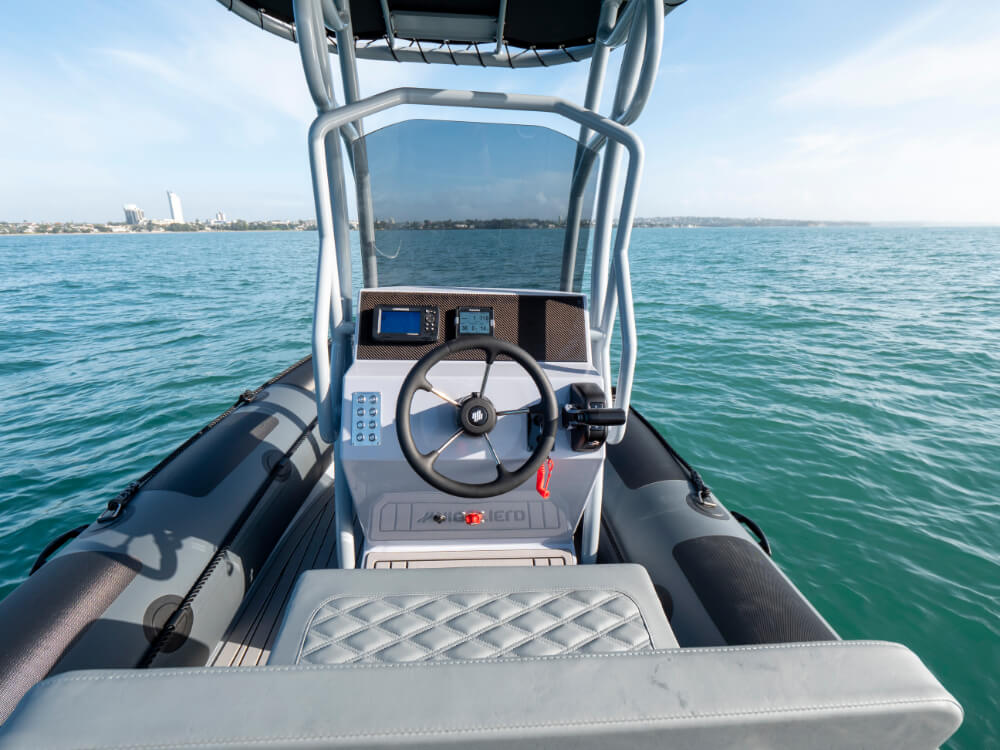 My first impression is the boat didn't seem to have much floor space between the bow seat, which houses the 105L fuel tank, and the console seat, which raises to give a vast storage space and easy access to the instruments etc. The console is off-centre on the starboard side, giving loads of space on the port side to move around. The console seat is tubular with a neat folding footrest. It is quite a tidy package. Aft there is enough space for a couple of fish bins or dive gear, so the first impression was quickly dismissed, as this is a well thought out, full-featured and spacious 5.4 boat.
Off the trailer and into the tide was an easy transition and the boat sat very level at rest. I am a big believer in the forward fuel tank. Heading out, I was beginning to wonder if my current condition was sensible. However, the boat sat nice and level and came up onto the plane nicely. Having the console slightly forward, I wondered if I would feel like I am constantly going to fall off the wave, but the boat sat nice and level and gave me the impression it wanted to go.
Controls are well placed, and the off-centre console is excellent as you actually do stand behind it. Many RIB skippers will admit they seem to spend a lot of time slightly off to one side to avoid a cumbersome console; however, this one was lovely with everything to hand. It had a neat little Lowrance MFD and an integrated Raymarine engine computer which worked a treat. The carbon dash was a nice finish with the white helm station so looking at the screens wasn't full of glare. The driving seat was a comfortable distance from the helm and was comfortable either seated or standing. My favoured position is standing and leaning against the seat. It was certainly a safe yet relaxed feel.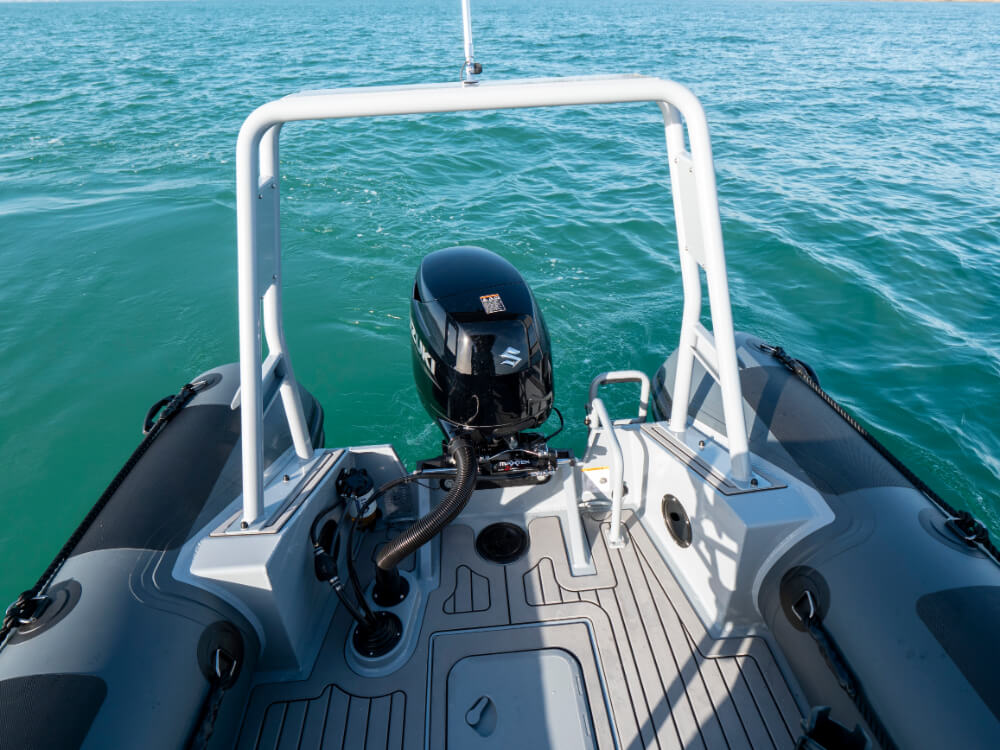 The T-Top fitted is robust and has lots of mounting plates for toys and equipment. It's a nice feature. My only gripe with the whole helm setup is the amount of tubing and its size. It does feel that the console could fit inside the T-Top tubing without all the extra tubes around the console. Also, at my standing height of 1.9m, the tube over the windscreen is right in the way, so I found myself constantly looking over or under it. If it wasn't there and the T-Top fitted, then it would have been perfect. But then again, I am quite tall, and the average kiwi probably wouldn't have this issue.
Aft, the optional roll bar is fitted with cleats and more plates for equipment. There is a ring for water toys, an outlet for the underfloor electric bilge pump, some substantial towing eyes for the trailer, and perhaps if you were towing another boat. There is also a ladder with a grab handle on the port side, which is a neat feature when getting out of the water.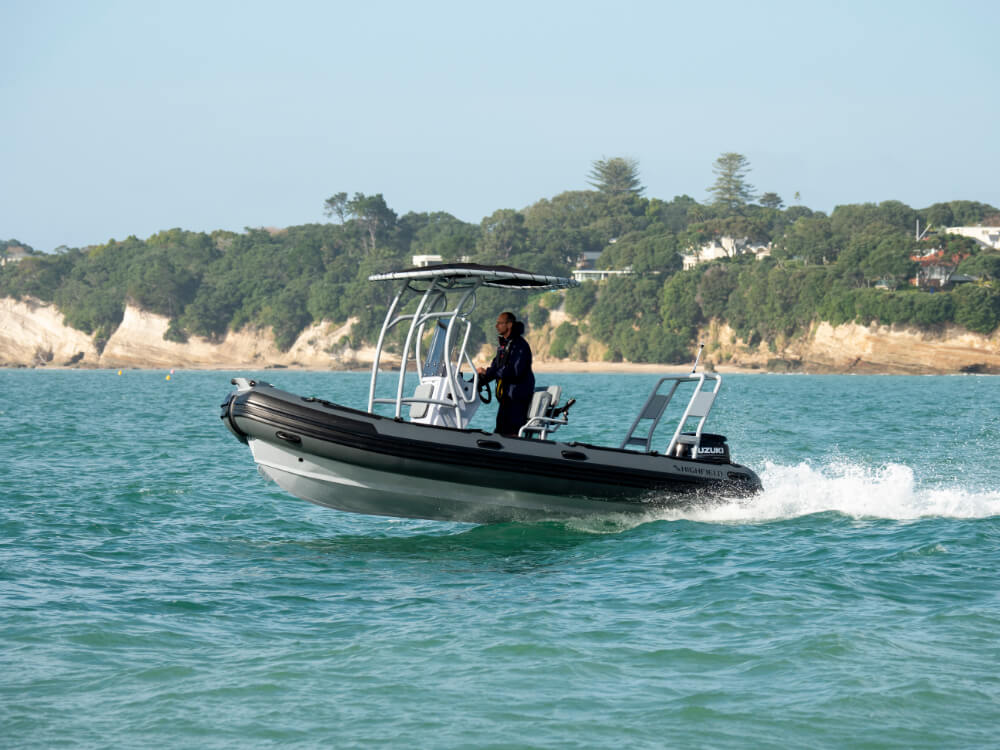 The boat was fitted with a 100hp Suzuki, which felt just right for this model. It cruised nicely at 4200 rpm at around 21 knots, and flat out, I got 34 knots. Impressive for a small boat without its largest outboard. The power range of 80-115hp gives a broad range of power from a cruising machine through to something with a fair amount of go if the boat is used with a large load. However, I think the 100hp was perfect. 
The boat's handling was impressive for a small boat. It was well balanced and held on in the turns until it hurt. My predicament aside, it's nice to operate a predictable and light RIB that gives you a lot of confidence at the helm. It points precisely where you put it and doesn't let go. The hull offers a smooth, soft ride. We had a typical half metre swell from the North East with a bit of chop, and the boat ate it up nicely. Even at the higher speeds, my ribs did not indicate that the ride was rough. Trimmed for efficiency around my feet, the hull leapt nicely from the water, and the entry was level.
Aesthetically the boat doesn't look like some other sports RIBs. NZ gets some of the Euro designed pretty RIBS that offer that certain look, and it is fair to say that this Highfield has a different take on style. It's not got the sleek, sexy look, but it was never designed to. It is designed to look tough, perform tough and is a solid and well-appointed boat. My taste says I would prefer this Highfield over a pretty cousin. It's functional, and it does exactly what it looks like it should. 
We spent a good couple of hours on the water, and with my past life setting racing marks from boats of a similar size, I left the boat feeling just as refreshed as when I got on. This, to me speaks volumes for its ride, design, layout and power choice. It was also nice to have enough dry storage space.
I think it is fair to say that the Highfield brand has got many features nicely tuned for the New Zealand market. The Highfield 5.4 Patrol is an excellent option in that mid 5m size bracket for up to 4 people to enjoy a day on the harbour. I already own a competition brand 5.5m, but I will seriously consider the Highfield 5.40 as its replacement when the time comes to replace it. And how did my ribs feel, after you may ask? No worries, no sudden twanks of pain as we thrashed across the choppy Auckland Harbour and a true test of just how soft the boat rode. 
Boat Design Name: Highfield 5.4 Patrol Centre Console
Builder: Highfield Boats
LOA: 5.40m
Internal Length: 4.30m   
Beam: (External) 2.48m
Beam: (Internal) 1.33m
Deadrise: 24 deg                 
Construction: GRP / Hypalon
Trailerable Weight: 980 kg
Fuel Capacity: 105 litres            
Engine: Suzuki 100
Power Options: 80-115hp     
Max Speed: 34 knots
Priced From: $NZ55,000
Price as Tested: $NZ49,000
| | | | | |
| --- | --- | --- | --- | --- |
| RPM | Knots | L/h | L/NM | Range  (NM) |
| 1000 | 0.9 | 0.7 | 0.780 | 120 |
| 1500 | 3.5 | 2.4 | 0.690 | 130 |
| 2000 | 11.3 | 10 | 0.890 | 100 |
| 2500 | 13.7 | 11.6 | 0.850 | 110 |
| 3000 | 17.5 | 12.1 | 0.700 | 130 |
| 3500 | 19.3 | 13.5 | 0.700 | 130 |
| 4000 | 22.9 | 16.4 | 0.720 | 130 |
| 4500 | 27.7 | 18.7 | 0.680 | 130 |
| 5000 | 29.0 | 26.4 | 0.920 | 100 |
| 5500 | 31.0 | 29 | 0.940 | 100 |
| 5700 | 34.0 | 33.1 | 0.980 | 96 |