Experience counts and when it comes to Kiwi designer Bill Upfold that goes back a whole lot of years. In 1984, after the completion of his apprenticeship at John Lidgard Yachts & Co, he established his business trading as Elite Marine Boatbuilders Ltd and started producing his designs. In 1996 he formed Elite Marine Design, getting off the tools and concentrating 100% on designing custom boats. Today all Elite branded boats are built by some of the most respected boat building companies in New Zealand. His first design to be launched was Samurai, a 14m open bridge cruiser, that quickly lead to a commission for Emporer, his first mid pilothouse. In the early years, his name was synonymous with mid pilothouse designs, but it didnt take long before his design portfolio was extended to sports fishers, sedans, displacement motor yachts and flybridge cruisers. About the only part of the market, he has never really done much with is powercats. 
Highlander represents the very best in bespoke boat building, where the collaboration between designer, builder and owner has proven the perfect partnership for a near perfect boat. The building process was a seamless process from the first time Bill and I talked about what I wanted in the new Highlander, to the final sea trials, says the very happy owner. The summer cruise to the Bay of Islands and back proved almost trouble free and apart from a couple of minor issues, which were quickly rectified, Highlander received 100% pass marks from the owner.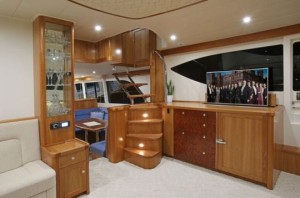 In fact, the boat is even better than I thought and I cant say enough about Bill and Alan, working with them has been a very pleasurable experience. This the second Elite I have had built by Alan Tongs Boatbuilders and I couldnt have been more pleased. The yard was helpful and obliging in every step and nothing seemed to be too much trouble, which made the building experience so much easier and enjoyable for me, he added.
The owner had come from a 17.2 m Elite sedan and with an extending family was looking for a boat with more accommodation and size to suit his cruising requirements. He also wanted to get into some long range cruising around New Zealand, with visits to such places as the Marlborough Sounds, Fiordland and Stewart Island. There is also talk of even taking the boat to the Pacific Islands at some later stage.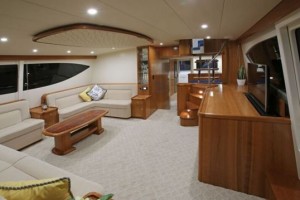 To allow for this, the tankage has been maximised with a primary fuel capacity of 4400 litres in stainless steel tanks and an additional 1600 litres in a centreline tank. At 9 knots, Highlander has around a 1700nm range, more than adequate for a Trans-Tasman or Fiji crossing, on its own fuel. No need for extra bladders. Being a totally custom design, Bill was able to start with a clean sheet of paper and working from the previous Highlander and with an understanding of what the owner liked or didnt, set about working his design magic and coming up with the right layout. I knew what the parameters were, especially with the number of people he wanted to accommodate overnight, so working from that, I arranged the forward accommodation into two mirrored cabins and then as per the owners request placed their stateroom aft of the saloon. 
Its a very different arrangement, with four cabins that offer ten berths. It certainly works for the owner. Forward is the kids cabin with upper and lower single berths either side, with a hanging locker either side and drawer storage under the lower berths. Builder Alan Tongs told me that there were 101 drawers throughout the boat! Such is the customisation of Highlander, most were built to a predetermined size to fit specific items. To starboard aft is a second guest cabin with upper and lower berths, a hanging locker and nightstand.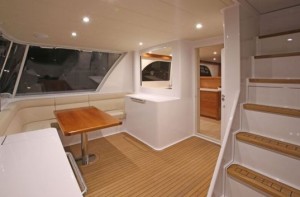 Opposite to port is the head/shower area that services the forward two cabins. Corian with negative gold leaf detail is used on the vanity surface with lacquer finished linings, Antico flooring and a walk-in shower with a curved glass door. Simple and functional. The real point of difference in the accommodation layout is that the space that now is almost always used for a full-width master has been split into two separate cabins, each a mirror image of the other. This was done to provide enough berths for all the family. Bill points out that again this is an owners request, but it could just as easily have been a full beam master cabin. Again its your call. Each cabin features a queen size berth, plenty of storage, triple vertical side ports and a separate en suite.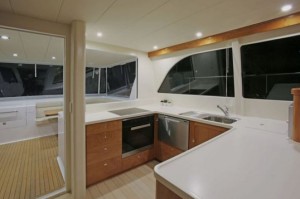 Highlanders main lounge has been designed to socialise, as much as provide plenty of space when the entire family is aboard. There is a TV on a rise and fall, liquor cabinet and entertainment entre to port with large loungers opposite. A port side door provides a quick and easy access to the foredeck areas, without having to enter via the cockpit. The finish and detail throughout the boat are exemplary, with the American Cherry accented with gold detailed Burr Elm in areas that accentuate the high-quality presentation of the layout. 
The best way to describe the look is conservative and timeless. With the specific layout of Highlander, the sky-lounge staircase is aft of the saloon with open treads so your sightlines are not interrupted looking fore or aft. Another requirement by the owner was for plenty of handrails around the companionway to the sky lounge. The sky-lounge, like the rest of Highlander, is conservative and while the helm is sizeable, its not ostentatious, Its practical and efficiently designed with everything from the Furuno glass bridge screens with Scania EMS displays to the ZF Micro Command controls in easy to see or use positions. 
The helm seat is a split bench style with space for three. Aft are loungers either side, a fixed table and easy access through to the upper deck. This is where the AB inflatable is stowed when not in everyday use. Launching is via a Steelhead crane and once the tender is removed, the area serves as a big sun lounging space. There is also a staircase to starboard for access to and from the cockpit.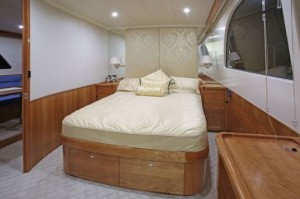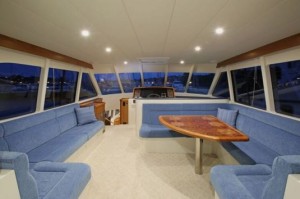 While the accommodation spaces forward may not be traditional, the aft area of the main deck is very much the trademark style of Elite Marine Designs, mid pilothousecruisers. From, the 14.5m Emperor, the very first Elite mid pilothouse, launched 27 years ago, there has been a common theme albeit with variance in space and arrangements. Bill has been a strong advocate of the mid-pilothouse design with its many advantages both in liveability and practicality for a cruising launch.
Highlander is the largest Elite mid-pilothouse to date, so the spaces such as the galley, owners stateroom and dining areas are all large. Step down a few steps from the saloon and you find the main dinette area to port, with a U shade seating arrangement for 8-10 people and Burr Elm fixed dining table. This is slightly raised so diners have a good vision out the side windows when seated.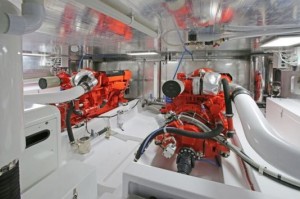 The aft owners stateroom was another owners specific request. It is very reminiscent of previous Elite mid-pilothouse boats, but, like the galley and dinette is on the same level as the cockpit sole. A queen size bed has easy access both sides and all available spaces are used for storage. There are 23 drawers in this cabin alone! A separate en-suite comes complete with a walk-in shower stall, head and large Corian vanity. The galley has all the usual appliances, such as an F&P dish drawer, convection microwave and a roll top to hide away the coffee machine and toaster. Theres a very generous size U shape Corian bench top for food prep and a fridge/freezer and pantry opposite. Because Highlanders cockpit is on the same level as the galley/master stateroom, it is speced out more for socialising, with lounge seating, fridge/freezer, bbq and separate table. To starboard is a day head and locker under the sky-lounge staircase and when you add the drop down clears, you might well describe the raised cockpit as a conservatory or, at least, an el-fresco dining area. This boat was never designed for fishing, but if you do decide to drop a line over then, there is plenty of space on the lower full-width boarding platform. Tucked in under the raised deck is a dinghy garage for the AB9 tender, with electric rams to effortless raise and lower the boot lid.
The owners performance criteria for the boat was to be able to cruise at 17 to 19 knots, so top speed was never an issue. Power is twin Scania 13L @750hp (2300 rpm) each, giving Highlander a maximum speed of 25 knots. Fuel burn at 2300 rpm is 110 lph per engine, which drops to 81 lph per engine at 2000rpm and the desired cruise speed of around 19 knots. Bringing that to 1800 rpm, Highlander achieves figures of 112 lph for both engines @ 16.5 knots and a range of around 800nm.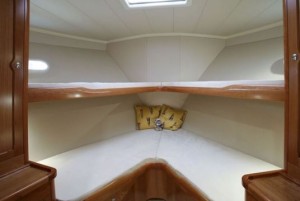 The design of a driveline is very critical and in the case of Highlander, the builders chose a Beattys Driveline Technology Turret short-coupled cardan driveshafts along with TM150 thrust bearings to ensure power is transferred quietly with minimal vibration. The drive train is isolated from the engine with thrust bearings and universals to take the load off the engine feet and transmit the thrust directly to the hull. The owner says the boat runs smooth and vibration free. The semi-displacement hull was never intended to be an overly fast design, but rather a good load carrying, sea kindly hull and is a development on the previous Highlander. I found that the other Highlander performed beautifully so I didnt see the need to change the underwater lines, although it does differ to where you can place the weight, says Bill. Construction is epoxy timber composite, with the hull an internal skin of plywood and balsa cored with multi laminates of fibreglass and epoxy composites on the outside. The superstructure is all foam cored. All up displacement is 35,000 kgs (loaded). Highlander is a clear indication that bespoke boating building is alive and well in New Zealand.