If you want a real buzz, then check out the 40-knot plus Roger Hill cat, Voodoo. It'll blow your socks off!
I can almost count on one hand the number of times I have been in a non trailerable boat at over 40 knots. It's not something you do often and but when it happens it's something you always remember. The first was in 1991 in a Vindex 475 powered by a pair of MAN D2848LXE engines when we ran the measured mile at 42.9 knots. A year later I did 40.9 knots in a Vindex 375 with twin Volvo KAD42s and followed that a year later in a similarly powered Elite Cabriolet at 41.8 knots. In 1995 I went my fastest ever at that time, at 43.9 knots in a Genesis 3100, again with the same KAD42DP Volvo power. This speed is still the fastest recorded by a diesel powered production cruiser in New Zealand.
However, I had to go overseas to really move the bar up when I saw the electronic speedo nudging 46 knots in a Pershing 50 powered by twin 800hp MANs with Arneson surface drives a few years ago in Italy. If that wasn't enough a year later I was back running another Pershing off the Italian coast, a 56 with twin 1360hp MANs and Arneson drives. I can remember pulling the throttles back a little after a blistering 49.5 knot run to a more sedate 35 knots, when the engineer, Marco, asked me if we had a problem. "No problem" I replied, "I just brought it back to cruise speed". Marco leaned over and punched the throttles hard down. "There is no cruise!" he replied. Now that's a boat with plenty of boogie.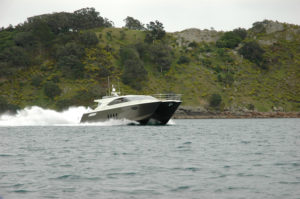 It's taken another five years to get back into the 40 knot bracket and what a buzz. Voodoo, the Roger Hill designed and Pachoud Yachts built is a rocketship and one for the adrenaline junkies. Okay, so 40 knots doesn't sound like much when you are in a trailer boat, but in a 25000kg, 17.8m powercat it's sensational! The design brief behind Voodoo was quite simple – a very high speed powercat that could run hard around the coast at speed but also be passage maker capable when the owner wanted to take a trip to Australia, Noumea, Fiji or somewhere where the water was a warm blue, fishing was great and the sun never stopped shining. 
It also had to be a basic single level boat with the saloon, helm, dinette and galley all encompassing, with accommodation areas down in the wide hulls.
The owner also wanted to be able to pick a shorter weather 'window' when passage making, having the speed to outrun any pending bad weather. Voodoo has the fuel capacity and range to go all the way from Auckland to New Caledonia, a distance of 1000NM at 30 knots. On the delivery trip from Tauranga to Auckland, Voodoo ran into some atrocious weather and according to builder Dave Pachoud it handled brilliantly. "We ran 30 knots up the coast, but at Cape Colville the seas were head on 3-5m with wind against the tide and we had to drop back to below 10 knots for an hour or so, before we managed to get the boat back on top and cruising again at 30 knots", said Dave.
To get the speed required took more than bolting in a couple of high horsepower engines. It was a combination of the power, the drive, the hull design and importantly the foil. Foils are not common on pleasure boats but they are growing in acceptance and in the case of Voodoo have proven their effectiveness without question.
The assist foil that helps Voodoo achieve her 40-knot sprint speed and flat running trim angle was designed by LOMOcean Design and adds to a growing list of boats thus equipped, including wavepiercer and conventional catamarans as well as a 12m power trimaran.
Andre Moltschaniwskyj of LOMOcean Design Ltd explains: "Fast boats generally use planing hull surfaces to gain dynamic lift at speed, shedding wetted surface and thus reducing drag. Planing surfaces aren't however very efficient – the drag forces are high in proportion to the lifting forces generated. The use of a lifting 'wing' or foil is a much more efficient way to lift the weight of the boat – and hydro foils (the Boeing Jet Foil for instance) carry almost all of the boat's weight on foils to maximize this benefit. Such systems are not very easy to reliably control – and using an 'assist' foil between two catamaran hulls to only partially carry the weight of the boat offers a good balance between improved efficiency and high levels of passive control, safety and reliability."
The foil shape used on Voodoo is a simple plano-convex (flat bottom, evenly curved top) section – commonly used as an assist foil on catamarans around the world – which offers a very broad lift 'bucket'. This means the lift force is spread relatively evenly over the chord length in comparison to more efficient foil/wing sections. This results in desirable progressive loss of lift characteristics as the foil approaches the surface of the water at high speeds and thus reduces the likelihood of breakout and sudden loss of lift as the foil moves from dense water to thin air.
Voodoo's foil is made from carbon fibre and weighs less than 30kg – much lighter than an equivalent stainless steel version. At 40 knots, this lightweight, high tech strip of carbon fibre is supporting approximately half the weight of the boat and contributing towards the remarkably economical fuel burn figures Voodoo is achieving at speeds over 30 knots, predicted to be in the order of a 15-20% improvement over the same hull without foil assistance.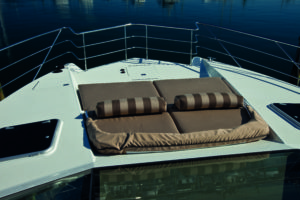 Ride quality benefits are another feature of assist foils, which help the boat to enter oncoming waves at a more favourable trim angle, but also offering some heave and pitch damping.
Future developments on Voodoo may involve making the foil dynamically adjustable, helping to tailor the angle of attack for most efficient lift/drag at varying speeds, but also to adjust the influence of the foil on hull immersion in rough seas to maximise ride comfort.
The other interesting aspect of the drive train is the use of the Kiwi made Seafury model SF30 fixed surface drives, which again, like foils, are not mainstream but do the business when it comes to wanting to make your boat go fast. Put quite simply, surface piercing propellers operate half in and half out of the water in the planing wake region of a boat just behind the boat's transom. Having the propeller at the surface level reduces drag and reduces the vessel's draft, making surface drives suitable for many applications where the owner is looking to reduce fuel costs and increase speed.
There are advantages and disadvantages of running a surface drive and in Voodoo's case it seems that the advantages gained in efficiency and performance at the top end were insufficient to counteract the disadvantages at the lower end of the rpm range. Soon after our run in the boat Voodoo was to have the surface drives removed, the engines slid forward on their bearers, the generator moved aft and conventional shaft drives and rudders installed. We hope to bring you a full report on the difference this made to the boat's performance and fuel figures in a future issue.
Power for Voodoo comes from a pair of C15 Caterpillar engines @ 850hp each. When the boat was first launched it ran just shy of 42 knots. If you want to go this fast then you pay the price with fuel used and while you may go a long way in a hurry it all costs. Voodoo cruises at around 30 knots and consumption drops to a more respectable 115 litres per hour per engine.
It is the long range cruise aspect that is very important to the owner and the fact that he can go long distances at higher than normal speeds, allowing him to outrun the weather patterns.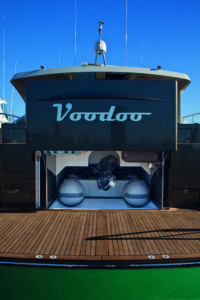 However, it looks like it will not be with surface drives and it is hoped that with conventional shafts the most economical cruise speed of somewhere between 25-30 knots can still be maintained. Dave feels that the drop in performance will be around 10-15%, which will still give Voodoo a top speed in the mid to high 30 knots. However, there should also be a more acceptable efficiency curve at low rpm. The design is also available with pod drives, which can be fitted with virtually no alterations to the running surface.
The hulls are asymmetrical, which is a departure for designer Roger Hill, who has traditionally favoured symmetrical hull forms. However, as Voodoo was to have a foil fitted right from the start, the asymmetrical design was, according to the designer, the better option.
The function of the freeboard height of the design was somewhat dictated by the amount of tunnel clearance required at rest (500-600mm) and also the requirement for an aft dinghy garage. This also allowed for a full beam saloon which maximises the living areas and gives plenty of head space in the accommodation areas below.
One spin-off of the high profile is the huge forward cabin which runs the full width of the hull and even includes a separate en-suite bathroom. Storage is provided in a large forward locker and under the queen size double berth and in drawers in the timber vanity. All timber throughout Voodoo is walnut. There is a 'hidden' door in the bulkhead alongside the berth that opens to reveal a huge ensuite, complete with a double-size shower cubicle, head which is concealed under a timber lid when not required and two raised ceramic bowls on the timber vanity.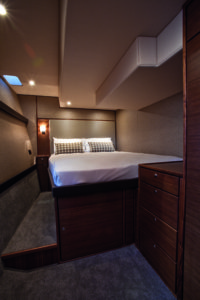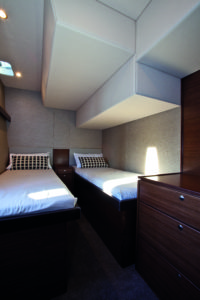 The vanity extends past the glass dividing shower panels right through to the forward bulkhead to enhance a feeling of space. Ceramic tiles are used on the sole. Voodoo is a four-cabin boat with overflowing accommodation areas. Aft in the starboard hulls are two more cabins, one with upper and lower single berths, the other with twin singles, plus there is yet another cabin in the port hull with another double berth. Storage is plentiful in all and there is no shortage of headroom. All are individually air conditioned and all share the port side boat ensuite that is accessed from the saloon level.
Sitting behind the helm seat of Voodoo in one of the matching high quality Recaro seats, you get the feeling of wanting to go somewhere and go somewhere fast. Across the facia are a trio of screens behind a single glass panel which display every necessary function through the Simrad NSO network. It's very good use of the available real estate and means the helm isn't too overpowering. There is no steering wheel, just a couple of toggles.
We did a lot of the driving during the test run with the Simrad AP28 autopilot, so it's very stressless even at 40 knots. Voodoo's interior is very modern, with squared off furnishings and nothing (apart from the helm seats) that intrudes above the window line.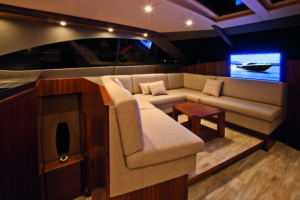 Opposite the helm is the U-shaped settee on a raised platform, with seat bases that are certainly wide enough to become an overflow sleeping area. Central is a coffee table and there is storage under all the seating. Entertainment is provided from a pop-up TV and a great surround sound system. Plenty of concealed and ceiling lights radiate the mood through the saloon.
There is another settee aft of the helm with a double lounge and single aft facing chair and coffee table. Again, the cushions are wide enough to make yet another accommodation space. Dining in Voodoo is done in the cockpit, although there's no reason why you couldn't have a dining table made for the forward settee if you prefer your dining indoors.
Voodoo's aft galley works well, with the sliding rear window and ready access to the cockpit. The bench top runs right through to the cockpit so there's great space for preparing food for plenty of guests. Drawers have been used rather than cupboards. Equipment includes an extra large F&P dish drawer, fridge/freezer, De Dietrich induction hob and convection microwave oven.
The main cockpit of Voodoo has been designed for comfortable day-to-day living, with a large eight seat dining table, wetbar, icemaker and drinks locker. To starboard is the day head/shower, to port a rod locker and there is plenty of storage in the coamings.
There is access either side of the central transom lounge to the very interesting stern platform. As already mentioned, one of the requirements of the design was for a dinghy locker. To achieve this also required a custom made hydraulic rise/fall platform that allows you to launch and retrieve with ease. It's also great when swimming or diving. As this is where you'd do your fishing, there is a dedicated bait station, fish storage space, bait freezer and live bait tank plus fresh water, a beer fridge and a BBQ.
Voodoo is somewhat of an R&D exercise for Pahoud Yachts, hence the changeover to conventional drives. As Dave says" This way we will have the actual data we need for both drive systems and can accurately quote performance and fuel figures to a prospective client". The drive system you choose is dictated by your requirements and if you just want to go bloody quick with reasonable economy, then surface drives coupled with a foil is the way to go. 
However, if you don't mind scrubbing off a bit of top speed and want better fuel efficiency at low speeds, then shaft drives are the right choice. Pachoud Yachts has had a number of enquiries from Australian clients who want to circumnavigate Australia at more than displacements speeds and are looking for greater efficiency than a conventional mono can offer. With the right drive train combination, Voodoo may just be the right boat.