Some boats come together quickly and with apparently little effort. Others seem to struggle every step of the way. And some, like the latest Roger Hill catamaran, Mystica, just naturally take a long time. Some seven years ago, Mystica' s owner decided he wanted a mid-sized catamaran for charter work on Sydney Harbour and in Far North Queensland. He did lots of research and, relatively quickly, decided he wanted a Roger Hill design. He particularly liked the look of Roger' s designs: "they have beautiful lines that make them look like sleek monohulls from the side". 
He figured that a 13m version would be just right and the planning was begun. Relatively quickly, however, he realised that 13m might be a bit small. A 15.6m version was then settled on and the planning proceeded on that basis. However, as he continued to look around, research and check out other Roger Hill designs as they were launched, he (like the man from Jaws) suddenly realised: "I' m going to need a bigger boat". The final result is Mystica, an 18.3m elongated version of that 15.6m design. Currently completing sea trials in Auckland, it will soon be setting sail across the Tasman. There, it will be used for day charters, corporate team building and weddings on Sydney Harbour and upper market dive charters on the Great Barrier Reef. When not on charter, Mystica will be used for private pleasure cruising with the owner and family and friends. Originally intended to be a fully composite vessel, Mystica morphed into an alloy-hulled, composite superstructure combination as it grew. "At this size, it is far more cost-effective to do it this way," says Roger. 
The aluminium hull, built by Tauranga' s Alloy Cats has a flange around its topsides and the superstructure (built close by, by Pachoud Motor Yachts, would also do the interior and finishing) was then glued and screwed to this. E-glass, carbon fibre and foam are used in varying proportions depending on the strength and rigidity requirements in different areas.  Roger explains that this results in a superstructure that is lighter and better finished and one where the internal space is far less compromised than would be the case with an all-aluminium construction. That is not to say there is anything wrong, rough or uneven with the exterior finish of the hull. On the contrary, it is hard to tell, when walking alongside on the dock, that it is not composite or GRP too.
On board, it was difficult to believe that the owner' s choice of interior designer made her marine debut with Mystica. Rose-Marie Hillier (of the Sydney-based design firm of the same name) has done a lot of commercial interior design on land but this is her first vessel. She should consider doing more. While Mystica' s interior design is not ground-breaking in any way, it has that delightful, practical combination of simplicity and style that works so well. In the saloon, that means blue and white to contrast with the imposing black benchtop.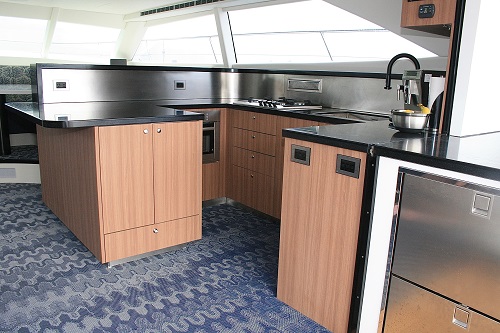 In the cockpit, on the flybridge and its accompanying poop deck, itis primarily black and white with some grey for variety. If that all sounds a bit dull, check out the photos; it' s not. It' s smart and clean and unobtrusive. In true Roger Hill fashion, there is as little as possible to separate the cockpitfrom the saloon. An enormous black benchtop straddles both zones, with just a small break in the surface for the enclosing window when required. Refrigeration also has a foot in both camps, so to speak, with a bottle fridge and a freezer on the cockpit side and another fridge in the galley inside. A day head, just out in the cockpit, means there is no need to navigate down into the hulls while enjoying oneself inside or out. (The head also provides handy rod stowage and there are built-in racks for drying wetsuits.) Mystica' s owner is an ex-yachtie and it shows. With several Sydney-Hobart and One Ton races under his keel he wasn' t about to mess around with one of those wide open, apartment-like galleys. His is a traditional rough water version, U-shaped for protection and practicality and capable of still being worked when the seas get up. That said, there is nothing particularly spartan about it. There is a Bosch 4-burner cooktop and accompanying oven, large, practical pull-out pantry drawers, stainless steel flashings on all upstands, a circular cut-out in the bench for handy trash stowage and a coffee machine permanently mounted (and I suspect permanently on) in the corner. The remainder of the saloon consists of a centrally-positioned raised dinette forward under the windscreen, a low settee to port, companionways down to the accommodation in each hull and another up to the bridge. The dinette comfortably accommodates five or six and has blue seat squabs with complementary blue and white back cushions containing an attractive coral-like motif. The table, like the cockpit and flybridge tables and the large benchtop, is Staron; however, unlike the black bench, all the tables are white. They also sit, rather strikingly, on black carbon fibre tube supports. The separate settee is a light blue and white, the flooring is Borlon from Italy and is a darker blue, and there are black accents everywhere: on the timber edgings and surrounds, on the sills and upstand tops and the flybridge stairs.
The black and white theme continues even more strongly up on the bridge. The settee, which runs along the entire starboard side, has upholstery that features black diamonds surrounded by white stripes. The dash, surroundsand chart table (and accompanying chair) are all black, as is the helm seat base and the bulkhead and mullion linings.
Providing welcome counterpoints are the white Staron table in the starboard aft quarter and the wraparound grey two-person custom helm seat. The dash is a smart carbon fibre affair dominated by twin Simrad MO19-T 19in MFD screens and notable for the complete absence of any steering wheel. Instead, Mystica is controlled by a centrally-sited toggle directing the Simrad AP28 autopilot. Other notable features on the bridge are the handily-placed satellite phone holder (ideal for a vessel that will be cruising well offshore) and, in the midst of all this very modern technology, a good old-fashioned chart table. An experienced coastal cruiser, Mystica' s owner obviously prefers the sensible "belt and braces" approach to navigation, using traditional paper charts alongside the latest digital versions. Sited immediately to port of the helm, his chart table has a separate free-standing chair, a large chart locker drawer underneath and enough space to accommodate a proper paper chart. He clearly likes to entertain and enjoy himself, too. Sonos speakers sit snugly on both forward quarters, there is an LCD TV high up on aft port quarter (one of four on board) and a wet bar, complete with another fridge, out on the poop deck. A great place to be on a fine day, this latter features a full-width transom bench seat (with black and white squabs to match those down in the cockpit), a rear-facing settee to starboard and space between the two for a liferaft.
I' m not sure what type of corporate team building exercises the owner is planning but there is probably enough room in Mystica' s cockpit for a barn dance or a one-on-one game of basketball. Following the maxim that you can never have too much cockpit space, Roger clearly has used most of the revised design' s extra length to create a great outdoor area. For' ard, by the galley, that huge bench top and the fridges, are good-sized L-shaped settees, both with carbon fibre tube topped tables. 
Aft, a large island transom houses a barbeque, sink (with pull-out shower) and several stowage areas. The lower of these has been cleverly allocated to the diving part of Mystica' s charters with a pull-out dive bottle rack and a filling outlet connected to the dive compressor below. There is more cleverness on the back of the island, too. The lid lifts up to reveal a davit, ideally positioned to launch the Southern Pacific Divesport custom RIB and its 20hp 4-stroke Suzuki from its home on the platform below.  While the cockpit is, of course, Mystica' s activity centre, those wanting to relax and catch the sun need only to head up the wide side decks and onto the huge squab-bedecked foredeck. This is easily large enough to accommodate several sun worshippers at a time and will provide a welcome retreat at rest and an exhilarating ride while underway.
Mystica has three cabins, a utility room and two amidships' heads in her hulls. The more spacious owner' s cabin and main guest cabin are forward while the third cabin and utility room, with its washing machine/dryer and additional fridge and freezer, are aft. The owner' s cabin on starboard is characterised by a large raised island berth and is easily the most colourful area of the boat. A striking red feature wall, flanked by mirrors, acts as a giant headboard, while the blue duvet and pillows provide a stylish contrast.
Oak timber side units and under-bed drawers echo the theme elsewhere as does the black leather bed surroundand step trim. A hidden wardrobe on the aft bulkhead opens by pressure and is an excellent use of the potentially dead space behind the well-appointed en suite. Over on port, the main guest is more muted in design and a little smaller, too. The berth is a forward-facing one set against the inner bulkhead and there is lots of open locker space in that attractive oak and a hanging locker set into the forward bulkhead. Both forward cabins have LCD smart TVs and there is air conditioning in all the cabins, in the saloon and on the bridge. Those wanting to watch sport or a movie in the saloon can do so on a large 55in Samsung Smart TV which, when not in use, is hidden away in the upstand between the galley and the saloon.
In October, Mystica will set sail, on her own bottom, from Auckland to Sydney. At this stage, it is not known whether she will be able to get to her first port of call, Lord Howe Island, using just the diesel in her 5400-litre tanks, or whether she will need additional fuel bladders in her cockpit. That will possibly depend on the conditions and whether she needs to increase speed to avoid an unpleasant weather system. If she does, her twin Iveco C13 825hp engines can propel the 26.25-tonne planing catamaran to a top speed of 30 knots and a sustained cruise of anywhere between 18 and 25 knots. However, it is more likely that she will make most of the journey at a more sedate 6 knots or so, with a possible burst of speed near the end if conditions and fuel supply allow. With a 10% reserve there is 4,860L of fuel to use so at 1600 rpm and 17.6 knots we have approx. 1110nm range. At around 10 knots the range is approx. 1780 nm. So range to Australia or to the near Islands looks feasible at an ' on the plane' cruising speed, no need to sit on 9 or 10 knots which is good. Once in Australia, there is little doubt that she will perform superbly in her dual roles as a practical, luxurious day charter vessel and a ultra-comfortable private pleasure boat.