With the launching of Hill Cat Equinox 7, New Zealand's most prolific power and sailing catamaran designer, Roger Hill, has delivered a superbly practical and efficient semi displacement pilothouse powercat that's paramount function is serious ocean passage making.
Hill's brief by the owner was for a vessel with the ability to cruise at 20 knots for 1000NM, a big ask for a 50' powercat. Hill explained that given the requirements a whole new approach was required, with a different hull form to his more normal planing cats.
The obvious way to go was for a semi displacement shape which should deliver what the US owner was after. However, considering the specifics laid down by the owner and to make absolutely certain that all his calculations were right, Hill had a full CFD analysis done at the MARIN Institute in Holland. This not only confirmed that he was on the right track, but also helped with engine selection and range calculations.
The CFD analysis (instead of the much more expensive tow tank test!!) results came back showing that in comparison to similar designs the boat would perform well.
"One suggestion from them was to try a 'wedge' in the aft end of the prop tunnel. The tunnel was designed for a straight run out the transom which would not generate any added stern lift", says Hill.
He adds, "On a similar designed semi displacement cat that was finished before this boat was launched we left the wedge out of the tunnel to start with and then fitted it after the initial sea trials. This improved the performance a little so we built a wedge into the Equinox tunnels before it was launched".
The hull is fitted with a full length skeg/keel as was the second large semi displacement cat, which allows the boat to dry out on a hard stand or ramp or beach and affords protection to the props and rudders when running in shallow water.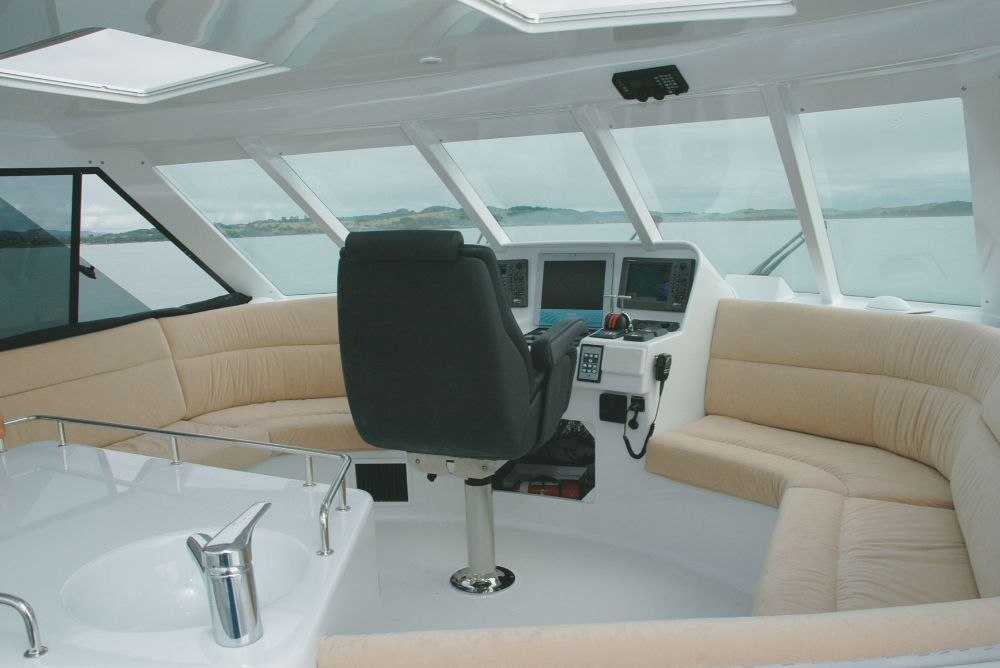 "On more recent designs we tend to use a similar protection feature but make it shorter. The longer skeg does not seem to affect the manoeuvrability and adds to the hull form's natural straight line tracking ability", says Hill.
The prop tunnel is not necessary on a semi displacement hull but does reduce the draft and makes it easier to fit protection. An added benefit is a reduction in buoyancy aft, which allows the engine to be further forward compared to a normal planing hull form.
This hull form is designed to perform most efficiently in the 15 to 20 knot band of cruising speed and has very good economy at less than 15 knots which means a very good long range ability with the tank volume provided (5,200 L standard, plus an extra 1,600 L for longer range).
Shortly after our test session in the picturesque Bay of Islands, Equinox 7 was due to be delivered to its new owner in Brisbane and then destined for the Sanctuary Cove International Boat Show. With experienced delivery skipper John Menzies in command, the plan was to start off for the first stage of the 1200NM direct run from Auckland to Brisbane at 1400 rpm @ 9.2 knots, which at 11.37L/h per engine gives Equinox 7 a range of over 1500NM. As the delivery team gets closer to Brisbane the plan is to be able to increase the speed a few knots if required due to weather or unforeseen circumstances.
The twin Caterpillar 3126 engines consume around 120L/h in total at 20 knots, which allowing for a 10% reserve in fuel gives Equinox a range of close to 800NM. There's a 'sweet' spot at 2200 rpm @ 18.0 knots with a fuel consumption of around 90L/h, which relates to 5 litres per nautical mile or a range of 931NM with a 10% reserve.
Running Equinox 7 on mirror smooth waters in the Bay of Islands, we recorded a flat out speed at 2865rpm of 24.2 knots.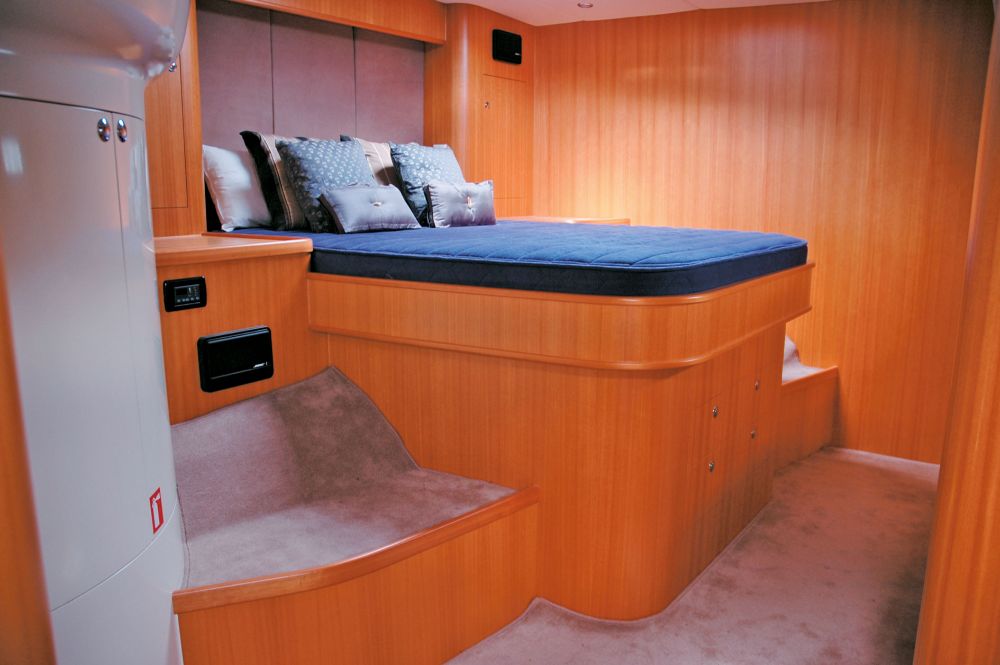 SPEED & EFFICIENCY FIGURES
RPM
knots
L/h Both
L/NM
Range with 10% Reserve
1200 rpm 
7.4
22.74
3.1
1500NM
1400 rpm 
9.2
30.36
3.3
1400NM
1600 rpm 
10.2
53.06
5.2
900NM
1800 rpm  
11.5
68.22
5.9
790NM
2000 rpm 
14.8
83.38
5.6
831NM
2200 rpm 
18.1
90.96
5
931NM
2400 rpm 
20.4
121.28
5.9
787NM
2600 rpm 
22.1
151.6
6.9
682NM
2800 rpm  
23.4
189.5
8.1
578NM
Calculations based on 5200 litres of fuel.
Construction is a full foam cored composite, which has produced a very tough, lightweight, and rigid structure that will stand up to whatever is asked of it. Displacement is 24000kg in fully loaded mode.
Equinox 7 was built in New Zealand at Opua in the Bay of Islands at the yard of Alan Legge Boatbuilders and finished nearby at Kerikeri with Craig Partridge and is a superb example of high quality Kiwi craftsmanship in composite construction, joinery fit-out, electrical and mechanical installation to a very high standard.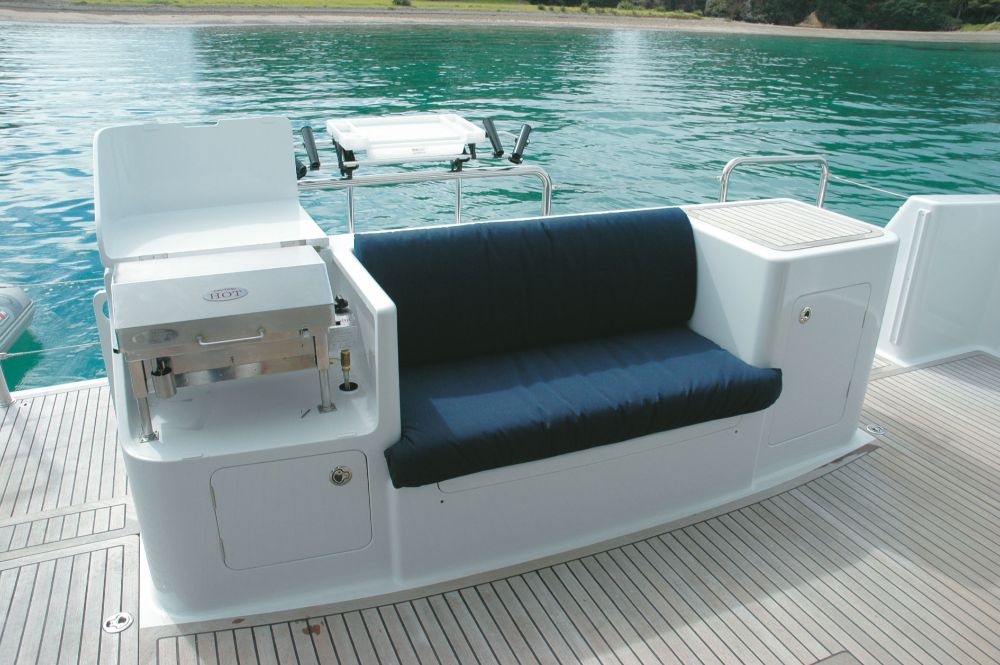 Equinox 7 is a three-cabin design plus a service cabin with clothes washer/drier and genset space. The lower deck has three double cabins, one owner's with ensuite, one guest with ensuite and a third guest double, all in the hulls.
The owner's cabin, forward in the starboard hull, is spacious with an athwartships island berth with steps either side for ease of access. Headroom is generous and there are ample hanging lockers and storage spaces to keep all your clothing stowed. A drop down TV provides the entertainment and like all the cabins throughout Equinox 7 you have your own dedicated air conditioning system.
Directly aft is a surprisingly spacious owner's en-suite, which comes complete with a large moulded vanity, head and walk-in shower cubicle with glass doors. This is mirror imaged opposite in the port hull and shared by the guests.
Further aft of the stairwell leading to the main saloon is the generator and laundry room. While in Equinox 7 it is a work space, this area could be designed as a fourth cabin if required – something that anyone putting a boat like this into charter would probably consider.
The remaining cabins are both in the port hull, with a shared en-suite splitting the two. The forward cabin double berth is situated over the tunnel roof, while the aft cabin double berth is within the beam of the hull. Each has loads of storage options, plus the aft cabin provides internal access to the engine space via a bulkhead hatch. The cabins, like the entire vessel are finished with spruce timbers and matching veneer panelling, with lightly shaded soft fabrics in the bulkheads and ceilings. Coupled to the natural light fed through a generous number of deck and side ports and hatches, even the smallest areas are well lit.
One of the things I like about powercats is the space they provide, especially on the main deck area. Equinox 7 really makes great use of the almost 6m beam, with the main deck interior divided between the galley, lounge seating, dining, and primary helm station, with side door access to the deck.
Equinox 7 has two helm stations, with the secondary helm on the upper deck. Surrounded with plenty of seating, a wet bar and fridge, it's likely to be where you would spend most of your time when coastal cruising. Plus there is a davit crane, and dinghy storage aft. Although not a completely enclosed hardtop, the upper helm area is also air conditioned.
On the main deck level the aft galley is well appointed with all the necessary requirements for food prep on both coastal and offshore passages. There is a handy servery through to the cockpit and an extra large composite vanity with plenty of space.
Opposite is a casual lounge with a coffee table, but it could also double as an extra berth if you need it. For'ard, the main saloon is split on a raised platform between the port side helm and the starboard side U-shaped dining area, large enough for 6-7 diners. A neat feature is the port side door onto the side deck, which provides quick access to the foredeck from the helm position.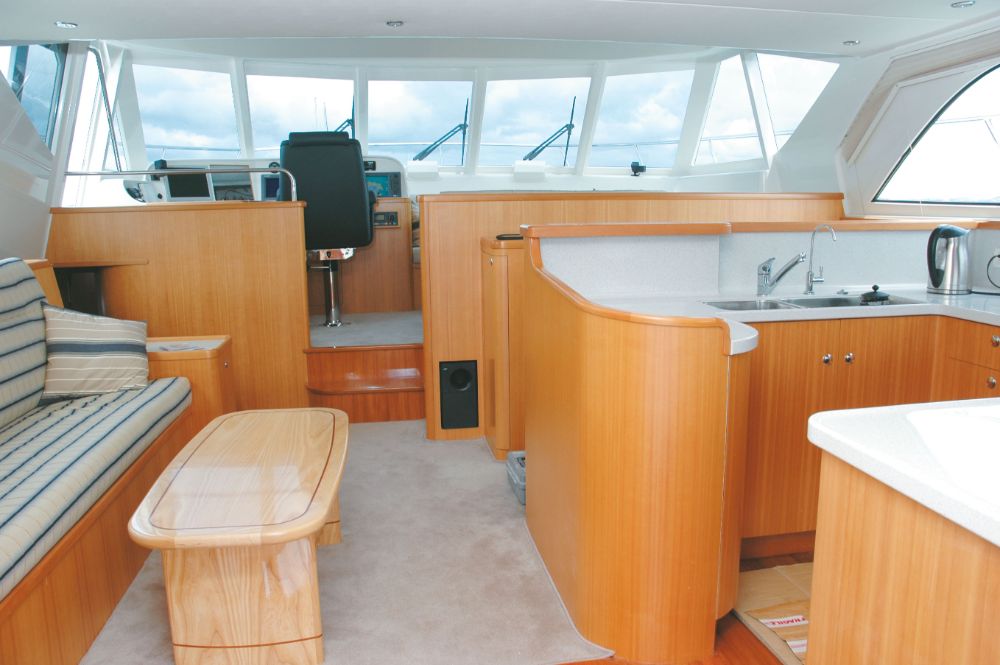 Due to the fact that Equinox 7 is destined for offshore passage making, the electronics package is very substantial for a vessel of this size. The original American based owner had plans to live aboard and cruise around NZ for a while before heading off to explore the Pacific islands and eventually arrive back in the US to continue his cruising along the West coast and into the Atlantic. However even now under the new Australian owner, there are plans to do more than just hang around the Broadwater and Tangaluma.
Equinox 7 has a full Furuno Navnet package plus extras such as night vision, forward facing sonar, satcom and SSB.
The split level cockpit is all about making the best advantage of the space available. To port is the day head and starboard a huge freezer with a central island complete with a BBQ, gas bottle stowage and double settee. Over the back of the transom on the full width aft boarding deck is another settee, with storage under for ropes, outboard fuel tank and shore power leads.
Equinox 7 has a central fishing board and rod holder combo mounted on the central railing. The aft rails are also removable.
While passage making powercats are not the norm, they are slowly being accepted and those who have 'gone to the other side' would rarely return to a mono. They offer unequivocally more space per metre and if you get the underwater sections right, an extremely economical boat in which to go cruising.
Equinox 7 is an outstanding example of a custom built power cat, not only in its construction and finish, but also by design. Roger Hill has incorporated a lot of his proven ideas from previous power cats into Equinox 7, a boat that has been purpose built to go offshore.
Roger Hill Yacht Design is one of the busiest design houses in Australasia, with over a dozen commissions in various stages of progress. Launched recently was the first of the new Argus 35s in Australia, and at Dave Pachoud Boatbuilders in Tauranga he has a new 20m displacement power cat and also a high speed 16.5m planing cat underway and the yard  recently launched a 14m planing cat). There's also a new 11.14m alloy planing cat in Auckland, a 21m alloy planing cat being built in Palmerston North by Profab Engineering for a South Island client and even a couple of high speed outboard powered weekender powercats for Kiwi clients.
Hill's latest 15.2m Pilothouse powercat was his first into the expanding field of passage making power cats and it will not be the last, that's for certain!
Design name: Hill 15.2m Pilothouse Powercat
Builder: Alan Legge/Craig Partridge
Designer: Roger Hill
Interior designer: Roger Hill
Year launched: 2011
LOA: 15.2m
LOH: 15.00m
LWL: 13.69m
Beam: 5.9m
Draft: 1.05m
Displacement: 19 tonnes (Light ship)
Max speed: 24.5 knots
Cruise speed: 18 knots
Fuel capacity: 5200 litres (Std) + 1600 litres (long range)
Water capacity: 1000 litres
Construction: Foam core & E Glass laminates
Classification: CE & QLD 2C
Engines: 2 x Caterpillar 3126 @450mhp
Gearboxes: ZF 2.06:1
Propellers: Bri Ski
Inverter: Mastervolt 5kVA
Generator: Fisher Panda 11kW
Watermaker: Spectra Newport
Interior lighting: BLA Nova
Anchor winch: 2 x Lofrans Albatross
Anchors: Rocna
Steering: Kobelt Electronic
Controls: Kobelt Electronic
Wipers: Hepworth
Paint (antifouling): International Longlife
Paint: Altex Devoe
Hatches: Lewmar
Heads: Tecma
Air conditioning: Marine Air
Veneer/Plywood: Spruce
Upholstery: South Pacific Upholster
Stainless steel: Fell Engineering
Tender: Avon/Yamaha
Davit crane: Davco
Liferaft: RFD
Gamepoles:    Chatfield
Autopilot: Furuno FAP 330
GPS/Plotter: Navnet VX2
Depth sounder: Navnet VX2
Radar: Navnet VX2
Sonar: Echopilot   
Satcom: Furuno
SSB: Icom M802
VHF: Horizon Spectrum
Night vision: Oceanview Apollo II
Ent system: Bose
Priced from: $NZ2.5m