Hill 20m – Lola
No Kinks in Lola
The latest collaboration between designer Roger Hill and boatbuilder Dave Pachoud is a stunning triumph for both.
Words by Mike Rose/ Photographs by Andrew Ogilvy/Pachoud Yachts
There was a fair amount of ambiguity, confusion and misrepresentation in Lola, that famous 1970 song by The Kinks. In contrast, there is absolutely none at all in the recently launched 19.4m semi-displacement power cat of the same name.
Designed by Auckland power catamaran specialist, Roger Hill, and built in Tauranga by the renowned Dave Pachoud of Pachoud Yachts, Lola is an incredibly impressive combination of clever, innovative design, unashamed luxury and fastidious boatbuilding.
A sedan-style power catamaran, Lola is largely the result of a chance encounter in downtown Auckland. Her owner had been cruising offshore in his then pride and joy, a traditional flybridge monohull, and upon his return noticed Voodoo (a previous Hill/Pachoud creation) in his Viaduct Harbour berth. Impressed with the styling and having heard of Voodoo's fast passages across the Tasman and around the Pacific, he contacted Dave. The two enjoyed a number of "boating conversations" and a few short months later Roger was commissioned to complete the design. Building began in May 2014 and Lola was launched 15 months later.
The design criteria on which Lola is based were relatively simple if a tad unusual. What was required was a good-sized, comfortable, long range cruiser able to cross the Tasman or voyage to the Pacific Islands at a reasonable speed, without the need for additional fuel drums lashed to the deck. Fuel efficiency and economy were, therefore, essential as was a substantially variable load displacement.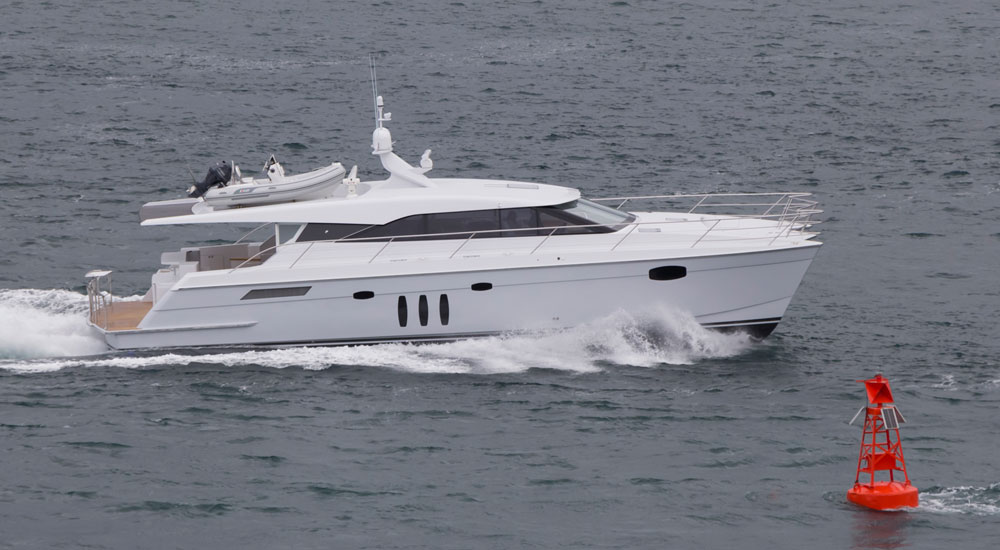 The result is a catamaran that, powered by just two Caterpillar C9 565hp diesels can cruise at 16-18 knots for more than 1500 nautical miles on the 12,000 litres of fuel in its integral tanks. Furthermore, it can do this, with a fair degree of comfort for those on board, in just about any conditions.
It can also achieve these numbers, with very little variation, regardless of how much weight is on board. 12,000 litres of diesel is obviously not light and nor are the 3200 litres of water and 600 litres of waste that she is capable of carrying. Add in all the appointments, including several desk lamps that need two hands to hold up, food and drink for up to 8 people for several weeks at a time, two tenders with outboards and all the "extras" a vessel like this tends to carry and, fully loaded, Lola can have a displacement of around 40 tonnes.
On the other hand, in lightship mode, the displacement is just 28 tonnes, meaning Lola has an impressive 12 tonnes of variable load displacement.
Roger Hill and Dave Pachoud have worked together a lot. Over the past 18 years, they have collaborated on some 13 different vessels and they know what it takes to create a boat that is both good-looking and superbly functional.
Lola is certainly no exception. Her owner is a keen fisher but clearly not a fanatic. Therefore, while Lola has absolutely everything one needs to successfully catch fish, it is also only positioned where it needs to be: in and around the platform. This is of the hydraulic rise and fall variety, allowing the smaller of Lola's two tenders (which in lives in a "garage" that opens onto the platform) to be pulled out, dropped down and easily launched from a convenient 400mm below the surface.
The platform is protected by a series of stainless steel pushpits that can be independently lifted and swivelled out of the way (or be removed entirely) to provide unimpeded access to the water. A custom bait board is situated on the port-most pushpit and there are tuna tubes and a live bait tank close at hand, and a pop-up sounder module (linked to the Simrad system at the helm), along with a sink, on the bench behind.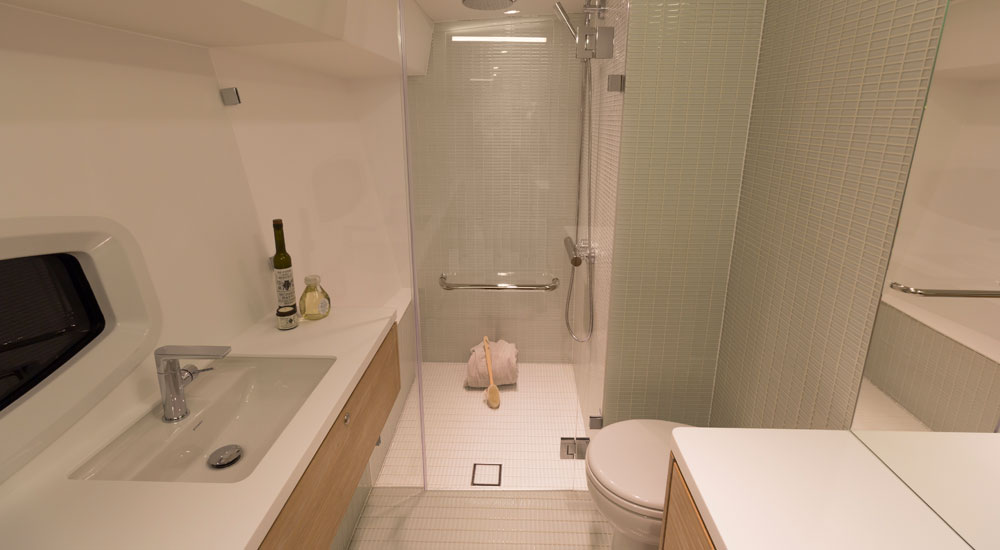 The upper level of the cockpit or "mezzanine" area doubles as Lola's dining area. A large table, supported by a long settee and an additional six free-standing chairs, dominates the space, which is protected by a cantilevered deck above and an innovative system of clears on all three sides. When in position, these totally enclose the upper deck, providing a dry, sheltered environment in which eat and relax. When not required, the clears disappear into specially designed cavities above courtesy of a remotely controlled actuator. A day head has thoughtfully been installed alongside.
In another clever move (there is no shortage of them on board), there is no dividing step between the outdoor dining area and the saloon. The two are on the same level with just a stylish drainage grate between them.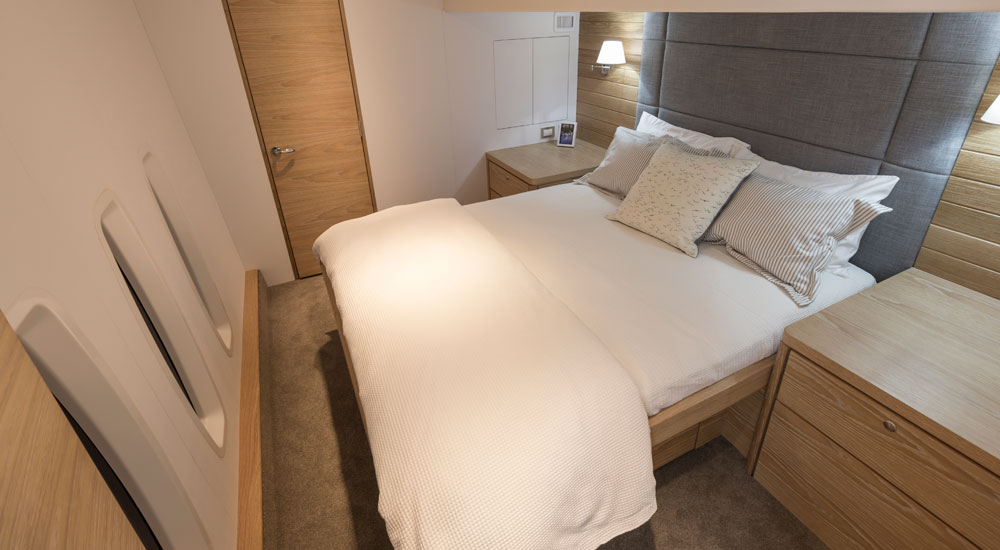 While the design inside is just as innovative, it is the superyacht-style detailing that first catches the eye. Blonded oak timberwork and flooring are perfectly complemented by white bonded vinyl on lightweight panels and bluey-grey upholstery, with white Corian bench tops and stainless steel appliances providing the contrasting accents in the galley.
There are stylish touches everywhere: from the custom-built carbon fibre three-screen dash, to the carpeted inset under the main coffee table; from the timberwork's recessed accents (especially noticeable in the galley's after bulkhead) to those weighty glass and steel lamps.
Although Lola's galley is aft to port and her helm station forward to starboard, there is little else conventional about this saloon. There are two lounge areas for a start, both with low-slung coffee tables. There are variations in both ceiling and floor heights, too, helping to create the impression of quite distinct areas, even though the saloon is actually one large open plan space.
The smaller of the two lounge areas (a three-seat settee and a perpendicular free stander) is across from the galley and also, therefore, close to the al fresco dining area. The larger one is in the upper part of the saloon, across from the helm station, and is a more substantial U-shaped affair.
The well-appointed and substantial galley is an integral part of both the saloon and the al fresco area. It is also comparatively compact, as an ocean-going galley needs to be. A residential-style upright fridge and freezer, a pull-out fridge drawer and twin ovens are further complemented by a dish drawer dishwasher, a four burner gas hob and a trash compactor. Thanks to a largely "disappearable" aft bulkhead, the galley opens out directly onto the cockpit's upper deck making it a simple matter to pass food, dishes and drinks back and forth. There is also a brace of pull out fridge drawers in the upper cockpit console designed, one suspects, to ensure cold drinks are always close at hand.
Other noticeable features of the spacious saloon are the electrically controlled window panels forward that noiselessly open and close to control air flow; the otherwise hidden large TV screen, which electronically rises into place when required; and that stylish dash.
With its three 16" Simrad display screens, carbon fibre accents and carefully thought out ergonomic design, Lola's helm station is a virtual work of art. Two Simrad processors and a screen dedicated to the ships' computer make it easy to monitor and control all of the onboard systems (radar, sounder, chart plotter, pilot, night vision thermal cameras and C-Zone). All the other systems (VHF radio, the stylish ZF controls, engine readouts, etc.) are all within a glance, too. As elsewhere, there are lots of nice little touches: carbon fibre drinks holders (four in total) and a small open locker for the computer mouse (and which probably accommodates such things as cellphones and sunglasses, too) are a good example.
One of a catamaran's great advantages is the ability to have a number of completely separate sleeping quarters. No-one is better at making the most of this space than Roger Hill.
There are four separate double cabins, reached via three individual companionways, meaning Lola can comfortably and privately accommodate eight without the need for anyone to clutter up the saloon.
The main cabin, reached via a companionway alongside the helm station, is a very special space. Predominant is the large, raised island berth with its headboard window showing a view of the bow. Alongside is an L-shaped desk suitable for use as an office with two accompanying free-standing chairs.
The en suite is a small step down to port and features glass tiles on the floors and some of the bulkheads, a large shower stall, twin sinks against the outer bulkhead and a full-length mirror.
The main guest cabin is in the port hull and is most noticeable for its 3D Marilyn Monroe motifs, inset into a thin sheet of Corian, at the bottom of its central companionway. It, too, boasts a shower and bathroom, along with a padded headboard that faces out through Lola's striking elliptical portholes.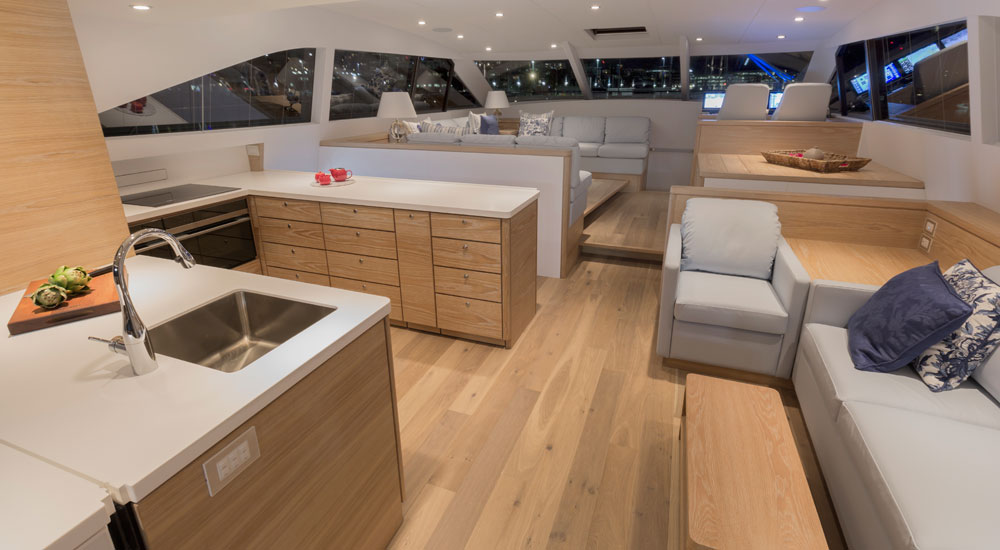 The smallest of the four cabins is aft of the "Marilyn wall" and has a large double berth set against the internal bulkhead.
The fourth cabin, over on starboard, has a similarly situated double berth, along with a shower, toilet and the ship's laundry.
As has been mentioned, there is no shortage of innovation on Lola, a result of the long-time collaboration between designer and builder and an experienced owner with lots of good ideas of his own.
The innovation begins with the vessel's composite construction, which, in this case, appears to mean that virtually every possible form of modern construction materials has been employed. The hull consists of a plywood core supported with structural GRP. Internal construction is a combination of GRP with a foam core (for the bulkheads) and GRP with a plywood core for everything else. The cabin top is a carbon fibre/foam core combination while the deck is ply/foam/ply.
That carbon fibre cabin top is, remarkably, strong enough to cantilever back across the entire upper cockpit without any additional support — and able to carry a 4m centre console tender, its 60hp outboard and the crane required to launch and retrieve it.
With no additional supports, there is also no obvious way to access the cabin top, so the design team has created one. A pair of what first appear to be cutting boards pull out from the front side of the upper cockpit console and act as steps onto its top. From there, one reaches up, opens a hatch and pulls down a three-quarter ladder on which to complete the climb.
Other great innovative touches abound: there is the chilled rubbish locker inside a large hold in the bow, so the rubbish doesn't smell while waiting to be dumped ashore; a huge under-the-saloon locker, accessed from the forward companionway, makes good use of otherwise dead space; hinged panels behind the dash give easy, unimpeded access to all those electrical and electronic systems; a lower cockpit icemaker, capable of producing both fresh and salt water ice; the pop-up steering station in an upper transom locker, hidden until needed and then perfectly positioned.
PERFORMANCE & FUEL FIGURES
Engine             Speed     LPH                  Range (NM)
RPM                  (Knots)                            95% Capacity
1000                 7.1           18.0                   4497
1200                 9.1           28.0                   3705
1400                 11.0         46.0                   2260
1600                 12.0         68.0                   2012
1800                 14.1         90.0                   1786
2000                 17.6         120.0                1672
2300                 21.4         160.0                1525
2500                 23.6         210.0                1281
2544                 24.2         220.0                1254
Boat Design Name: RHYD 20m
Boat Name: Lola
Year Launched: 2015
Designer: Roger Hill
Builder: Dave Pachoud
LOA: 20m    
Beam: 6.85m 
Draft: 1.3m
Displ (loaded): 35,000kgs
Max Speed: 25 knots
Cruise Speed: 20 knots
Construction: Composite
Fuel Cap: 12,000 litres
Water Cap: 3200 litres
Engines Make: Two x Caterpillar C9 565hp
Drive Train: Chatfield Engineering
Propellers: Austral 5 blade
Generator: Cat c2.2, and C 1.5
Inverter/Charger: Victron
Air Conditioning: Webasto
Watermaker: Open Ocean
Bow Thruster: Sidepower
Anchor Winch: Savwinch
Anchors: Sarca Excell
Steering: Brevini
Engine Controls: ZF Smart Command
Lighting: Hella
Paint (Antifouling): Hempel
Hatches: Lewmar
Wipers: Hepworth
Windows: Alutech
Porthole Hatches: Alutech
Heads: Techma
Woodwork: Pachoud
Liferaft: RFD
Davit Crane: ADC
Tenders: AB RIB
Stainless Steel Fab: Pachoud
Saloon Doors: Alutech
Helm Chair: Pachoud
Upholstery: Pachoud
Searchlight: Go Light
Autopilot: Simrad
MFD:   Simrad
VHF:  Simrad
Price As Tested:  POA