Big or small boat's need a capstan if you want to take the stress out of anchoring.
In our first two articles we explored the history of anchor winches aboard powered trailer boats and then, more generally, power boats between about 10m and 30m. In part 3 Ron Czerniak looks at anchor winch controls and accessories.
Whether your vessel is a 6 metre runabout sporting a simple capstan winch or a 30m luxury cruiser featuring a sophisticated dual anchor winch and stern handling capstan system, it is safe to say that the availability of a wide range of anchoring solutions is a varied and as numerous as there are boat manufactures and boat models.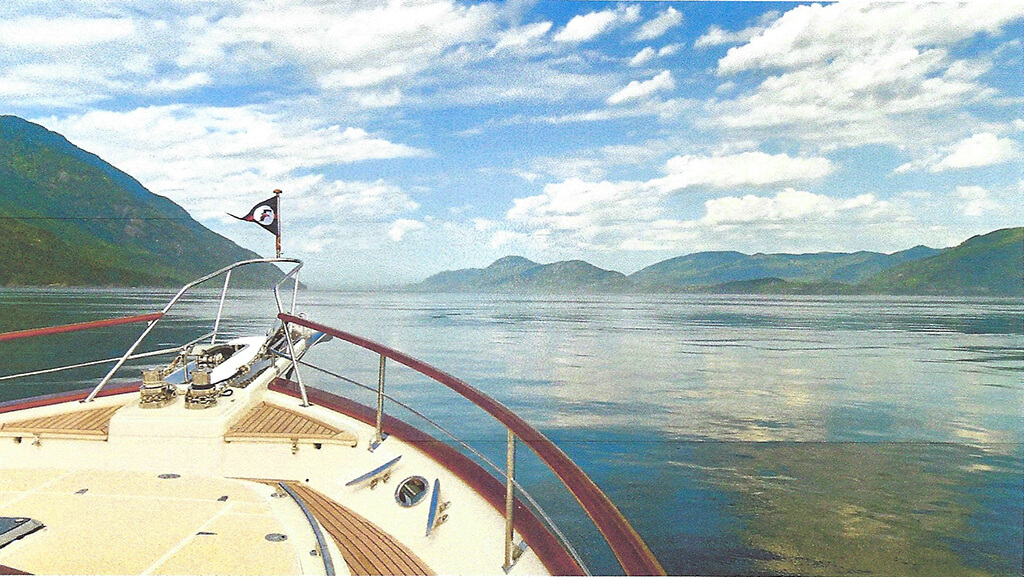 But why so many variations? Simple. What does the boat owner require for a particular vessel? Usually it is a case of need dictates system. On a small trailer boat, often all that is required is a simple, inexpensive and easy to install and use capstan winch capable of manually hauling a combination rope/chain rode. This consists of perhaps 6mm short link chain connected to a longer length of 8 mm nylon rope, around the capstan drum. Whereas on a large, modern cruiser or an ocean going traditional "trawler type" designed vessel, possibly a more complex twin vertical anchor windlasses, or dual chainwheel horizontal windlass and stern handling capstan system is needed.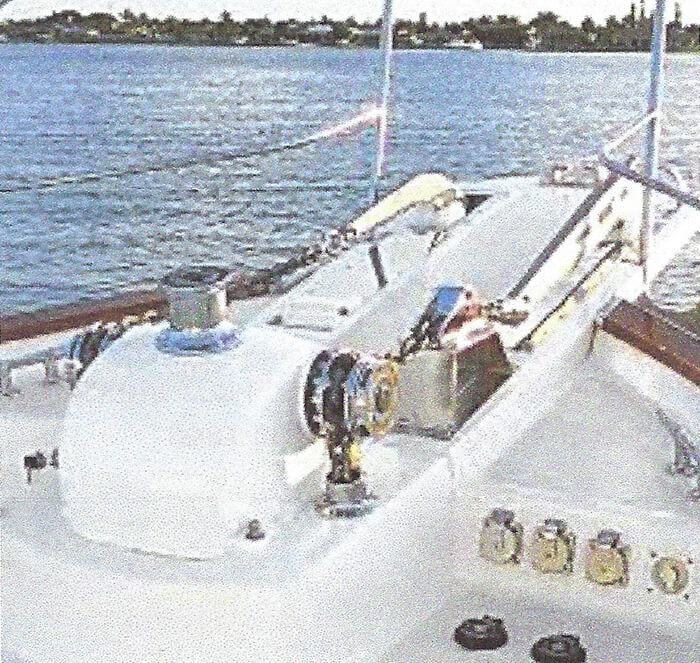 One type of anchor winch, while becoming more popular on larger trailer boats, but as yet not seen much, if at all, on grander 10 to 30 m pleasure craft, is the drum reel winch. Although feasible, as witnessed by the number of large drum reel winches on commercial fishing boats, perhaps the main reason owners of large, sleek pleasure craft are not keen on this type of anchor winch is simply that they are, to say the least, they were unsightly.
But not so today. Modern drum reel anchor winches, which are now being installed on many makes of trailer boats, have been designed in such a way that in most cases; providing the boat's anchor locker is of sufficient size, the entire winch, motor, rope and chain are able to be housed below deck. This gives the owner all the benefits of a concealed anchor winch, thus overcoming the aesthetics issue. There is no reason that a drum reel winch cannot be installed on a 20 m pleasure craft, and indeed, some companies such as Lone Star in Australia have a model (GX5) suitable for boats of this size. The only constraint to having the complete system installed below deck, is the size of the anchor/chain locker up forward.
In addition to the wide variety, size, design, configuration and type of anchor winch available, there are also numerous ways to power the winch (manual units aside). Considering electrically powered winches alone there are 12 volt, 24 volt and more recently 48 volt DC (Direct Current) units of both the permanent magnet and series wound motors types, increasingly and more specifically designed and manufactured for the marine market.
In addition to DC electric, when we start getting into larger vessels, AC electric becomes another common option. The third popular option, particularly on larger vessels, is hydraulic. And, it is oft been said that hydraulically driven windlasses are perhaps the best option, whenever feasible, to install on a given craft. Although generally a bit more expensive to install initially, they tend to be more reliable and can be run all day, every day. Not that this is likely in regards to anchor winch use, but nice to know. In addition, hydraulic units and the hydraulic system itself, are by far the lowest maintenance of the three.
ANCHOR WINCH CONTROLS AND ANCHORING ACCESSORIES
Needless to say, that in order to operate a windlass (deploy or retrieve the anchor), no matter what type of unit being considered, you need controls and other essential and perhaps non-essential, but nice to have, optional control accessories.
First and foremost are up/down controls. In other words, a switch of some sort that enables the windlass to be activated to either power down the anchor or power it up (lift) after having been anchored. Although "free falling" the anchor is also an option, we will leave that discussion for another time.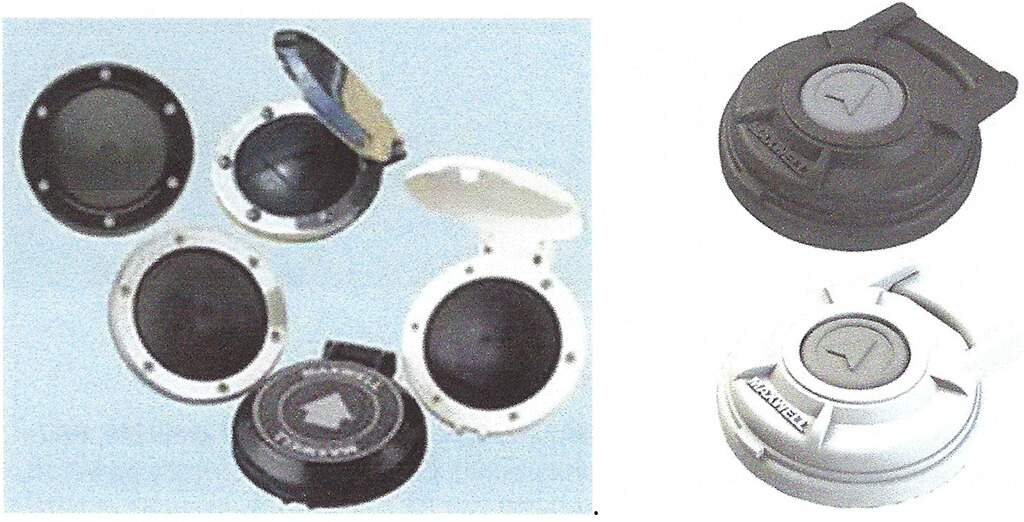 The simplest and still one of the most common windlass controls are basic waterproof footswitches.
These come in a variety of designs and are usually available covered or un-covered. They are generally mounted on the foredeck in close proximity to the windlass and usually, close enough to the windlass so that the operator can access the winch if necessary (for instance should the rope or chain jam).
Sometimes a single footswitch is mounted on the forward cabin sole of a trailer boat, so that if operating a simple capstan winch for example, the operator can stand up in the forepeak, head and shoulders through the forward hatch, and activate the footswitch in order to haul in the rode around the capstan drum.
By far the most popular windlass control unit however, is the helm station up/down switch, often used in addition to foredeck mounted footswitches. The helm station switch, used in conjunction with a reversing solenoid unit, enables safe and convenient operation of the anchor winch from the protection of the helm station. It should be noted that both these types of switches must be used with a circuit breaker/isolator switch for added safety.
By integrating the helm switch, circuit/isolator, and dual direction solenoid units, this combined system is really all that is required to adequately and safely operate the windlass and/or stern handling capstans if installed.
However, there are more control devices, should the boat owner wish to install them, to make life even easier when it comes to deploying or retrieving the anchor. For example, panel mounted combined windlass controllers and rode counters, hand held remote combined windlass controllers and rode counters (both available wired or wireless). Often incorporating the ability to also control deck wash and spreader light functions as well as being able to operate a bow and/or stern thruster if fitted. Or, the boat owner may just want to install a simple and inexpensive, helm station mounted rode counter.
Over the past few decades several companies have worked on developing devices that would let the helmsperson know how much rode they were letting out while deploying the anchor. A very important aspect of anchoring, as it is well known that the amount of anchor chain (rode) is instrumental in successfully setting the anchor and ensuring that it holds on the seabed, once set.
Without going into details of how to properly anchor your boat suffice it to say that the common rule of thumb when anchoring with an "all chain" rode and depending upon weather and sea conditions, is a minimum of five to seven times the depth of water. So, if you have ascertained that you are going to anchor overnight in 5m of water (remembering to allow for tidal movement), then you should be employing a minimum of about 25 to 35m of chain. If you are using a combined rope/chain rode, then at least 50% more rode should be deployed depending how much of your rode is chain. The less chain, the more scope required. Scope is defined as a ratio of the length of an anchor rode from the bit to the anchor shackle and the depth of the water under the bow of the boat measured from deck height.
Another factor to take into account is catenary action. Chain forms a catenary, or curve, in the rode that helps keep the pull on the anchor horizontal so that it digs in when tension comes on it, even with less scope. An all-chain rode has some advantageous catenary in all but the strongest (say, hurricane) winds. The catenary effect can also be achieved and enhanced by attaching a heavy weight — called a kellet — to the rode.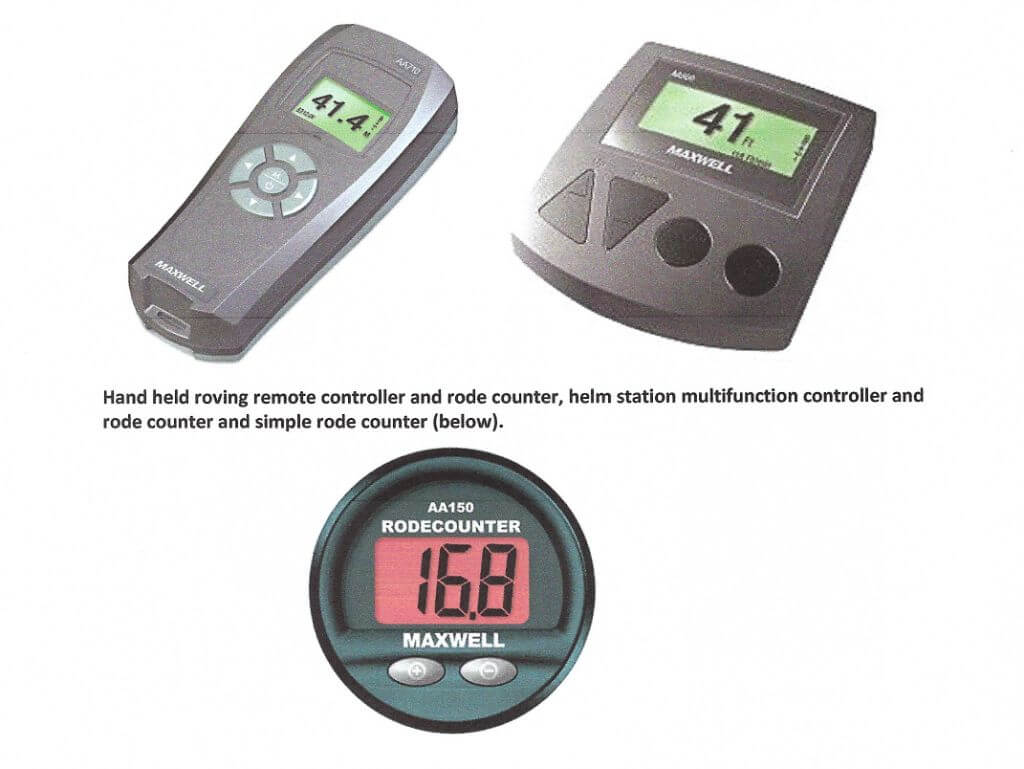 So, awareness of what depth of water you are going to be anchoring in (depth sounder), what kind of seabed your anchor has to 'dig into' (nautical chart) and what the weather and sea conditions are likely going to be while you lay at anchor (marine forecasts), make knowing how much rode you have out, crucially important.
Although there are very simple means of judging how much rode you are deploying; for example, painted links or tying on a nylon cord or cable tie for every 3m of chain will enable you to visually see how much chain you are deploying or retrieving. However, these days, more and more recreational mariners rely on the convenience and accuracy of rode counters. The AutoAnchor system, designed and developed in New Zealand almost three decades ago by Auckland couple, Brian and Janice Dowle, is perhaps the most widely used type of rode counter anywhere in the world and the likes of Maxwell, Muir, Lewmar and Lofrans all offer their own branded version of these systems. Companies such as Quick have developed their own, but similar, systems. Basically a chain counter or rode counter takes the stress out of anchoring and it is a lot easier than painting or marking the rode each season.
Chain counters or rode counters can be fitted to almost any size and type of windlass – electric, hydraulic or AC powered and using either rope/chain or all-chain rodes.
Most Modern day rode counters come with a kit that includes a console display unit plus a magnet and a sensor. The magnet is fitted into the chainwheel of the windlass and the sensor is fitted into the deckplate. Many windlass manufacturers are now routinely fitting the magnet and sensor during manufacture of the anchor winch. The magnet and sensor are aligned so that every time the windlass rotates the magnet passes over the sensor. To work properly rode counters must be calibrated for the particular anchor winch and rode on the boat and can generally be used with freefall and drum reel winches.
Bow rollers and chain stoppers are often dismissed as either being unnecessary or unthought-of when it comes to completing the anchoring package aboard a boat of any size. In fact, these two simple items are extremely important for smooth and safe anchor deployment and while the boat is actually anchored. A well designed and installed bow roller, whether you have a trailer boat or small superyacht, can make all the difference when it comes to anchoring.
Finally, the one piece of anchoring equipment perhaps most overlooked by many boaters, is the humble chain stopper. Whether this be a very sophisticated stainless steel stopper and pawl set-up or simple 'lanyard' design This is perhaps the safest piece of anchoring equipment you can install and use on your boat, whether at anchor or underway.
Once you have deployed your anchor and are ready to settle in for the night, simply by engaging the chain stopper on the anchor chain, you totally secure your boat and, just as importantly, you take all the strain of your anchor winch. Anchor winches are designed to deploy and retrieve the boats chain and anchor. They are not designed as a mooring point!
Equally, once you have retrieved your anchor and you are ready to get underway, by simply ensuring that the chain stopper is 'locked' into position, securing the chain, there is virtually no chance of the anchor self-launching itself while the boat powers through rough (or even calm) seas. Anyone who has seen an anchor self-launch while cruising along at 20 knots will understand what that anchor and chain can do to the hull. Installing a chain stopper is cheap insurance!
Even on a trailer boat, a chain stopper (snubber) of some sort, should be employed. An added benefit of using a rope snubber while laying at anchor is that you won't have to listen to the chain scraping along the seabed (especially if rocky) all night as the boat is, in fact, anchored off the rope snubber, not the chain.
The anchor tensioner is a simple, adjustable and easy to use, securing the anchor firmly into the bow roller; taking the weight off the windlass and preventing accidental deployment of the anchor while under way. Fixed to an existing cleat or bollard, there is no installation required and once the tensioner 'claw' is hooked onto the chain and the cam-action lever locked and further secured with a quick release pin; the anchor is well and truly secured.
EVOLVING AND FUTURE TRENDS IN ANCHORING?
Dynamic Positioning Systems (DPS) have certainly become more mainstream in the past few years. Once solely the domain of commercial survey and oil exploration vessels, they are now entering the recreational boating market and even trailer boats are benefiting from variations of these sophisticated, big boat systems. Remember, it was not that long ago that the idea of self-driving automobiles was the stuff of science fiction. Even my four year old mainstream SUV has the capability to park itself once I've arrived at the supermarket parking lot. So, imagining anchoring without an anchor is not that far-fetched.
Dynamic Positioning (DP) is a computer-controlled system to automatically maintain a vessel's position and heading by using its own propellers and thrusters. Position reference sensors, combined with wind sensors, motion sensors and gyrocompasses, provide information to the computer pertaining to the vessel's position and the magnitude and direction of environmental forces affecting its position.
As with any system, there are advantages and disadvantages. On the plus side, it is quick to set up while manoeuvrability is excellent and it is easy to change position. No anchor handling tugs are required and the vessel is not dependent on water depth or limited by an obstructed seabed.
On the negative side, these big ship systems are complex, with thrusters, extra generators and controllers. They are not cheap to initially install and can be costly to run with higher maintenance of the mechanical systems. There is also a chance of running off position in the case of strong currents or winds. But then again, these things can be true of traditional anchoring; as anyone who has ever had their anchor drag in the middle of the night can attest to!
There are a number of companies now designing, manufacturing and supplying DPS type systems to larger recreational vessels and, not just superyachts, but power boats in the 15 to 30m range.
The Xenta System is promoted as the virtual anchor at the touch of a button and the company claims that Dynamic Positioning is the perfect way of maintaining your boat's position without dropping anchor. Investigation reveals that there are several other marine companies offering similar systems. Both Twin Disc and Volvo Penta are well known examples. During my research I found that You Tube has many short video clips showing how DPS systems work on mid-sized boats (i.e. those around the 15 to 30m range). If you are interested, just search YouTube by typing in the following search words: DPS virtual anchor. Enjoy!
DPS is also now available, and somewhat practical for smaller outboard powered boats (less than 15m ), such as the likes of Mercury Marine's 'Skyhook', and Yamahas new EX system.
They are also available with some trolling outboards from Minn-Kota and MotorGuide. Both perform silently with remarkable precision in keeping the boat in position. As with a conventional anchor, the bow tends to point into the current or wind, whichever is stronger.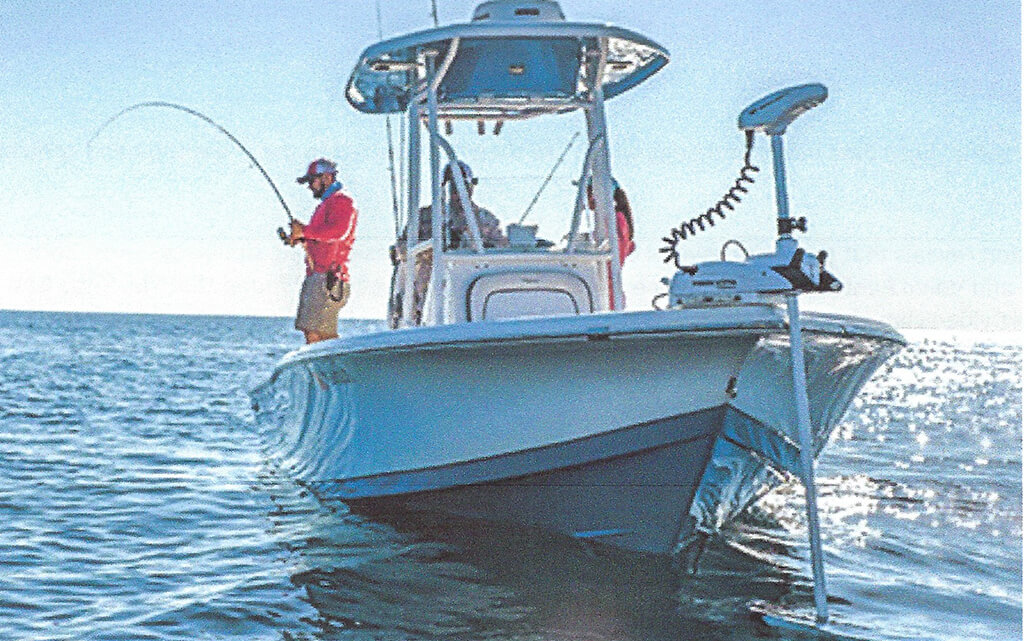 However, there are drawbacks. Electric trolling motors are relegated to smaller, freshwater fishing boats and salt water bay boats with low-profile bows. Trolling-motor shafts aren't long enough for boats with high bows. Also, to adequately control a boat larger than 7m, you need a 36-volt system, which means three heavy, deep-cycle batteries dedicated to the trolling motor
As with trolling motor systems, there are drawbacks with "Skyhook" type systems. For instance, when used on larger recreational fishing boats (a nice way to precisely target fish on wrecks or in passes without anchoring); in reality, not as idyllic as it may originally seem, mostly because of the noise, vibration, exhaust fumes and constant thumping as multiple drivetrains and perhaps also, bow and stern thrusters, rev and shift to hold the boat in position — not exactly the peace and quiet most anglers have in mind. Also, with fishing lines draping over the sides with engines in gear, the chances of fouling a propeller increase significantly.
It is important to note that if you're using an automatic positioning system, resist the temptation to set and forget. Engines stall. Fuses blow. Electronics blank out. Any of these can short-circuit a virtual anchoring system. If your head's not in the game, you'll quickly be at the mercy of wind and current. Need to just relax? Drop the old-fashioned anchor in a quiet cove. That's a positioning system that you can trust the most.
Anchoring systems have come a long way since the earliest explorers set sail across the planet's oceans. Seldom do we have to manually drop the anchor or hand over hand retrieve it after a day's fishing or in the morning, when we are ready to get underway after a quiet night in a secure anchorage inside your favourite bay or cove.
While this and the previous two articles have explored the history of anchor winches on all sorts of pleasure craft, we have yet to delve into anchoring itself. Having spent most of my life on and around both sailing and power boats and having anchored innumerable times and witnessed countless other boat owners anchoring their vessels, I can only but say that; "The Art of Proper Anchoring" is an article in its own right. Watch this space!