Author : Barry Tyler 
Such is their reputation worldwide, Horizon Yachts has every right to rest on its laurels and continue producing the same high-class model range they have done since the company's inception way back in 1987. Yet they don't, for appreciating the changing world in which we live, they continue to develop new models that address the latest technology as well as the very latest customer expectations. The Horizon 65 Vision-Series Motor Yacht is one such example, very much hot off the press and as such jam-packed full of '2009' features.
Given its size it is hard to comprehend, indeed accept the fact the tiny island nation of Taiwan is such a formidable power when it comes to Motor Yacht and Superyacht manufacture. Sure the industry began as a relative minnow but such is the commitment and tenacity of people like Horizon Yachts founder and CEO, naval architect John Lu, Taiwan is now recognised as one of the top five boat-building countries of the world. At the forefront of Taiwans 'who's who' of boatbuilders, Lu's Horizon dream has gathered momentum from an initial team of just 30 employees, into a conglomerate now of over 600 employees within a four-factory complex situated in the world capital of boatbuilding, Kaoshiung.
Within this complex, Atech Composite laminates the hulls that are resin infused in a process known as SCRIMP (Seaman Composites Resin Infusion Moulding Process). Vision Yachts builds the Horizon yachts from 50 feet through to 73 feet in length, while the original Horizon Yachts facility builds yachts that exceed 70 feet in length. In August 2005, the Premier Yachts 'yard' was built to cope with the ever-expanding custom megayacht market for boats 105ft and larger – with the Horizon Premier range.
To suggest his 65 Vision Series model very much embraced the ideology and spectre of a bonafide superyacht then, would be understandable given the company's philosophy and approach to the art of boatbuilding at their level. From the outside it had the graceful lines which were completely in proportion, and from the moment you stepped aboard you were left in no doubt this boat had the pedigree to match. There was every conceivable feature you could ask for in a luxury vessel, its equipment was of a specification relevant to a genuine passage making vessel, and from a luxury perspective it was presented in a manner few competing marques are genuinely able to replicate. Yet amazingly it didn't have the anticipated 'price tag on anabolic steroids!'
Regal is very much the best way to describe the entry feature, a sublime-sized teak and GRP boarding platform with surrounding stainless steel pulpit-style drop-in railings. Teak steps up either side lead you onto an entertainer cockpit level complete with an outdoor lounge table and chair setting for 10-12 people. Utilising the must-have 'Yacht Controller' remote control key-pad and operations system the vessel boasts, there was certainly no need either, for the customary remote aft helm station.
From the cockpit you either entered the saloon through the large stainless steel-framed glass doors, you proceeded down the port and starboard side walkways (wide, and complete with high bulwarks, continuous side grab rail and overhead weather protection) in the direction of the bow area; or you could proceed on up to the flybridge level via a magnificent teak, stainless steel (S/S) and GRP moulded semi-spiral staircase.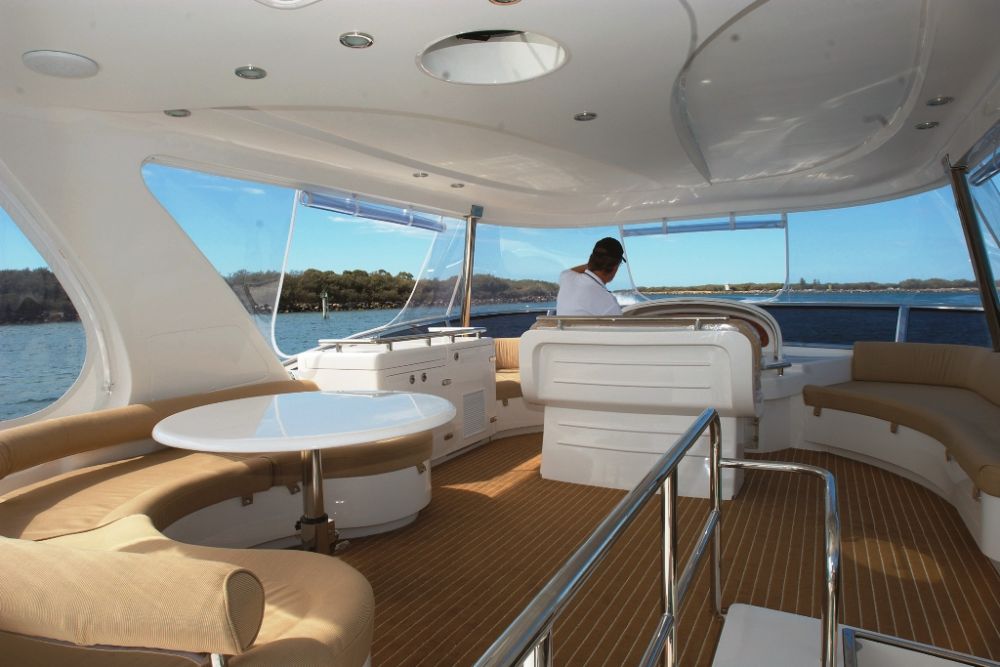 This quite frankly was your living area, certainly your daytime living area anyway. A hardtop Targa style of flybridge as per this owners criteria (there is a full hard-top option available also) for air-in-the-face lifestyle living, the front side and aft clears would fully enclose this area should the weather turn sour. A level that was a sensible contrast between practicality, durability and opulence, this high-usage area featured a substantial dining setting to port, a BBQ and fridge module forward of that, and a dickey seat forward of that again. To starboard was another significant lounge again presented in a raised-pattern woven water-proof fabric, and of course central to all these was the all-important helm station.
Of the two-person bench-seat variety and very well spec'd with a virtual duplication of the comprehensive downstairs electronics, instrumentation and control packages, this helm setting was very much a feature in itself. Especially impressive was the rounded see-through door that revolved on an axis, out and down, so as to completely weather–proof the entire dash. With the chart table in front of this again, along with the magnificent 'chunky' S/S steering wheel, this helm area added real 'class' to what was already a very classy yet most liveable area of the Horizon.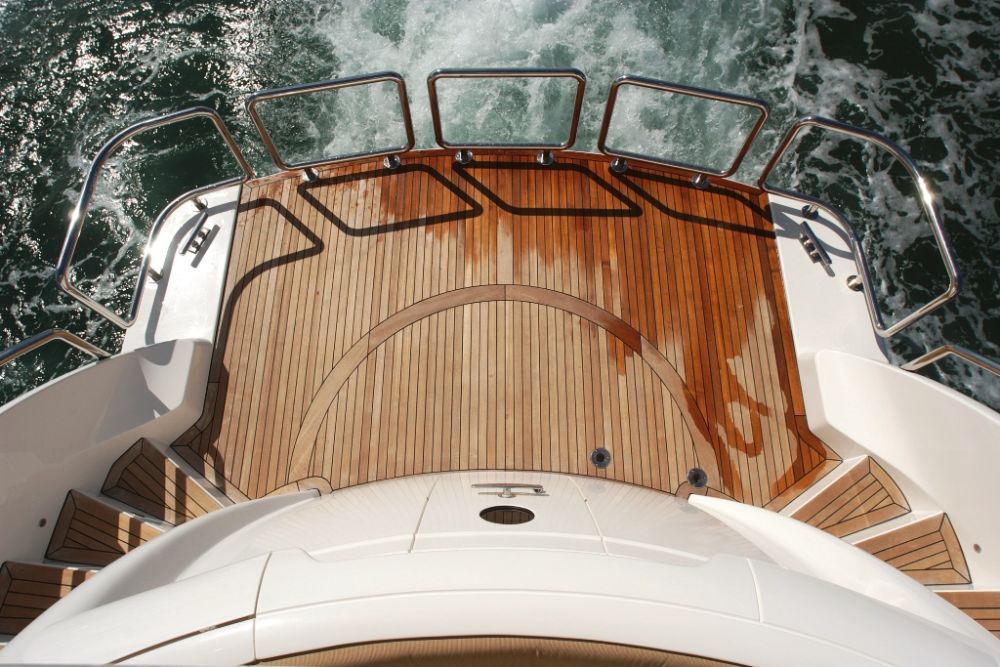 The saloon levels were a contrast of formal in the actual saloon and informal ambience in the magnificently appointed slightly raised level that I would describe perhaps as the pilothouse level. While the palatial saloon had its featured ceiling, effusive cocktail cabinet, subtle upright chinese-style rice-paper lighting features, low-set lounge and coffee table setting and opposite it a huge raise and lower television within the starboard side entertainment module, the pilothouse level was all about functionality – the working area if you like!
A working area in a very, very nice way of course, but particularly innovative was the approach to a layout that was presented in a slightly darker than traditional shade (I liked it) of hi-gloss American Sycamore. This alone was a break with tradition for usually in a vessel of this stature you would be welcomed by a much darker shade of wood presentation.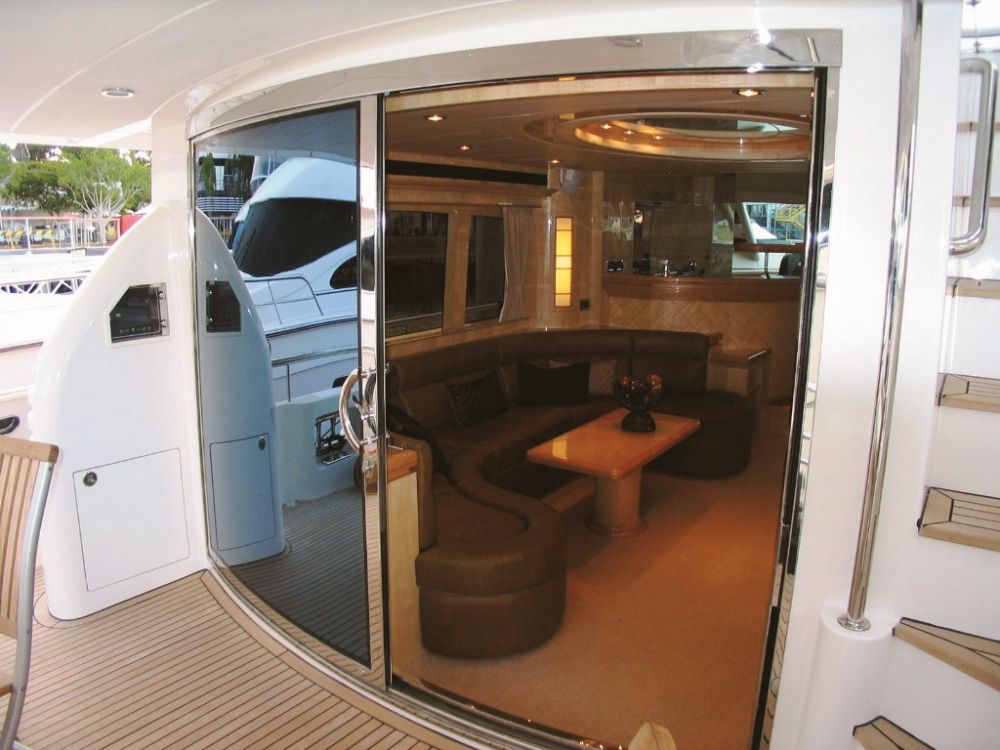 This level was in fact deceptively large for there was significant area devoted to each of the key aspects of helm, galley and dining. The galley receives my biggest accolades however for this L-shaped masterpiece was a breath of spring air not only with its contemporary styling but also for its specification. With top quality Miele equipment, this was a genuine 'extended-stay' house-size example with large refrigeration capacity, a three burner electric cook-top, a convection microwave oven, dishwasher, twin sinks, servery and generous bench and storage space.
The plush and most ambient five-person dining setting was opposite this to starboard then in virtually a continuation of this wrap-around setting was a helm station to die for. A visual work of art with its Ultra-leather peak with burl dash facia, it housed all the usual high-quality suspects such as Hynautic steering and trim tabs, Maxwell winch remote, Sidepower bow and stern thruster remotes, Cat engine controls and instrumentation and a twin-screen Furuno electronics package. Complementing this station was the JI PI helm chair and a S/S side entry door to the portside walkway to the bow.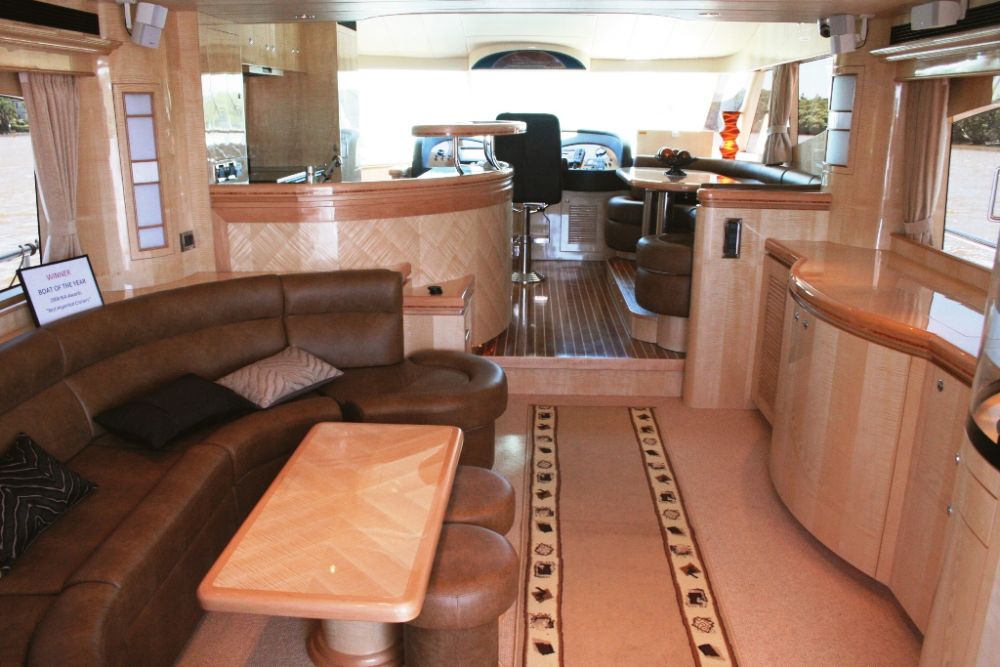 As expected, drop down into the accommodation level via the portside semi-spiral stairway and immediately the tone was set with a companionway and feature wall straight out of 'House and Garden'. The forward guest stateroom, on the same level as this companionway, featured a very contemporary version of a queen-size berth, along with good drawer and cupboard storage, a television, DVD stereo, a large round (518mm) Lewmar overhead hatch, side port-hole ventilation, a full-length wardrobe, a continuation of the rice-paper lighting theme, and of course a two-way (house-bathroom also) ensuite complete with Sea-land Vacu-flush head, vanity, porthole and separate fully sealed shower compartment.
The twin-berth cabin for the kiddies was to portside on this same level and while of course it had just the two bunks one above the other, specification was none the less of a high level. Presented again in the Sycamore wood finish complemented by plush wall and ceiling panelling, features included television, DVD and stereo, air-conditioning, wardrobe and drawer storage, the cantalupi lighting as seen throughout the rest of the vessel, and a bay-window complete with opening porthole.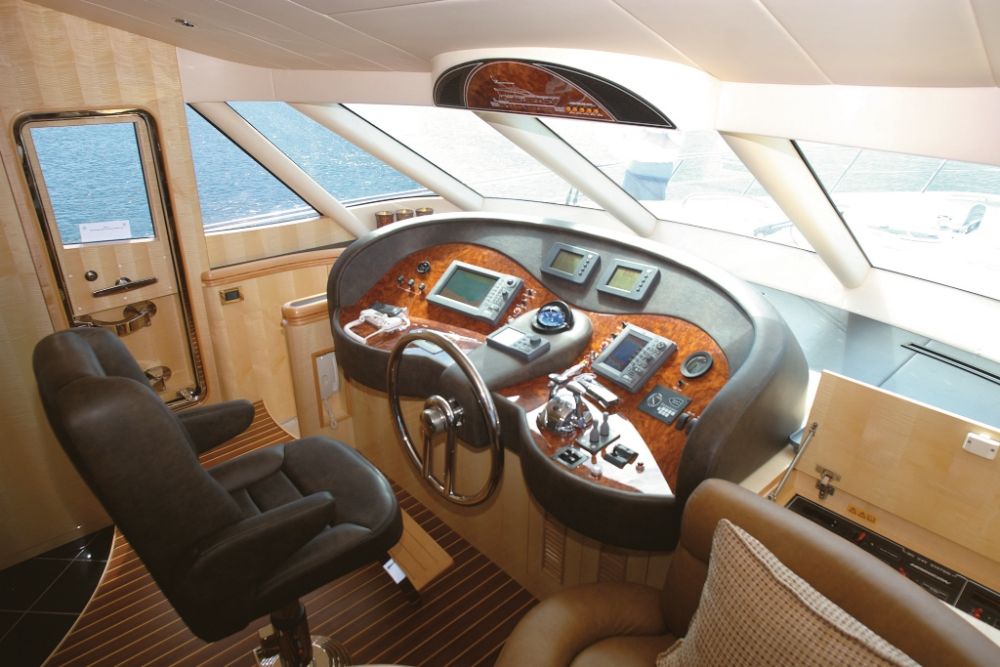 Down two steps from the companionway level and in effect in under the 'pilothouse' level, was the master stateroom. Most spacious in that it occupied the entire 5.28m beam of the 20.48m Horizon 65 Vision Series Motoryacht, this room was indeed a stateroom in every sense of the ideology. Akin to a king-size luxury hotel suite the contrast of innovation, wood, the feature ceiling above the bed, the plush ceiling panelling and a continuation of the subtle and soothing rice-paper lighting theme – was a sight to behold!
Features included a make-up vanity with cantilevering seat, a settee, bedside tables, television, DVD stereo, AC, most generous wardrobe, cupboard and drawer storage provision – and a recessed 'bay window' feature (fully wood lined, as in the other bedrooms). Privatised with sliding chinese-style sliding shutters, this bay-window provided good ventilation courtesy of two opening portholes.
Entered from either the cockpit or from the boarding platform, the business end of the vessel was a veritable work of art – almost too good to waste behind closed doors. Entering through the aft cantilevering door on the transom upright, a set of steps led you down into the crew's quarters. Or, if you preferred, these decidedly up-market quarters would suffice as a fourth 'family' guest room with its single and queen-size berths, storage drawers and wardrobe, bedside table, ensuite bathroom and shower, laundry, television, DVD/stereo and of course the air conditioning.
Through the crews quarters and on through a bulkhead door complete with port-hole inspection window, was an engine room that at the risk of sounding like the ultimate sycophant, was right up there with the best I had ever seen, period. From a practicality as well as presentation perspective, again it was entirely appropriate to a long range cruising situation. The stainless steel exhaust covers were absolute works of art, the floor was non-skid pads embedded into the GRP floor, there was good lighting as well as air circulation courtesy of fans and air conditioning, all the wiring and plumbing and valves were clearly labelled, and there was sublime head-room as well as space around the engines, for maintenance purposes.
Equipment down there included the (towards amidships) twin 18-litre inline 6-cyl 1015hp twin-turbocharged and after-cooled Caterpillar diesels (through ZF 550A gearboxes to 38' x 41"P Hung Shen 4-blade propellers), an 81.000btu MarineAir air conditioning system, a 21.8kVA Onan EQD genset, a Sea Recovery 450gpd water maker, a Fireboy fire prevention system and two elevated and concealed Mastervolt deep cycle Gel battery banks consisting of four 200Ah house and four 200Ah engine batteries.
Ensuring power was distributed and maintained in an orderly and efficient manner, the electrical specification also included a Mastervolt Mass Sine 24V/2500W inverter and three Mastervolt 24V chargers each of 20W, 50W and 75W output. Forward of the engines was the 3,800 litre fuel tank and forward of this again was the integral 1,330 litre water supply.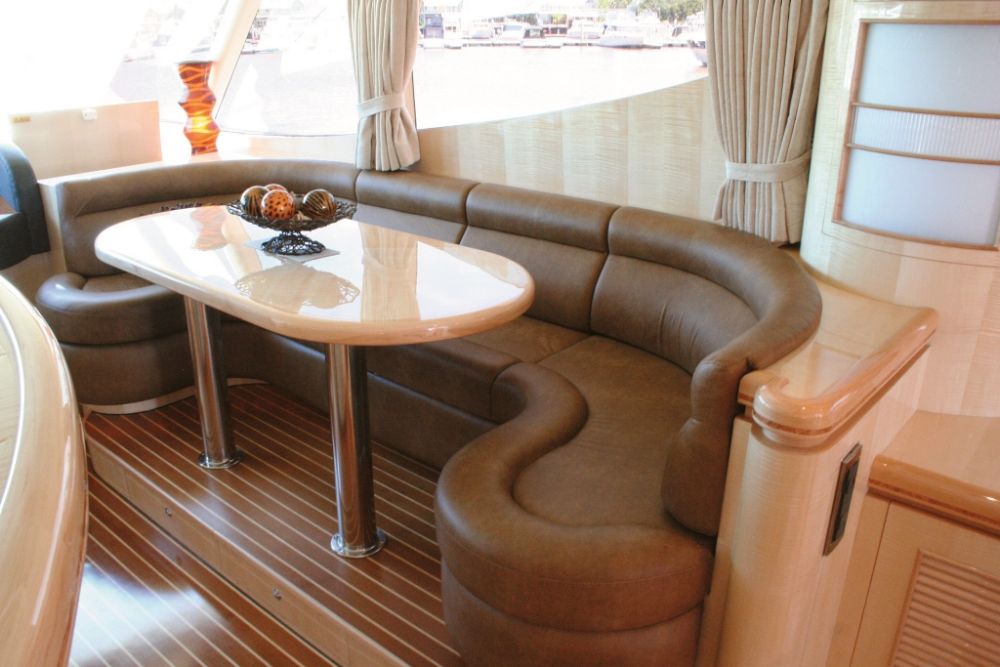 As stated, the Horizon 65 Vision Series Motoryacht is as close as you will get to an actual superyacht, in a production guise. Everything about this vessel was class – without being the slightest bit pretentious. Engineering was superb, workmanship in every facet of construction, was faultless. Quiet and vibration-free underway, as you would expect, it was also surprisingly nimble and responsive at its top speed of 25 knots with the Cats. rung right out to their maximum 2350rpm. Best of all for me though was the price tag – $2,650,000 as tested compares favourably well with other like-sized vessels of significantly less specification and presentation! The more time you spend aboard this vessel, the more you find!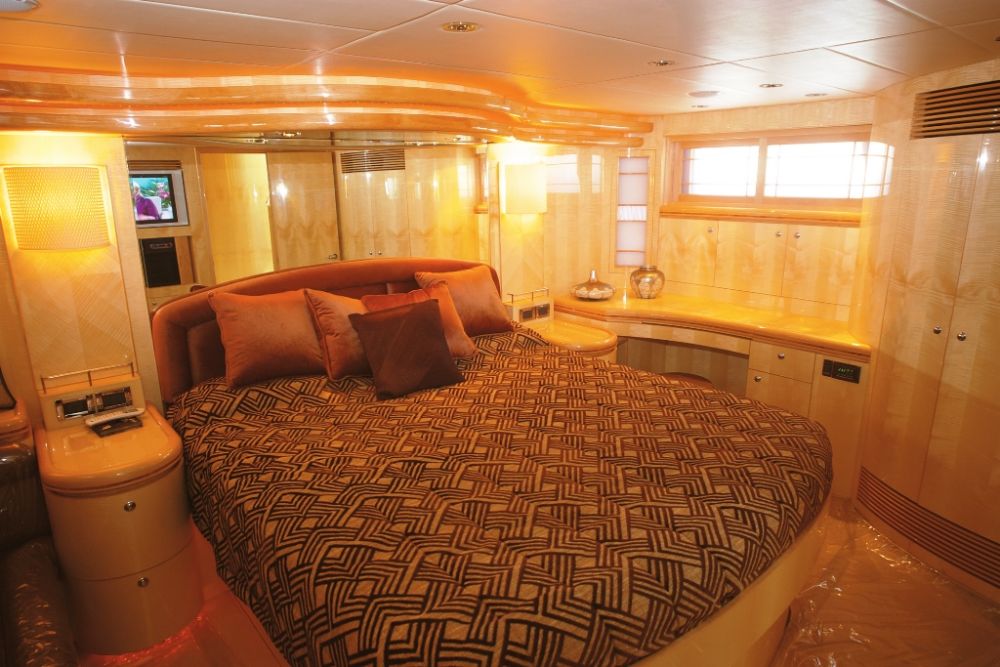 Design Name:  Horizon 65 Motoryacht
Year Launched: 2008
Designer: Gregory C Marshall / Vision Yachts
Interior Designer: Vision Yachts
Builder: Horizon Yachts / Vision Yachts
LOA: 20.48 metres  
Beam:  5.28 metres 
LWL:    16.37 metres
Draft:   1.7 metres     
 
Displacement: 34,000 kg (light-ship)
Max Speed: 25 knots       
Cruise Speed:  19 knots
Construction:   GRP and high-density foams, using SCRIMP method
Fuel Cap: 3,800 litres       
Water Cap: 1,330 litres
Engines Make: 2 x Caterpillar 1000 hp C18
Base Price of Boat: $2,300,000AUD
Price As Tested: $2,650,000AUD