The term superyacht when it was introduced a few years ago was a descriptive bestowed on luxury craft of 24m and over, but with the ever-increasing size of superyachts now being built, influential people are now reserving the term for vessels over 30m. In the case of Horizons 84 (25.6m) model however, it is a descriptive that should still rest easy with even the most critical of commentators.
Taiwanese yard Horizon has long been recognized as a custom boatbuilder for the discerning, building fibreglass and composite motor yachts from 16m to 40m at its three yards in Kaohsiung, Taiwan's boatbuilding centre. The smaller 16m to 22m models are built in its Vision factory, while models longer than that are built at the main Horizon facility in Kaohsiung. Although the various models in the expansive Horizon range are all designed and built in Kaohsiung, most sales have been to the USA, although in recent years impetus has also evolved through emerging markets such as Europe, Asia and of late, Australia.
The first model to arrive in Australian waters was in fact this 25.6m (84ft) model for a local Gold Coast client, which grew incidentally from the original 25m model – following the sensible addition of another 600mm onto the aft boarding/swim platform. Interestingly, so smitten from the outset was this new owner, with the layout, quality and level of specification of this model, that almost immediately he showed more than a casual interest in an even larger Horizon model, either a 35m or the company flagship, the 39.6m – opening up the possibility that this particular example will immediately go back onto the world market.
From an outside perspective immediately obvious with this particular Horizon model is the actual volume of this luxury package. This magnificent example of Taiwanese craftsmanship (yes, the Taiwanese are fast becoming a world force in superyacht and motor yacht construction) was certainly high, wide and most handsome, but it belied its length of 25.6m. Stepping aboard the Horizon merely served to further strengthen that realisation for one was left in no doubt this was very much built to the very highest of superyacht standards, both in specification as well as presentation.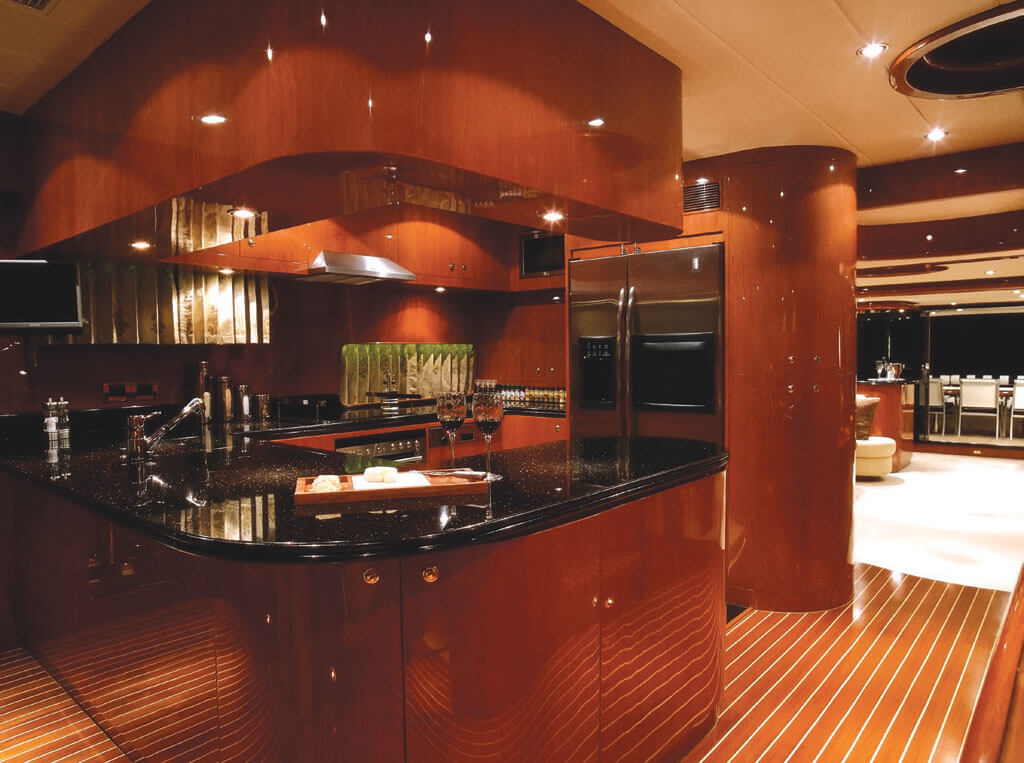 The real appeal of this Horizon range is that each owner has the latitude to virtually custom-build each vessel to his own particular tastes and preferences in layout, providing of course it still addresses the constraints of bulkheads and structural commitments. While this model bore only a faint resemblance to Horizon's original 82 interior layout, the emphasis still very much followed the 'entertainer' ideal from the moment you stepped through the impressive saloon doors. The absolute epitome of spaciousness, it was the 'depth' of the magnificent woodwork though, that was the single most endearing feature of this generous-sized entertainment area.
When coupled with the décor forward of the saloon it would perhaps have been easy to conclude there was simply too much wood, but so well was it built, and so well was it presented – that you just couldn't get enough of this facet of presentation. Complementing this rich American cherry wood, the décor included panel and halogen down-lighting, fabric 'sliding' curtains, leather upholstery and plush carpeting, and the coup de grâce was the 'superyacht-style' recessed ceiling feature. One big long room that maximised the 6.1m beam of the Horizon was the light bright and airy saloon that boasted a full wet-bar, a full-length entertainment module complete with pop-up 42-inch television, and opposite this a full-length settee complete with two adjoining wooden coffee tables.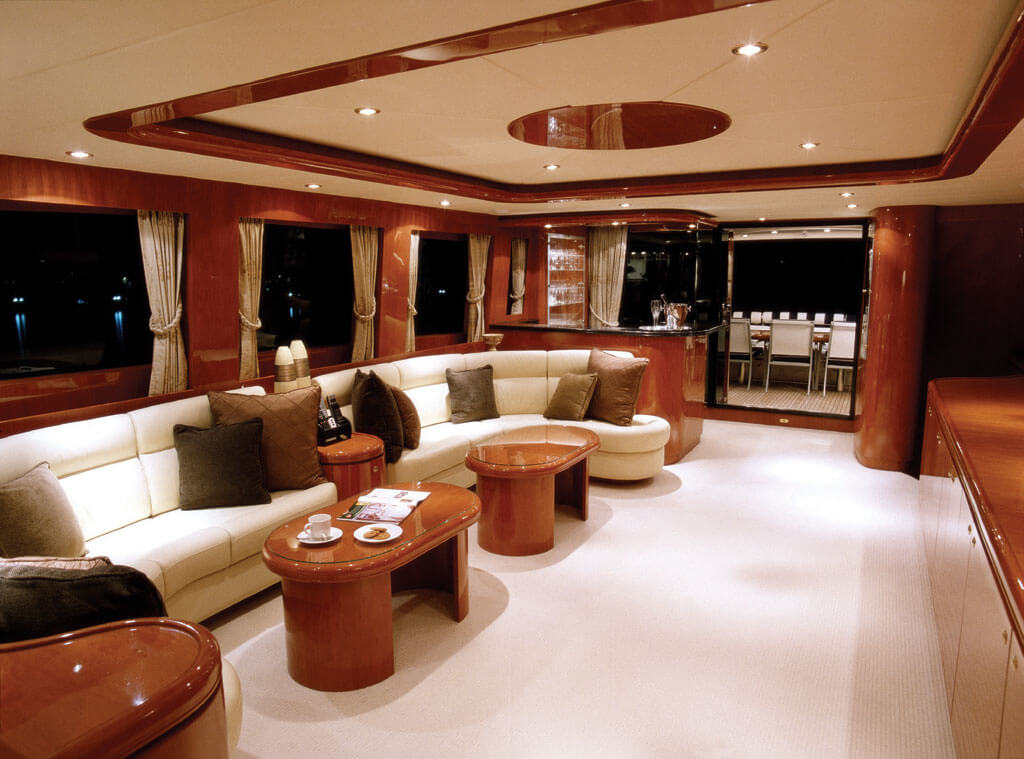 Continuing the walk forward, the transformation from carpet to teak flooring subtlely alerted you to the fact we had moved from the entertainment area of the Horizon, through into the actual 'living' area – galley, dining area, external access via trawler or pilothouse-style side access doors, and of course stairway access to the downstairs accommodation. The comprehensive yet expansive galley offered some insight into the homely nature of this vessel, for while it would certainly satisfy the most ardent of gourmet cooks, this whole living area also offered an ambient invitation to take a seat and relax and enjoy the moment. It wasn't imposing or over-powering!
The galley was certainly all-embracing, for this owner had stipulated granite benches, 4-burner stove, a full-size microwave convection oven, range hood, dishwasher, trash compacter, ice-maker, plenty of cupboard and drawer storage provision, a house-size refrigerator and freezer and of course granite flooring to match the bench tops. With no downstairs helm (it was an option this owner sensibly chose to delete from his personal 'want' list) to interfere with décor, the easy seven-person dining setting was forward of the galley, located full-width (apart that is from these stairs to port that lead you down to the accommodation level) across the front bulkhead. Despite the darkish nature of the wood, both the saloon and this living area were well lit with natural light from the generous allocation of windows both down each side, and across the front of the cabin structure.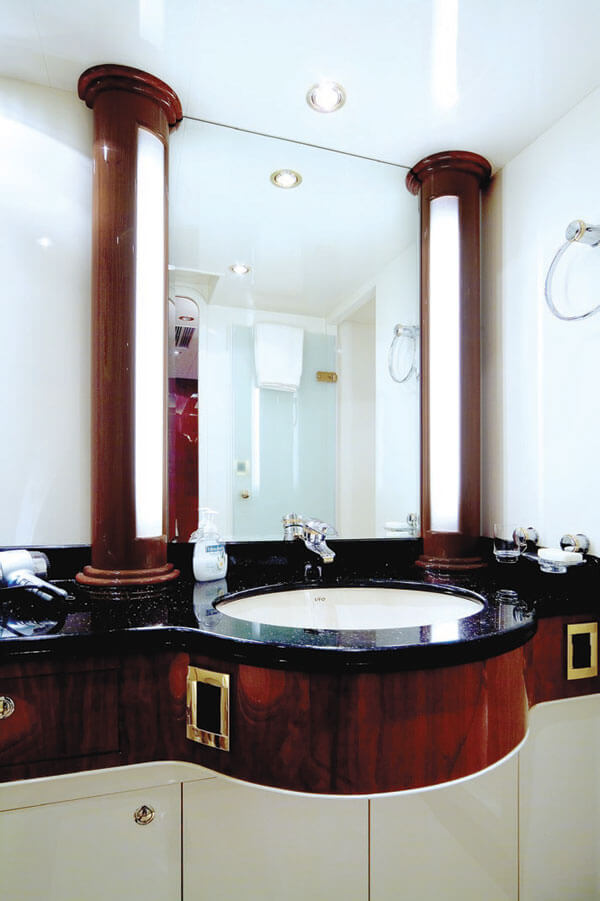 Accommodation to Superyacht Standard
Accommodation aboard the Horizon 84 was of superyacht specification, with three staterooms all accessed from the stairs alongside the dining setting. No-one aboard the Horizon would be compromised as far as accommodation is concerned, with each room featuring headboards with mirrored wall backdrops, TV/VCR (20" TV in Master, 14" in other two), DVD stereo, telephone/intercom systems, vanity provision, wardrobes either hanging or walk-in, plenty of drawer and cupboard storage provision, air-conditioning, and a central vacuum cleaning system.
The master stateroom complete with 'up-spec'd' king-size berth and walk-in wardrobe of grandiose proportions, was virtually amidships under the sole. The guests were in a 'Vee' stateroom and a twin single stateroom, in the hallway adjacent to but far from on top of, the master. All three staterooms also featured their own ensuite bathrooms which came incidentally complete with separate showers, marble and granite floors and vanity bench tops, heated towel bars, Vacu-Flush vacuum head systems and exhaust blowers. Special 'extra' features in the master ensuite included an additional head, and pole-style lighting columns – as you do, in superyacht-land!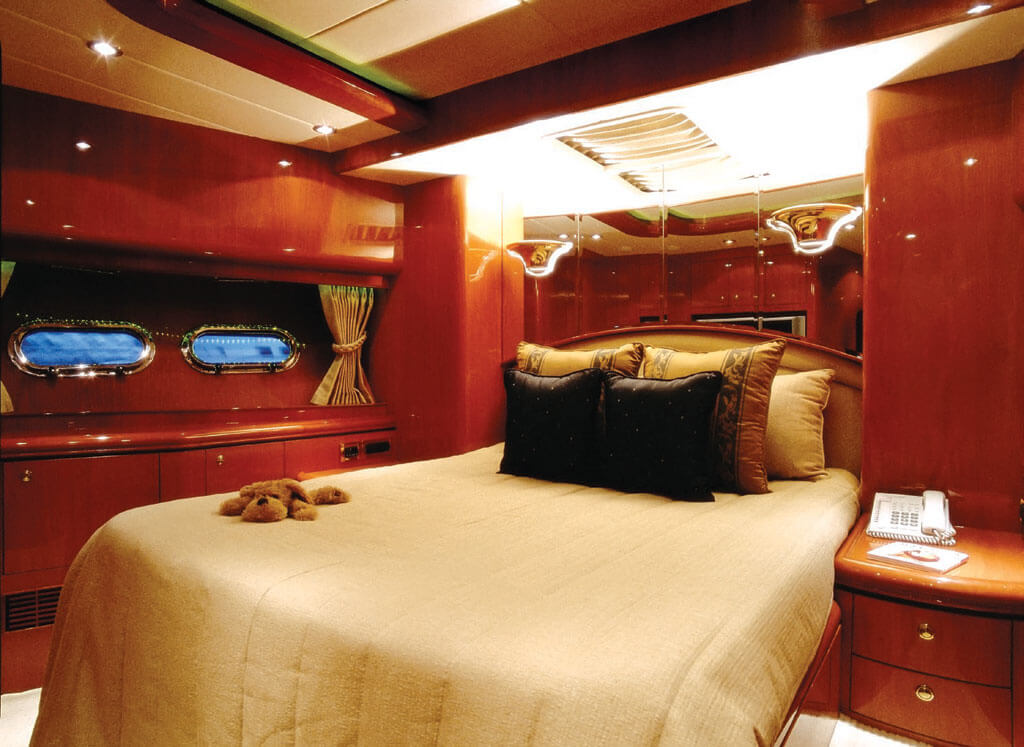 In true superyacht tradition there was also provision for a 'crew' situation, for steps to the left just as you enter the saloon, led you down to aft accommodation in one double and two single rooms. Perfect too for an extended-family situation, or if the kids are indeed driving you mad, the two rooms are finished to the same equally high standard we discovered in the for'ard accommodation rooms. As well as the two accommodation rooms, there was also space in there allocated to a food preparation area, crew bathroom, laundry, and access through bulkhead doors, to the engine room that was in effect just aft of amidships.
As expected, this engine room was large, and yes impressive too, and you can justifiably use this latter descriptive for what on most other boats would invariably be a messy and even 'agricultural' area of the vessel. On the Horizon it was just sublime – an engineering masterpiece that should be a very integral part of any ship's tour! Taking pride of place were the two 1300hp MAN diesels, but also in there was the tankage, three secreted banks of batteries, two Onan 22.5kVA generators and the 4kW/120-amp inverter/charger that manage the 24 / 110/ 220-volt onboard power systems, GRP water/smoke separators, an on-board fire-fighting system, and the air-conditioning systems to all rooms on the boat.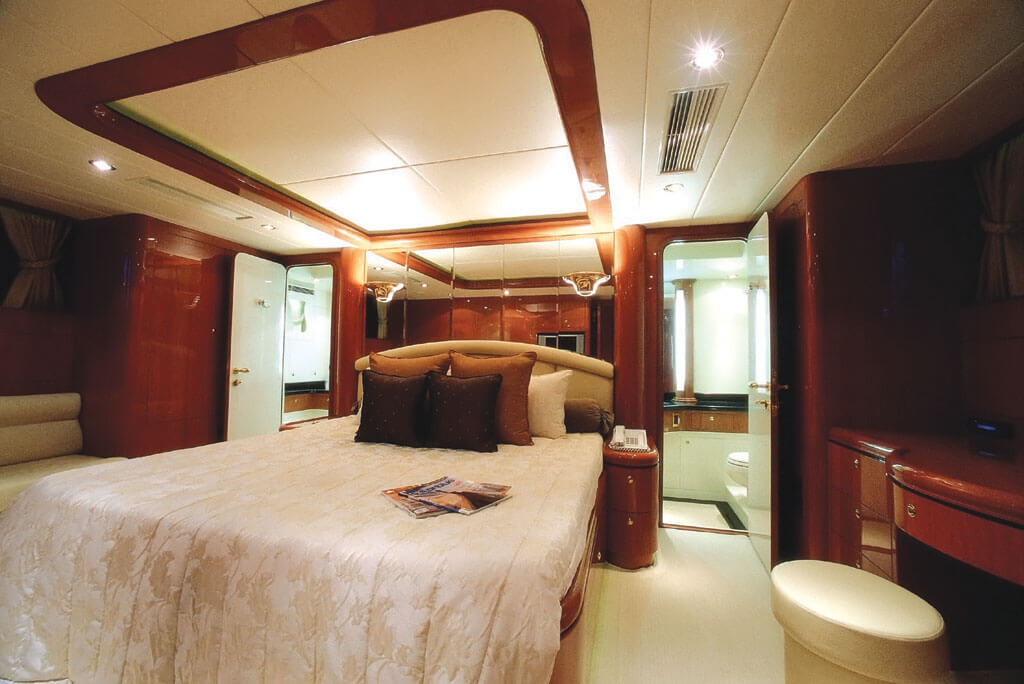 There was so much more to the Horizon though, for those who also preferred the outdoors style of living. The side access doors and the deep and wide walkways led you up to the 'ocean liner' style bow feature, for an up close and personal look at the subtle way the Horizon 84 gracefully pierces the ocean waves. For those who prefer to sit and relax, the aft cockpit, which incidentally was fully protected from the elements by an 'extended flybridge' overhead structure – was a most ambient place to be. Decor included a massive expanse of magnificently presented teak flooring, a bar and entertainment module, a plush U-shaped outdoor dining feature, and mood lighting in under both settings – a very nice place to be on a balmy summer evening.
As nice as all these areas may be however, the place most would gravitate to when underway would undeniably be in the area Horizon rather eloquently describes as the 'sky-lounge'. The nerve centre of the vessel, this level was in fact quite different and I believe demonstrably superior, to the original layout concept. There was an internal staircase leading down to the forward cabins, plus outside access to this 'action' level from a flight of moulded steps that led up from the rear cockpit level.
Optional from Horizon is an 'open flybridge' style of presentation complete with clears and separate hardtop structure, but in this instance with only the one helm station the fully enclosed 'hard-top' flybridge was certainly the more practical and user-friendly option. An 'appropriately-presented' and certainly expansive level of sophistication, aft we found a wet-bar, refrigerator, and BBQ module, a large dining setting and enough room still on the after deck to store a 3.8m inflatable tender.
Forward of this and very much inside in what is effectively the pilothouse level, was a congenial dining/lounge setting, large entertainment unit (complete with 42" up/down TV) aft of the main and very comprehensive helm station with every conceivable aid including remote steering, bow and stern thruster operation, remote anchoring, closed circuit television, and an electronics and information package to die for. Alongside the helm was seating provision behind what in effect would be a chart and navigation table – for the 'apprentice captain' to observe operational proceedings at first hand.
The Ted Yang-designed GRP hull, solid below the waterline and high density foam-cored above, is 25.6m overall in length, 21.7m at the waterline, and has a beam of 6.1m, a draft of 2.01m, a rear deadrise of 12 degrees and a displacement of 65 tonnes (light ship). The Horizon carried 8500 litres of fuel and 1590 litres of water linked to a Spectra water maker, and extra tankage included two hot-water cylinders that would keep the boat well supplied for either weekend or extended-stay passages. The Horizon 84 was, quite simply, luxury and opulence personified. Only the best of equipment and materials were used, and the general 'build' of the vessel was exemplary in every sense of the ideal. It is certainly not overly flamboyant or an exaggeration in terminology, to describe this vessel as a mini superyacht!
Boat Design Name: Horizon 84 Motor Yacht
Year Launched: 2005
Designer: Ted Yang
Builder: Horizon
LOA: 25.6m
LWL: 21.3
Beam: 6.10m
Draft: 2.01m
Displacement: 65 tonnes
Max Speed: 24knots
Cruise Speed: 20 knots
Construction:  GRP composites
Fuel Capacity: 8517 litres
Water Capacity: 1590 litres
Engines:  Twin 1300hp MAN diesels
Gearboxes: ZF
Drive System: Conventional Shaft
Propellers: Horizon 4-blade
Generator: 2xOnan 22.5kVA
Inverter: Trace 4kW inverter/120A charger