While the Horizon E70 retains the stylish good looks of all the Horizon E Series, the interior has undergone a transformation with a more modern approach, albeit not losing the craftsmanship finish and a hint of traditionalism.
Taiwan, or more specifically Kaohsiung, is an interesting place to go to run a boat trial and 90% of the time it's so grey and overcast with pollution that boating out of the harbour in the South China Sea virtually requires full time radar! However there are days (very occasionally) when the blue sky breaks through and the beauty of the area is revealed. Arriving in Kaohsiung for my fifth visit to Taiwan's boat building capital and home to my hosts, Horizon Yachts, it was obvious this wasn't going to be one of those rare, clear blue-sky days. I wasn't too concerned as the E70 that I was there to review was destined for Australia anyway and local Horizon agent Russell Wright had already sorted out a photo shoot when it arrived in Queensland.
The ride from the magnificent Splendor Hotel, through the industrial heart of the city is an education in itself. The way of life is very, very different from what we are used to in Australia and New Zealand, but it all seems to work well in its own environment. Right in the middle of it is Horizon Yacht, the biggest boat building operation in Taiwan. Established in 1986 by the current CEO, John Lu, Horizon Group is made up of five companies, producing around 50 boats a year in good times.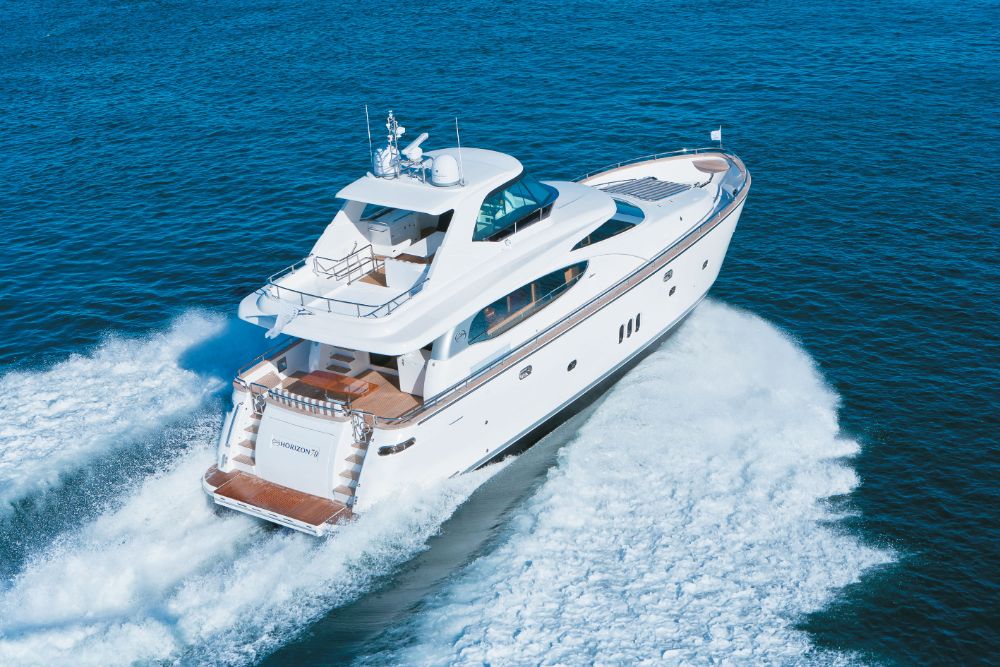 The E Series range from Horizon Yacht comprises nine models from 19m to 28.6m, with the E70 being one of the newest. Our boat was waiting at a small commercial dock at Kaohsiung Harbour that is used by many of the local boat builders. Ironically I had been at the same dock only a month or so prior for a Fleming sea trial.
Along with Russell and a team of engineers and staff from Horizon Yachts we cruised quietly down the harbour and out into the open sea. One of the requirements of boating offshore in Taiwan is a passport and customs check before you leave the harbour as well as when you return. It's a reasonably painless task and with that done we were into a reasonably calm swell off the coast. Our skipper punched the throttles and immediately Russell knew there was something wrong. 2400 rpm @15 knots and the engines maxed out. Oops, wrong ratios in gearboxes or wrong props. After much deliberation between those who should know, it was ascertained that the problem was with the gearboxes. The Caterpillar C18 ACERTS had come with 2:1 and not 2.51 ratio boxes. So with no alternative propellers available or replacement gearboxes in Kaohsiung, here endeth the sea trial!
The saving grace for me was that while I was still able to get all the technical and layout data on the E70, it was heading for Australia less than a week later and the sea trial figures could be obtained at a later date along with the photo shoot.
In time the boat arrived in Brisbane, props were changed rather than complete new gearboxes and the E70 ran to full load and the right rpm.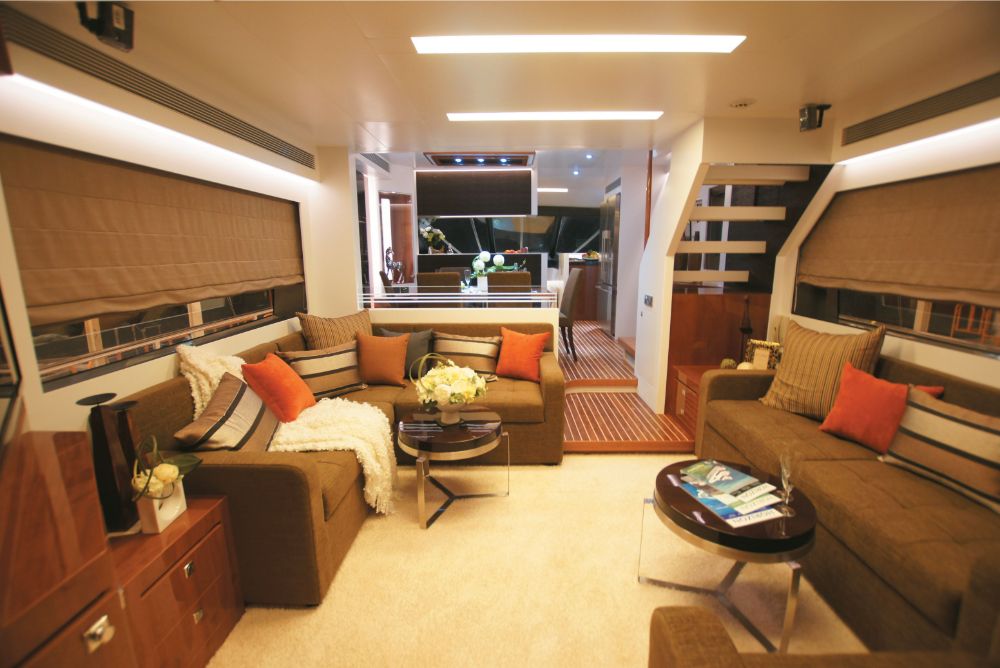 Maximum speed averaged two ways was 24.3 knots @ 2368rpm showing 88% engine load. The water tanks were full and there were around 600 litres of fuel aboard.  Running a pair of Hung Shen, 4 blade, 39" propellers, the E70 was surprisingly quick to accelerate and while the props could have handled a little more pitch, Caterpillar prefer the props on the smaller size rather than being over propped.
The Caterpillar C18A /1150mhp are the standard engines for the E70, but if you want to step up to a pair of C32A/1600mhp look for around another $A240,000 on the $A3.35m price tag.
The spacious full headroom, white finished engine room is accessed via a deck hatch in the cockpit and a stainless ladder. Aware that this is a high usage area, Horizon has made sure that everything is easy to get at and intelligently placed. There's a comfortable black rubber floor, stainless steel overhead grab rails on each side of the engines and AC fluorescent lights and DC dome lights to make maintenance time in the engine room a little more pleasant.
The engine room is lined with double sound & heat insulation material with a foam & lead combination to minimize the transmission of engine room noise into the saloon above.
| | | |
| --- | --- | --- |
| RPM | Knots | L/h Both |
| 800 | 6.9 | 10 |
| 900 | 7.8 | 22 |
| 1000 | 8.5 | 34 |
| 1100 | 9.5 | 46 |
| 1200 | 10.1 | 60 |
| 1300 | 11 | 82 |
| 1400 | 12 | 108 |
| 1500 | 12.4 | 132 |
| 1600 | 12.6 | 170 |
| | | |
| --- | --- | --- |
| RPM | Knots | L/h Both |
| 1700 | 12.9 | 210 |
| 1800 | 13.9 | 244 |
| 1900 | 17.2 | 250 |
| 2000 | 18 | 270 |
| 2100 | 19.8 | 290 |
| 2200 | 22.2 | 334 |
| 2300 | 23.8 | 366 |
| 2368 | 24.3 | 400 |
The E70 slots in-between the E65 and E73, although at 5.94m beam it is in fact wider than the E73, which has transposed into more spacious forward cabins. Compared to the E65 with its 5.36m beam, the E70 is a whole lot more boat by volume. While the E73 has a standard layout of three cabins and two ensuites, the E70 has four and three ensuites. Horizon designers have certainly done great things with the space available.
There are full walk-around side decks, with generous height bulwarks, side drop-down entrance doors and hefty, 50mm handrails which provide access to the foredeck with its massive sunbed and a great seating area.
The E70 is a Horizon production yacht with a custom layout – one that can readily be labelled "semi-custom." While certain areas remain the same there is a lot owners can request to suit their needs or particular lifestyle.
The E70 reviewed was particularly focused towards the Australian and New Zealand market, with plenty of accommodation, large formal dining room, generous open air spaces and a first for Horizon, a semi-enclosed flybridge.
"This is something I felt we really needed to offer our clients as they are now so used to enclosed hardtops on competitors' boats, they were asking for it", said Russell.
The combination of a lot of white painted surfaces, rather than the traditional dark timber and fabrics gives the interior of the F70 a more modern, almost apartment look – a trend that is certainly gaining in acceptance. This is also evident in the furnishings and hard surfaces, which have 'squared' rather than soft curvaceous styling. Recessed LED lighting adds to the ambient mood.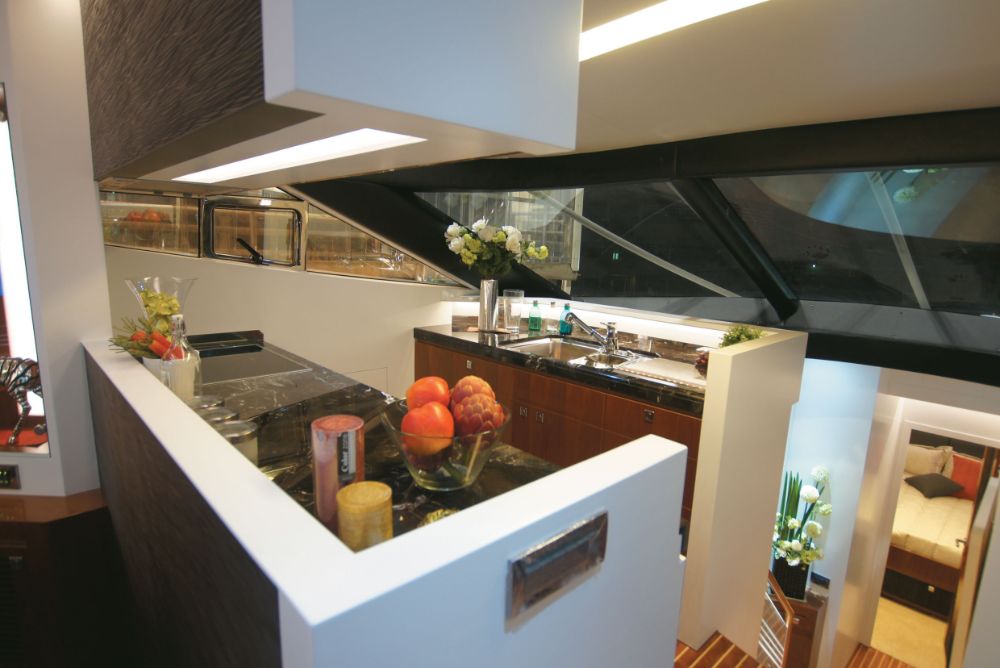 Due to the semi-enclosed flybridge, the downstairs layout is now sans the helm, with the only dedicated steering station in the flybridge. This has certainly opened up the opportunities downstairs and increased the useable space in areas such as the galley and formal dining area. The lack of solid bulkheads also gives the E70 a very open plan feeling that adds measurably to the aura of spaciousness from the galley right through to the cockpit. The internal staircase even has open treads to maximise the vision forward from the saloon.
Forward is a very generous size galley, with granite surfaces, and packed full of Miele appliances. Stretching right across the full beam of the saloon area, it's split only by the companionway leading down to the accommodation area. There's a large F&P two-door French refrigerator with freezer drawer, water dispenser, wine cooler and icemaker. A fridge/ freezer F&P cool drawer, Miele combo microwave with convention oven and griller, Miele hot plates and range hood plus a Miele dishwasher. There is a sliding side door forward on the starboard side for easy access to the foredeck.
Directly aft is the formal dining area with seating for six on a raised area opposite the internal staircase to the flybridge. Smoked glass panelling and intricate motifs add a feeling of luxury and elegance.
You drop down a step to the main saloon aft were there are a couple of small coffee tables, and lounges on both sides, with seating for nine. Large, frameless windows – with 10mm safety glass – line both sides, providing marvellous sea and shore views. There is also an oversized Panasonic flat-screen TV at the port side.
Sliding glass doors open to the expansive cockpit with a central transom lounge and teak dining table offered protection by the flybridge overhang. Forward on the starboard side is a large cold storage locker and a separate set of engine and thruster controls. Access to the high low boarding platform and parking garage is either side of the central seating area. A hydraulically operated garage door opens to reveal the large space inside, which in our case was filled with a 2.85m Williams Turbojet 235.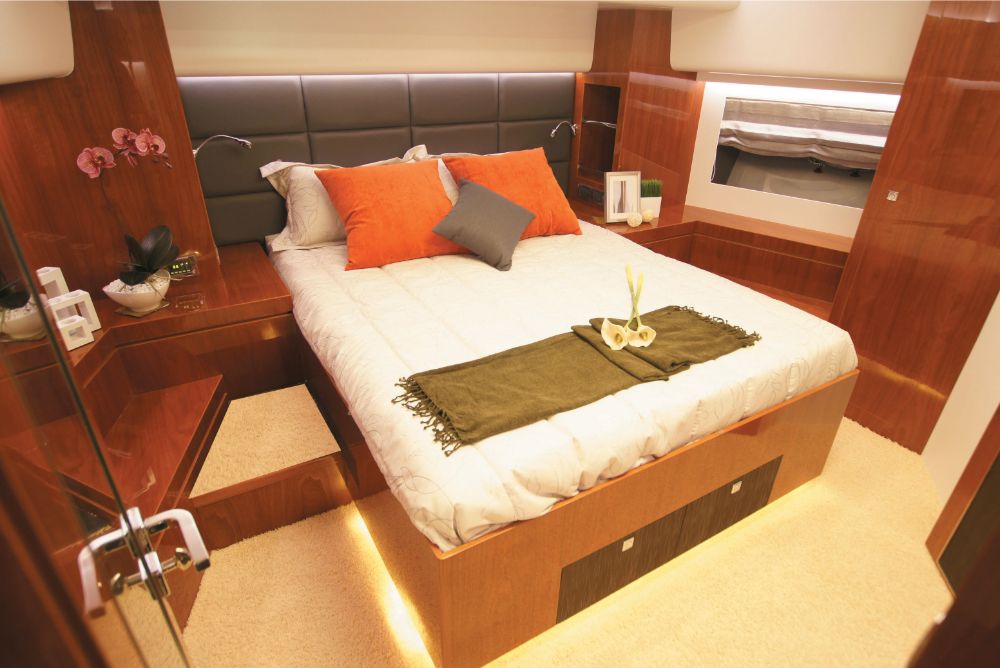 A curved stairway leads from the back deck, with teak steps, to the flybridge area with its forward helm and entertainment spaces and a sundeck aft. As well as an L-shaped settee with large GRP table on stainless pedestals, there is a wet bar including sink, combo refrigerator w/ice maker and barbecue grill.
There is also an internal staircase access that can be covered with a stainless steel and glass top and door so the whole space can be shut off. The layout on this particular E70 is the same as found on the open version of the E70, hence fibreglass surfaces and outdoor fabrics. However, in the forthcoming fully enclosed or in any future semi-enclosed versions, a lot more can be done to upgrade the look and appointments in this area.
A single helm seat (there is a two-seater option) faces a carbon fibre fascia complete with everything necessary for serious cruising. The Raymarine electronics package on the boat is extensive, with a touch screen E series monitor, a pair of Cat engine management screens, open scanner HD radar, autopilot and sounder. There are also two KVH M7 sat domes, satellite TV, and a Yacht Controller wireless remote for walk around control of engine gears and thrusters.
While a skylounge version of the E70 is planned, it was not available in time for the delivery of this particular boat, so the five-panel glass screen with side clears was designed around the existing footprint of the open bridge. Although something of a hybrid it has actually turned out quite well.
Access to the accommodation areas is via a wide staircase in the centre of the galley, with the light through the forward screen forming a natural atrium. This is supported by concealed lighting on the teak and holly steps and surrounding the companionway.
With the extra beam allowing more space forward, Horizon have really done a great job on the accommodation layout, with four cabins, including a full beam master and extra large forward VIP. All the cabins are air conditioned and like the rest of the E70, they are trimmed in high gloss walnut. Dividing the two are guest berths with twin singles, plus a washer/dryer combination built into the side of the companionway. Both the master cabins have their own ensuites, with the guest cabins sharing a head/shower compartment.
The master stateroom is huge, with a king size island berth with drawer space beneath, bedside cabinets, hanging lockers and a full height walk-in wardrobe. There is a twin love seat to port and a vanity desk on the starboard side, plus well placed vertical port lights either side provide both views and natural lighting.
Once again the modern look has been carried through to the accommodation area, with the squared-off edges and painted surfaces interlaced with light timber accents. It's all classy and modern, but still retains a hint of traditionalism that can be achieved only by dedicated and experienced craftsmen.
Adjacent to the bedroom, the master head features a large marble bench top and granite floor, plus a separate shower stall that is recessed to provide maximum headroom.
The VIP cabin has a queen size central berth and like all the cabins was designed with copious storage options, from hanging lockers to drawers and shelf space. There is excellent bed access either side and recessed lighting provides a soft ambience. All cabins have their own dedicated entertainment systems. The ensuite is smaller than that in the master stateroom but still of a generous size.
The port side cabin has upper and lower single berths with storage lockers throughout and the starboard guest cabin has two side-by-side single beds with drawers underneath. All the cabins are generous in size. The shared ensuite is also finished with granite on the sole and marble on the bench top.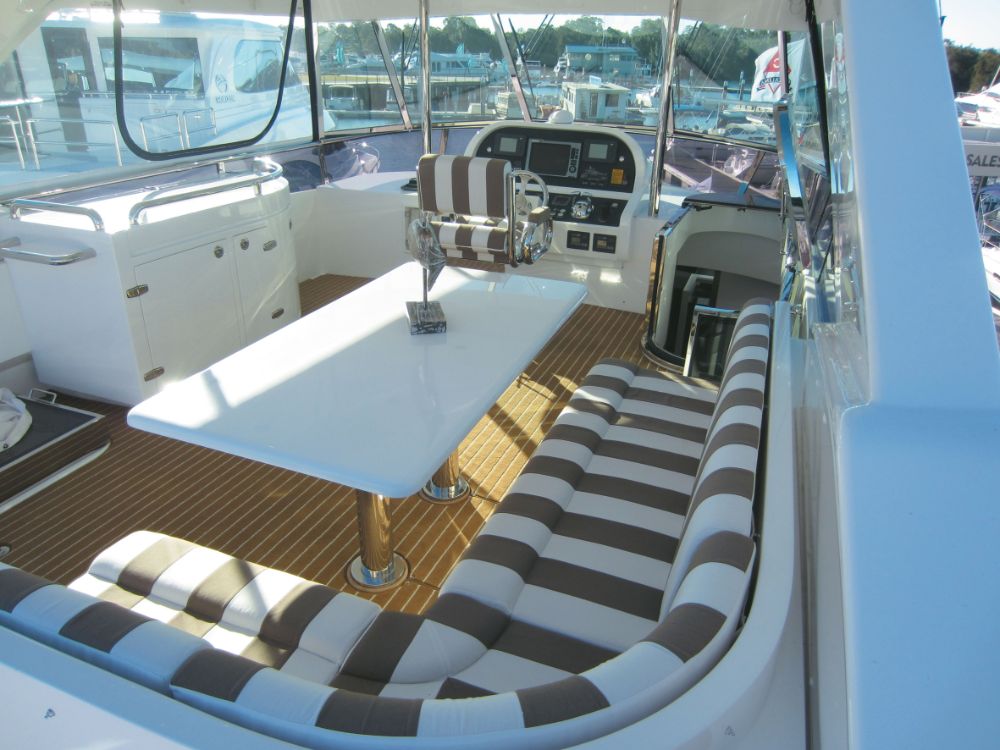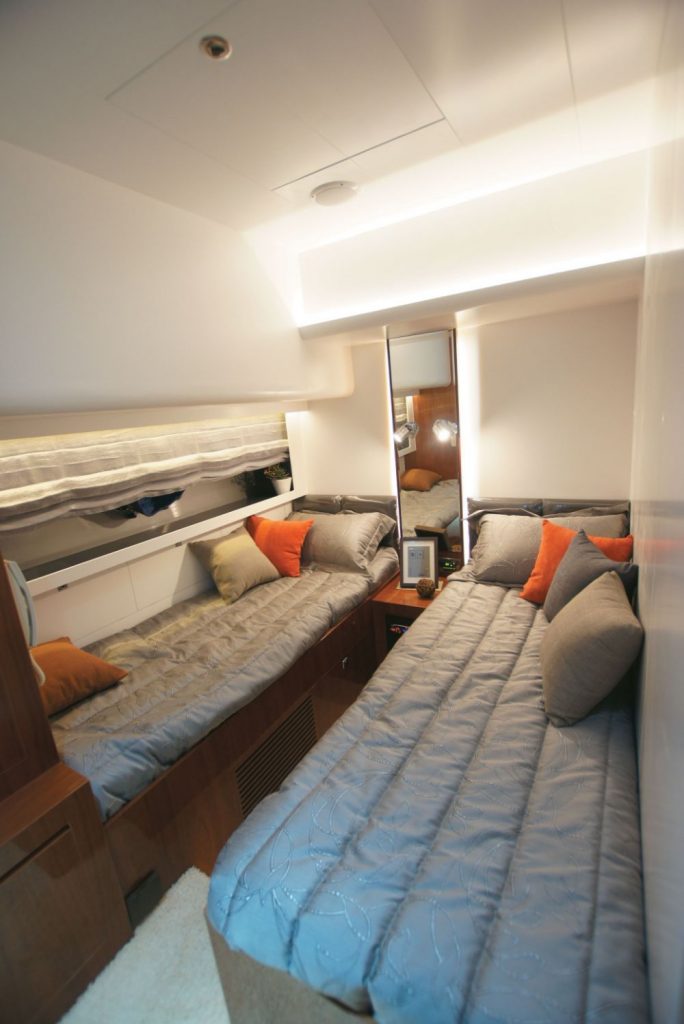 All the composite engineering is done by the Horizon in-house design team who have taken advantage of the builder's SCRIMP technology, which implements a vacuum bag lamination process to precisely control resin content and eliminate air pockets in the fibreglass.
Initially developed by the U.S. Navy, SCRIMP (Seaman Composites Resin Infusion Moulding) creates a uniform hull thickness and superior lamination strength.
Horizon goes even further, adding two layers of biaxial fibreglass to the gel-coat before the vacuum bagging process, to deliver superior strength to its construction scheme and sidestep the print-through from fibreglass mats. The extra safety measure also allows Horizon-built vessels to comply with top marine classifications.
Horizon's E70 is constructed with a fibreglass hull, foam core above the waterline plus foam-cored stringers. Watertight bulkheads and doors are installed in the transom, engine room, and pilothouse, in addition to a collision bulkhead forward at the chain locker.
The engineering section employs some of the best naval architects, engineers, and designers in Taiwan who use CAD computer programs to engineer Horizon yachts to the owner's specifications.
Horizon Yacht has come a long way since it started back in 1987 and today the company is recognised as one of the leading boat builders not only in Asia but also the world. Its extensive range covers almost every area of the motor yacht market from small powercats to super yachts and even through the GFC the company has continued to develop new and innovative models.
The E70 is a true representation of what Horizon Yacht is all about and not only expands its E Series range, it also brings to the forefront a lot of new ideas and a modern approach to the art of boatbuilding.
Design Name : Horizon E70E
Builder: Horizon Yachts
Country of Origin : Taiwan
Designer: Spadolini
Interior Designers: Austin
Year Launched: 2011
LOA: 21.43m (69′-1″)
LOH: 20.36m (66′-10″)
LWL: 17.00m (55′-9″)
Beam: 5.94m (19′-6″)
Draft: 1.52m (5′)       
Battery Changer: Mastervolt
Battery Banks-House : Mastervolt
Battery Banks-Engine: Mastervolt
Air Conditioning: Marine Air Chiller
Trim Tabs: HynauticC TCS-2-01
Lighting: LED lights
Underwater Lights: 4 x Aqualuma
Anchor: Winch Maxwell VWC3500
Anchors: Aritex 80kg
Steering: Hynautic 
Remote Engine Control: Yacht Controller
Engine Controls: Cat Chrome head MMC

Wipers: Exalto
Displacement: 50 tonne
Max Speed: 23.5 knots
Cruise Speed: 20 knots
Fuel Cap: 4323 litres
Water Cap: 1320 litres
Construction: GRP
Engines Make: 2 x Caterpillar C18 ACERT @1150hp
Gearboxes: ZF550A
Drive Train: Conventional
Propellers: 39″*39″*4B HUNG SHEN
Generator: 2 xOnan 17.5kW &11kW
Inerter:  Mastervolt
Bow Thruster: ABT 12″ 38HP
Stern Thruster: ABT 12″ 38HP
Watermaker: Sea Recovery
Swim Platform: Jinnshiuh Ltd.,Co
Saloon Doors:  Man Ship

Deck Hatches: Man Ship

Portholes: Man Ship

Heads: Tecma

Wood Finish: Moabi/High gloss

Helm Chair: Jinnshiuh Ltd.,Co.

Entertainment Sys: Bose Lifestyle 38
Autopilot: Raymarine ST70
GPS/Plotter: Raymarine E Series
Depth Sounder: Raymarine E Series
Radar: Raymarine E Series
VHF: Eissing RV120
Sat Dish: M7 + UFO digital ready TV ant.
Engine Instruments: Cat
Wind Instruments: Raymarine ST70
Switch Panel: VIMAR
Vessel Management: Sensotex
Price As Tested: $Aus3.35m