Justus is the first new Horizon motor yacht to arrive into Auckland in a number of years and has quickly attracted a lot of interest. Barry Thompson went aboard to check out this stunning new E73 from Taiwan's largest boat builder. IN the past few years I have had the privilege of reviewing a number of Horizon motor yachts and have always been extremely impressed by the design, quality, as well as craftsmanship that has gone into their yachts.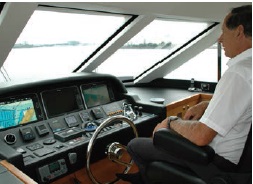 Built in Taiwan by Horizon Yachts, the entire Horizon range comes with that same stamp of excellence that Taiwan's largest boat builder has a reputation for. What was a special for me when I stepped aboard Justus, a Horizon E73, was the fact it was the first time I had reviewed the brand in New Zealand. Previously all the reports were done from either Taiwan or the Gold Coast, so it was rather nice to see a new Horizon on home waters.
Sold by New Zealand agents, the Motoryachtcentre, Don and daughter Donelle Senior, Justus is the first new Horizon sold into New Zealand for many years and if Don and Donelle have there way it will not be the last. "We have been talking with a number of clients over recent years about new Horizons, but now that we have one moored right outside the office , the interest has certainly achieved a new level", says Don.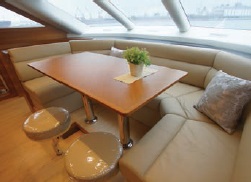 When Don first spoke to the local owners of Justus just over a year ago they were looking for a quality second-hand boat around '70ft', that had to be able to cruise comfortably at 20-22 knots and be sea capable of trips not only around New Zealand but also places such as Australia's Barrier Reef and the Pacific Islands. "When I couldn't find something that ticked all the boxes on what they needed, I suggested a new build and the result is the Horizon E73", adds Don Built during 2014, Justus arrived in Auckland in February 2015 and since has been used extensively by the owners, including a North Cape and Bay of Islands trip as well as Great Barrier Island. By the time I got to go aboard there was already quite a few hours on the engines. The engine choice for the E73 is either a pair of Caterpillar C18A (1001hp), Caterpillar C32 (1650hp) or MAN V12 (1550hp). Justus is powered by a pair of Cat C32s, and during the sea trials in Taiwan, the owner was pleased with how well Justus performed, cruising at his desired 22 knots @ 2100 rpm and reaching a 27-knot top speed. Fuel consumption figures at 22 knots are 462 lph or 21 lpnm (both engines), for a range of 290 nm. In slow cruise mode at 900 rpm, Justus returns a respectable 42.3 lph/ 4.5 lpnm, which at 9.5 knots gives a range of around 1300 nm. If you do decide on the smaller Caterpillar C18s, then the top speed is around 22 knots, with a cruise of around 16-17 knots. Another prerequisite was the owners wanted to be able to handle the boat themselves and not require a crew. While the E73 comes standard with an aft crew cabin, in Justus this is simply now a fourth cabin option. Linked in with bow and stern hydraulic thrusters and a Yacht Controller, the big E73 is incredibly easy to manoeuvre at slow speed into a tight space. Certainly no need for a crew.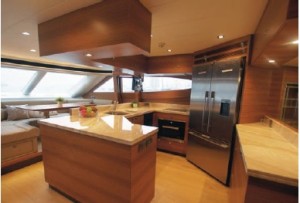 While Justus is very much the standard package offered by Horizon, the owners did work closely with Horizon in personalising the boat in some areas to fit their tastes, as well as their boating requirements. They chose satin finished teak as the main wood and focused on lighter coloured furniture and accents for an elegant contrast. Horizon will finish the interior in just about any timber you want and present it in full gloss, satin or matt. 
Horizon installed rolling blinds for the front windows of the sky lounge, allowing the space to be flexible for private use, and the galley was designed to also accommodate a dining area for the owner. An added bonus in the dining area is the storage space outfitted underneath the seating, which the owner pointed out showed Horizon's attention to detail and consideration of owner's needs. "We also changed the windscreen tints from quite dark in the flybridge to clear and around the lower dining area to a light tint, which I feel gives a better light penetration in both areas", says Don. All the fore and aft overhead cabinetry above the galley has been raised to provide better sightlines through the interior. There is now nothing impeding that mid view from the cockpit all the way to the forward dining area.
The rear sliding glass door was altered from a two piece to a three piece unit, which adds another third more space when the doors are open. Interestingly the open fly bridge version is the standard design, with the fully enclosed Sky Lounge being an added extra. Obviously most Kiwi and Ozzie clients have opted for the Sky Lounge, which I agree presents a far more practical layout that is better suited to our boating climate.
As is becoming very popular in new boats now is the soft curvaceous lines are giving way to more square and modern angles, Justus's interior follows that current trend with square corners rather than curves and it all blends in well. The main saloon is split into two distinct spaces, forward being the galley and dinette and aft the entertainment and general relaxing lower saloon.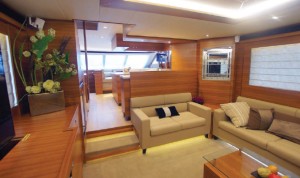 To port is a three-piece standalone leather lounge suite, complete with a small coffee table. A couple of builtin corner cocktail cabinets take care of the glasses and opposite is the entertainment area, complete with a drop down TV. Like the entire boat, the aft saloon has an individually zoned air conditioning system. To port is also the curved staircase access to the aft cabin. I liked the breakaway from the traditional flush panel hood liner, with the recessed cove above, finished in grp, with both concealed rope lighting and LED downlights, all inside a teak timber framed accent. Looks good and gives Justus that small super yacht feeling. The generous size galley features granite surfaces, (owner's choice) with teak cabinets and the usual amenities, such as F&P dish drawer, trash compactor, double opening fridge/freezer, four burner hob, microwave and plenty of storage spaces. Don pointed out that most of the electronics and galley appliances are sent to the factory from Australia/ New Zealand, so as to make sure everything is NZ 100% compliant, for insurance purposes.  Forward is the large dining area, which with a couple of swing out seats provide enough space for up to eight diners. The table is mounted on a slider, to make access to the back of the leather lounge a little easier. Justus also has a pantograph door either side (one is standard), which not only provides plenty of natural ventilation, but also gives easy and quick access to the bulwarks and bow area.
Justus is a three cabin (four with the crew quarters including bathroom), three bathroom concept, but there is an optional four cabin/ three bathroom layout also available. All the cabins have natural ventilation through side opening ports, individual air con and entertainment systems. Forward is the large VIP, complete with twin hanging lockers, bedside cabinetry and queen size double berth. The guest cabin is designed to provide either a double or two single berths, depending on your guest's preference. This is simply done by mounting the base of the inside berth on sliders.  The VIP and the guest cabin both share the same bathroom/shower, which features a large walk-in shower stall with frosted glass privacy doors. The sole is granite as is the vanity top.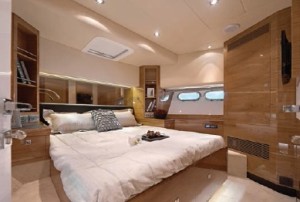 To find a boat of this size now without a full beam master would be very hard and the E73 is no exception. The 5.79m beam allows for a very large master stateroom, which in Justus includes a very generous bathroom. This incorporates a twin recessed bowl granite vanity, with a separated toilet space and shower area. 
Again the owner's chose to stick with the traditional layout, which features a king size island berth in the centre, flanked by a make-up vanity to starboard and a walk-in wardrobe to port, As you would expect, there are all the usual luxury extras such as TV and stereo, plus a couple of Raymarine repeaters to keep the owner informed as to the status of the boat's systems. The aft crew's quarters or in the case of Justus, the fourth cabin is simply designed, with twin berths and a separate shower/head. This can also be used as the day head and is accessed either from the saloon or ideally from the boarding platform. Horizon also uses this aft area to provide a large wet locker for fishing rods, dive gear, etc. and a compact laundry space. Access to the engine room is also via the aft cabin.
Access to the Sky Lounge is two-fold, either from the cockpit or opposite the galley and once you are upstairs there is another door that leads you to the upper deck. On here you'll find the Zodiac tender, Steelhead davit crane and Southern Stainless BBQ. It's a very conventional layout on Justus, with the forward section strictly devoted to the control of the boat.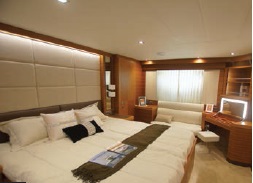 Twin Stidd helm chairs provide you premium comfort when driving and ahead, set into the black leather and carbon dash are a trio of Raymarine 165 Hybrid touch screens, plus all the necessary controls and instruments. To starboard aft is a U-shape settee that can be modified to drop down and form another double berth. The owners of Justus didn't opt for that option. The E73 is one of eight models in the E Series, which starts with the E56 (17.07m) and extends through a variety of lengths to the E88 (27.24m). The Horizon E73 offers exceptional flexibility in design and comfort, making it a perfect choice for comfortable coastal cruising or exploring exotic offshore destinations. As an ex-boat builder and a long standing big boat designer, Don is well aware of the costs to build a boat of this high quality, saying these boats represent excellent value.