The Hudson Bay 32 is the latest in the expanding range of sedan cruisers from clipper motor yachts Australia and continues along the same theme laid down already by the larger Hudson Bay 39.
Until recently when I thought of a Clipper Motor Yacht I envisaged a traditional trawler style cruiser, built in China to a high standard and at a very competitive price. Well, times have changed and while Clipper are still very much into their trawler style cruisers, they recently added a new range of Maine, USA inspired 'down east' style sedan cruisers.
The Hudson Bay range designates a style of boating in the Clipper stable that has no flybridge. The first of which was the Hudson Bay 50 released a number of years ago to test market acceptance, the range now comprises four very distinctive models; Hudson Bay 39, 34, 32 and 28. All four share, the same classic exterior lines, morphed around a modern interior that delivers everything you would want from a compact day and overnight cruiser. They are also all single diesel shaft driven boats, with the Hudson Bay 32, 34 & 39 all with fully enclosed wheelhouse saloons. TheHudson Bay 3232 and 34 have the same DNA and come out of the same mould, with the major difference being in the length of the cockpit.
Last year I had by first Hudson Bay experience with the 39, which I said at the time paid homage to the classic style but beneath the exterior was a highly evolved and beautiful built vessel that was borne from an ethos of handcrafted shipbuilding, that is befitting this style of vessel. Well, after a leisurely few hours cruising The Broadwater in the Hudson Bay 32, the newest addition to the range, my opinion remains unchanged.
What is a little different is that Clipper Motor Yachts Australia has gone to Turkey to have the Hudson Bay's built. A country stepped in boat building history and with a special affinity to this style of vessel, the Hudson Bay 32 comes out of Turkoglu, one of the most established yacht building yards in Istanbul.
The hull was design originated by Clipper Motor Yachts Australia, with the styling done in combination with the yard. " The distinctive flared hull sides and tumblehome transom is very reminiscent of boats designed and built in and around Turkey, so it was a natural fit for us," says Brett Thurley, director of Clipper Motor Yachts Australia. He adds it was also very cost effective.
The Clipper and Explorer brands have undergone some changes over recent years in respect to ownership and marketing. The existing Clipper designs, tooling, moulds and intellectual property were purchased from the previous owner of Clipper International by three partners Mark Campion (a founder and previous partner in Clipper International) Clipper Yachts Australia (owned by Brett Thurley and Glenn Thurlow) and Mr Yu Chairman of Fuhua Ningbo shipbuilding company.
This new partnership was formed to create a direct manufacturing, marketing, R and D and retail distribution network worldwide. Mark Campion markets and sells the existing Clipper range under a newly formed company named Explorer Motor Yachts and he has also included his newest range of pilothouse motor yacht designs in the 44 PH, 50 PH and 55 PH designed by Mark Williamson. Explorer services the rest of the world outside Clipper Yachts Australia that own the brand and Clipper Intellectual property in Australia. The new Explorer range of pilothouse motor yachts is distributed under the Clipper banner as the Explorer range in Australia.
So where does the Hudson Bay fit in? This is a wholly owned brand built and sold by Clipper Motor Yachts Australia. When I called to step aboard the Hudson Bay 32 moored not far from Clipper's porta com Coomera office, they were a few weeks away from moving into their new permanent premises in the main office complex of Gold Coast City Marina.
"This is an important and strategic move for the company and firmly sees us established as a major brokerage for both new and used boats on the Gold Coast," says Brett.
Hudson Bay 32 – Affordable Boating
Brett points out that the principles of the Hudson Bay 32 were for a boat that could be marketed in Australia for around $AUD300, 000 in its base form, sleep mum and dad and a couple of kids, be single diesel shaft drive and ultimately be affordable. Compared with the 34, (with air con and a genset), the price jumps a further $AUD170,000 and then if you go to the 39 it's another $AUD100, 000, so the 32 is well priced in the market.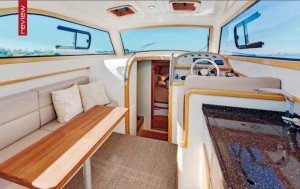 "The way we are equipping the boats is very much having everything included, so the option list is quite small," says Brett.
In the Hudson Bay 32, the base package includes; electronics, a 3000w inverter, shore power, Corian bench tops, microwave, Waeco fridge, auto windlass, bow thruster, trim tabs and a 240hp Yanmar diesel.
From there, you can spec such options as a 4kva genset, air conditioning, teak cockpit floor and swim platform and extendable awnings over the stern. However, the standard spec sheet is already very extensive so you don't need to add much more.
Engine wise, you do have a choice and can upsize to a 320hp V8 Yanmar, which is probably the ideal engine, offering quicker acceleration and an increase in top end speed by a few knots.
During our trials on the calm waters of The Broadwater I managed to get the GPS to hover around 19.5 knots, with the fuel indicator showing 53 lph. Bringing that back to a more sedate cruise of around 12 knots @ 3300 rpm the fuel flow dropped to a miserly 12 lph. If you are happy to cruise even slower at around 8 knots @ 2000 rpm, then the burn rate is a low 8 lph.
The Yanmar 260 is very responsive and gets the 5000 kg Clipper 32 onto the plane effortlessly. Once out of the confines of the speed limit in the Coomera River I set the throttles to around 3600 rpm and it wasn't long before we arrived at our destination of Couran Cove island Resort. What a great spot for lunch and plenty of marina berths to tie up to. Certainly a place I am going to make a point of returning to sometime for an overnighter.
After lunch, it was a fast (16-18 knot) sprint back to the river and a slow run to home base at Gold Coast City Marina. You can't do a lot wrong with a boat like this in calm water, but suffice to say it reacted positively to tight turns, was very responsive on the helm and suffered from very little heel. I did find the helm seat too low for me when driving, but that's something Brett was going to address for the next boat. It was only a cushion height shy of being perfect!
The classic soft sloping tumblehome style transom is very much what the Hudson Bay 32 is all aboutand sets the mood for this lovely cruiser. There is an oversized swim platform, with a teak step to sit on and fresh water shower to wash off the salt before stepping aboard. The teak laid decks in the cockpit, side decks and swim platform are standard and add a touch of the traditional look. A port side stainless and glass transom door leads into the cockpit, where you'll find an aft 3-seat settee, with high backrest across the transom and a removable teak table. A very relaxing spot to sit when cruising or for an evening cocktail.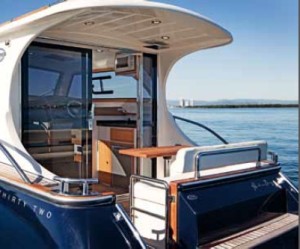 The coach house roof extends well back over the cockpit for protection and then you have the bonus of an extendable awning, that carries right through to above the rear seat. I was pleased to see that the Hudson Bay 32 has the same cockpit rain shower as I discovered on the 39. Very cool!
The 32 have a double rear stainless and glass door, which leads through to the saloon, with the starboard side galley and forward helm, with settee and dinette opposite. Brett commented that in future 32s, he would probably be incorporating a hopper window on the port side, which will open up the flow from the cockpit to the saloon. The galley has a Corian bench top with infills over the sink and cook top to provide maximum bench space when required. Above is a microwave and below the bench a Waeco fridge/freezer plus cutlery and storage drawers. As the boat comes standard with a 3000w inverter you can run your microwave, cook top, toaster, etc. from the house batteries.
Forward is a helm bench seat with a storage locker under. The Isotta steering wheel adorned with the Hudson Bay logo and the hand stitched embossed leather dash, continue the quality image that is evident throughout the boat. The large dash is capable of taking just about any MFD screen size you choose and there is still plenty of real estate for a comprehensive array of instruments and switches.
With no air con, you still can get ample fresh air and a cool draft when underway from twin overhead hatches and sliding side windows. A full sliding Webasto sunroof is an option. Timber throughout is light grain Aniegre, with teak sole covered with a removable sisal matt. Twin hatches give access to the engine and engineering spaces below. To port in the saloon is a full length lounge with removable pedestal table, which, when you add a couple of loose director style chairs gives you easy dining for four. Going forward there are big solid handrails either side of the companionway to the accommodation spaces forward.
One of the interesting features about the Hudson Bay 32 is that it is essentially a custom build and not a strict production boat, so you have the ability to change the layout to suit what you want. You are only limited by the parameters of the boat's hull.
Boat #1 is a two-cabin option with a large master forward and a guest room to port. The guest cabin features 1.8m lower berth and a shorter upper, which also folds down when not required. Opposite, is a shared bathroom with Corian vanity enhanced with a raised square porcelain sink, shower, Jabsco head and a slatted teak sole. The master cabin is quite large for a boat of this size, with a queen size berth nice and low for easier access. It also tends to give it a wider profile. Best option would be for a fitted duvet/doona to save you the trouble of having to tuck it in. There are two giant hanging lockers and storage under the berth.
The Hudson Bay 32 offers the layout of a sports cruiser in a classically styled lobster boat, bring the day cruising and overnighting aspects of both together into one well-defined package. Being the first boat out of the mould, there are always things that can be improved or changed and no doubt we will see plenty of differences in future 32s.