When you talk to a Kiwi about a pontoon boat, they will immediately conjure up images of a typical aluminium boat with tube-shaped sides and a layout and cabin design not much different to a flat sided competitor. However, if you talk to an American, they will think of a flat deck mounted on top of two or three alloy tubes with a point on the bow and loads of seating and entertaining areas right through to the transom.
Since the very first aluminium pontoon was introduced in 1958, US boaties have been drawn to their unapologetically simple design, ease of use and the no-frills ability to get lots of folks aboard to get the party started. Back in those days, you broke out the folding lawn chairs, fired up the charcoal grill, and slowly putt-putted your tiny outboard to the nearest cove of like-minded revellers.
Well, that's all changed and the pontoon or as American's often call them "toon" boats has morphed into the deck boat. The deck boat concept started in 1974 when a company called Hurricane began to building a fibreglass V-style hull to add better performance and handling, but still, retain a pontoon-style topside and wide-open floor plan that people loved so much about pontoons.
It was so popular, in fact, that the first deck boat (called FunDeck) has been in constant production ever since. The deck boat has come a long way and has been refined to the point that they stack up against any other powerboat style. However, while in the US they are one of the fastest growing boating styles, in Australia and New Zealand they are still very much on the fringe. Unless someone needs a deck boat, they will traditionally go for the conventional alloy or glass runabout or cabin trailer boat.
Today's deck boats are designed similarly to other fibreglass runabouts, but with the bow section carried as far forward as possible to accommodate more folks in the forward seating area. You'll see coordinated upholstery accents, bimini tops and carpet, and the exterior graphics tend to be a little bolder. Many deck boats also have integrated wake tower options, which adds a distinct water sports profile.
 Australia has had a niche deck boat building industry for some years and there are some exceptional local examples as well as a myriad of imports. So why would someone want a deck boat anyway? Perhaps the most significant thing a deck boat offers is unprecedented space and versatility that is unmatched by other boating styles.
One of those brands, Hurricane, reputed to be the world's #1 selling pontoon boat arrived on the Australia New Zealand market earlier this year and had its first public showing at the recent SCIBS. According to importer Brett Flanagan, the response was terrific, with boats sold and lots of enquiry for models that they did not have on display.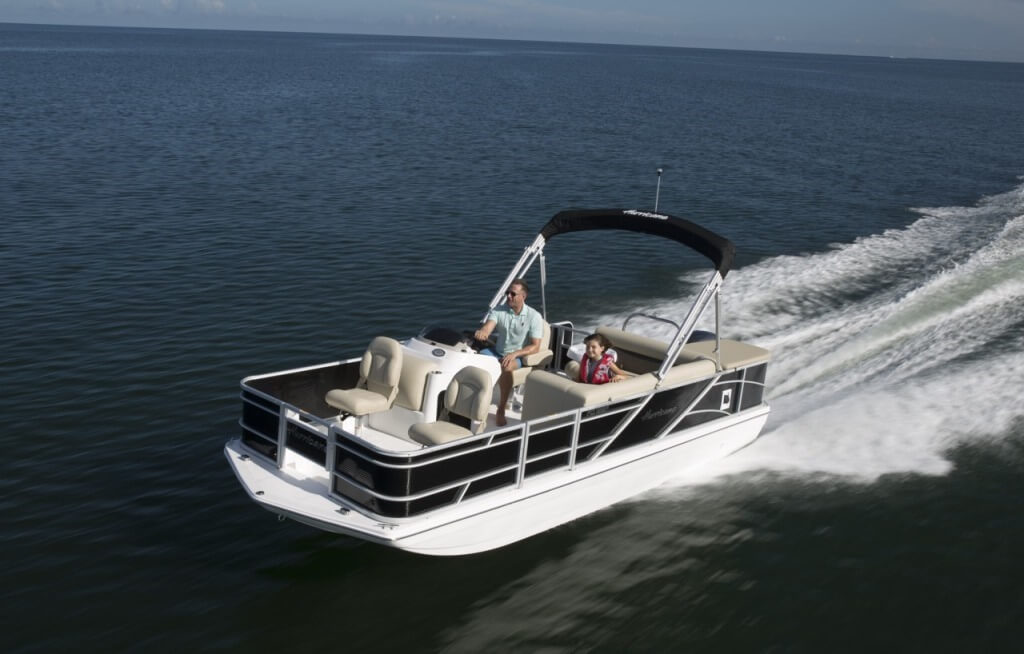 "We have four grandkids and between them, our daughters and son, with their partners and the dogs we need something big and spacious with the area to take them all out boating safely around the Gold Coast and the deck boat is ideally suited.
"Hurricane produces over 22,000 boats a year, with dozens of models up to 24ft, so we can just about cater for everyone's deck boat needs. They are ideally suited to the boating around the Gold Coast, but we have also had a lot of interest from right down the East Coast and also New Zealand", says Flanagan.
The thing to remember also is not only do the Hurricane deck boats offer transom to bow, chine to chine useable space, they also have a pretty good performance and handling reputation. These are not boats that you can only use in calm waters around the canals, they are built tough and are rough water capable. Okay, so maybe not that suited to running 20 nm off the coast to a great fishing reef, but extremely capable all the same if the weather cuts out and you have to slog your way home.
The Hurricanes are based on a tri-hull design that is a moulded vynlester fibreglass construction, with a wide body and positive flotation. Run the boat through a wave and everything drains off the deck as quick as it arrived. Wet, probably. Safe, definitely. Fun, you bet! They are beautifully finished with a lot of attention to the finest details and during the build, period undergoes stringent quality control.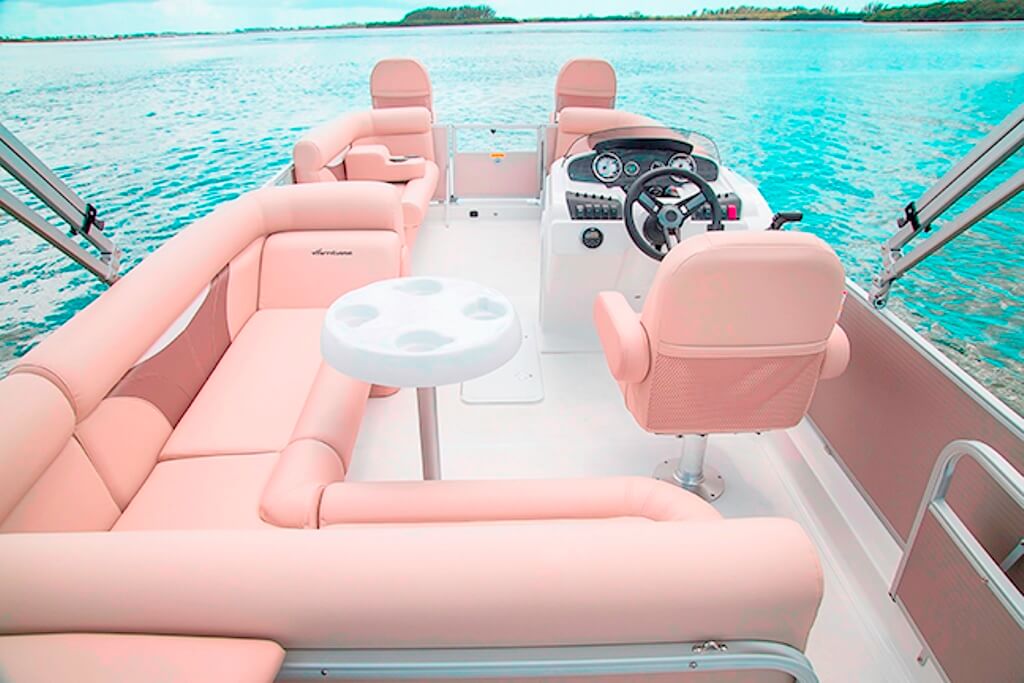 The Fun Deck 196 is designed as an all-rounder, ready to fish, to entertain or to cruise. It is one of eleven models in the Sun Deck range which is split between cruising versions and ones a little more angled towards fishing. The main difference is the seating arrangement forward. It is characterised by its secure high side rails, plenty of seating and storage and its ease of use. With a draft of only 25cm, the Fun Deck 196 can access very shallow water close to the beach.
At rest, it is rock steady and underway it proved to be a slippery boat in the calm waters of the Coomera River, where I had the opportunity to put the Sun  Deck196 through its paces. It was quick to plane and reach maximum speed and hooking into tight corners it grips and slides gently without any noticeable heel. I doubt you'de find a boat much more natural to drive, with a stable platform that offers a sense of safety, something that is very important if you have your grandees aboard. I have had very little time on the water in deck boats, but I can see that in the right environment there is nothing better. Perfect boat for the Gold Coast!
Test power was a Yamaha 150, with the boat available from 90hp to 150hp. We topped out at around 40mph. However, to me the Hurricane 196 is not ab out how fast it goes but more what it's like when off the plane and a leisurely cruise. In both cases, magic, with low fuel economy and the Yamaha 150 proved quiet and when I needed to give the throttle a bit of a touch, the response was instant.
When you order a Hurricane deck boat, you can customise just about everything, from the seating layout to ticking your way through the vast list of extras. If you are into entertaining and like cruising around with pleasant sounds, then the Fun Deck 196 can be equipped with the very latest systems and speakers.
Being an entirely open boat, it is probably a good idea to go for the bimini top to give you plenty of shade. This folds away into its own sock and is well aft out of the way of you are fishing.
If you plan to spend a few hours aboard, sinking a few coldies and a kilo of prawns then nature is going to call at some stage. The Sun Deck 196 has that covered with a brilliant pop up head compartment on the port side aft deck. This also doubles as the private changing room. Very cool!
The 196 also comes with snap-in carpeting, so it's easy to remove and clean when you get home freshwater wash downs, and substantial in-floor lockers for storage of both wet and dry gear. There's enough space for skis, wakeboards and fishing rods and in fact you'de probably find it hard actually to fill all the dedicated storage lockers. Every available cavity that is not being used for storage is filled with urethane foam flotation. This adds some rigidity to the hull but also adds a degree of sound dampening and reduces vibration. A 5-year warranty backs all hulls.
Seating options are designed to suit your requirement, be it a couple of swivelling forward casting seats, with full wrap-around loungers both fore and aft. To starboard is a single helm seat and all the seating is built using a high-density foam with triple stitched UV resistant vinyl. Best of all they are very comfortable.
I was impressed and if I had a riverfront or canal property, I would have one parked on the jetty. If you are into entertaining, like cruising with friends or family, but also dropping a line over the side on the odd occasion, then the Hurricane SunDeck 196 is a worth a look.
Model & Model: Hurricane FD 196 OB             
Priced from: $89,000
Type: Deck Boats
Construction: GRP                            
LOA: 5.22m
Beam: 2.33m                                                             
Test Power: Yamaha 150                                       
Power options: Outboard Only
HP Range: 90-150hp                                                        
Fuel Capacity: 100 litres                                           
Trailer: Optional