Very few people will gain an accurate impression of Hurricane Fundeck 236 the first time they see it. That'll be because what your eyes tell you they're seeing isn't actually right.
They (your eyes) straight away jump to the conclusion, "pontoon boat" because until such time as you take a close look at the lower part of the hull anyway, a pontoon boat is absolutely what a Hurricane Fundeck 236 appears to be. There's a typically boxy obviously aluminium superstructure with the usual slab sides topped by square rails; and right where you'd expect it an enormous bow lounge; plus of course the ever present high mounted shade canopy. Indeed; the Hurricane Fundeck 236 looks pretty much the same as every other pontoon boat. Except that it's not in fact a pontoon boat!!!
Pacific PowerBoat readers get off lightly here because our photo spread shows a Hurricane Fundeck 236 cranking turns that would quite literally turn a pontoon boat inside out. And apart from it being a competent rendition of the pontoon boat theme in so many respects, that it doesn't have pontoons underneath is what makes this boat as unusual as it is successful!
Taking a close look at our images of the boat in hard turns also shows the Fundeck 236's hull to be at the same time a clever piece of design while it offers similar attributes to the pontoon boats it so resembles.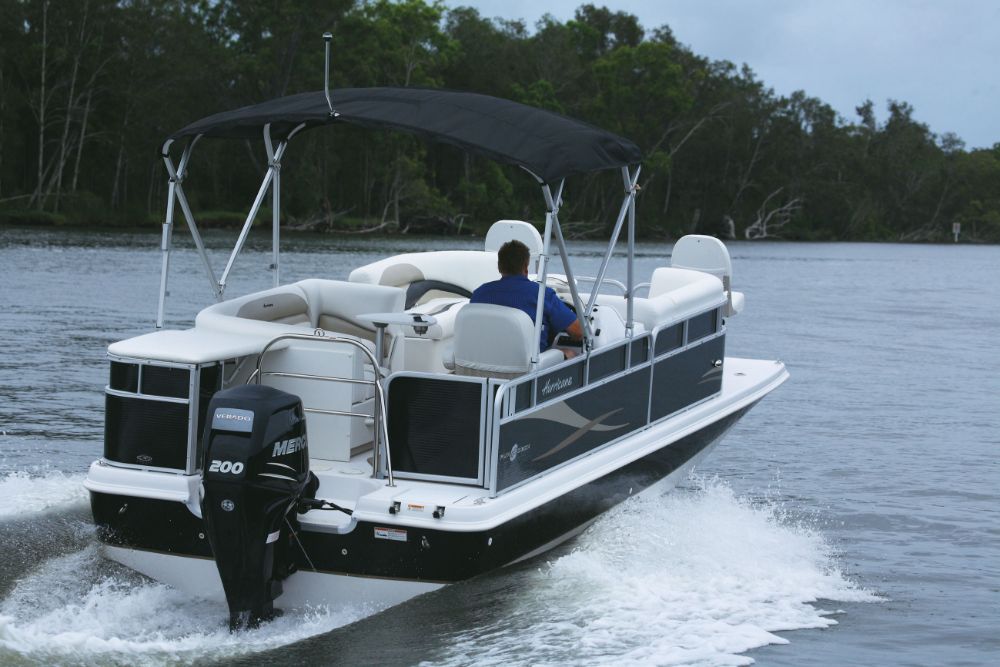 Even right at the "sharp end" of the bows the hull's deadrise angle is fairly shallow. From the keel line the hull bottom stretches out to wide, turned-down chines carried all the way forward to almost square bows. Hull shapes like this are variously referred to as "cathedral" and "trihedral" and this one works well.
At rest the boat sits rock steady in the water just like, dare I say it, a pontoon boat of similar dimensions. I guess it'd be fair to observe a deck layout like this would be wasted if it didn't have "monolithic" at rest stability while the literal party's going on aboard. However, all else aside, the Hurricane Fundeck 236 definitely performs this most essential function of pontoon boats every bit as well as they do.
What this boat does that they can't do though, is turn. Thanks to those massive chines lifting above the keel line as it nears the bows, the hull is free to lean as much as it needs to, to turn quite well – and to do so without the disconcerting characteristic some cathedral hulls exhibit of pivoting sharply around the inside chine in hard turns. Contradiction though it may seem, this boat turns more like a ski or wake board boat than the party barge you think it is when you first set eyes on it!!!
Our test boat was set up by Leigh Smith Cruiser Sales on Queensland's Gold Coast, which raises another couple of interesting matters to discuss.
One is that pontoon boats are (deservedly) very popular on the Gold Coast where their social amenities are perfect for people who like to get out on the water with friends and enjoy the maze of sheltered channels and scenic waterways comprising southern Moreton Bay.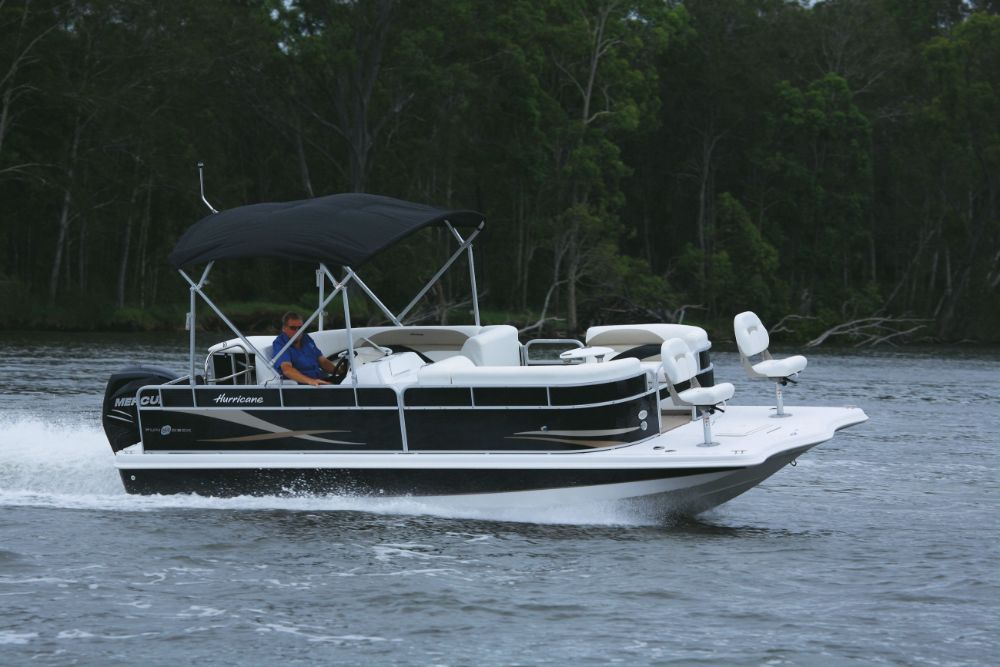 Speaking as a local though, an aspect of pontoon boats that's always left me uncomfortable is that they don't turn well. Wherever you go boating around the Gold Coast's multitude of waterways and the jigsaw of wetland channels north into southern Moreton Bay you need a boat which steers easily through narrow winding channels and is nimble enough to dodge sometimes busy traffic. It has been my experience that many boats in this area seem to be driven by people who apparently think they're playing in dodgem cars rather than large expensive boats.
This in itself presents a powerful argument for the many people who go boating in places similar to the Gold Coast to consider this boat!!!
Another aspect of the Hurricane Fundeck 236 tested is of far less interest to me, although I do concede it will be of interest to many other people, and that's the tow point attached to a stainless steel rail arched over the outboard cowl. (Noting while aft near the outboard that our test boat is powered by no less than a 200 hp Mercury Verado.)
We're looking at a couple of tonnes of boat all up here and while that makes it no lightweight, it is about what boats capable of running 200 hp outboards (it's actually rated up to 250hp) usually add up to; so when you push Mercury's lovely Digital Throttle and Shift (DTS) control lever forward, things start happening rather quickly. Depending on what prop's fitted and how the boat's loaded at the time of course, top speeds around 35-40 knots can be expected so it seems towing wake toys and water skiing are entirely within the job description.
Certainly the boat's nimble enough to do this (further enhanced in our test boat's case by power steering) and it had more than brisk enough acceleration with the 200 Verado. How it would perform with a 250 is somewhat exciting to contemplate.
180 litres of fuel tankage means you won't have to be concerned about how much fuel you're burning while indulging the need for speed this boat caters surprisingly well for. If you're still surprised by anything about what by now I think we must agree is an unusual boat, perhaps we can note that its foam filled hull makes any speed quiet and fuss free.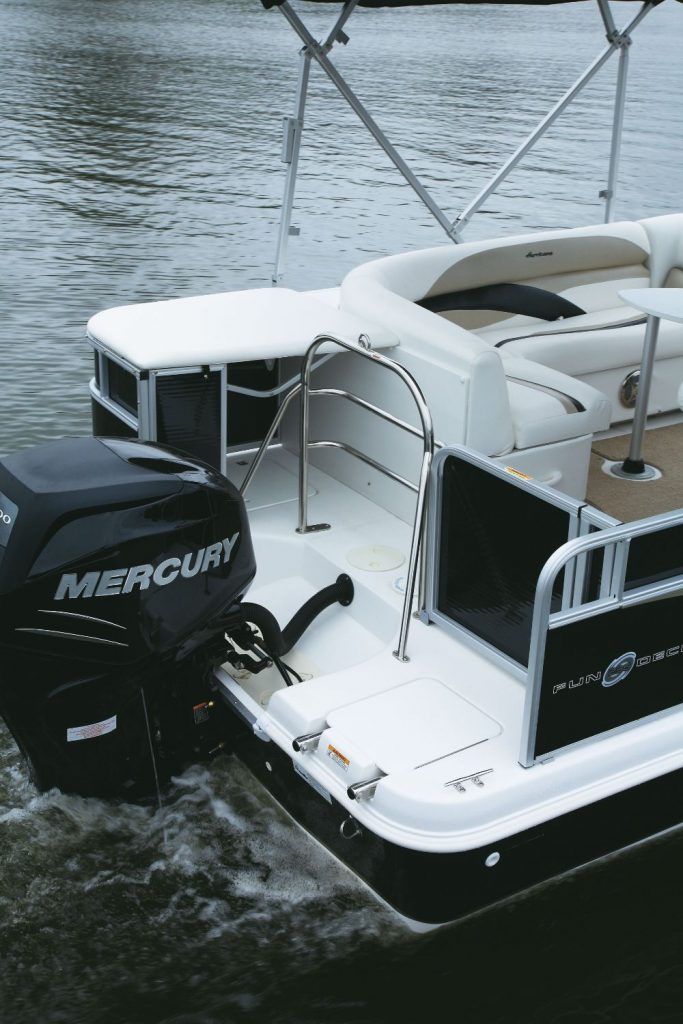 The boat you see here is actually an "F" model which means it has a smaller bow lounge than the standard model and a pair of comfortable pedestal seats mounted out on an open bow deck occupying space sacrificed by the lounge. The seats look like an ideal place to wet a line and that's in fact exactly what they're intended (thus the "F" designation) for.
Our test boat also had a livewell set into the deck between the seats and flush deck rod holders behind them. It seems there's some serious fishin' in mind here… The ground tackle resides beneath another flush hatch in the bow deck.
Serious fishing indeed when you open a much larger hatch set into the main deck just in front of the helm to find a truly enormous in-deck stowage locker. We all tend to take too much gear for a day on the water but I defy anybody to overflow the stowage space available in this boat. There's a rod rack inside the in-deck locker which I (who own many thousands of dollars worth of fishing gear) thought a great place to safely stow fragile fishing rods out of harm's way.
If you don't want to pile gear on top of your precious rods you'll just have to use stowage beneath the lounges – of which you may rest assured there's plenty available. Count the seats in the bow and portside lounges and when you figure every one of them covers a big stowage locker and you'll see why I doubt anyone could run short of stowage.
Presumably the rating for up to 12 passengers is a US Coast Guard approved one, (the Hurricane Fundeck 236 being built in the good old US of A.) 12 people might perhaps be a bit squeezy for the "F" model but wouldn't be out of the question for the standard boat with its larger bow lounge. Both the bow lounge and the one portside beside the helm are well upholstered and there are sockets in the deck in both areas for the two tables supplied as standard.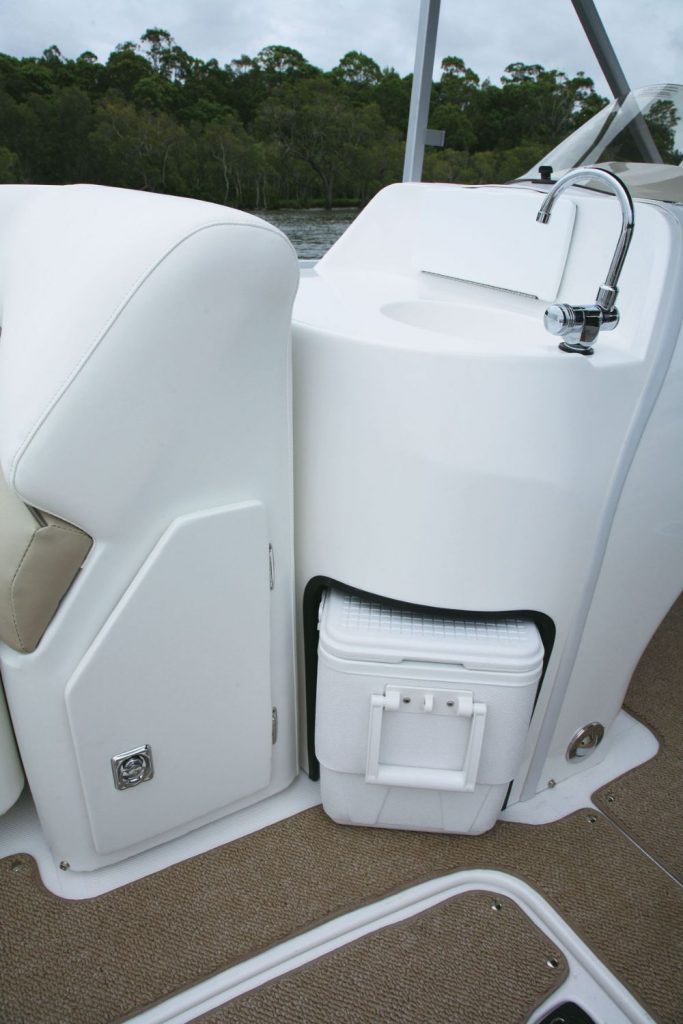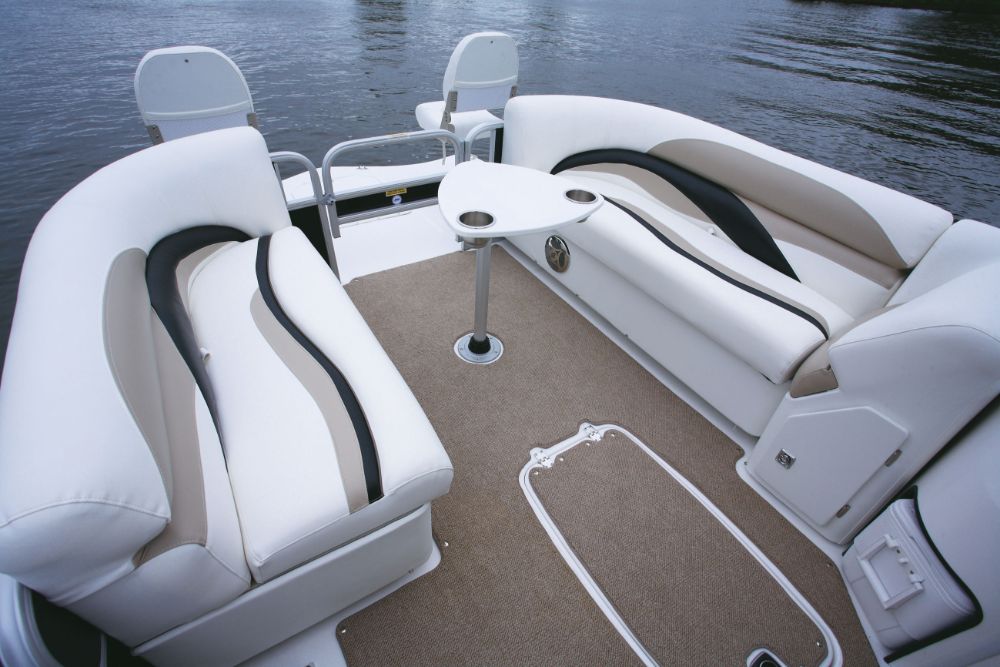 Entertainment is taken care of by a Fusion system with incorporated I Pod dock and strategically sited stainless steel speakers. The whole deck area bow to stern is level and carried high enough above the water to self drain for easy clean up with either of two standard deck washes.
Clip-in carpet is easily removed for cleaning – a sensible thing in a boat sure to have quantities of salt water and sand brought aboard. Both the bow and stern have foldaway telescopic boarding ladders to ensure plenty of sand and salt can be brought aboard.
Privacy to change for a swim is on hand when that square cover portside on the stern lifts up to become a change room.
To dyed-in-the-wool boaters about the only part of the Fundeck 236 immediately recognisable as "boat" is the helm. Sure enough there's a sporty looking windscreen and an immediately recognisable marine steering wheel (fully adjustable, please note) behind an instrument cluster mounting an analog speedo and a SmartCraft monitor for the Verado outboard each side of a Lowrance sounder. The DTS control box is set to one side where you'd expect it but the devil as they say is in the detail because the steering console turns out to have a great deal more to offer.
Atop the bow end in front of the area screen there's a sink with pressurised water on tap, and an ice box stows away into a slot underneath that. Beside the esky there's a dry stowage locker let into the lounge moulding – in fact a similar one is incorporated into all the lounge mouldings.
Deck lighting set strategically around the interior comes standard as do docking lights and a full set of covers to keep the boat clean when stored in a marina or on your canalside pontoon.
Our test boat was stored in the hardstand at Gold Coast City Marina and launched by forklift so trailering didn't come up during the test. The brochure states that the Fundeck 236 is 2.59 metres wide so it, like some other boats imported from the US, may not be trailerable on the road in Australia.
There are however also 6.75, 6.12 and 5.7 metre Fundeck models available, all of which have a 2.3 metre beam, well within the maximum trailerable width of 2.5m. All of them share the 236 model's unique mix of attributes, making a total of 10 models all of which do everything the pontoon boats they so resemble to a casual inspection can do – and so much more!!!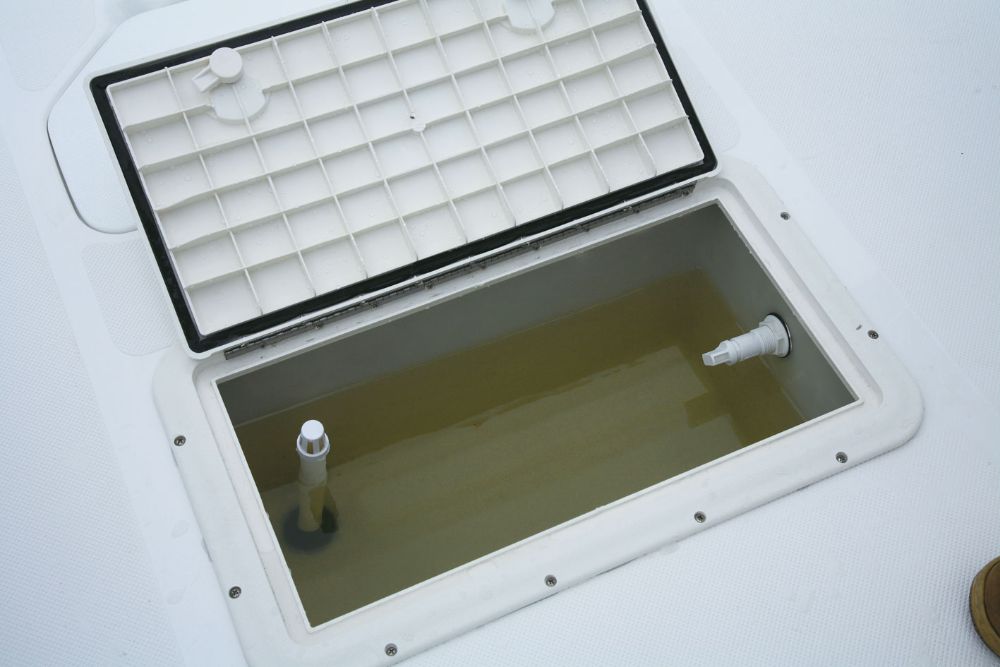 Model: Hurricane Fundeck 236
Priced from: $A65,000
Price as tested: $A69,500
Type: Pontoon Deck Boat
Construction: GRP
LOA: 7.14m
Beam: 2.59m
Deadrise: Tri Hull
Engine capacity:  150-250hp
Power options:     Outboard only
Fuel capacity:       182 litres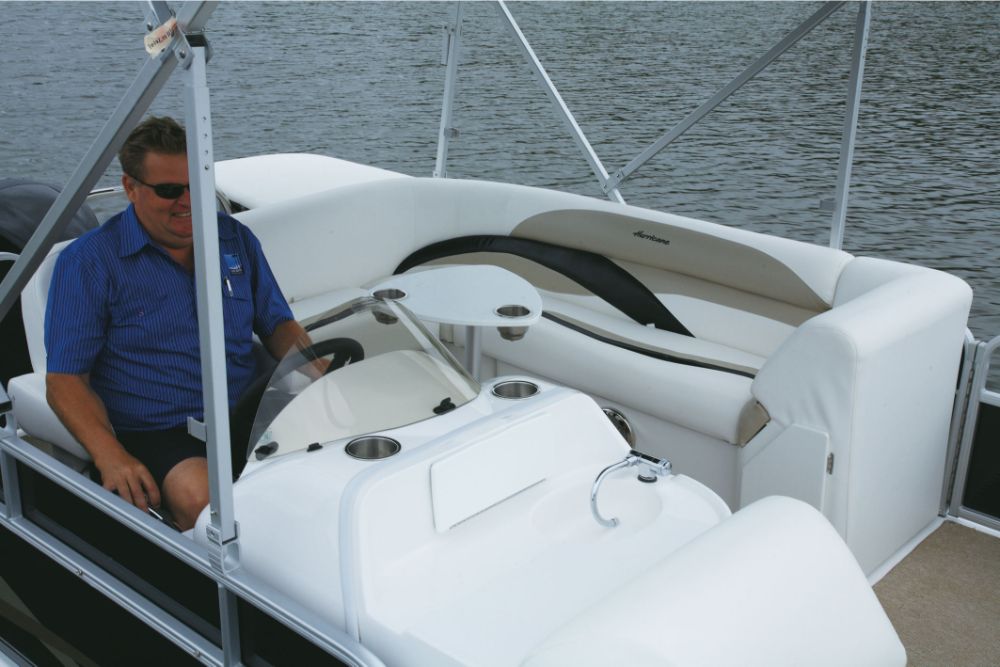 Notable standard features on test boat:
Canopy, foam flotation, Sony stereo, stern telescoping ladders, docking lights, hydraulic Sea Star steering, stainless steel cupholders, cooler bin, hand held shower.
Make: Mercury
Power: 200hp
Model: Verado 4-stroke
Cyl. config.: in-line 4
Displacement: 1.7L
Max rpm: 6400 rpm
Propeller: 17" Vengeance
| | | |
| --- | --- | --- |
| rpm | mph | L/h |
| 1000 | 5.5 | 2.64 |
| 1600 | 8 | 4.9 |
| 2000 | 9.5 | 6.8 |
| 2600 | 13 | 12.1 |
| 3000 | 20.5 | 15.8 |
| 3600 | 24.5 | 21.1 |
| 4000 | 28.5 | 26.8 |
| 4600 | 33 | 39.7 |
| 5000 | 35.5 | 52.9 |
| WOT | 40 | 76.8 |