If there was one boat that really stood out at the recent SCIBS 2019, it had to be the Iliad 50. One of a new line of power catamarans, the Iliad heralds a revolutionary new chapter in multihull industry. 
Multihull Solutions unveiled their innovative new line of power catamarans at the show with the international launching of the Iliad 50 at a VIP event on a Friday evening. Five minutes before the ribbon was cut to launch this impressive vessel, the boat was officially sold to buyers from Brisbane.
In the following days, Multihull Solutions also took orders on two more Iliad 50 catamarans from buyers on both the east and west coast of the country. The company were expecting to finalise two additional Iliad 50 orders after sea trials and contract negotiations in early June.
Multihull Solutions managing director Mark Elkington said the response to the new Iliad Catamarans range was extremely exciting.
"We knew this new brand was going to shake up the power industry, but we are thrilled to see it have such immediate impact," Mark said.
"It's great to see the industry embrace the ILIAD concept so enthusiastically, and the range truly complements our MY 37, MY 40 and MY 44 motor yacht range from Fountaine Pajot."
Iliad catamarans are designed to deliver safe and comfortable offshore performance with exceptionally long range (2,500nm – 6,000nm). The catamarans are particularly unique in that clients can customise many aspects of their chosen model to reflect their style and needs but without the significant cost of making changes to most production and semi-production power catamarans.
The Iliad Catamarans range comprises the Iliad 50, 60, 70 and 90, with each model allowing clients to choose their preferred layout, timber finishes, electronics package, luxurious fabrics, engine options and more, at a cost-efficient rate.
Just like the legendary Achaean ships of Homer's epic poem, Iliad Catamarans are designed to face the most treacherous conditions with confidence. Ideal for extended ocean passages and offshore cruisers, each model affords impressive range and speed with one of the longest range capabilities in their market segment.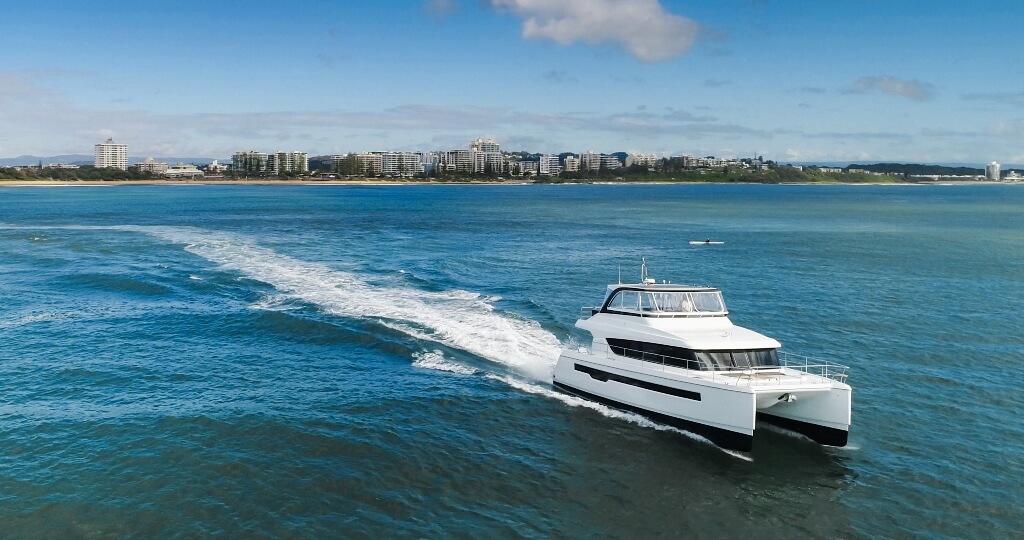 The Iliad Catamarans fleet is designed by Italian naval architect Riccardo Bulgarelli who worked in Italy for many years for some of the world's leading shipyards before establishing his own design office in China. The new Iliad 50 is the first model launched from the innovative new shipyard. Iliad Catamarans are built to CE (Cat A) as standard, however, all Iliad Catamarans models can be made to any specified international survey classification.
Construction uses resin infusion technology with hulls laid up in vinylester resin and advanced composites, ensuring they are designed for robust use in remote regions. 
Well-trimmed fore and aft at all speeds, ILIAD Catamarans can explore more remote destinations with the security of protective grounding skegs providing easy out-of-water servicing if required when slipways are out of reach.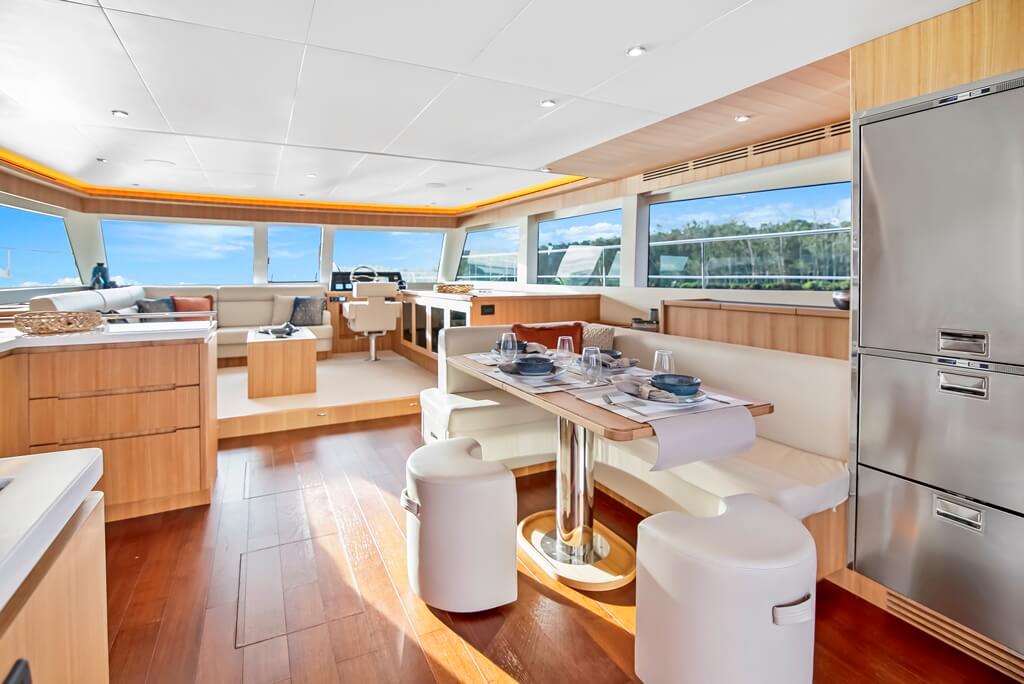 Each Iliad Catamaran is designed to evoke the comfort and style of luxury apartments with astonishing space throughout their living areas. Conceptualised with long-term cruisers in mind, the cats are incredibly functional with excellent flow across the various zones.
The Iliad 50 is a true offshore bluewater passagemaker that delivers impressive comfort and safety at sea, and with a bridge deck height of 850mm at half load. Wide, safe walkways are part of each design with handrails at a comfortable height for complete security at sea, while clear, uncluttered decks and huge deck storage facilities make offshore passages practical, safe and carefree. The flexible design offers an optional forward main deck helm station (in addition to the flybridge helm station), and the flybridge stairwell has a fully composite design ensuring optimal safety and convenience for guests and crew when underway.
The Iliad 50 has an abundance of space for relaxation, including a foredeck lounge and an impressive flybridge that is a luxurious entertaining precinct all of its own featuring a lounge/dining area for eight guests, independent galley, BBQ/grill, separate drinks fridge, ice maker and more.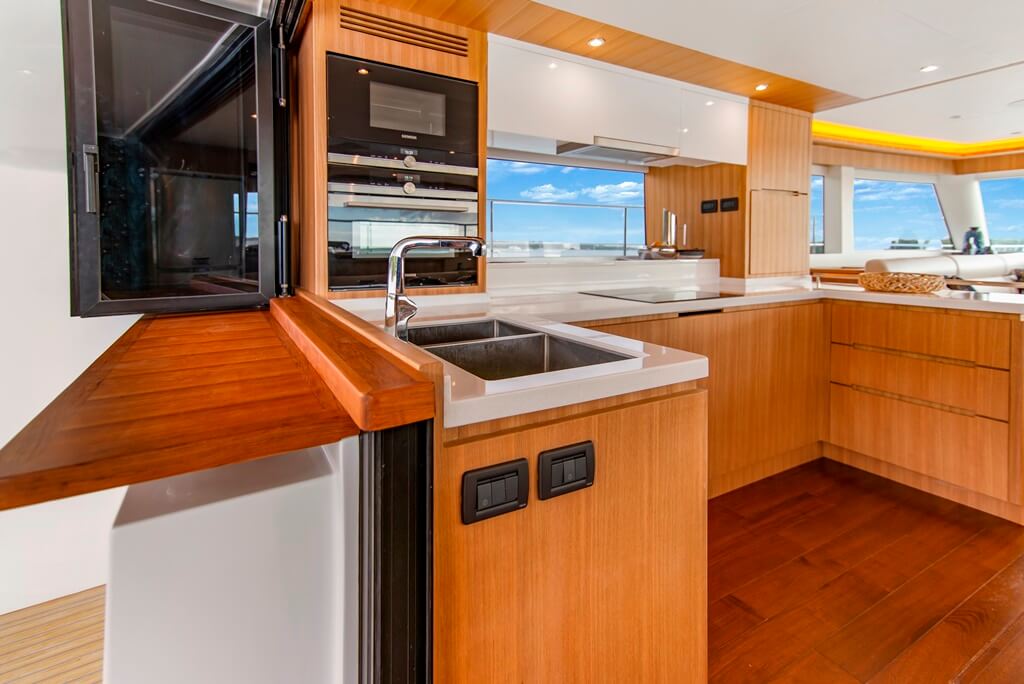 Continuing this freedom of choice, the flybridges can be left entirely open or can be fully enclosed with fully ducted air conditioning, or clients can elect to have the best of both worlds with high-quality clears that can be opened and closed as the elements demand.
On the main deck, the galley boasts the finest range of appliances, generous storage, an oversized stainless-steel double sink, Corian benchtops and 360-degree views of the sea as standard. As with the rest of the boat, the galley can be wholly customised to add or remove any fixtures or styles you desire.
In one of the many layout options available, the forward lounge area delivers the ambience of a luxurious waterfront apartment with views from every angle and seamless access to the saloon and dining areas.
The interior design and colour schemes are a personal choice for each buyer, offering customisation, various layout options and selection of equipment brands.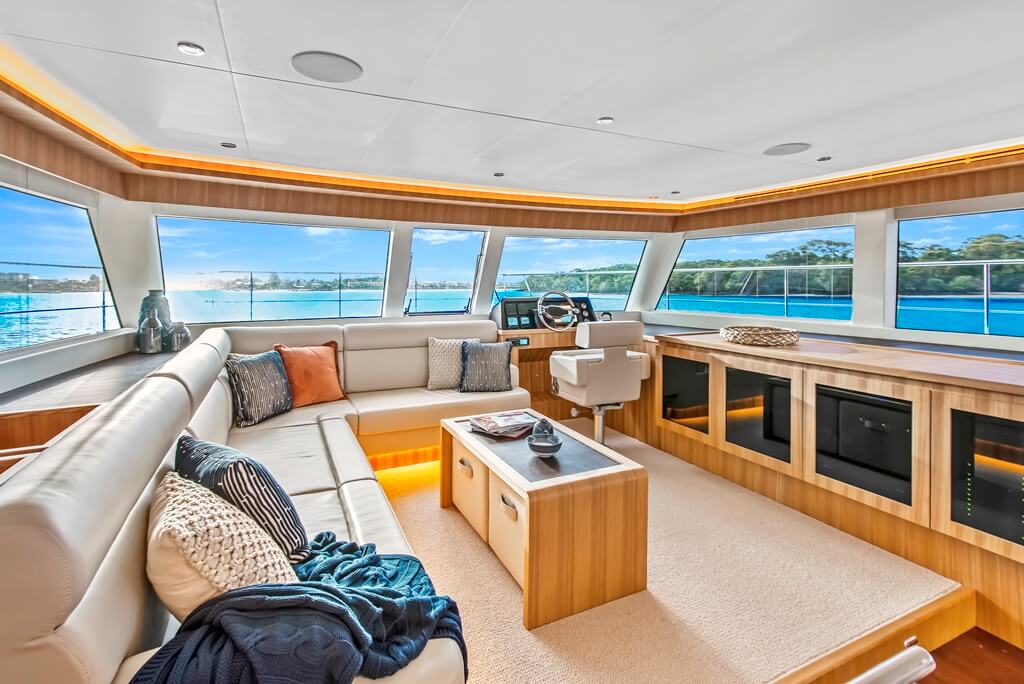 All cabins are beautifully appointed with queen-size beds and generous hull port windows that create naturally bright and airy havens for privacy and relaxation. The bathrooms offer outstanding volume for a vessel of this size, and the owner's bathroom features a huge shower large enough for two to share.
The Iliad's engine rooms are designed for easy access for servicing from the aft deck through watertight hatches, and all major access points are thoughtfully designed for convenience and safety.
The catamaran's design allows for either traditional davits fitted to her transom for the tender, or those wanting a larger tender-carrying capacity, an optional flybridge-mounted crane can lift and store the tender aft of the flybridge deck area.
The ILIAD 50 is an exciting evolution in power catamaran design and delivers extraordinary value for money.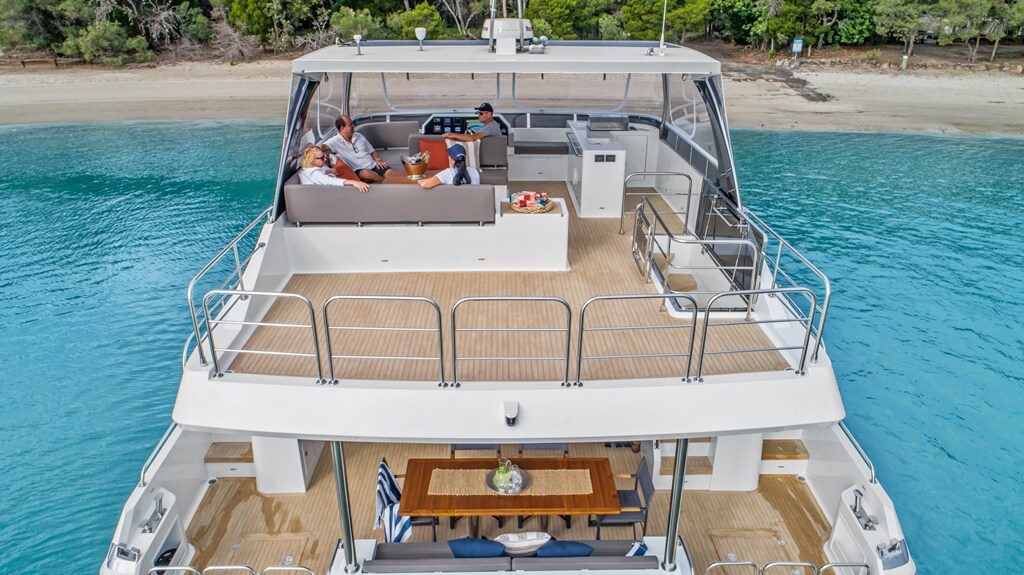 Over ten engine options are available, and Iliad Catamarans all come with standard inclusions, including dual control electronics as well as systems for fuel transfer, blackwater and power management systems (minimum 5000W inverter).
Iliad Catamarans have been designed to tackle the most severe conditions with confidence. Ideal for extended passage cruising, each model affords impressive range and speed with fuel efficiency.
Iliad Catamarans' standard recommended engines deliver a long-range cruising speed of around 7 knots at a fuel burn of less than 1.5 lpnm with a range of up to 6000 nautical miles (depending on the model).
Well-trimmed fore and aft at all speeds, ILIAD Catamarans can explore more remote destinations with the security of protective grounding skegs providing easy out-of-water servicing if required when slipways are out of reach.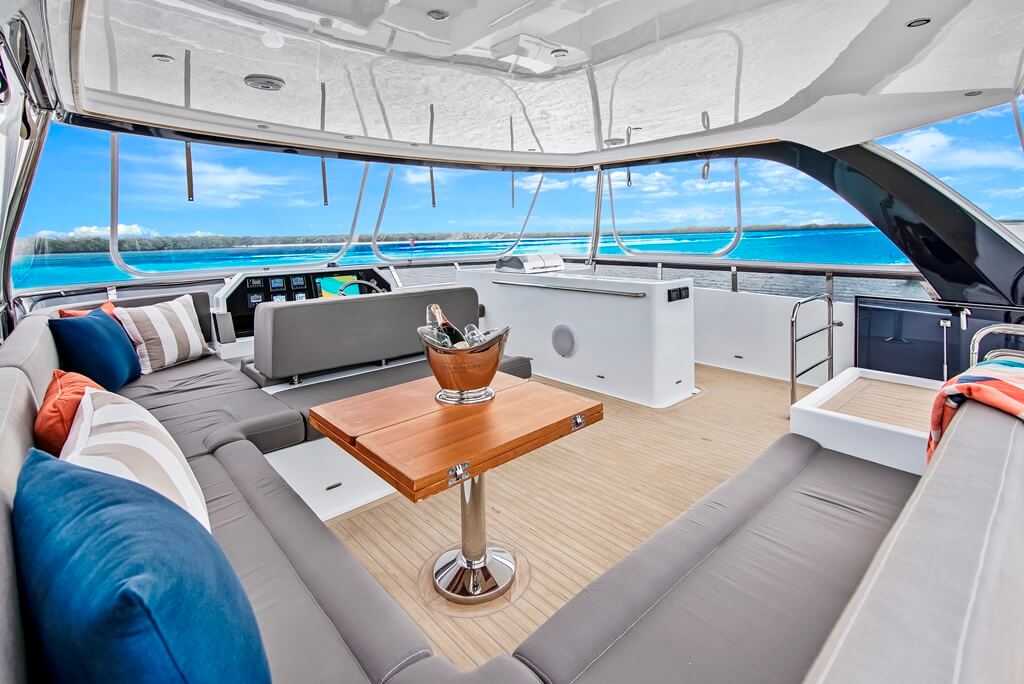 The catamarans' hulls and high bridge decks have been designed to facilitate a smooth ride in the harshest offshore conditions, making the Iliad range a valid bluewater option that will challenge the loyalties of the most passionate monohull cruisers.
The Iliad 50 offers owners the luxury of genuinely tailoring their boat's finishes, layouts and specifications to suit their individual needs, style and budget.
Boat Design Name: Iliad 50       
Year Launched: 2019              
Builder: Multihull Solutions   
Designer: Riccardo Bulgarelli                                         
LOA: 15.51m
Beam: 7.35m
Displ: (Lightship) 24000 Kg
Max Speed: 22 knots        
Construction: GRP
Fuel Cap: 2700 litres           
Water Cap: 700 litres        
Engine Make: 2 x Volvo D6-435 (435mhp)