NEW LAND When Tony Butson went looking for a new boat, he had certain fixed ideas on what he wanted. He considers he found those and more with Terra Nova, his new Image 9.25m Fishmaster. Barry Thompson checked out the boat at its home in Queenstown.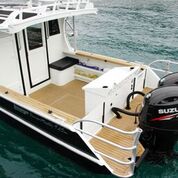 Queenstown-based Tony was looking for a big trailer boat and while he could have gone even larger than the 9.25m Image, he wanted something that wasn't going to be a hassle to tow with special permits and so the total trailerable weight was also a consideration. On the road, the 2.9m wide Terra Nova weighs in at around 3500 kgs, so it's right up there when it comes to towing regs, although it does require a serious tow vehicle.
As for other requirements, the boat needed to be suitable for a few nights away and be well suited to handling rough water. Having come from a smaller 6.5m Bayliner, which was ideal for Lake Wakatipu and the surrounding lakes, the move to a bigger boat also meant a change in boating style. With the larger boat, he wanted to widen his boating experiences from the confines of the Southern Lakes, with Stewart Island, Fiordland and the West Coast all on the agenda. In fact, by the time you read this Terra Nova may well have ticked off the Stewart Island trip. "I realised that to get the sort of boat I wanted, it was always going to be a fully enclosed hardtop and early on I had decided to go with twin outboards rather than a sterndrive," says Tony. He added that he liked the reliability and dependability of the modern outboard and they were something that could easily be replaced in the future should he ever want an engine change. After looking around the country at what was available, he chose to go 'local' and commissioned Dean Wilkes at Image Boats in Invercargill to built his new boat. The fact that his brother already owned an Image 8.75 and Tony had the first-hand experience about the boats ride and handling, helped make the decision a lot easier. "I went to Dean and explained exactly what I wanted, which required a few changes to the standard 9.25 Fishmaster, but it seems nothing was too much trouble. It was a pleasure to work with the Image Boats team and the result, is I got a boat exactly as I envisaged it…in fact probably better", says Tony. 
Changes were not major when it comes to alloy boat construction, but did require the cabin top to be raised 100mm to improve the internal headroom and the rear bulkhead was moved back 250mm. This provided more space in the pantry and the galley, without taking any noticeable area from the cockpit or changing the position of the head/shower. Also, the overhang above the cockpit was carried on a further 1.2m, to give more weather protection.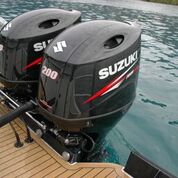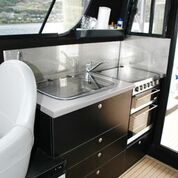 A big part of the design and fit out has been based around fishing and in the case of Terra Nova, that's extremely varied. When the boat resides on Lake Wakatipu, it's all about trolling sloooooowly for Quinnett Salmon. Tony reports great success and says he has found the Suzuki Trolling Mode perfect for trolling at slow speeds. The Suzuki Troll Mode provides finer control over engine speed at low rpm keeping the boat moving at a steady speed. 
When the system is engaged, engine speed is controlled by an independent control switch that adjusts engine revs in 50rpm increments over a range that spans from idle to 1,200rpm. "I love it and when we drop back to one engine we can cruise at 2.3 knots at minimal rpm all day," says Tony. Naturally, when Terra Nova gets into the open sea, the fishing techniques will change, with a whole new set of gear for fishing around Stewart Island and Fiordland. In keeping with the fishing aspect of the boat, there is a large central bait station with a handy wash down and fish filliting area, plus ample rod holders above, in the wide coamings and around the transom. There are even clip-on side skirts that drop in over the hull sides, so they don't get scratched or damaged when saltwater fishing or bringing in a cray pot. Tony says that while he isn't planning it at this stage, he may even try his hand at fishing for Tuna. Bottom fishing or trolling, Terra Nova is set up for both options.
The internal layout of Terra Nova is reasonably traditional, with a four berth cabin forward, large U-shape dinette with drop down table to port, with galley and helm starboard. What I particularly liked was that nowhere inside is there any uncovered alloy, giving a warm and inviting feeling to the wheelhouse and accommodation areas. A gas heater also helps to keep the wheelhouse at a warm temperature through the cold southern winter days and nights.
Touch activated LED lights and speakers for the Fusion stereo system are recessed throughout the headlining. This has also been carried out to some extent outside, with the cockpit sole finished in a composite imitation teak flooring and all other surfaces painted. Nice touch and gives the boat a classy look. The cabin has been set up with two lower berths, complete with massive storage under either side and access forward to the Vetus bow thruster, plus a couple of pull-out pipe berths above. One of the early decisions on the layout was also to put the toilet and shower outside and not in the cabin. Personally I agree 100%. It not only gives more space in the cabin, it means all those unpleasant odours and disturbances during the night are kept external. Up in the wheelhouse there is a big U shape settee with a drop down wooden table that allows the space to be converted to a double berth.
A very cool idea is the front cushion is reversible, so you can sit with a two seater facing forward, or flip it over and you transform it back to the U shape seating style. Great use of space and adds a little more practicality to the layout. Under the raised settee is more storage, the black water tank, plus an Isotherm fridge. In the galley opposite, Terra Nova has been fitted with a deep stainless steel sink unit, four burner Thetford gas stove/oven and drawer storage. Under the helm seat forward is another fridge/freezer.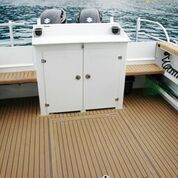 With an adjustable slider under the helm, you can place it where it is most comfortable for you. Plus you have the option of standing, seated or halfway between the two by utilising the flip up bolster. I liked the seated driving position, which offered good visibility no matter what speed we were doing. Even on the transition to the plan you still have full sight over the bow. 
Terra Nova is well equipped with electronics and systems on the leather dash and surrounding spaces. A Garmin Map7416 MFD screen takes up the centre and is surrounded by a vast array of switches and displays either side. This includes a Garmin autopilot, engine system display (can also be done on the main screen), tank level displays, auto anchor and chain counter, trim tab controls, heater control panel, Suzuki Trolling mode and Vetus bow thruster controls.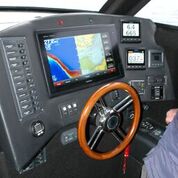 With the twin outboard setup, there is plenty of workable cockpit space, all the way back to the transom. Either side of the central island bait station (a bank of six batteries are kept below), is access to the boarding platform, complete with an outboard auxiliary bracket and drop down ladder. Side-cages provide a little extra security if you are standing out here to fish and the starboard side one opens for ease of access to docks.
ith the 'fly by wire' technology you can walk across in front of the outboards without tripping over cables. The cockpit is easily suitable for four fisherman, with twin side trays either side for the gaff, net and rods, plus a massive underfloor wet locker. Forward is an external starboard side seat with gas bottle storage, with a pot hauler on the side deck alongside and the head/shower compartment to port.
The Image 9.25m is available with sterndrive, outboard or jet power options and to date, the majority have been sold with twin outboards. Terra Nova is powered by a pair of the latest 2.8 litre, 4 cylinder, 200 hp Suzuki outboards which are an evolution from the same block of DF175. The new DF200A both stylish and efficient and above all incredibly quiet. It also comes with a keyless start system, an immobiliser to prevent thefts and the precision control for an accurate and linear management of the power. 
The high compression ratio of 10.2:1 grants a good torque at low revs, therefore, fast acceleration. I certainly experienced this on the Image 9.25m, with an instant response to the throttles and very quick transition onto the plane and maximum rpm. The 17 deg deadrise hull is certainly slippery through the water with just 400hp. I would imagine it would be rocket ship with a couple of 300hp engines! The aesthetic restyling comes from the need of changing the air intake flow: the shape of the cowling lets fresh air in, while the cooling system can work in the best conditions all the time. Top speed was 33 knots @ 6000 rpm and best cruise on the lake seemed around 4000 rpm which gave us 19 knots and a fuel use of 42 lph. At 4500 rpm this increased to 56.5 lph at a speed of 22.5 knots. However pushing the throttle to 5000 rpm, the speed jumped to 27.0 knots but the fuel increase to 81.5 lph. I also tried the boat on one engine and while I couldn't lift the 'dead' engine, the speedo indicated 12 knots, so plenty of speed to get you home.
Terra Nova is a prime example how a boat can be personalised to suit an owner's particular needs. I have reviewed a number of Image boats over the years and unquestionably this is the best-finished one I have been on. The quality of workmanship and attention to detail is exceptional. When you couple this to the proven ride and handling of the hull, you would be hard-pressed to find a better equivalent boat.