The new styles of inflatable life jackets bring comfort and function to a whole new level that may see all that change this summer.
In New Zealand, you must carry a correctly sized, serviceable life jacket / PFD for each person on board a pleasure boat. This is a legal requirement, and this rule applies to all vessels, including tenders and larger craft. Some bylaws go further than maritime rules, making the wearing of lifejackets compulsory for all on board small craft. When it comes to wearing a lifejacket it's not just about how effective and efficient it is, but also comfort. The design of life jackets has come a long way from the ill-fitting, uncomfortable, bulky ones we had to wear in the 60s and 70s. Some of today's new breed of, form fitting lifejackets are so comfortable and stylish they are somewhat of a fashion statement, that you may never want to take off. 
Well maybe that's a bit of an exaggeration, but they are a whole lot better than what we all wore 20-30 years ago. There are some jackets available on the market that while they pass the safety regulations, they don't pass the comfort test. They may be cheap, but the downside is no one on board will want to wear them and they also take up a lot of storage space. 
This is very common on commercial boats, where the operator will have the required number of lifejackets on board for the passengers he has. Yes, they will probably do the job and save your life, but thankfully they will only be used in an emergency situation.
If you were boating in the 60s and 70s, you would remember the kapok jackets with the soft fabric straps. They worked, but they were not something that we all wanted to wear unless we had to. The most ancient examples of primitive life jackets can be traced back to inflated bladders of animal skins or hollow, sealed gourds,  for support when crossing deep streams and rivers. This progressed to purpose-designed buoyant safety devices consisting of simple blocks of wood or cork utosed by Norwegian seamen. Personal flotation devices were not part of the equipment issued to naval sailors until the early 19th century, for example at the Napoleonic Battle of Trafalgar. It was not until lifesaving services were formed that the personal safety of boat crews heading out in generally horrific sea conditions was addressed. The modern life jacket is credited to one Captain Ward, a Royal National Lifeboat Institution inspector in the United Kingdom, who created a cork vest in 1854 to be worn by lifeboat crews for both weather protection and buoyancy. The rigid cork material eventually came to be supplanted by pouches containing watertight cells filled with kapok.
These soft cells were much more flexible and comfortable to wear compared with devices utilising hard cork pieces. Foam eventually supplanted kapok because of its inherently buoyant quality. One of the world leaders in life jacket design and development has been the Kiwi company Hutchwilco. Started in 1894, as ship chandlers, they are the oldest continuous lifejacket manufacturer in the world and not only are they still manufacturing in New Zealand, they are the only local manufacturer. In the 1940s they produced their first lifejacket or as it was called then a life preserver, of canvas and cork, state of the art for the time and– surprisingly enough – they called it The Hutchwilco.
However, perhaps the most exciting 'new' development in lifejacket designs was the inflatable life jacket, something that we now take for granted and accounts for the bulk of all lifejacket sales in New Zealand and probably the world. Surprisingly they are not a new invention. In 1900, French electrical engineer, Gustave Trouvé, patented a wearable battery-powered lifejacket. It incorporated small, rubber-insulated maritime electric batteries not only to inflate the jacket but also to power a light to transmit and receive SOS messages and to launch a distress flare. In the late sixties a German, Jost Bernhardt, tested what was then his latest invention, the BS 8, an inconspicuous and somewhat invisible lifejacket designed for inland waterway sailing. In preparing its introduction to the market, he could not have expected the extent of opportunity, which would be later presented. Success was based primarily on the BS 8's discreet quality. Everyone from the population of hobby sailors desired comfort and convenience, a quality that a clumsy, obstructive lifejacket could not provide. At this point, however, Bernhardt was not thinking of the still relatively small population of hobby skippers.
His concern was directed toward those who only took to the water involuntarily, in other words, those who earned their daily wages through hard work as sailors. The Insurance Association for Domestic Shipping was alarmed by high accident figures and fatalities amongst sailors in inland waters. One reason for these poor statistics was a lack of understanding in lifejacket safety. Most types, until then, were impractical, to say the least, often getting in the way while one was working. When the working day was over, seamen never wore a lifejacket on land. The awkwardness of a clumsy lifejacket presented too much room for ridicule. However, misfortune never sleeps, and the consequence was that each year the Insurance Association had an increasing number of widows to look after. This situation prompted Bernhardt to produce the BS 8. An inflatable lifejacket, the heart of its design was the Secumatic 8, an automatic inflator. The safety mechanism can best be described by its water-sensitive element. The news of this safety element, coupled with the ease of use and the comfort of wearing a virtually unnoticeable personal flotation device quickly spread. 
The still small sailing community became enthusiastic about this new offer. The new design provided an alternative to the average bulky life vests. This enthusiasm has not diminished today, even amongst the generations of lifejackets that have followed. The modern version of the RS8 is now available through Secumar and is part of their Secufit range of inflatable jackets. The Inflatable jacket never really got much traction in the recreational boat market until around the late 1980s. From its humble beginnings in a barn in Meridian, Idaho, Sospenders has manufactured inflatable lifejackets since 1987. Now owned by Stearn, the company were instrumental in the approval and recognition process back in the 1990's of the Type V inflatable PFD. A very basic, simple inflatable jacket they became hugely popular for their comfort and ease of wearing, something that until then lifejackets did not have a good reputation for. Stormy Seas inflatable lifejackets came onto the market around 1995 and they were followed a couple of years later by Mustang Survival.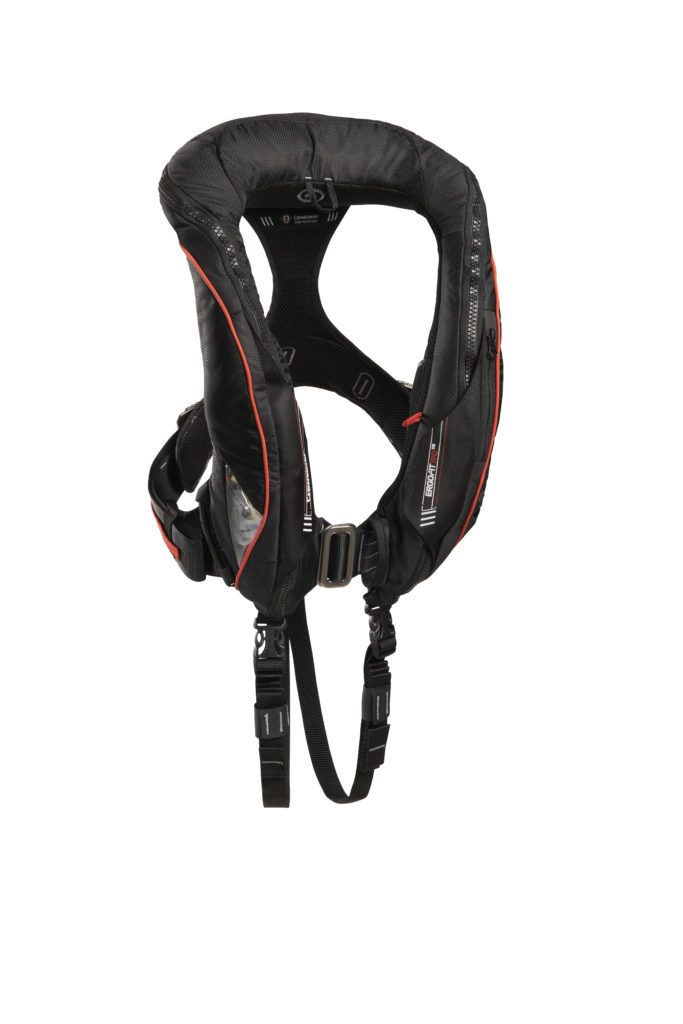 Since the first Float Coat introduced in 1967, Mustang Survival has been one of the market leaders in the inflatable life jacket industry. In 1998 Hutchwilco, New Zealand's leading marine safety equipment manufacturer joined the inflatable boat market with the 150N and the 170N, a design of inflatable jackets that until now has remained unchanged. Offering twice the buoyancy of aconventional foam lifejacket they are available in adults and child's size, with crutch straps and in manual or automatic inflation. Since Hutchwilco first introduced them, many thousands have been sold. The fundamental difference between the 150N and the 170N is the 170N has a new style cover with soft neoprene neck and mesh back for improved comfort and fit.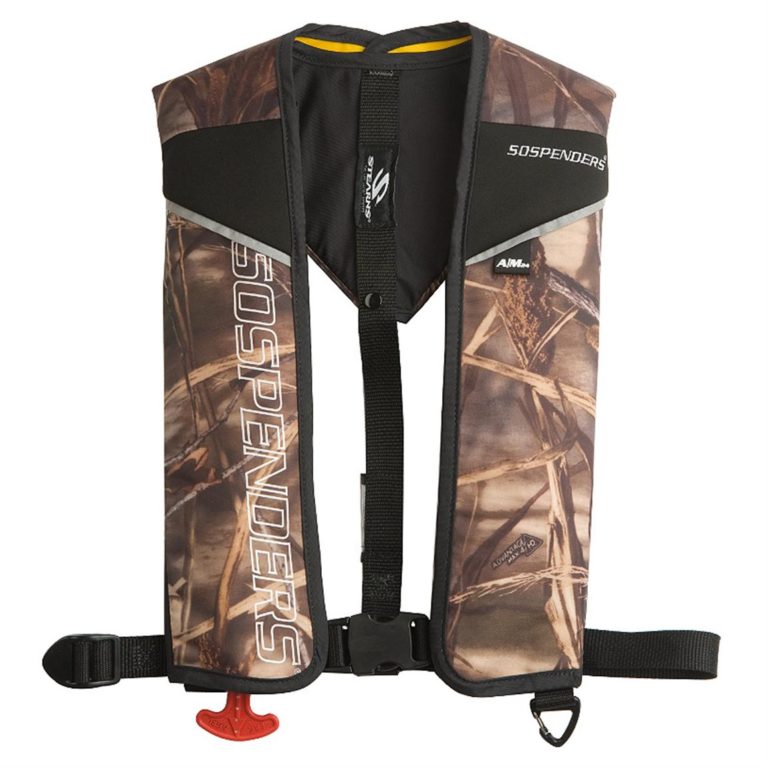 It also comes with an integral crotch strap with storage pouch. Hutchwilco's latest release is the 150N Super Comfort Series, a life jacket designed to be so comfortable you will forget that you have it on. Just like a life jacket should be! The all new 150N Super Comfort series is multi-fit (one size fits all adults), has a burst zip closure, contoured super comfort design, stainless steel buckle adjustment system and quality 50mm webbing. Survitecgroup market the popular RFD range of life jackets, amongst them their Cyclone 150N and the Crewfit 150N. The RFD range of life jackets and buoyancy aids now includes their all-new F3 models based on fit, form and function. Redesigned collars, bigger buckles, extra reflective tape and internal webbing are just some of the new features. 
Included in their range are more specific models to suit YNZ, MSA NZ compliant and SOLAS approved for commercial and recreational use, including RFD Cyclone, XM Quickfit, Mullion SOLAS & Crewsaver Crewfit inflatable models. Baltic from Sweden is another major supplier to the inflatable life jacket market with an extensive range that caters for all areas of boating. Their Race range is designed for active sailing and especially to be comfortable to wear for long periods. All life jackets in the Racing category are available with an integrated spray hood and light to comply with the current international yacht racing regulations. They also offer a Comfort range with
control inspection windows to check the status of the inflation mechanism easily. The Allround Series are versatile life jackets that can be used in almost all circumstances. All models are equipped with a fleece collar, detachable crutch strap and on most models, you have the option of either the buckle or integrated safety harness. There are many other brands of inflatable lifejacket on the market, but considering your life could depend on the device working correctly, it's recommended you purchase a recognised brand. Cheap imitations could prove to be a fatal purchase!
Automatic inflation relies mostly on a dissolvable bobbin that has a spring/pin arrangement. The water dissolves the bobbin and the spring powered pin punches the CO2 canister for inflation. There is a matter of maintenance for this, considering themarine environment that the life jacket is put in, as well as its subsequent storage.  Many see this complication of spring/pin as the weak link in the system. This is the reason that EVERY automatic has a manual cord and oral tube. Many manufacturers have a C02 cylinder that does not fully inflate the air bladder, so the oral tube allows you to top up the bladder. 
The latest generation of self-triggering inflation devices responds to water pressure when submerged and incorporates an actuator known as a 'hydrostatic release'. Regardless of whether manually or automatically triggered, a pin punctures the cartridge/canister and the CO2 gas escapes into the sealed air chamber. However, there is a chance that these water pressure activated inflation devices do not inflate the life jacket if a person is wearing waterproof clothing and falls into the water face-down. In these cases, the buoyancy of the clothing holds a person on the water surface, which prevents the hydrostatic release. As a result, a person can drown although wearing a fully functional life jacket. To be on the safe side, a pill-activated inflation device is preferred. A small pill that dissolves on water contact is the safest option, as it also works in shallow waters where a hydrostatic activator fails. This type of jacket is called an 'automatic'.
Automatic is supposed to inflate on contact with water – and it takes green water, not just spray, to make it inflate. An automatic inflation type V could save your life if you were knocked unconscious while going overboard. An automatic inflatable could also inflate inconveniently if you plunge through a wave while on the bow or any other time you get water dumped on you. The manual inflatable requires you to be conscious and aware of what you are doing to pull the release for the cylinder. This is the most reliable of the two inflatables and requires less servicing. You may want an inflatable life jacket with a harness if you are working on deck, sailing offshore or just simply wish to stay attached to your vessel because you are single-handed or are in rough weather.
Finally, before you go boating this summer take the time to check your life jacket. If you have never activated it, then chances are it might still be okay, but the biggest problem is the gas cylinder will not inflate when you need it to. This can be caused by excessive corrosion and rust around the cylinder. The cylinder can only be used once so check that the green or red clip is in place and that the cylinder does not have a hole pierced in the top. If it does, replace it. New cylinders are not expensive. If you want to make sure the inflatable bladders don't have a leak, then use the oral inflator and blow them up and check them 24 hours later to see if there is any loss of pressure. If the bladders are deflated, then take the jacket to a recognised service centre and have it professionally repaired. Inflatable life jackets which were once an expensive addition to your boating safety equipment are now considered normal kit to have aboard and can cost no more than $NZ100. They have redefined how we wear and use life jackets and should be standard aboard every boat. Just remember to get your kids to leave them in the boat when the jump off at the beach. They may find them so comfortable that they will forget they have them on!