Formula Cruisers was established in 1981 by Alan Young who was previously trading the company under the name Alan Young Boats. In 1987 it was sold to John and Greg Roy and continued through under their ownership until 1996 when Auckland based businessman Graeme Turner purchased the business. Since 1981 the business has produced over 150 boats from 10m to 21m, the majority being flybridge sport cruisers.

Today, while still under the Turner ownership, Formula Cruisers' senior management team comprises GM and naval architect Grant Senior, who joined in 2000 and sales & marketing manager Troy Woods, who came to the company in 2007. Along with a staff of over 46 they continue to push the company forward through tough times. Undaunted by the struggling market, where new boat sales are still few and far between, the Formula Cruisers team has diversified with new products and services, whilst certainly not forgetting their core business of building new boats.
In May 2008 the company moved from its 2900sqm factory in Kumeu to its current 5000sqm premises in Hobsonville, the future site for the proposed Yard 37 superyacht yard. This was done due to the expected need for space to cope with the anticipated orders from Australia and an expanded range. However, that was right about the time the GFC hit and Formula Cruisers', like every other boatbuilding company's, forecasts changed overnight. As Woods says, , "We have had to adjust our business plan to fit todays economic climate, but it just means that our goals will now take a few more years to achieve".
More recently the company added two new boats to its line-up, the ICON 42 (previously the Eureka 42) and the Prowler 10.4 powercat. Formula has also opened a separate refit and service division, Formula Marine Services, headed by the very experienced Phil Dudding.
Formula Cruisers now has the capacity to produce six ICON 54s, twelve Prowler cats and eight ICON 42s annually. Currently there's one ICON 54 and one Prowler going through the factory.
Formula Cruisers- The New Designs
When Grant Senior first arrived at Formula Cruisers his role was to give the company some direction and to take a
complete new look at the current designs, some of which had not been changed for quite some time.
Once Senior came onboard, apart from a 48 Express Cruiser, no further boats were built from the old moulds. This was the turning point for the company, which from then on was totally focused on the new, Senior designed, ICON range.
"At that stage Genesis was dominant in the sport cruiser scene so we decided not to compete in that very select area of the market and to concentrate on our flybridge sport cruisers.
and the Prowler 10.4 powercat. Formula has also He adds that while he admits the financial crisis is still having an effect on the market, things are looking better and the enquiry level is stronger than it has been for some time. "Right now, we are working on a number of very positive leads and I am confident that we will see at least one or two more sales by the end of the year".
In 2009 Formula Cruisers had a complete change of direction when it took over the building and marketing of the Prowler powercat. Originally built in Whangarei by Eric Knight as the Prowler 10.4, the Jeff Schionning design is a displacement powercat that retails for under $NZ400,000 powered by twin 60hp outboards. So why a powercat?
Senior explains, "Powercats were something that I had been keeping an eye on for a few years and when the chance came up to take over the Prowler moulds I saw it as a great opportunity to get into another part of the market, totally diverse from what we do.
"I liked the idea of a displacement cat and felt that with the backing of Formula Cruisers we could take the boat to a new level. Although the original 9m hulls had been lengthened to 10.4, by the previous builders, the freeboard had not changed, so we lifted this 200mm to take advantage of the extra length. The result was a better riding and handling boat that we also managed to make a lot lighter due to the re-engineering of the laminates and structure.
In January 2010 the ICON 42 was announced. The moulds and design were purchased from their Australian builder, where the boat was being built as the Eureka 42.
"We were looking for a smaller model to fit into the ICON range and when the Eureka moulds became available we saw it as a perfect fit, with the style consistent with our product. While we had already drawn our own ICON of that size, it just made sound economic sense to take over something that was already existing", said Woods.
The response to the ICON 42 has been encouraging and Woods says that they have just signed their first order, again from an overseas client. "This boat will be built with shaft drives for serious offshore game fishing, but a more family cruising orientated version is available. Some modifications have been made to the previous design to also be able to offer it as a pod drive boat.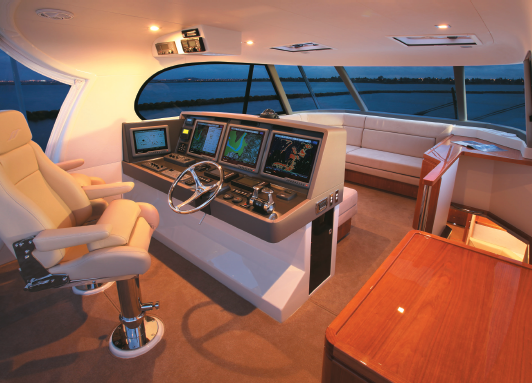 Right now no Formula ICONs have been built with pod drives, although that is simply due to customer choice. "We would be happy to fit pods into any of our ICONs and according to Volvo the ICON 54 hull shape is well suited and would require virtually no alterations to accept them", says Woods.
Woods says there are a couple of key strengths to their survival, one of which is the fact the company is privately owned and well funded by a passionate owner. "Graeme takes a lot of interest in the business, which is a real benefit to us and also our clients who feel more confident knowing the company is financially viable".
We run a very lean operation with low overheads and a low debt level and have our production processes working extremely smoothly and efficiently thanks to the LEAN manufacturing programme we instigated a number of years ago.
"We are showing an increase in sales figures from pre GFC days, due largely to our move into new markets, and I doubt there are many other boatbuilders at our level that have managed to do that", he adds.
Formula Cruisers' mantra is to keep debt levels down, run a super efficient production line and maintain sales while the times are tough and be ready to accept increased sales when the market improves.
The addition of the Prowler and the ICON 42 are just a start of the expansion of the range, be it from internally generated designs to outside acquisitions. However Woods is adamant that there is nothing planned in the short term, but does see potential for growth in a larger powercat as one of the more favoured options.
"We would probably get the Prowler 10.4 designer, Jeff Schionning to come up with a larger version, but still retain the displacement aspect with low horsepower and extremely economical running costs, something that I feel will be a big selling tool in the future", says Senior.
"Our boats are built to order and can be extensively customised, unlike most of our competitors and that's something that appeals to our clients. We encourage our clients to be very involved through the entire build process", points out Woods.
The build quality of the boats coupled with the handling and performance is also paramount in our success and we hear back from owners all the time about how confident they feel in one of our boats in adverse conditions. It's great when you get that sort of feedback from owners", says Senior.
Troy Woods concludes by saying "It's going to take some time to get the market back to normality, as right now we are seeing a lot of discounting by some production builders just to move stock and that is hard to compete with at our level. However, in saying that I am confident that once that settles down we will see growth at all levels. There will always be room for high quality semi custom boats and that's where we see the future of Formula Cruisers."