SMALL PARCEL – GOOD THING!
Text by Warren Steptoe
Each year Integrity presents new models and have gradually progressed with larger boats up to 13.5m. In 2014 however they reversed direction and came up with a comprehensively reviewed 32 footer, the 320 Express Sedan.
Integrity first grabbed attention in the Antipodes with their Integrity 320 Sedan. An excellent trawler style displacement cruiser in a compact package with an even more impressive price tag, the Integrity 320 Sedan sold very well indeed. And in doing so it set the precedent for what became the Integrity line we know today.
As boat builders tend to do, each progressively larger Integrity model introduced subtle changes as ideas developed and were fine-tuned. Many of them were incremental steps but one in particular stands clear as a notable step forward – when they introduced the 380 Sedan, a model with strong family lines; except that the deck in the forward half of the hull had been raised 100mm.
Not that any Integrity has ever been cramped or lacking cabin and saloon space, but the new ceiling height "downstairs" in the staterooms and bathroom wrought profound change. All the more remarkable for it being achieved without compromising the boat's overall height above the water line. While this may or may not be of special interest to some potential owners, it's a critical consideration for others. Especially people living in places such as Qld's Gold Coast where a day out in the boat invariably involves passage beneath several low bridges.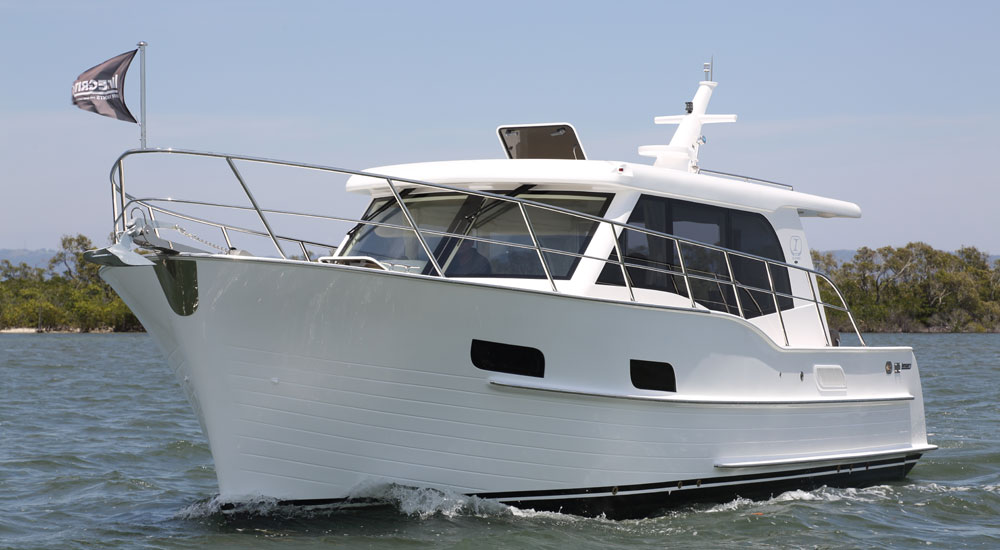 While developing the 320 Express Sedan, Integrity would have been silly to depart too far from the theme they so successfully established with their 320 Sedan. And they haven't. The interior and hull configurations remain essentially the same, with an appropriate updating here and there. The single exception is a new raised deck level.
An obvious trickle down perhaps, but as successful as the 100mm higher deck was in the 380 Sedan, Integrity's recent move upmarket with the 420 Aspire would be another example. In this new 10m boat, the amount of interior space that the higher deck line creates, makes it stand out amongst competitors. According to Integrity Motor Yacht's Brett Flanagan my reaction when I first stepped aboard is pretty typical.
"Bloody hell is this a 32 footer?" I exclaimed when I first entered the saloon.
"Yeah, it is, everybody says that," Brett deadpanned.
Fair enough, compared with low profile sports cruisers the same length, interior space and standing head height are what you expect to gain with a trawler style displacement cruiser. But THIS much interior space takes the gain into another dimension.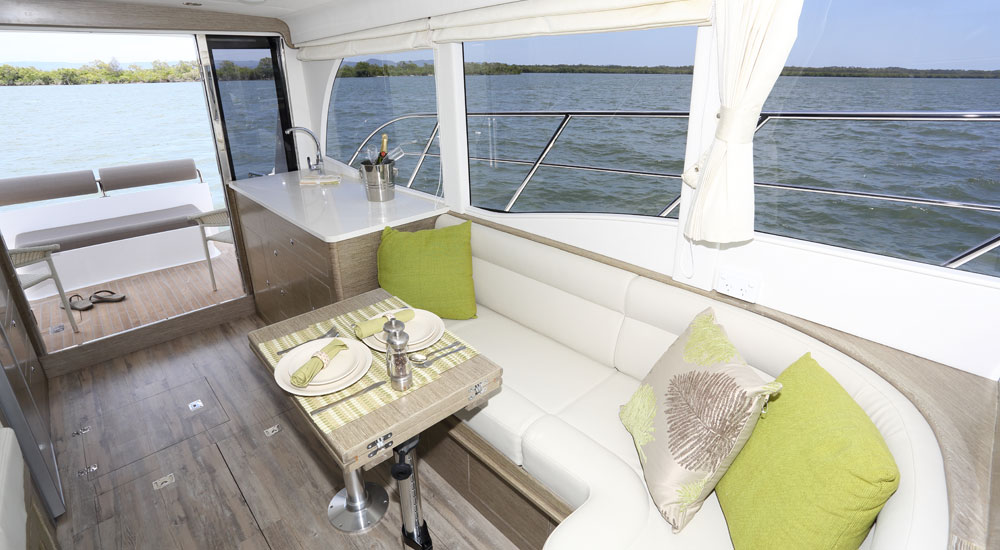 Given the boat remains low enough above the waterline to get under most bridges, there's no downside here. Taller folk will be particularly happy with the headroom available "downstairs."  The bow stateroom and separate toilet and shower put lots of larger boats to shame.
After singing the praises of the increased downstairs headroom, the saloon/galley/dinette area and aft cockpit lounge were always more than roomy for the two people this boat is configured for. If another couple happens to join them, the dinette converts to a full-size double bed. When stowed, the tri-fold table is neat and compact, leaving lots of space for entertaining. Folded out to its full size, four people can easily dine there without crowding each other.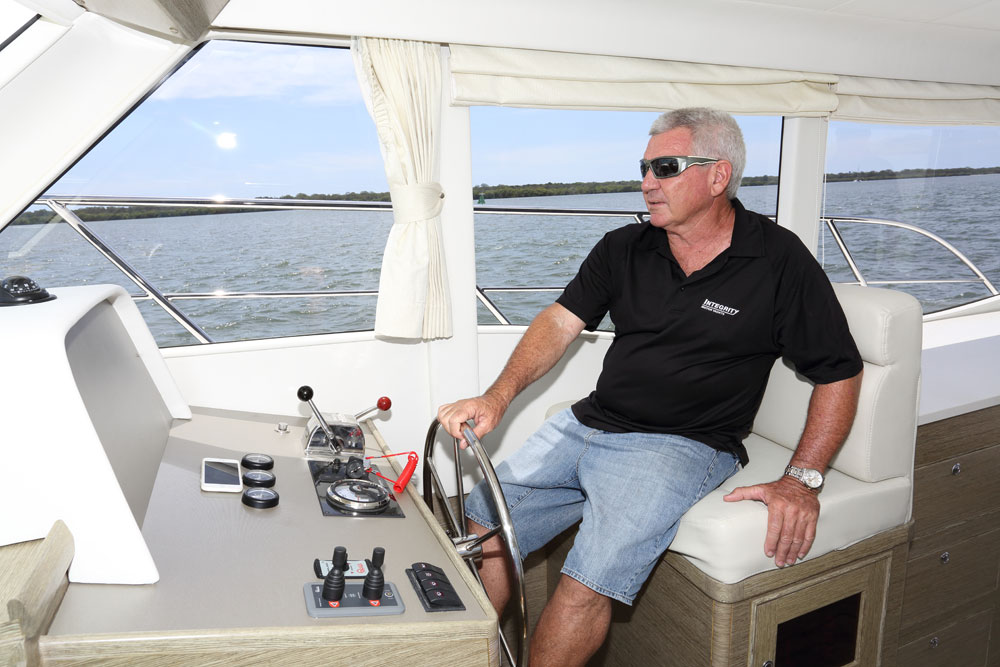 Aft in the cockpit lounge, options are available to make it a second dining area, which can be insect and weather proof if you so choose. Or you can leave it open and simply be more floor space. Unfortunately, the boat reviewed was a preproduction example, so a few details were still being finalised.
One of which being that the saloon doors were to be replaced with Integrity's familiar arrangement, where the aft of the saloon can be opened wide to integrate the saloon and cockpit lounge. Conversely this can be closed to separate them.
Several Integrity owners I've spoken to enclosed the cockpit area in their boats with camper covers, usually with insect screened zip open/closed windows. They also said that the (optional in this model) air conditioning from the saloon does a good job of cooling or warming the cockpit when everything's closed up.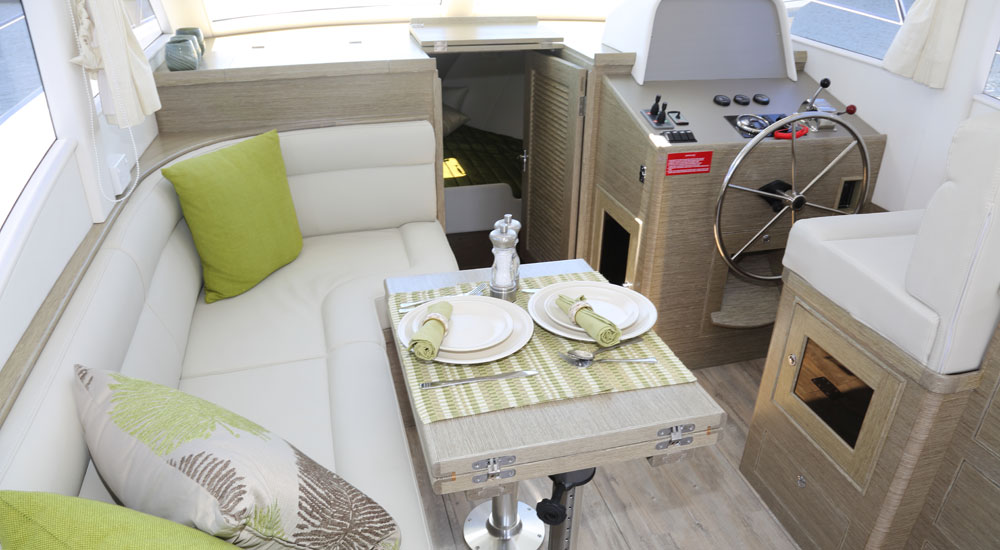 Inside the new 320 Express Sedan follows Integrity's established high standard of finish, designed to keep housework to a possible minimum. Thanks to massive windows around the saloon the upstairs areas are very well lit. Integrity always have left the final choices of fabrics and timber décor to individual clients, so it can also be as stylish or understated as you like to make it.
Our review boat featured Antico flooring in stonewashed American Oak, Ultra Leather upholstery, and Caesar stone bench tops in the galley area. The teak main deck in this particular boat will be on the options list in the future.
The helm is to starboard with a comfortable wide seat behind the wheel and ample dash space available if sophisticated electronics are your thing. Behind the helm seat, galley cupboards stretch all the way aft to the saloon bulkhead. Portside, the galley sink is set above more cupboards as well as a 140 litre Waeco fridge. A cooktop is incorporated into the bench top above it.
When we reviewed the boat, exactly what would be on the standard inventory and what would be on the options list was still a work in progress. Some thought, for example, is being given to supplementing that galley cooktop with a portable "Weber" style barbecue/oven out in the cockpit area. Now that's a great idea both for the food options it offers, and for the social ones.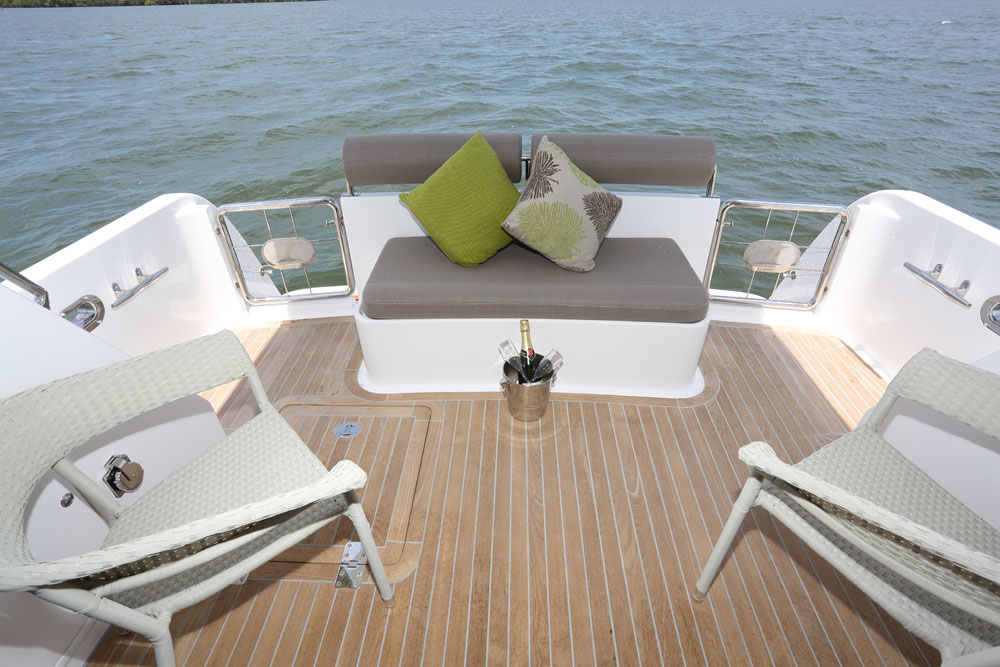 Out on the transom, it's a simple step aboard onto a wide swim deck from a marina pontoon or a tender. As a grandad, I'm happy to report twin transom doors placed for ease of access to the swim deck both have gates to contain those precious little folk. As a boatie who invariably carts lots of gear along on any trip, I'm also pleased to report there's a voluminous lazarette stowage compartment beneath the cockpit lounge deck.
Here in Australia it's planned to offer this boat as a fully functional unit at an attractive price point. At the time of this review, Integrity were anticipating that would be somewhere below the $AUD300K barrier. 
However sure to be popular options like camper covers and a teak deck, are sure to challenge that. It will be interesting to see how many 320 Express Sedan owners succeed in containing their investment below the magic $AUD300K barrier.
One signature Integrity feature that won't go on the options list is bow access. They ALWAYS ensure bow and side rails are high and the side deck wide enough to go forward while mooring or to handle ground tackle in complete safety.
This boat displaces around 7.5 tonnes and carries another tonne of fuel and water. Although our time aboard was on calm water, if experience with previous Integrity boats is anything to go by, the 320 Express Sedan can be expected to be as surefooted under way and stable at anchor as only trawler style displacement motor cruisers can be.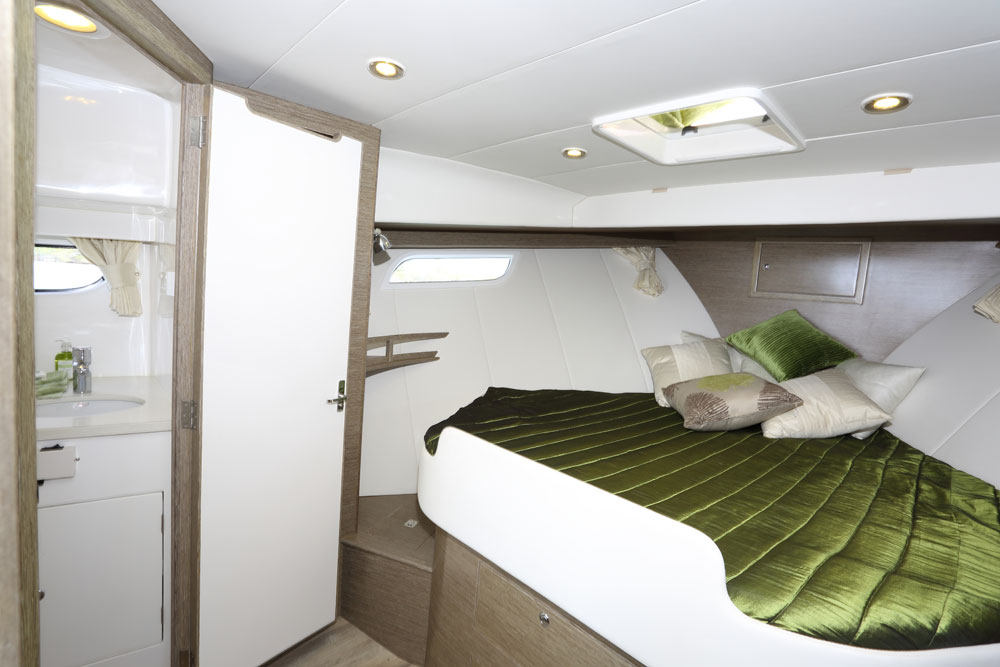 The standard power unit is a 150hp John Deere '4045T' 4 cylinder turbo diesel with a 225 hp six cylinder '6068T' engine from the same maker amongst the options. The preproduction boat came from the factory with a Steyr 230, which while not being a standard option on future models, did perform well. On the day, we cruised along at 7-8 knots in much the same style as every other Integrity I've ever been aboard. Our fuel figures in the attached chart for the 230hp Steyr SE236E40 which will give you some idea as to the fuel consumption you can expect from the boat with this amount of horsepower. Obviously the John Deere 150 will be even more fuel efficient and the range and lpnm will be greatly increased.
What Brett could tell us was that the same engine delivers a top speed around 11 knots, maybe a bit more lightly loaded with a clean bottom, in their 10.36m (34ft) models. At least similar performance seems a reasonable expectation from this smaller and lighter boat. He also told me that the 150hp '4045T' engine burned 7 lph powering a 10.36m Integrity en route to Papua New Guinea from the Gold Coast.
This to my mind is why Integrity's trawler style displacement cruisers are so popular. They invariably offer no stress, comfortable cruising on the smell of an oily rag and a similar lack of stress handling the boat while anchoring and docking.
As I commented awhile ago, sport yachts might steal a few points off the Integrity 320 Express Sedan in the looks department; if you prefer low slung and slinky, above standing tall and proud traditional trawler styling that is. In terms of headroom and space to "live" inside though, there's no contest!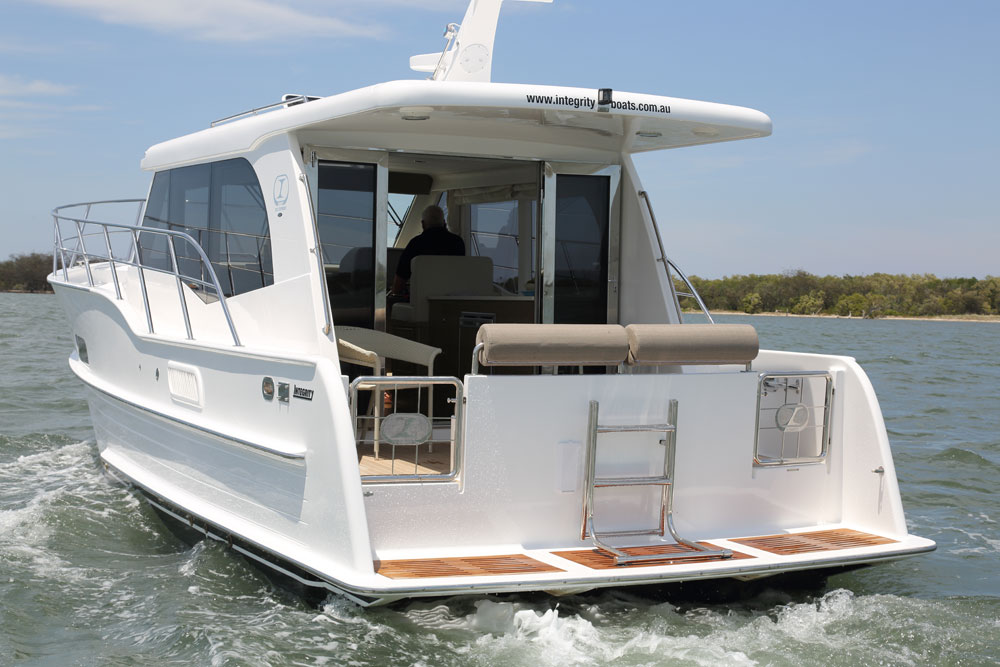 INTEGRITY 320 EXPRESS CRUISER

Equipment Spec List

Specifications:

 

Boat Design Name:

Integrity 320 Express Cruiser

Year Launched:

2014

Designer:

Integrity Motor Yachts

Builder:

Integrity Motor Yachts

LOA:

9.75m

Beam:

3.72m

Draft:

1.1m

Displ (loaded):

7,500 kg

Max Speed:

13 knots

Cruise Speed:

8 knots

Construction:

Hand laid GRP

Fuel Cap:

980 Litres

Water Cap:

500 Litres

Engine Make/HP:

Steyr SE236E40 @ 230hp

Drive Train:

Shaft

Anchor Winch:

Quick

Anchors:

Plough

Engine Controls:

Morse & ZF

Heads:

Jabsco

VHF:

Raymarine

Entertainment:

Fusion

Base Price of Boat:

$AUD299,000

Price As Tested:

$AUD329,000
FUEL & PERFORMANCE DATA

Integrity 32 / Steyr SE236E40 @ 230hp

Fuel capacity:

980

litres

 

RPM

Knots

L/h

L/NM

Range  (NM)

1000

3.3

1.5

0.460

1900

1250

3.7

2.2

0.600

1400

1500

4.3

3.4

0.800

1100

1750

5.3

4.5

0.850

1000

2000

6.2

5.6

0.910

960

2250

6.9

8.3

1.300

670

2500

7.3

11.7

1.700

510

2750

7.6

15.5

2.100

420

3000

8.1

20.8

2.600

330

3250

8.4

26.1

3.200

270

3500

9.2

32.5

3.600

240

3750

10.1

41.6

4.200

210

3950

12.4

49.8

4.100

210