When Integrity Motor Yachts Australia (IMYA) released the all-new Integrity 380 Sedan at the 2012 GCCM Expo, its sales staff were overwhelmed with the response they got from potential clients. It seems that it is destined for the same runaway success as its smaller sibling, the Integrity 330 Sedan.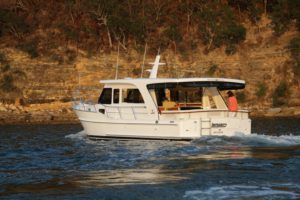 The Integrity 380 Sedan derives its styling from the previous Integrity 330 and incorporates the same trend towards bringing the indoor and outdoor areas together, plus the bonus of a very comfortable alfresco dining area. "One of the claims to fame of the 330 Sedan has certainly been the great alfresco dining area with the big hopper windows and the uninterrupted spaces between the saloon and the cockpit spaces. 
This is something that we have carried on into the larger 380 Sedan model and people seem to love it", says Peter Hill, sales manager for IMYA. The Integrity 330 was for some just too small and while it had all the right attributes it is only a single cabin model with a separate single cubicle shower and toilet. As it wasn't really practical to squeeze another cabin into the space available on the 330, the builders simply produced a bigger boat to accommodate the extra room. Hence the new 380.
While the Integrity 330 will still sleep six, when you convert the dining table and cockpit table to double berths, the 380 sleeps eight with two dedicated cabins and thetwo tables. Integrity didn't simply take the 330 moulds and add something on to the transom. This is a complete new mould with not only extra length, but also extra beam.
The 380 is 4.14m wide as opposed to 3.65m for the 330, and the benefit of that is certainly obvious in the cabin area and wide gunwale walkways. The extra length has been used mainly in the cockpit, which is now extremely generous for a boat of this size and provides easy seating for 8-10 people.
Various layout options are available in the 380 Sedan, such as splitting the combined shower/head into two separate cubicles and having a larger a stateroom. This, however, does take you back to a single cabin. With the twin-cabin layout, there is of necessity a combined head/shower area.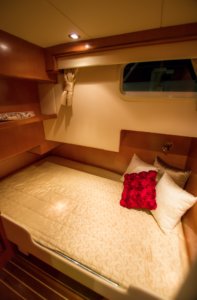 The master stateroom features an island queen berth with easily-accessed raised walkways either side. There's storage drawers under as well as a couple of hanging lockers and the cabin is finished in a combination of soft fabrics, polished cherry timbers (teak is an option) and a teak and holly sole. The fully lockable cabin has an overhead opening hatch and sliding side windows that pour in loads of light and ventilation. Reverse cycle air conditioning is also a standard item in the 380 Sedan. I certainly didn't feel confined and loved the feeling of openness, exceptional headroom and space to move.
"What we tried to do is use every small cavity available so there are little lockers and shelves wherever we could find room for things like shoes, books, keys and wallets." says Peter.
The second cabin is to port and in 380 Sedan #1 is fitted out with double berth, although you can have a couple of singles if you prefer. "Some of our client s have young children or perhaps take their grandchildren away so single beds is a good option", added Peter.
If you're on day trips then this cabin also doubles as a changing room for guests and a place to stow casual day gear. Like the main cabin every nook and cranny has been commandeered for storage. Opposite is the head/shower compartment complete with a reasonably large shower stall, with teak grate sole, a sliding soft curtain and hand held shower. There is excellent ventilation from a large opening side port, electric head and large recessed basin in a Corian vanity. Bigger people will find the space very acceptable, which is something that the 38 Sedan benefits from in every area.
The interior layout of the new Integrity 380 sedan was designed by Australian & New Zealand Integrity importer, Brett Flanagan, who looked at what he knew would work well for the local market.
The main saloon layout, which comprises the helm and galley, is simple and very practical, with nothing too fancy. Peter points out that this is a boat that is designed to be owner friendly and enjoyable to drive and relax aboard in a bay.
The starboard side helm is placed for not only good visibility–almost 360° – for the skipper, but a side door offers easy access to the wide bulwarks. This is a great feature when short-handed, especially if you need to go on deck to handle mooring lines or sort out the anchor. In fact it's so designed that it's virtually three steps from the helm to the dock, it's that easy. A wireless Yacht Controller would make things even easier.
There is plenty of dash space for MFD screens (your choice) but this is the type of boat that doesn't really need a lot of fancy electronics. Controls and instruments in our boat were to a minimum, with no large display screen as yet fitted. Space overhead has been used to mount the VHF and Fusion 500.
I have to make comment on the high standard of engineering throughout the boat, especially the electrical systems which are as good as it gets and whilst the boat is all wired at the factory in China, it still goes through another rigid check when the boat arrives in Australia or New Zealand. It's not until you delve into areas that you don't see from the outside that you can understand the complex nature of putting a boat together and Integrity does it well.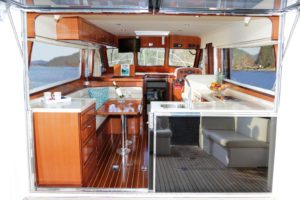 Behind the helm to starboard is the very large L-shaped galley with a huge Corian benchtop that works beautifully between both inside and outside areas. Nothing is left wanting for the chef, with a double bowl sink, pantry pace in hanging baskets, dedicated knife, pot and crockery storage, plus a Panasonic oven/hob, and Waco fridge/freezer. Drawer storage is plentiful.
Opposite, the L-shaped lounge doubles as the main dining area if you're inside. Personally, I would probably have my meals out in the cockpit and enjoy the ambience….as long as it wasn't raining! Either way there are enough settings for most of your overnight guests.
The table can be lowered when you need to use it as a coffee table or as an extra double berth. Overall I found the saloon to be bright and airy, with great natural light, thanks especially to the lack of a rear bulkhead. Twin glass panel stainless hopper windows can be raised up out of the way when required and if you slide the lower barn door across against the galley you have ¾ of the rear completely open. Awesome!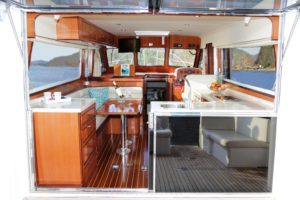 If there was one place I really liked as we cruised along the Coomera River, from Gold Coast City Marina – it was the day after the Expo where the 38 Sedan was on display – it was on the cockpit lounger. The 38 Sedan has this split into an L-shaped wraparound to port and a fore-and-aft one to starboard. They're great areas to relax on, with deep cushions and plenty of seating.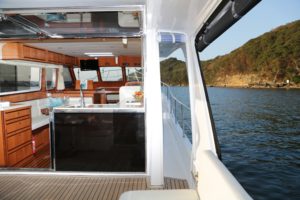 The port side also comes with a dining/coffee table that, like the table inside, also drops to form either a great sun lounger or another temporary double berth. The rest of the cockpit is uncluttered, with a wide transom gate onto a teak duckboard. Here you find a drop-down ladder and a hot- and cold-water hand-held shower. If you are in to fishing then the boarding platform provides plenty of space.
Interestingly when I was standing in the cockpit with another couple of reasonably large guys, I noticed that angle of heel of the 38 Sedan hardly altered as we moved about. The 11.5m hull has a beam of 4.14m and a displacement of around 10,000kg. Construction is solid GRP, using vinylester resins for the external layers and in internal moulded GRP structural grid.
My time aboard was unfortunately confined to the Coomera River so I am unable to report first hand on the overall handling of the hull, although we did manage to record some accurate fuel/performance figures, and I found out how easy the boat was to dock when using the combination of bow and stern thrusters. Effortless is the best way to describe it! Reports from owners of the smaller Integrity 330 are that the hull performs exceptionally well in a sea and is a pleasure to drive.
Top speed is 10.5 knots from the 6-cylinder, 6.8-litre, 225hp slow-revving John Deere engine. According to the brochure, the 380 Sedan is rated to 380hp, but in my view the standard 225hp is more than enough. This is a boat that seems right at home doing 8-10 knots all day, for a very miserly fuel usage.
At 1550 rpm @ 7.5 knots the fuel gauge indicated 8L/h which is hardly going to cause you to get a second mortgage! Range with a full 1135 litres and a 10% margin would be around 750NM, which is something like a cruise from Sydney to Rockhampton. At 2000 rpm @ 8.4 knots the fuel burn increases to 13L/h and at 10.5 knots @ 2400rpm it climbs to 44L/h. In other words, speeding up from 7.5 knots to 10.5 knots reduces a journey time by 29% but uses 3.9 times as much fuel for the journey – so it's easy to see that it really is a no-brainer to go at the slower speed.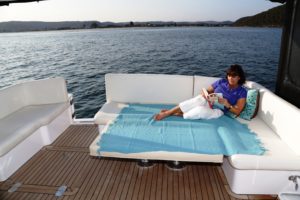 If there is one word that for me sums up the Integrity 38 Sedan it's 'easability'. It's a boat that is fast finding appeal with more experienced boat owners who want a boat that is easy to use, practical in all facets of design and engineering and all at a very competitive price. It's a boat that offers no-drama boating, where the journey is as enjoyable as the destination.
If you like what you see but would prefer a flybridge version, then wait, there's more. A flybridge version is already designed. Access to the flybridge is via ladder from the cockpit. Everything else below stays the same.