The Integrity 530 Grand Sedan is the first of a new range of raised pilothouse models that heralds an entirely new look for this popular brand.
Brett Flanagan, founder and director of Integrity Boats, is an innovator and pragmatist, who has the ability to understand the challenging new boat market. With 85 boats sold in the past seven years, plus orders in hand and a continually evolving new model range, the Integrity brand remains at the leading edge of displacement motor yachts.
In the previous issue of Pacific PassageMaker Magazine, I reviewed the all new 490 Grand Sedan, the second Integrity to carry the Grand Sedan name. Well, while it was a big step up from the 460 Grand Sedan that it replaced, it wasn't obviously enough for Brett and a number of his clients. They were looking for something that featured a lot of the 460 Grand Sedan but in a bigger package. The 530 Grand Sedan certainly answers that.
While the 530 Grand Sedan incorporates a lot of the layout and design ideas of the 490 Grand Sedan, it is effectively a very different boat. For a start, it's 1.5m longer over the hull and 35cm wider. Overall it offers more internal volume and is essentially bigger in all areas.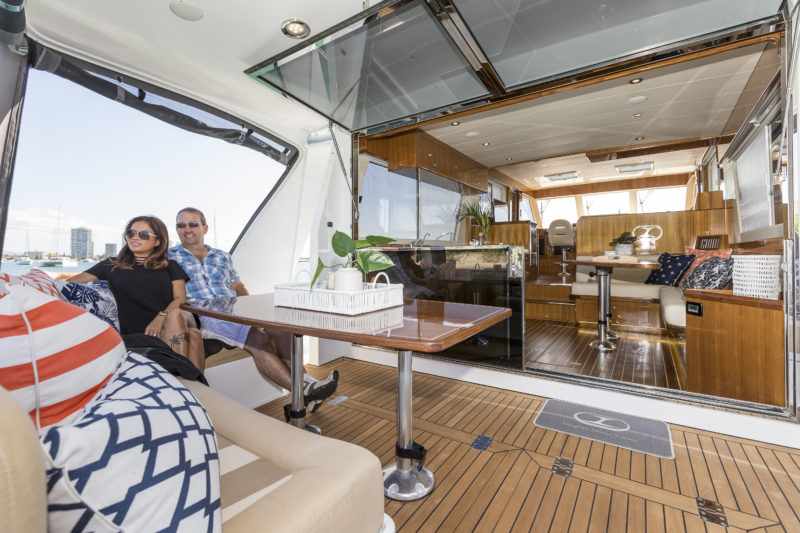 There is also a distinct styling change with the 530 Grand Sedan taking on a more traditional raised pilothouse look as opposed to the 490 Grand Sedan which features the classic sedan style appearance. However, both boats incorporate the same open layout with unbroken sight lines from the helm to the transom.
Like all Integrity models, the owner can have as much or as little input into the layout and equipment as they wish.  Working within certain bulkhead and structural parameters, Brett says that he is happy to accommodate just about any request.
"I aim to make each model as perfect as I can, but we keep them relatively neutral so people can add their ideas. Being semi-custom, nothing is set in stone, which our customers love."
"While the first 530 Grand Sedan has the best of everything, there is allows something else that an owner will want to add and I am quite happy about that", added Brett.
Integrity 530 Grand Sedan #1 is loaded, especially when it comes to what's under the water. Firstly there are both bow and stern Vetus 160HMD hydraulic thrusters, complete with 9.5 kW motors. This hydraulic motor is driven by a hydraulic pump, which means unlike an electric system, has unlimited run time.
There is also a pair of Vetus Hydraulic stabilisers which are designed to drastically reducing the rolling movement in bad weather or heavy swells. Made from stainless steel, the Integrity 530 Grand Sedan uses a set of fins with a surface area of 0.4 m2. Other sizes are available for different size vessels.
When it comes to power, when you order an Integrity you are buying a boat with a single engine option only. With the 530 Grand Sedan, the standard offering is a Cummins QSB 6.7 @ 480hp.
While this is still a displacement vessel and not one destined to be driven fast, if that's not enough then you can option up to the Scania DI16 079M @ 700hp. A compact V8, the engine is equipped with a Scania developed Engine Management System, EMS, to ensure the control of all aspects related to engine performance.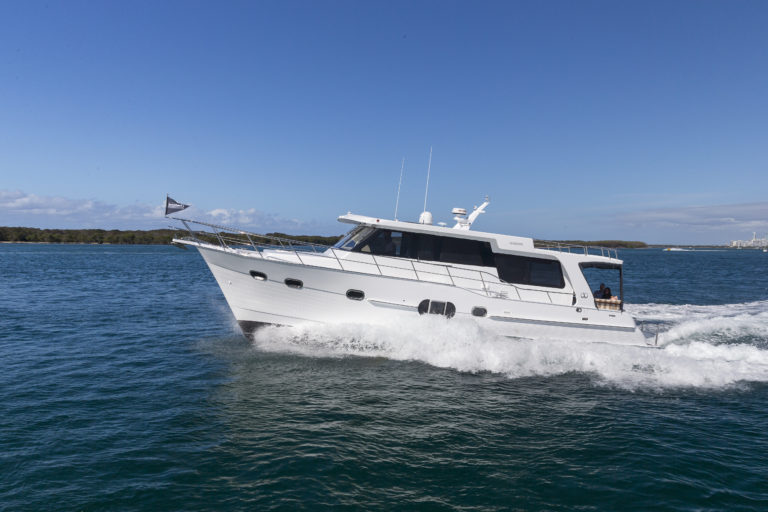 The injection system is based on electronically controlled unit injectors that give low exhaust emissions with excellent fuel economy and high torque at low revs.  Plus there is plenty of power at hand should you need to get home in a hurry or want to outrun a forthcoming storm.
The full displacement hull and keel have been refined, so the 530 Grand Sedan will turn efficiently at high speed, with the rudder and propeller encased in the keel for extra protection.
"In testing, we are finding the Scania engine delivers huge savings and double our normal speeds," says Brett, We have achieved incredible fuel economy, which means the 530 is more affordable to run, more manoeuvrable and easier to berth."
The accommodation layout in hull #1 features a full beam aft master, a forward VIP and port side guest cabin. This is the first time a full beam en-suite and stateroom has been included in an Integrity. However, being a custom build, you can configure the space however you want. The master stateroom has a queen size berth with storage under and easy access both sides.
The aft full beam en-suite space includes twin raised bowls and a large separate shower. Solid surfaces on the vanity are Corian, with ceramic tiles on the sole.  To starboard is a deep linen cupboard.
The owner has chosen a dedicated sewing table, which could be used as a makeup vanity or office desk. Teak and Holly is used on the sole, plus there is the option of carpet. All the timber surfaces on the boat were finished in high gloss teak, but you have the choice of semi gloss if your prefer. Timber options are teak, teak or teak!
Both the guest cabins share the same bathroom, which has a big walk-in shower complete with ceramic tiles and wash basin. This also acts as the day head. Opposite is the guest cabin with twin upper and lower single berths. While the twin singles are the most popular arrangement, especially as this owner has grandchildren to cater for, the space also suits a ¾ lower berth instead.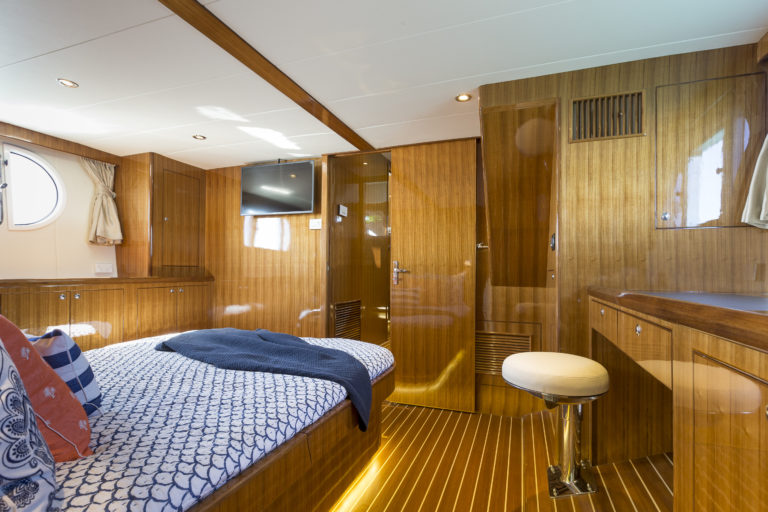 The guest VIP has cedar lined hanging lockers either side of the raised island berth, which features deep storage under and access to the bow thruster. I was impressed with the headroom right throughout the cabins and the ease of access around the guest and owner's berths.  Storage is also plentiful throughout, and individual air conditioning units let you determine your own cabin temp.
Another first for Integrity are the double helm doors. On other models, only a single entry is offered from the wheelhouse, but due to the extra space available with the 530, a second door has been added. These give exceptional access to the wide side decks and foredeck areas.
There is 3.9m of useable space at the wheelhouse, which features two helm seats and an open lounge. The central helm features a pair of Raymarine 16 Hybrid touch MFDs, Raymarine autopilot, VHF, Fusion stereo and controls for the Maxwell RC12 low profile hydraulic windlass, Vetus roll damper and Vetus bow and stern thrusters.
Twin helm seats with bolsters are again the owner's choice, with some different configurations available. To port is the entertainment centre, with a three drawer freezer, icemaker and popup TV.
Opposite is one of three 'dining' areas that in 530 #1 has a fixed table around an L shape lounge. If you don't opt for the table, then this could be more configured into a lounge area with an ottoman, to sit back, relax and watch TV. On longer passages,
it's also a good space to be, to keep the skipper company.
As I have found on other Integrity models, there is an unimpeded view from the helm to the transom. The feeling of space and openness brings a cooling effect aboard and you feel very relaxed. Sit at any of the loungers and the low profile windows mean your vision out is also uninterrupted. I hate not been able to see out when seated, something that some European boats are guilty of. Not so in the Integrity 530 Grand Sedan!
Drop down to the lower saloon level and the 530 Grand Sedan is all about looking after you and your guests. The entire port side is dedicated to the galley with a Corian surface complete with electric hob, double stainless sink, convection microwave oven and trash bin. There is storage in overhead lockers as well as under bench.
The galley and cockpit layout are connected through Integrity's unique rear opening stainless hopper windows and doors. While the owners chose a drop down dining table around the starboard side L-Shape saloon settee, you have the choice again to customise this area.
In terms of aesthetics, the 530 boasts striking exterior lines with a newly rounded profile roofline and a large cockpit area of just over 12sqm. When you add clears around the roof, the cockpit morphs onto the saloon as one massive space. The cockpit features two L-shaped lounges and dining table, as well as a 200L icebox beneath the seating.
The extended swim platform is 1.5m and while not fitted to our boat, is available with a high/low platform. Great place to fish from and Integrity are happy to maximise the transom with, BBQ,  fish bins, bait prep area and tackle storage lockers.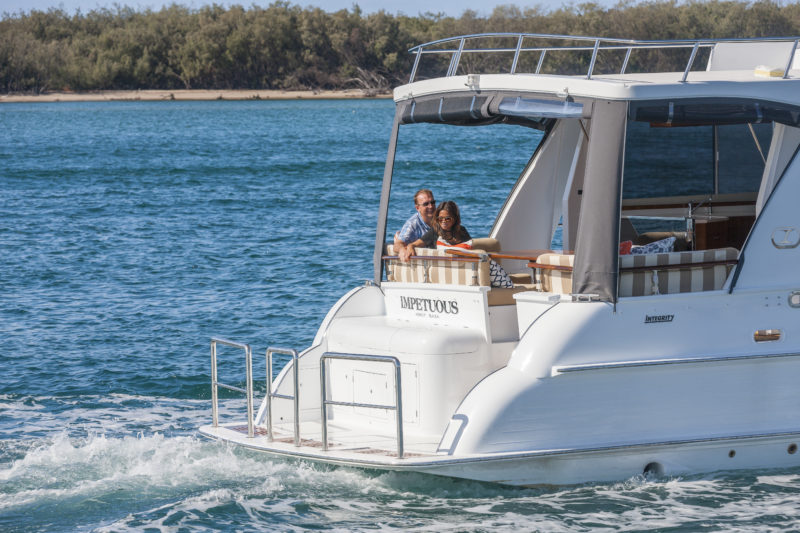 Along with full walk-around decks and high hand rails for optimal safety, the bow offers 3m of additional leisure space. The tender can be stowed on the roof or bow.
The 530 is a massive step for Integrity. According to Brett the reaction at SCIBS was sensational with a number of deposits taken and a lot of enquires to follow up.  While this might be the flagship for the Integrity brand right now, don't be surprised if there is an even bigger model in the future. At around $Au30,000 more than the 490 Grand Sedan, it is also exceptionally well priced for a boat of this size and fit out. Quality, performance and style at an affordable price.