There were three key elements in this following story of supply and demand; one a broker with the recipe, two a company who were prepared to listen and act, and three a client who had searched long and hard for a boat exactly like the Integrity 350 Mk II Motor Cruiser.
Gold Coast brokerage identity Brett Flanagan has been around the marine industry, selling boats, for more years than he cares to remember. Over that time he has heard it all from people pontificating on their version of the perfect boat. Some ideas were good, some were bad, still others were must-have features and over the years for him a picture had begun to evolve – of the perfect boat for Australians.
Not for him but for Australians in general, by consensus, which being a broker got him thinking more and more about what people were continually reminding him of also – that their idea of a perfect boat just wasn't available in Australia, nor was it available through manufacturers overseas. In his own words, the message got louder and louder, until he decided to do something about.
After frequenting many dead-end streets he finally landed at the door of the Zhuhai Jianghua Marine and Engineering Company (Integrity Trawlers to their friends), who were keen to listen to his proposition. To cut a long story short Flanagan sat down with the Integrity design team, told them exactly what he wanted in a boat, under-hull shape, end usage, engineering, appointments and perhaps most important of all, the standard of finish and presentation required.
A little over twelve months ago a deal was struck and since then Flanagan and his National Sales Manager, Peter Hill, have sold 10 of the boats to happy clients all over Australia. The boat had found a niche with those boaters who were wanting a smaller and more manageable  user-friendly, sea-kindly 'mum and dad' style of coastal cruiser; precisely the style of boat Michael and Dianne Mather were looking for with boat#11, our test boat, for they had searched for longer than they cared to remember, to replace their trusted 7.3m Whittley trailerboat.
From a distance the Integrity had a distinct old-world charm all of its own, but after stepping aboard I got a far greater appreciation of just what Flanagan had been saying, for there were just so many good ideas – big-boat ideas that were still just as appreciated, on a smaller boat. The large boarding platform with telescopic boarding ladder and hot and cold deck shower; the sensible-height bulwarks with a substantial bowrail assembly on top again, which encapsulated the whole boat bow to stern, the full 360-degrees; the sublime area up on the flybridge level; and the pilothouse door adjacent to the downstairs helm that necessitated just three steps from helm to wharf for mooring purposes – all this and I hadn't even sampled what the interior had to offer!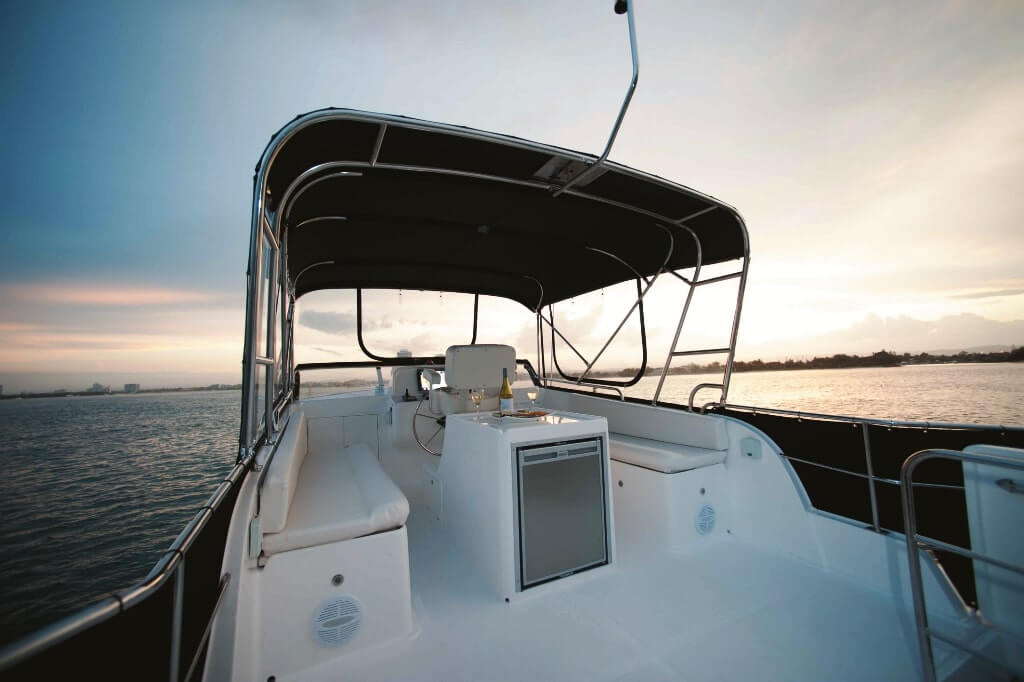 Certainly from the outside our Integrity was a serious coastal cruiser in every facet and I guess it had to be for the Mathers were putting their pride and joy out to work, into a charter situation up in the Whitsunday Islands. As such, a lot of the gear was to survey standard and some of it to overkill may I add, like for instance the anchoring gear at the bow; a Muir HR2500 windlass, 10mm chain and a 60lb Manson plough anchor!
The Integrity was visually a very well balanced boat and by that I mean the profile lines between hull, cabin and flybridge were in proportion and certainly aspects such as bow area and the cockpit which was surprisingly generous in dimension, were the right ratio too. Features within the fishing-friendly, uncluttered cockpit included a huge, fully insulated self-draining ice box, an outside storage cupboard, a large under-deck storage area for diving gear, tackle and/or fishing rods and the easy-on-the-eye teak and S/S ladder up to the flybridge level.
This flybridge level was what could only be described as sublime in area, doubling as much appreciated overhead protection for the cockpit and the side walkways. With enough room up there for a tender and a davit too (arguably an overkill on a boat of this dimension, and cost!), the lifestyle side of things included plush-padded bench-style lounges down each side of the skipper who was seated at a skipper's chair atop a fridge and servery module. For the skipper there was virtually a duplication of the helm station below in the saloon (yes another plus, upstairs and downstairs helms – on a 10.8m vessel), even down to the Garmin 5012 integrated electronics package!
At the same level as the cockpit was the decidedly roomy saloon, I have to say magnificently presented in teak. Not just any old teak, but satin-finish teak with gloss-finish teak trimmings and cupboard doors and drawers. Contrasting well with the teak and holly floors, this style of presentation was not only unique, but also very appealing to people like me who just love the traditional look of wood in a boat. I could see why the Mathers, with their 'traditional old-world' prerequisite, would fall in love with this style of presentation!
To port as you entered was a wall lounge, with opposite this the dining setting of an L-shaped lounge and eye-catching (solid) wood-patterned table which dropped down if so desired, to form yet more double accommodation. Forward of these two features and to port was the galley. With a generous Corian bench-top for serving and/or meal preparation, there were plenty of cupboards and drawers for storage – plus a microwave oven, a two-burner cook-top, a 150-litre Waeco refrigerator and even panoramic views outside to the water, for the chef!
Just on refrigeration, this fridge/freezer in the galley was complemented by the fridge upstairs on the flybridge level, but if you felt so inclined the two ice-boxes/storage facilities under the portside aft lounge as well as the ice-box in the cockpit, could very easily have cooling 'plates' fitted to them, that would transform them into either fridges and/or freezers (depending on the type of plate fitted).
Opposite the galley was the very traditional helm station; certainly the owners got exactly what they wanted here, for it was 'old-world' personified. Seated at a neat, single bench-style seat which offered great all-round visibility when seated, the skipper had before him a comprehensive array of navigational and operational gear including a TMQ AP47 autopilot, interfaced Garmin 5012 GPS/plotter/sounder, VHF, GME / Raymarine ST60 digital sounder, GME GD9520 stereo and Morse steering and remote controls.
Forward and down two steps was the perhaps predictable layout of two cabins and a refreshingly spacious bathroom off to starboard, at the bottom of the steps. This bathroom featured a separate shower and electric TMC head, along with a vanity, mirror, side opening window, and a toilet roll holder on the inside of the vanity door!
The master cabin in the bow offered the skipper a lockable entry door, a queen-size-plus island berth, good drawer, cupboard and hanging wardrobe storage, an overhead hatch and courtesy of the high cabin sides nestled inside the exterior walkway, two 'opening' side windows. Wood was again the predominant theme in here as well as in the second cabin opposite the bathroom. Normally a king-single berth, in this instance our owners had sensibly insisted this berth be widened so as to provide double (just) accommodation for another couple.
While there was 4.7kW of air-conditioning to ease the pain of those hot sticky days/nights in the Whitsundays, these side-opening cabin windows when combined with the side-opening saloon windows, the pilothouse door and the saloon door at the rear, provided wonderful 'cross-draft' ventilation.
While the Integrity was constructed of solid GRP, with two vinylester 'tie layers' for added salt-impregnation protection, the displacement was still just on 10 tonnes – arguably why 'Much Karma' absolutely revelled in the choppy conditions we encountered on our test day. The huge wake we traversed along the way (from one of the local production cruisers), without backing the throttles off, was also testament to her prowess; but for me the best part of the ride was when our skipper put the Integrity into a turn at full speed – and it turned virtually in its own length.
Sited amidships and accessed through a hatch in the saloon sole, was the engine along with peripherals such as the Onan 4kVA genset, the Victron Centaur 3kW/40A inverter/charger combo, the Marine Air 4.7kW air-conditioning and the battery bank of three house and one engine, AC Delco 200Ah batteries. A busy engine room, yet there was still room to access all this gear for maintenance.
The standard engine for the 350 is a 150hp Cummins and while there is the option of extending that to a 315hp Yanmar, the bottom line is that this is a displacement-style hull purposefully suited to an engine the size of the one chosen by the Mathers – a 220hp B-Series 6BT Cummins 5.9M diesel engine driving through a ZF 63A 2.02:1 gearbox and conventional shaft to the Hung Shen 4-blade propeller – which provided a cruise speed of 8.6 knots, a top speed of 11.4 knots.
 Range for our 'passage maker' was note-worthy also; 728nm at 7.5 knots (supplied by an Integrity 350 owner who had averaged out his last 6 months of cruising the eastern seaboard of Australia), 653nm at 8.6knots and even with a 10% safety margin it still equated to a most impressive 588nm and 655nm respectively.
The name says it all, for this boat does very much live up to its name. It is no pretender and what I really like about this boat was the fact is doesn't try to do too much, be something it isn't! The innovation was clever and entirely appropriate, the woodwork exemplary, the many cruising-dedicated features and the general presentation – were all spot-on. Look around and you will find that a hell of a lot of traditionally optional gear was standard – items such as the genset, air-conditioning, bow thruster, microwave, canvas package and the Corian bench-tops. At $A469,000, this vessel is very good value for money when you compare apples with apples and you appreciate what the Integrity 350 Mk II Trawler Series Motor Cruiser has to offer, that other comparable vessels don't!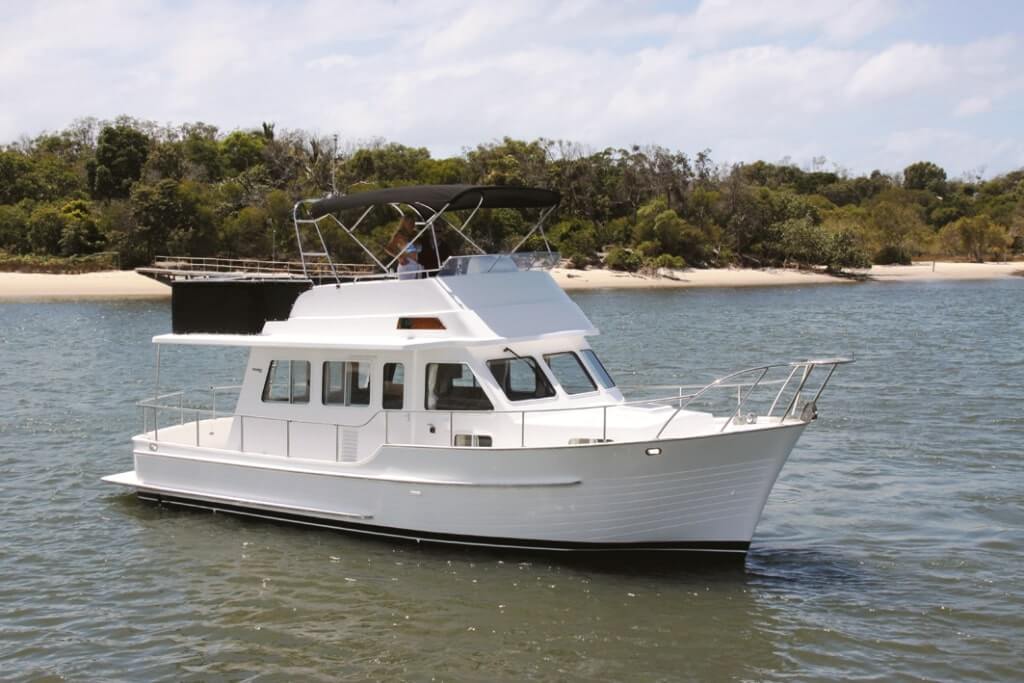 Engine Make: B-Series 6BT Cummins @ 220hp
Boat Design Name: Integrity 350 Mark II
Year Launched: 2010
Designer: Integrity Trawlers
Interior Designer: Integrity Trawlers
Builder: Integrity Trawlers
LOA: 10.82 m
LWL: 9.78 m
Beam: 4.11 m
Draft: 1.16 m
Displacement: 10,000 kg
Max Speed: 11.4 knots
Cruise Speed: 8.6 knots
Construction: Solid GRP
Fuel Capacity: 1140 litres
Water Capacity: 520 litres