DOCKING MADE EASY    
Docking a boat has never been so easy, thanks to recent advancements in electronic integration. Ever since Volvo Penta introduced joystick docking over a decade ago, the word has spread, and today many companies are offering their versions. In part two of our docking feature we look at joysticks.
Developed by Volvo Penta about 13 years ago, joystick steering has the ability to link engines, gearboxes, steering and thrusters (if installed) together to form an intuitive unit that allows you to dock by simply using a simple control joystick.
The joystick allows you to gently move your boat around on any angle with the finest of tolerances, allowing you to quickly compensate for wind, drift, neighbouring vessels and fixed structures. We look at some of the more popular models available.
Volvo Penta virtually invented the joystick for recreational boating. Over the years more boat brands and more boats have been built with Volvo Penta joystick software than any other. Volvo Penta first introduced intuitive joystick manoeuvering to pleasure boat system in 2007 and then applied this technology to its twin sterndrive propulsion packages in 2010.
Software in the Electronic Vessel Control (EVC) system transforms the driver's joystick movements into steering angles, gearshifts and throttle positions for intuitive manoeuverability at both low and high speeds. With Volvo Penta's system, the throttle and gear sticks must be in neutral to activate the joystick system which requires that the "Docking" button on the base of the unit be pushed. This is an important safety feature and means that the joystick will not be accidentally engaged. When more docking power is needed, another button can be pushed which raises the engines.
By turning one sterndrive lower unit or pod to port with forward thrust and turning the other to starboard with reverse thrust, a joystick system makes the boat go directly sideways to starboard, or vice-versa, even varying the sideways thrust based merely on how far the joystick is pushed. Varying angles and rpm can combine sideways thrust with movement forward or back, and even simultaneously rotate the boat along its keel.
Joystick Sterndrive is an adaptation of IPS, with Volvo Penta developing new software for the sterndrive system. The concept is the same, but getting a boat to respond predictably to a joystick by using two sterndrives mounted close together abaft the transom is much different than getting an inboard boat to react by using drives tucked underneath, much closer to a boat's natural pivot point.
Up to six Joystick Docking stations can be installed on the boat for maximum flexibility. The system is designed to reduce the number of wires and connectors for easy installation. The primary sterndrive joystick system has had ongoing development over the years. But engine choices have expanded, and Volvo Penta now offers the ability to retrofit a joystick in some instances to pods only and is not available for sterndrive refits.
SeaStar Solutions has created a retrofittable Optimus 360 Joystick Control System that is compatible with twin, triple, and quad outboards, depending on the brand.
Optimus 360 gives your outboard boat a whole new dimension of control. By developing the joystick function to be intuitive, Optimus 360 allows you to move your boat not only forward and back, but also sideways, by pushing the joystick to the left, or to the right, and even, rotate on a dime, all with a simple twist of the joystick.
Optimus 360 uses intelligent programming to minimise the amount of shifting required to complete a manoeuvre. With progressive throttling, the joystick becomes a natural extension of your hand. A light push on the joystick provides minimal thrust while more thrust can be applied by pushing harder on the joystick. The boost mode increases the RPM to give you more thrust when needed.
The three-axis joystick is designed with a focus on user ergonomics and the harsh marine environments. It is compatible with 3rd party autopilot systems, has dual redundancy components an optional multi-joystick capability.
The 360 package adds electronic shift and throttle, plus the joystick control to complete the system for mechanically controlled twin outboards. Basically, it replaces the conventional outboard controls and cables with fly-by-wire electronics. The i6800 control head allows full engine synchronisation with one hand. Integrated trim control is located in the throttle control handle. Owners can set the level of throttle resistance and detent to match personal preferences. The CANtrak display, which shows the system status, can be customised as well.
Seastar Solutions recently released SeaStation for those wanting to hold position without using an anchor. They applied the same smart algorithms to SeaStation as with Optimus 360 joystick control to reduce unnecessary shifting and jockeying of the engines while providing superior position and heading functions for a large selection of engine platforms.
Released in 2011, the Twin Disc, Express Joystick System (EJS) instantly actuates engines, transmissions, propellers and thrusters, in proportion to the pressure you exert. You can point the bow in any direction without moving from a fixed position. The EJS adds thruster control to the slow speed capabilities and directional manoeuvrability of the QuickShift/EC300 system and consolidates it all at your fingertips.
When you reach open water, you just push a button to transfer control from the EJS to the EC300 control head levers for cruise running. The ergonomically designed joystick provides intuitive touch and exceptional responsiveness to direct your boat where your mind wants it to go. It is specially designed for shaft drive diesel power packages to give owners virtually the same response as a pod drive system.
At the core of the Twin Disc Express Joystick System is the Twin Disc QuickShift transmission with EC300 electronic controls. The QuickShift transmission possesses proprietary technology that allows instantaneous but gradual loading of the clutch to provide various and infinite degrees of engagement – all in a matter of milliseconds. This capability permits smooth shifting from neutral to forward or reverse, or even from full forward to full reverse. No more lurching, lugging, clunking of the driveline and the boat as it goes in and out of gear.
The QuickShift transmission's ability to shift so quickly, smoothly and reliably in any direction makes possible the application of joystick control to conventional driveline systems. It enhances safety, comfort, enjoyment and driveline protection.
Add the Twin Disc EC300 controls featuring Express mode and you now have unparalleled slow speed control using familiar lever heads. This Twin Disc QuickShift transmission with EC300 controls is a precision manoeuvering system proven for years on all types of vessels.
In Express mode, each lever lets you instantaneously shift from forward to reverse and control prop speed down to 50 rpm while the engine remains at normal idle speed. You can more accurately and comfortably manoeuver the boat under all slow speed conditions by just using the control levers. They are that precise, responsive and intuitive.
Twin Disc also has what they call the EPS system which is an option exclusively for shaft drive boat owners who have the company's Express Joystick System (EJS) in place. It can be supplied with a new build or can be retrofitted. A dedicated GPS determines your location and heading, then instantly directs the Twin Disc QuickShift transmissions and proportional hydraulic thrusters to achieve those coordinates. Working in conjunction with the EJS, It enables boat owners to 'virtually park' their vessels in whatever position they like and the system will maintain station.
ZF use their control system SmartCommand as a base, and subject to the vessels design and operating requirements (qty thrusters, working conditions – external factors like tide & wind) they can add the JMS (Joy-stick Manoeuvring System) and then upgrade further with functions like i-Anchor and i-Drift. All to suit a buyer's actual needs related to the specific operational requirements.
Then, enhancing even further for pleasure boat applications is the ZF SteerCommand, which is linked into the SmartCommand control system for improved steering as "fly by wire", so eliminates messy hydraulic system requirements.
ZF's Easidock ensures positive clutch response resulting in smooth and precise manoeuverability in confined areas. Easidock provides the ability to modulate clutch engagement and control engine speed to obtain the optimum propeller speed for a safe docking. SmartCommand's CANbus communication perfectly synchronises engines in all modes without the need for dedicated buttons or switches.
As the vessel operator directs the joystick in any direction or combination of courses, the JMS system incorporates propeller thrust and varying amounts of thrust from the bow thruster. Proportional control of the thruster means smooth engagement and only as much thrust as needed to move the vessel in the desired direction. Proportional thrust, combined with an electronic compass tied to the main JMS control unit, means there is no vessel yaw during sideways movement.
ZF Marine's patented iAnchor station-keeping functionality is also available. With the press of a button, iAnchor will compensate for wind and current, holding the vessel's position to as little as a 1m radius depending on external factors at the time of operation.
i-Drift is the latest development to the control system, this allows the ability to control drift speed and direction when the vessel is in windy conditions, or active current. It's the perfect solution to keen anglers when kite fishing, bottom fishing or game-fishing as some examples.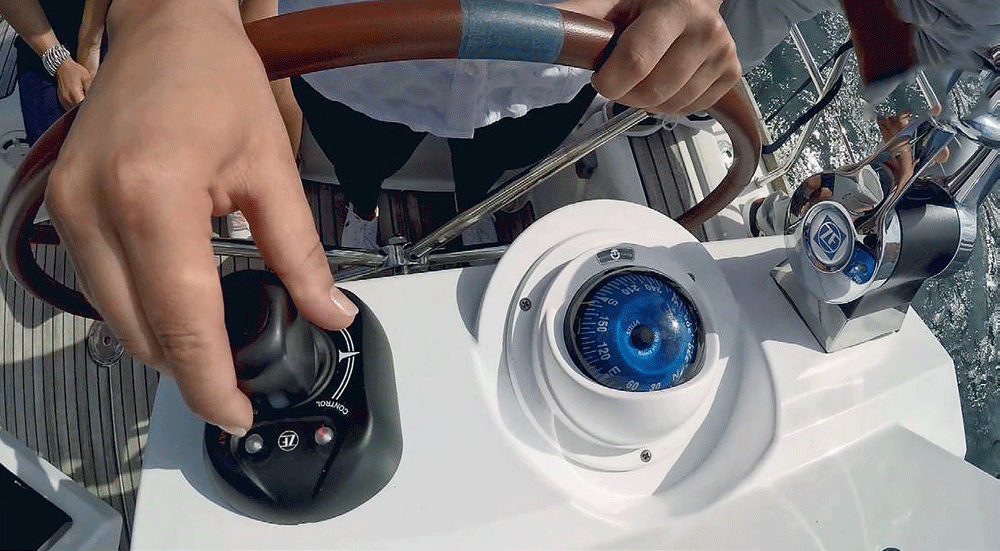 Sideshift is a revolutionary bow and stern thruster technology that offers an affordable, powerful, and easy-to-install thruster solution for all types of boats.
The big difference between the Sideshift thrusters and conventional thrusters is they are externally mounted. The propellers are in direct contact with the water, providing an instant response when seconds count. Also, the external mounting system places the thruster further forward, or astern on the boat. This provides a pivot-point advantage and a more immediate response.
Unlike tunnel thrusters that have the motor mounted inside the hull producing significant noise and vibration, Sideshift thrusters are silent and vibration free. By combining both the Sideshift externally mounted bow and stern thrusters you can dock easily by using a wireless remote key fob or a single wireless joystick.
HAMILTON MARINE blue ARROW
Blue ARROW is a new generation electronic control system for HamiltonJet powered boats. With the intuitive control provided by the MouseBoat manoeuvring controller, blue ARROW allows even inexperienced boaters to harness the full manoevring benefits of waterjets by providing simple control of engine throttle, gearbox and waterjet reverse and steering deflectors.
Unlike other electronic waterjet control systems, blue ARROW is a complete waterjet and controls package. blue ARROW incorporates single or twin waterjet units, jet control interfaces, engine throttle and gearbox control interfaces, together with helm station control devices.
In addition, blue ARROW has many safety features including multiple levels of redundancy and a fully independent smart backup, together with comprehensive diagnostics and alarms, making it the safest and most reliable control system of its type.
blue ARROW is suitable for commercial applications, workboats, military craft and pleasure yachts.
MERCURY MARINE JOYSTICK PILOTING
Mercury Marine offer joystick piloting for sterndrives, Zeus pods, inboards and outboards. Mercury is the first and only engine manufacturer to offer joystick piloting on outboards, petrol sterndrives, diesel sterndrives and pod systems.
Mercury Joystick Piloting systems totally take the stress out of one of the most stressful parts of boating, all with a gentle nudge of the joystick.
The system is suitable for Axius and MerCruiser and Mercury Diesel applications, boats from 8m to 14m and Zeus for larger boats powered by pod drives. Joystick Piloting for outboards, is designed for dual, triple or quad installations of 250 and 300hp Verado outboards.
Joystick piloting systems are compatible with SmartCraft Digital Throttle & Shift (DTS), as well as electronic/hydraulic power steering.
Mercury's patented Joystick Piloting System delivers 360 degree directional control. The Skyhook digital anchoring system holds your boat in a fixed position regardless of wind or current. Active Trim is the only auto-trimming program that uses GPS and speed. SmartCraft DTS (Digital Throttle & Shift) delivers precise handling and total control. It also seamlessly connects with compatible displays and features automotive-style power steering.
Yamaha's joystick system is called Helm Master which works like the ones available for inboard engines. The revs of the engines will match the request, the movement sensors detect any input and the ECU decides the output and the direction of each engine, independently, in order to move the boat in any direction.
Beside the joystick, the remote box and the ignition panel include the automatic trim assist, the anti-theft system, the chance to control engines and trim angle with the same stick, and a speed-sensitive clutch on the wheel.
Twist or apply pressure to the joystick in a given direction and the engines respond instantly, with thrust that mirrors the amount of movement you input via the joystick. Intuitive joystick maneuvering allows you to move your boat in forward, reverse, laterally left or right, on a diagonal or to pivot it 360 degrees in place.
This fully integrated boat control system includes an enhanced binnacle control, a streamlined digital display, push-button start/stop switches, an RFID key fob and an innovative joystick. It's the joystick that moves the large craft in surprisingly agile ways.
Now, Yamaha has made boating even more effortless with the latest version of Helm Master's SetPoint modes. Fine-tuning your position while in StayPoint, FishPoint and DriftPoint using just the joystick is now possible, as well as Pattern Shift for more precise operation below standard in-gear trolling speeds. Boats with earlier Helm Master systems can be updated to include the new features, as well.
The new Joystick can work for two- or three-engine installations, provided it's the last gen Yamahas (4.2 V6 225 or 300HP, and V8 350HP).