Whether you're docking, pulling alongside a jetty for fuel or positioning the boat over a 500m deep offshore canyon, joystick controls are the way to go. Stress free, intuitive systems that take all the hassle out of your boating. PPB looks at some of the leading systems available today.
Joystick steering is nothing new and in fact it has been around since the 1920s when the first electrical 2-axis joystick was used to help in the development of remote controlled aircraft. The Germans developed an electrical 2-axis joystick around 1944 and used it to guide rocket-boosted anti-ship missiles against maritime and other targets.
For many years now joysticks have been accepted as an alternative to a full steering wheel at the helm, especially in superyachts. We find them on the dash or built into the helm seat arm or even remote control units.
But while controlling a boat by joystick steering at speed is nothing new, it is only in recent years that the same technology has been used to make docking and low speed manoeuvring so much easier.
Joystick steering gained prominence in the marine recreational market with the introduction by Volvo Penta of the IPS pod drive in 2006 and then a year or so later by Cummins MerCruiser with its Zeus pod drive and later Axius sterndrive systems. They all offer unprecedented low speed manoeuvrability, something that was unattainable with a conventional shaft drive boat.
The joystick is fully intuitive. Push the joystick to port or starboard and your boat moves sideways. The boat moves in the direction in which the joystick is moved. Twist the knob, and the boat spins on its own axis. In a pod drive boat all the work is done with the two pod drives and the propellers. In a shaft drive boat the gearbox(es) link(s) in with the rudder(s) and bow/stern thrusters to achieve a similar result.
Another point to consider is that the performance of any joy-stick control system is heavily dependent on the sizing of the thrusters, and that careful consideration should be made when selecting traditional DC model electric thrusters as the thruster operational time is limited by the electric motors thermal capacity before over-heating and shutdown.
Challenging berth spaces now become easily accessible and, by effectively combining direction and thrust, the joystick helps overcome the effects of wind and current.
Volvo Penta and Cummins MerCruiser were in a position to take over the propulsion market in a big way so it was obvious that unless the other big engine manufacturers could find an alternative system, the day of the conventional shaft drive could have been numbered.
However all that was to change, when in 2008 ZF Marine released their JMS system. It was a game changer and set the industry in motion for a whole new range of joystick suppliers. Quick to join were companies such as ZF in 2010, Caterpillar and Xenta and then more recently, Yamaha, Teleflex and Yacht Controller. HamiltonJet and Ultra Jet were not to be left out and developed their own systems for jet propulsion.
A joystick is generally configured so that moving the stick left or right signals movement along the X axis, and moving it forward (up) or back (down) signals movement along the Y axis. In joysticks that are configured for rotation about the boat's vertical axis, twisting the stick either counter-clockwise or clockwise signals rotation about the Z (vertical) axis.
While the application of joystick steering for low speed manoeuvring was originally the reserve of larger diesel engines, it has since been adapted for sterndrives and more recently, outboards.
The following is a brief outline of what some of the companies are offering in the Joystick engine control market:
Catering for the sterndrive market, the MerCruiser Axius joystick puts throttle, shift, and steering right at your fingertips, coupled to MerCruiser's Digital Throttle & Shift (DTS) system for amazing manoeuvrability and intuitive control. Perfect for dual sterndrive boat packages, the Axius system provides you with an incredible level of precise control.
The Joystick Control System makes manoeuvring and docking intuitive and stress-free. Because the two drive systems steer, shift and throttle independently, the joystick gives you the ultimate in control. Axius obviates any need for bow and stern thrusters in almost all conditions.
For even easier piloting, MerCruiser offers Axius Premier, which includes a control touch pad and VesselView LCD display. An integrated electronic compass and dedicated GPS system can provide incredible joystick control with the addition of auto heading to maintain your heading with the push of a button, and waypoint tracking for multiple point-to-point autopilot when mated with an electronic chart plotter.
Skyhook electronic anchor holds your boat in position at the touch of a button, regardless of wind or current.
www.mercurymarine.com
Caterpillar Marine Power Systems recently introduced its own joystick and pod solutions for marine propulsion for pleasure craft. The Cat joystick and pod systems feature proprietary Twin Disc QuickShift transmission technology. 
The Joystick solution features cutting-edge technology designed to integrate vessel components including the engines, transmissions, thrusters and propellers into a single source of control. Vessels featuring the customisable Cat Joystick system will benefit from a greater ease of manoeuvrability and docking as well as more responsive vessel steering at low speeds. 
All Pods offered by Caterpillar incorporate the manoeuvrability elements of the Joystick system. Beginning in 2014, the Pod will be offered for Cat Marine pleasure craft engines operating below 1,000hp.
www.marine.cat.com
HamiltonJet's MouseBoat is an innovative concept in low speed manoeuvring control for waterjet powered boats. MouseBoat makes it extremely easy for anyone to manoeuvre a vessel safely in a wide range of operating conditions.
The MouseBoat works in conjunction with HamiltonJet's blue ARROW control system and is programmed to translate MouseBoat movement into differential control of the astern deflectors to provide a full range of manoeuvres, in particular sideways tracking (with twin jet installations only)
Control is switched between low speed MouseBoat and high speed wheel/ levers simply by pressing the "Take Control" button on the required device when both devices are synchronized.
HamiltonJet's blue ARROW is more than just a control system for waterjet powered boats – it is a totally integrated waterjet propulsion and electronic control package. It includes single or twin waterjet units (available with HJ292, HJ322, HJ364 and HJ403 waterjets), jet control interfaces, engine and gearbox control interfaces, and helm station operator control devices.
MouseBoat also permits autopilot activation to maintain a set heading while allowing operator control of ahead / astern and sideways manoeuvring control.
www.hamiltonjet.com
Swiss based Tecnautic offers a joystick system that does all the right things for ease of close-quarter manoeuvring. Simply move or rotate the joystick into the direction you want your boat to move. You can do all your slow speed driving in docking mode.
Hover Mode and Anchor Mode is achieved by simply pressing a button and the present GPS position is held automatically. A desired relative wind angle or a heading may be selected while hovering.
Clutch engagement is always gentle, with no rocking and when a trolling valve is installed the clutch pressure is increased steadily.
Several functions are available as an option, such as trolling mode, remote engine start, starter lock-out, synchroniser, speed control, and virtual anchor.
When manoeuvring at low speed, the propulsion and steering system automatically – or manually – switches into docking mode. Steerable stern, pod or jet drives will then be controlled individually, and available thrusters and trolling valves will be used when needed.
In Anchor Mode the boat is tied to a virtual buoy and the position may be adjusted with the joystick. It works also on single-screw boats without thrusters.
www.tecnautic.com
Twin Disc – Express Joystick System (EJS)
The Twin Disc Express Joystick System (EJS) revolutionises docking and slow speed manoeuvring of diesel powered, conventional driveline boats to rival the manoeuvrability of pod drives. Thanks to proven QuickShift transmission and EC300 control technology, EJS allows you to instantaneously control direction and speed of your shaft drive boat, with no lagging, lurching or clunking.
The essence of Twin Disc's QuickShift transmission is its patented clutch. While a standard clutch has flat-faced pistons, QuickShift's pistons are stepped-face, with a big O-ring separating a large piston area from a smaller, central one. Why? Using hydraulic oil to actuate a single, relatively large, flat-faced piston in a standard transmission from a relaxed or neutral position to full, clutch-plate lockup on a transmission shaft tends to be both slow and mechanically jarring.
However, using oil to actuate only a small piston area to achieve a clutch-plate semi-lockup that's useful at slower speeds is faster and smoother. And using more oil to actuate the large piston area as well when necessary via a pressure-activated sequencing valve to achieve full clutch-plate lockup for high speeds maintains the faster clutch response and lack of shock.
What's more, because only the small piston area is actuated for slower speeds (during which the clutch plates slip under reduced load), QuickShift can slow propellers to as little as 50 rpm. Such fine-tuning, of course, expands the range of manoeuvrability available to either a conventionally oriented boat handler or a joystick-enabled one.
The EJS smoothly and simultaneously actuates and controls engines, transmissions and thrusters. You can effortlessly move the boat in any direction and even pivot it on its own axis, the same as was only previously available in a pod drive system.
The Twin Disc EJS features "Push, twist and go" directional manoeuvring and it simultaneously and instantaneously controls engines, transmissions, and thrusters. During docking you can eliminate steering wheel and control lever activities with extremely intuitive responsiveness.
The Twin Disc Express Joystick System brings intuitive, fingertip boat control to a new level for shaft drive boats.
www.twindisc.com
The JetMaster Joystick is a full-featured waterjet propulsion control system based on a Programmable Logic Controller (PLC) and proprietary software developed by Ultra Dynamics for waterjet propulsion. The system offers many features previously only available on more expensive systems.
For single, twin, or multiple jet propulsion systems, the JetMaster is used in conjunction with a bow thruster for single-jet monohulls, or with vessels with or without a bow thruster using twin jets, both in monohulls and in catamarans.
Easy and logical to use, even inexperienced or infrequent boat users can manoeuvre a boat like a professional. One-hand close-quarter manoeuvring gives total control of your boat. Docking and backing into a slip is simple, with same-sense steering – just push the joystick in the direction you wish the boat to move.
The JetMaster Joystick is compatible with Ultra's jet-mounted and remote hydraulic systems and is available for all UltraJet models.
www.ultradynamics.com
When Volvo Penta introduced its IPS propulsion system in 2005, propulsion in the recreational marine market changed overnight. To date, with over 10,000 units sold, IPS is unquestionably the world's most popular pod drive system.
The IPS Joystick was introduced a year later in 2006 and like IPS put a whole new perspective on boat handling and manoeuvrability at low speeds. It is easy to install the joystick to most IPS drives, by simply adding the Joystick control with a cable and software installation. Volvo Penta IPS coupled to the joystick and control panel made it possible to dock in a new and completely intuitive way. Since its release it has been accompanied by many other smart features, such as Dynamic Positioning System and Sportfish mode.
When activated, the system holds the boat's position automatically within a very limited area, even in a current or in windy conditions. The system uses twin GPS receivers in the special antenna to determine the boat's position and heading. Sophisticated and specially developed software in the EVC system transforms this data into steering angles, gear shifts and throttle positions.
The Dynamic Positioning System gives you time to "freeze the moment" and give you time to safely plan a change in the route or keep position in large sea depths.
The latest generation of Volvo Penta controls has integrated buttons for low-speed mode, single-lever mode and cruise control.
Volvo Penta now also offers a sterndrive joystick that builds on existing Volvo Penta IPS technology to control individual Volvo Penta DPS drives in a twin sterndrive application. Fly-by-wire software commands from the helm-mounted joystick control the individual sterndrives with just the right throttle and thrust, in just the right directions, to move the boat into your chosen spot. The joystick is fully intuitive. Low and high RPM manoeuvrability is achieved with the push of a button. This feature is only available as a factory installed feature for twin engines and cannot be retro fitted.
Volvo Penta now offers its own autopilot system which can be interfaced with the joystick for the "joystick driving" feature which allows the joystick to be used for autopilot adjustments and/or high speed steering.
www.volvopenta.com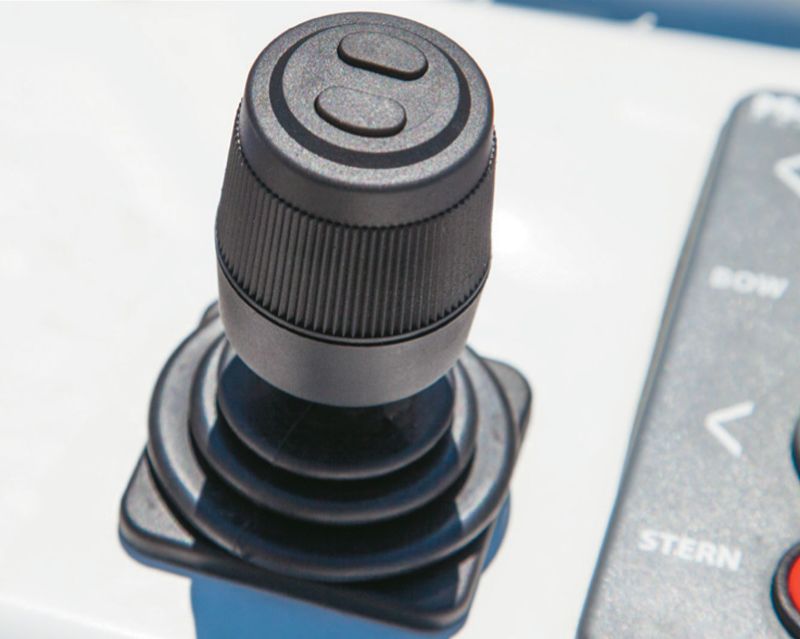 The Xenta Smart-Stick is a joystick yacht controller that can be retrofitted to any twin-engine diesel boat with a bow thruster.
The Xenta system uses your existing bow thruster, transmissions and propellers and turns them into a single control. By pointing or twisting the joystick in the direction you want to go, the Xenta system orchestrates your components and commands them with more precision than is possible with conventional controls. Xenta is aware of your heading and compensates for wind and current, keeping you on course.
With the optional dynamic positioning system you can effectively park your boat where you want it.
The largest advantage Xenta has is that it can be added to any boat.
The Xenta Smart Stick doesn't require a transmission change, trolling valves, or stern thruster.
Mechanically, the Xenta system is subordinate to your existing systems and runs parallel to them. In most cases, no existing controls need to be removed or replaced.  It is an easy installation as the Xenta Smart-Stick requires one ECU (Electronic Control Unit), one PCU (Power-train Control Unit), and one TCU (Thruster Control Unit) for each engine and thruster.
The combination of these components creates a proportional digital control system allowing precise and, more importantly, confident control.
www.xenta.com
Yacht Controller's joystick, JCS, can be used alone or integrated with the unique wireless remote control mooring systems, Yacht Controller Dual Band and/or Yacht Controller Smart.
With a simple movement of the hand, the Joystick JCS allows simultaneous operation of the motors and of the bow and stern thrusters, enabling you to moor and move the boat in any direction simply, without risk and danger, precisely and with total ease.
Yacht Controller JCS is very easy to install, with no difficult, invasive and costly work in the engine room; moreover, it does not require cables to be installed along the length of the boat but, after identifying the type of electronic throttle control installed on board, it is installed rapidly in proximity of the control station selected, either on the flybridge or in the saloon.
Moreover, if the boat is already equipped with a Yacht Controller Smart or a Yacht Controller Dual Band system, it can be installed simply by attaching a connector to the receiver already installed aboard.
Unlike other joysticks present on the market, Yacht Controller JCS offers maximum flexibility thanks to its automatic and manual modes. In automatic mode, the motors and the thrusters are used simultaneously to facilitate mooring manoeuvres even for those with less sailing experience. In manual mode, the thrusters can be activated as required, both together with the motors or separately, for better control of the manoeuvre you wish to perform.
Yacht Controller JCS is equipped with a control panel with LCD screen that is visible in sunlight, which has a clear and practical design of the boat with indication of motors and thrusters, showing you exactly what is activated in the manoeuvres being performed. The JCS panel can be used to configure the various operating modes, select language, units of measurement, accurate diagnostics and many other features. With throttle controls equipped with digital protocol, it can be used to manage acceleration, with different settings depending on the percentage of acceleration selected and its supply time.
Yacht Controller JCS is available for all types of electronic controls currently on the market including, Volvo EDC, EVC, ZF Mathers, Morse, Teleflex, Twin Disc, Vetus, Bosch Rexroth, MTU Blue Line, Detroit DDEC, CAT, MAN, Glendinning, Cummins, etc.
www.yachtcontroller.com.au
ZF – Joystick Manoeuvring System (JMS)
The Joystick Manoeuvring System (JMS) developed by the ZF Marine Electronics Group is a control system matched to ZF Marine SmartCommand propulsion systems.
Controlling engines, transmissions and thrusters in a traditional shaft-line vessel, the JMS system also controls the throttles of the engines and shifts the transmissions with automatically controlled trolling valves to provide the precise speed needed for smooth manoeuvring and easy docking.
The standard "Hold Heading" function, thanks to an integrated electronic compass, keeps the vessel going in the selected direction. The JMS automatically tunes the propulsion system to compensate for current, wind or other external forces to the vessel to maintain a constant heading.
The optional "iAnchor" function, thanks to an integrated GPS receiver, enables the vessel to be kept at an exact position and orientation at the press of a button.
It is possible to install up to six joystick stations, enabling manoeuvring of the boat from any location. Three different logic systems for transferring control from the levers to the joystick can be selected.
JMS, with all its options, can be retrofitted in existing vessels with electronic engine interface, ZF transmissions and SmartCommand control systems.
JMS uses a 12/24V DC system, CAN-based joystick station on three proportional axes, with one push button to take control and select functions. The system can also interface with ZF's AC thruster and any DC or hydraulic bow thrusters.
The ZF POD is one of the most efficient propulsion system, ideal for medium-sized pleasure craft and can be used with engines up to 450 hp.The system consists of a transmission unit, a steering system and counter-rotating propellers, governed by an electronic control system.
The ZF POD is controlled by ZF's SmartCommand control system and the JMS (Joystick Maneuvering System), which ensures easy and safe cruising and maneuvering. The drive can be matched to all types of diesel or gas engines within the approved power range.
ZF recently announced the introduction of a pod drive system with docking joystick control for single-engine applications up to 480-hp. This new product could be revolutionary for the marine industry because it will bring the ease of joystick docking to tens of thousands of boaters worldwide who prefer single engine propulsion. The new ZF system incorporates both its proven pod drives with its own bow thruster and black box software to control the system.
www.zf.com
Zeus is the name for Mercury Marine and CMD Marine pod drives and vessel systems control. With SmartCraft innovation throughout, Zeus provides a seamless approach to propulsion technology, marine electronics, and on-board information management.
The Zeus system uses a joystick that allows the operator to move the boat forward and aft and side-to-side with precise control with a simple turn of the wrist. One hand controls it all – from sideways tracking, to spinning on a dime, to precise speed control. There is no clunking into and out of gear with this joystick technology thanks to a unique clutch system. When the joystick is moved, the engine transitions into gear (forward or reverse) but the clutch is still open. As you manipulate the joystick, you are taking up the clutch and the props begin to deliver thrust. The clutch eliminates the lurching effect that occurs with conventional inboards.
With the touch of a button, the Zeus Skyhook Electronic Anchor feature maintains your vessel on a fixed heading within a tight area, even in strong current and windy conditions.
cmdmarine.com
Outboard Joysticks – The Last Frontier
While the inboard market is well subscribed with joystick steering options, the outboard segment has yet to fully embrace this new technology. Teleflex, Mercury and Yamaha all have announced new joystick docking systems for outboards and all will be available through 2013.
Teleflex Marine first presented Optimus 360 a year ago at the 2012 Miami Boat Show, while Yamaha announced its Helm Master system in October. Mercury just launched their Joystick Piloting for Outboards at the Miami Show in February.
Mercury and Yamaha have designed their joystick navigation systems for high horsepower models with digital electronic controls. Teleflex Optimus works with any outboard with mechanical controls. So how do they work?
Mercury – Joystick Piloting for Outboards
Released at the Miami show in February this year, Mercury's easy-docking system, simply called, Joystick Piloting for Outboards, is, according to Mercury different than the joystick system for sterndrives and inboards.
It is much ,more complicated than just applying Axius to outboards, as on a pod or stern drive application, you have only the drives that are moving. But when it comes to two 300hp outboards moving independently of each other, it's a much tougher equation.
Joystick Piloting for Outboards is designed to work only at this stage with Mercury's 250hp and 300hp Verado models. You need two engines to make the system work. They however can not be retrofitted to older engines and are specific for the engine, although they come as a separate system kit.
The system includes an integrated autopilot system and the Skyhook feature found on the Axius sterndrives
Optimus 360 by SeaStar uses the latest electronics to provide easy 360-degree manoeuvring capabilities when docking, negotiating crowded areas or loading a vessel onto a trailer. Even novice boaters using the three axis Optimums 360 Joystick Control System can confidently move the boat forward, backwards, diagonally, rotate it on its own axis, or even move sideways to accomplish tricky docking manoeuvres. 
The first key to this advanced system is the new Optimus Electronic Power Steering System (EPS) by SeaStar. The patented Optimus electronic helm connects via a fault tolerant can-bus to a Pump Control Module (PCM) that operates individual hydraulic pumps installed below deck.
The patented Optimus 360 system builds on the Optimus EPS system and the Optimus Electronic Shift / Throttle System (EST) as well as the new Optimus 360 Joystick Control System.
Optimus 360 is the culmination of the three sub-systems, which are interconnected and synchronized to provide intuitive joystick docking of the vessel with true fingertip control. While the Optimus 360
Joystick Control system is
a breakthrough approach to controlling outboard powered boats, it is rooted in Teleflex Marine's long tradition of proven, reliable marine steering and control products.
Yamaha Motor's new joystick control system is designed for its top-end outboard engines and makes docking and slow-speed manoeuvring considerably easier for the recreational boater.
The new joystick control system allows users to manoeuvre their outboard-equipped boats in a far more precise and controlled manner than has previously been possible using the steering wheel and throttles. Also included in the new steering package is a raft of other features designed to improve the boating experience for owners.
Based on an ergonomic joystick control at the helm, the joystick control system allows twin- or triple-engined boats to be manoeuvred precisely in any direction simply by moving the joystick in the desired direction of travel.
Developed in conjunction with Volvo-Penta, the Yamaha joystick control system operates in a similar way for outboard engines. With the joystick function enabled, the engine revs adjust to a pre-set level. Sensors detect the movement of the joystick and the ECU adjusts the engine outputs and steering direction independently of each other in order to move the boat in the desired direction.
                 
In addition to the joystick, a new top-mounted remote control box and a key switch panel will be newly featured that include an automatic trim-assist function, a theft prevention system, the ability to control engines and trim using a single lever, and speed-dependent steering friction.
The Joystick Control System will work with two- or three-engine installations of Yamaha's V6 (4.2L) 225 to 300hp and V8 350hp outboards. The Yamaha joystick control system will be available in late 2013.