Author : Freddy Foote
New to the custom RIB market is JP RIBS, a small father and son building partnership that aim's to take the best of Kiwi boat building to the European market. Freddy Foote checks out their first creation, the JP 800 Custom.
JP RIBS is a collaborative partnership between the father and son team of Phil and Jonathan Edgar. Phil Edgar has been a boat builder much of his life and is most widely known for the build of 'Pzazzz – a 12m sedan cruiser that broke that diesel speed record in the early '90's.
Growing up near the water and with a father who was a boat builder, the younger Edgar was always destined to have a career on or around boats.
"I left New Zealand in 2002 and went to start working on superyachts in the Mediterranean, I worked my way up the ranks, becoming a Captain on a 30m when I was 26," says Jonathan Edgar.
Now, at 31, Jonathan is still skippering a 40m vessel in Europe, so is highly qualified as to what needs to go into a high spec custom RIB. With years of experience under his belt aboard and high-quality RIBs in the superyacht segment, Jonny wanted to craft what he described as the perfect RIB, and something he could put the family name to alongside his father.
"There are a lot of good RIBs out there, but I wanted to provide a vessel where everything has the correct functionality and has the highest quality finish to superyacht standards."
"Having spent a lot of time in Europe and seeing what is available there, I felt we could do it just as well. We added our own flair to it, bringing in some of our colours, and incorporating the best RIB features I'd seen over the years into one high-performance vessel."
In setting out to design JP hull #1, the Edgars wanted to create something quite radical incorporating both Kiwi and European flair.
"The main thing was the style and the look, it had to be radical, have the right lines and flow, which is a hard thing to do in a smaller boat, especially when you are incorporating a targa top like we have."
By all accounts the layout, configuration and finish of the JP 800 is very much custom. In my years of testing various boats throughout Australasia, some of those being RIBs, I don't think I have quite been on a vessel like the JP Custom 800 that has such high levels of finish and detail.
The layout is based on a centre console with access around the sides. Aft in the cockpit, a fully upholstered bench seat provides seating for four passengers, while immediately forward there are two standing positions at the helm for the skipper and a passenger.
The aft seating is fully removable and when not in place opens up the cockpit to allow for more workable space for activities such as fishing. Provision is made in the transom to mount a stainless bait board with six rod holders. A ski-pole can also be inserted in place of the bait board should you prefer. Again, everything is custom, so you can specify your choice to suit your needs.
Built into the stainless supports for the targa style roof, which also incorporates the leaning helm position, is a flush mounted stainless sink and tap (fed by a 70L freshwater tank), alongside a couple of stainless drink holders all built in superbly to the surrounding teak finish.
For'ard in the bow, a further passenger seat is located forward of the helm and underneath this is storage for a large chilly bin. Further forward is a large underfloor storage locker that is accessed via a durable perspex hatch, ideal for wet storage such as dive gear and bottles.
In the bow is a sizeable anchor locker with two large stereo speakers flush-mounted into the GRP surround. A sun pad can also be fitted over the top of the anchor locker, extending aft about 200-300mm and providing ample space for a couple of people to recline.
It's also notable to mention that the entire deck area is finished in hand laid teak that requires a high level of craftsmanship and attention to detail. If you do not want the hand laid teak, which does come at a premium price, there is an option to specify the more affordable 'Flexiteek' product. Alternatively you can have a rubber foam finish that is more suited to a dive boat type scenario and can handle the knocks of dive gear.
The helm is well appointed and beautifully finished. A large 12" Furuno TZT2 display is immediately in front of the wheel, with the Mercury Smartcraft gauges flush-mounted above in a custom carbon panel. To the left of that is the stereo system and VHF radio, with other onboard systems operated via a large switch panel above.
Below, storage under the helm console is accessed via a large perspex window hatch, with this area providing copious storage space for gear and to keep it dry.
Performance with Horsepower
Design criteria for the hull were that it had to perform in the rough water, but also had to be able to handle high horsepower.
"One of our original design criteria was that we had to get 50 knots, but keeping the low down grunt and the stability throughout."
Performance doesn't get much higher than the Mercury Racing Verado 400 R bolted to the transom. As well as just looking awesome, the Verado 400 R boasts some serious performance. At 6900rpm (yes, 6900), the Verado 400 R pushed the 800 Custom along to an eye-watering 52 knots using 142 l/h of fuel.
Peg that back to 4000rpm and you'll fined a reasonably rapid cruise speed of 28 knots, using 39 l/h giving it a cruising range of 180 nautical miles off the 280 litre fuel tank.
The hull is rated for outboards from 250hp to 400hp and will be able to handle a twin outboard set-up of 150hp or 200hp options. You can also specify an inboard sterndrive, which would allow you to incorporate an aft sun pad – ideal for those hot summer days in the Hauraki Gulf or the Mediterranean.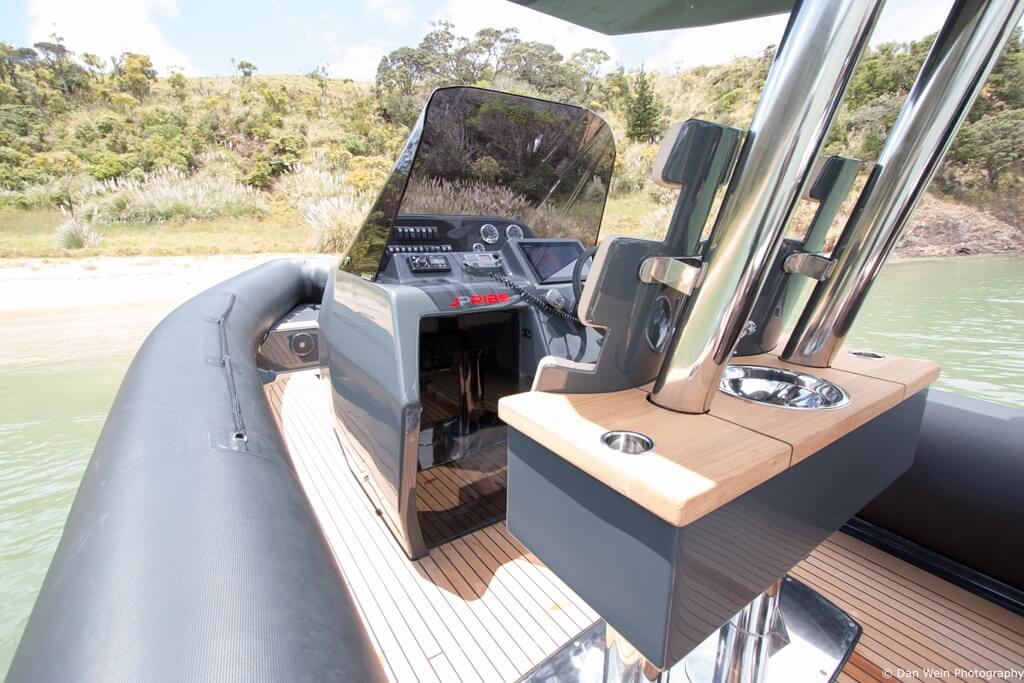 The 400hp Verado comes at a premium price – it is a pretty exciting bit of kit after all.
However, the boat will perform superbly with a 250hp outboard; you just won't get that exhilarating performance that the 400hp Verado can give.
Now, that may not be everyone's cup of tea when it comes to economical boating, but remember who this vessel is targeted at. Those types are more concerned about how fast they can get from A to B rather than what it costs them at the fuel pump.
Regardless, the ride and performance are awesome.
I believe a 300hp outboard will give the vast majority of users not only the performance they desire but reasonable economy also.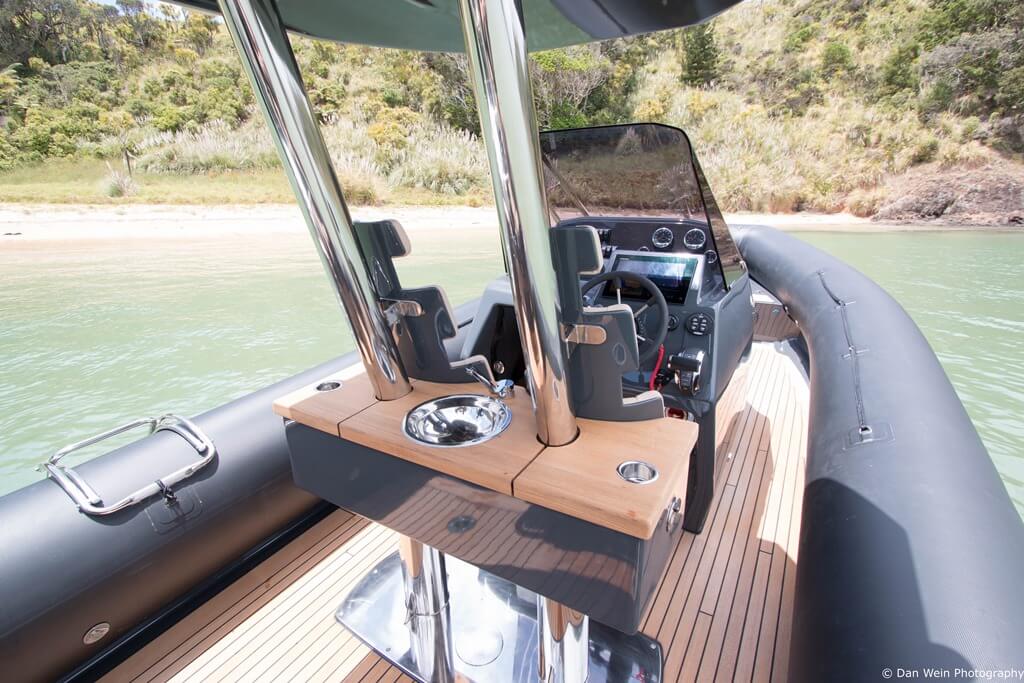 The hull is a GRP, 21-degree vee, and measures 7.25m loa. Many Kiwi boaties will be familiar with the hull design as it originates from the Haines Hunter 7.25m.
"We applied a lot of detail to the height of the tubes. There is nothing worse than getting into a boat, only to have it immediately lean over to one side. So we wanted the tubes to be in the water when at rest, but out of the water when underway."
The ride is sensational, very soft and forgiving. Even under wide open throttle and 52 knots, the ride felt safe and not flighty. The boat is responsive to trim and didn't seem to mind applying a lot of upwards engine trim. The boat holds on hard in the turns and deliveres a dry ride even in blustery sea conditions.
The Mercury Verado 400 R swings a 17" 4-blade propeller that was chosen to be an all-round performer, providing plenty of mid-range response, out of the hole bite and performance while also still achieving a respectable top speed.
At the helm, the small perspex windshield provides minimal but adequate protection from the wind. The wind noise wasn't to obtrusive and you can still converse with your passenger while at the helm. The Verado is also ultra quiet and the throttle is perfectly positioned for the skipper's needs.
Everything on this boat is custom, meaning you can specify virtually anything you like to suit your own requirements. With sights firmly on the sales market of Europe, Jonny believes that the style of the JP RIBS custom range will appeal to boaties in that part of the world.
"We want to be able to provide the customer anything they want. Whether it's a local client here who wants to have a full-width cabin console for added protection and storage or a superyacht owner who wants the colour of the RIB to match that of their larger vessel – we can do whatever they choose."
With the JP RIBS 800 Custom the first boat out of the factory, plans are already underway to release a 9.5m boat as well, with Jonny saying the company is also prepared to build a boat up to 15m should a customer want.
New Zealand builds some world class boats, and the JP RIBS 800 Custom is absolutely no exception. The company already has another couple of boats on order and plans to exhibit boats at Australian boat shows in 2016.
As I mentioned earlier, I have had the pleasure of getting aboard some wonderfully finished boats over the years, and having spent some time aboard this custom creation of JP RIBS I can categorically say this is right up there with the best.
With any custom vessel, you are most certainly going to pay a premium price, the Custom 800 as tested does have that price tag attached. But that premium price will give you something that will no doubt be a one off, and will ensure that every centimetre of the craft receives a high level of attention to detail. My favourite boat of 2015? You bet.
Priced from: $150,000
Price as tested: $250,000
Type: RIB
Construction: GRP/Hypalon
LOA: 8.0m
Beam: 2.9m (inflated) 2.25m (deflated)
Deadrise: 21 degrees
Power: Mercury Racing Verado 400 R
Propeller: 17" 4 Blade
Power options: Single/Twin outboard
Fuel capacity: 280L
Trailer: 4 wheeled dual brake Trailer
| | | | |
| --- | --- | --- | --- |
| RPM | Knots | L/h | Range  (NM) |
| 1000 | 5.0 | 5.3 | 220 |
| 1500 | 6.6 | 7 | 220 |
| 2000 | 7.8 | 11 | 160 |
| 2500 | 11.0 | 17 | 150 |
| 3000 | 16.0 | 22 | 180 |
| 3500 | 20.0 | 28 | 180 |
| 4000 | 28.0 | 39 | 180 |
| 4500 | 32.0 | 46 | 160 |
| 5000 | 39.0 | 65 | 140 |
| 5500 | 43.0 | 72 | 140 |
| 6000 | 44.0 | 85 | 120 |
| 6500 | 50.0 | 140 | 90 |
| 6900 | 52.0 | 142 | 90 |