For the owners of the first JP RIBS Project K 12m, it was not only about getting a boat built for purpose, but it was also about making a statement.
When they approached the guys behind the JP RIBs brand, Phil and Jonathan Edgar, they were looking for a custom designed, Auckland based charter boat, to take clients day cruising on Auckland Harbour and naturally the America's Cup. The layout reflects the owner's intentions with an open plan design that could take up to 12 guests out for the day in total comfort. Ride values and stability were also primary, and with the JP RIBS Project K 12m, they have certainly got all they wished.
"They wanted a day boat that was fast and performed in a reasonable sea, but it also had to have onboard facilities such as an enclosed head, wet bar and freshwater shower", says Johnny.
JP RIBS describe their boats as high-performance bespoke custom hand-built tenders that are designed and hand-built to fit your needs. Every facet of the build is tailored to your liking, so what you get is exactly what you want. From the Alcatel leather with the lime green stitching accented throughout the boat, to the black powder-coated stainless for a 'stealth' look, the boat has been thoughtfully personalised.
"What we do is start with a blank canvas and work with the owner to spec the boat to exactly what they want, without too many constraints. The options are endless and we are happy to accommodate just about anything", added Johnny.
The bow area features U shaped settee with storage under and also conceals the thru-hull anchoring system. This extends out from the hull, so during launching and retrieval it is clear of the blunt bow. Hidden below is a Lewmar anchor winch and above is a teak boarding step complete with a recessed cleat. You have the option of leaving this space completely open.
A custom made Cule hatch provides access to the head compartment in the console, which is another considerable storage space, plus access to the rear of the dash.
The console was specifically designed for the boat as the owner wanted to be able to walk around both sides. Johnny says they have another client that is looking at a full-width console from tube to tube, which means access forward will be outside the console on the tubes. This means they can add a couple of bunks and transform it into more of a mid-cabin than a console.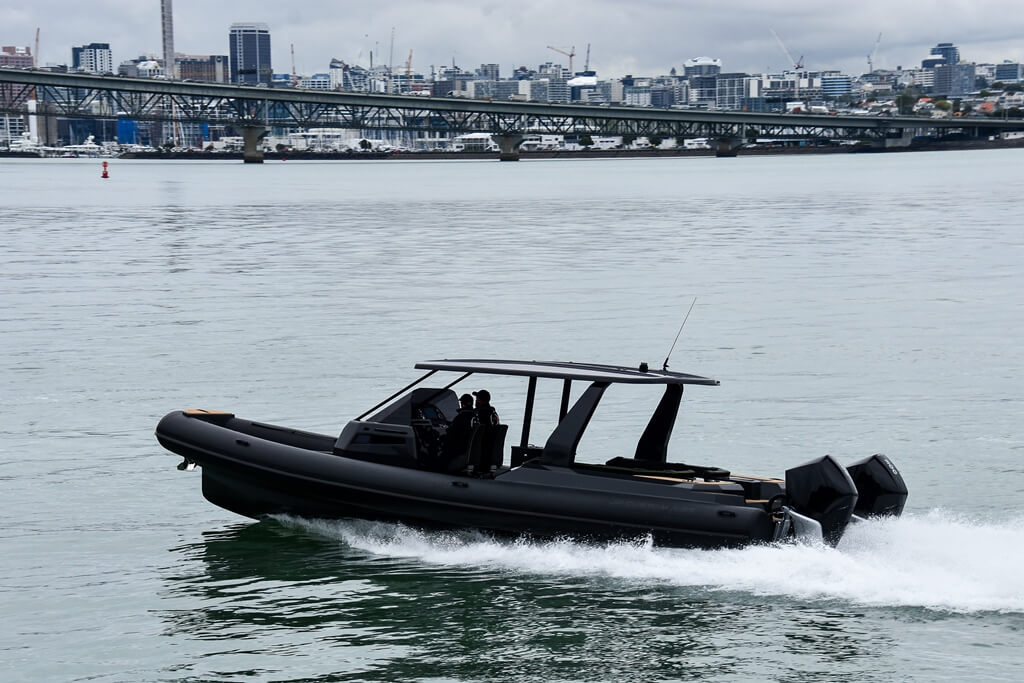 When you are running twin engines, as well as a boat built to survey you need plenty of console space to display everything and the JP RIBS K 12m has that. The centrepiece is a 12" Raymarine MFD, which can be up-sized to a 16". The custom dash makes room for Smartcraft gauges, a VHF radio plus fire/bilge pump controls and gas detector, plus a Fusion stereo with sub and amp.
Aft of the helm area is an island bar with sink unit, and while this particular owner didn't require it, it would be the perfect place to install an under-bench fridge. Plans are for a Corian surface and three drawer locker for glasses and cutlery.
To make sure the main seating area in the boat is as dry as possible, the coamings have been raised 400mm, plus the addition of high backrests around the U shape seating adds that little extra feeling of security.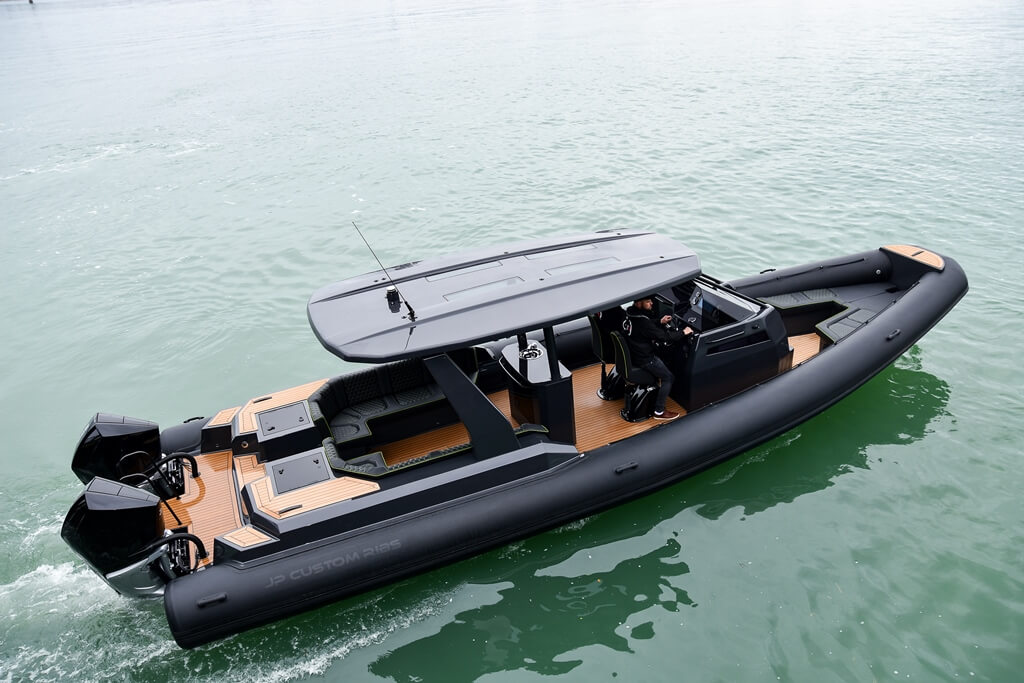 There is walk-through access in the centre to the rear boarding platform and water access between the twin engines. Although not set up for fishing, (another owner option) there is provision to add anything from rod holders to a livebait tank.  There is also plenty of easy access storage for the divers tanks and gear. A dropdown ladder with high handrails between the engines makes reboarding easy. There are also boarding platforms both port and starboard, with the decks finished in Deck King.
The cockpit area is covered by a full carbon hardtop, hand-built by Phil Edgar and like the rest of the interior is uniquely crafted for the boat. With a foam core, the hardtop weighs just 70 kgs. Dropdown clears will be fitted to this area to maximise weather protection.
The JP RIBS Project K 12m 650mm Hypalon tubes are built by Southern Pacific and are available in various colours. The hull is hand laid and constructed of solid fibreglasswith foam cored girders.
On the transom are a pair of Mercury 300hp V8s on jacking plates, which give the 12m a top speed of 44 knots @ 6000 rpm. While that is reasonably quick, if you still have the urge for a little more, then you can up-spec to a pair of 350hp or even 450hp V8 Mercs. You also have the option of single diesel sterndrive, which would make a very neat package. Considering the boat is to be used as a charter vessel, it's more than likely that most of the run time will be at more sedate cruise speeds. Best cruise was 20kts running at 3100rpm and burning 40 lph. At 30 kts and 4300rpm fuel use doubled to 80 lph.
I ran the boat on a calm Auckland Harbour, and I was impressed as to the agility and handling of the deep-vee hull. Following the latest design trend, the 23-deg deep V-shaped hull has a plumb bow with wide chines incorporating an additional 90mm flange for added stiffness and greater support for the tubes; this makes for an excellent ride in rough sea conditions.
The pair of Ullman shock mitigation jockey seats optimises body posture and takes care of the high forces during impact. The lower, narrower seat design allows for installation in limited space such as behind the console, giving excellent comfort and support. Local company, INC Interiors, reupholstered the seats to match the rest of their custom upholstery throughout the boat. The solid screen affords plenty of protection, although the addition of full clears would be a worthwhile investment, especially boating in Auckland.
The boat turns on rails, doesn't heel excessively and is instantly responsive to the helm. The twin V8 Mercs provide a load of torque so when you punch the throttle, the boat powers very quickly to maximum rpm. It is a slippery hull through the water and plans at just 9 knots.
JP RIBS utilise the one 12m hull mould for all their models and can produce boats from 6.4m through to 12m. While the hull design varies only in length, what's above the waterline is very different.
The JP RIBS Project K 12m is certainly pitched at the superyacht market as a chase boat or tender, and if you want to watch America's Cup in style and comfort but don't want a large cruiser or motor yacht, then this boat might be for you. JP RIBS are prepared to go beyond the accepted limits and deliver a vessel that is as individual as it is bespoke and unique. The release of their K 12m reinforced the company's dedication to the luxury end of the RIB market. Built in New Zealand. Yes. Marketed to the world. Absolutely.
Make & Model: JP RIBS Project K 12m
Price: POA
Type: Centre Console
Construction: RIB/Hypalon
LOA: 11.50m
Beam: 3.80m
Deadrise: 23deg
Displacement: 4 tonne (Light)
Test Power: 2 x Mercury 300hp V8
Power options: Outboard/Sterndrive
Power Range: 400-1000hp
Max Speed: 44 knots
Fuel capacity: 500 Litres (700L option)
| | | | | |
| --- | --- | --- | --- | --- |
| RPM | Knots | L/h | L/NM | Range  (NM) |
| 500 | 6 | 5.4 | 0.9 | 500 |
| 2000 | 10 | 20.4 | 2.1 | 210 |
| 2500 | 15 | 28 | 1.9 | 230 |
| 3100 | 20 | 40 | 2 | 220 |
| 3800 | 25 | 62 | 2.5 | 180 |
| 4300 | 30 | 80 | 2.7 | 160 |
| 5100 | 35 | 112 | 3.2 | 140 |
| 6000 | 44 | 172 | 4 | 110 |
Range is calculated on 90% of the fuel capacity.